Brown Sugar and Chili Rubbed Salmon with Avocado Crema
Simple and elegant brown sugar and chili-rubbed salmon with avocado crema – from Andie Mitchell's new cookbook Eating in the Middle.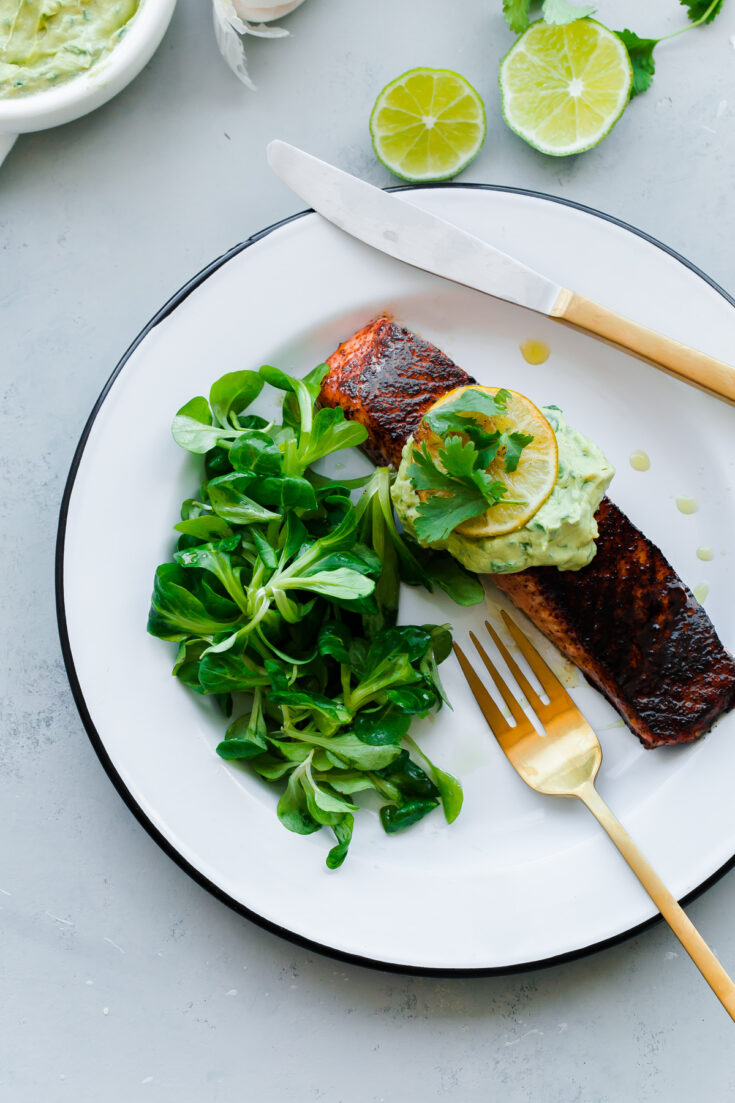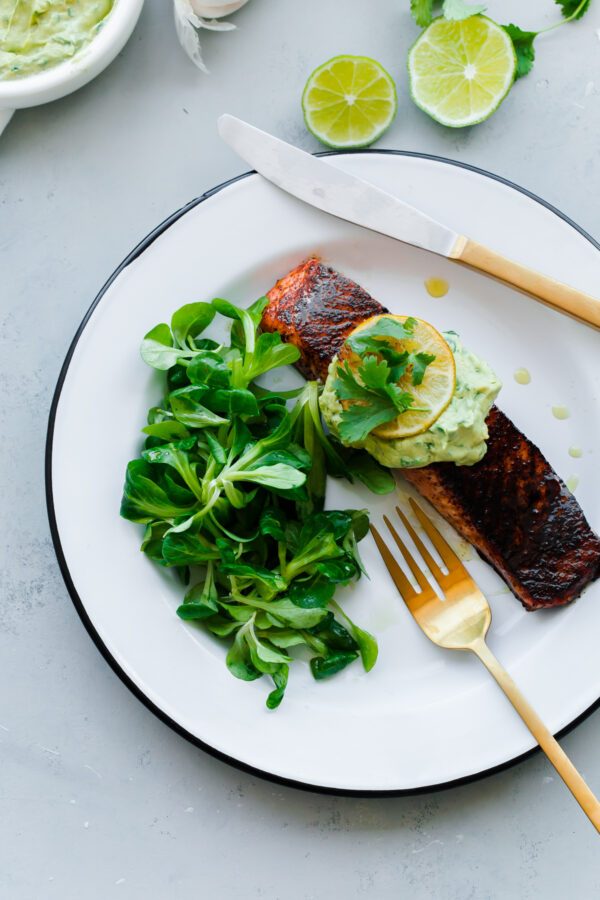 Have you ever met someone that instantly feels like a very close friend? Or someone that you feel like you've known for years and years? It's a great feeling, right? That is exactly how I felt the first time I met my friend, Andie Mitchell.
We met for the first time back in October at a blogging retreat in Utah and spent the next three days chatting about everything under the sun, discussing our careers and insecurities, and laughing to the point of tears more times than I can count.
If you've had a chance to read her brilliant memoir, It Was Me All Along, I'm sure you felt a similar kindredness with Andie – and with good reason.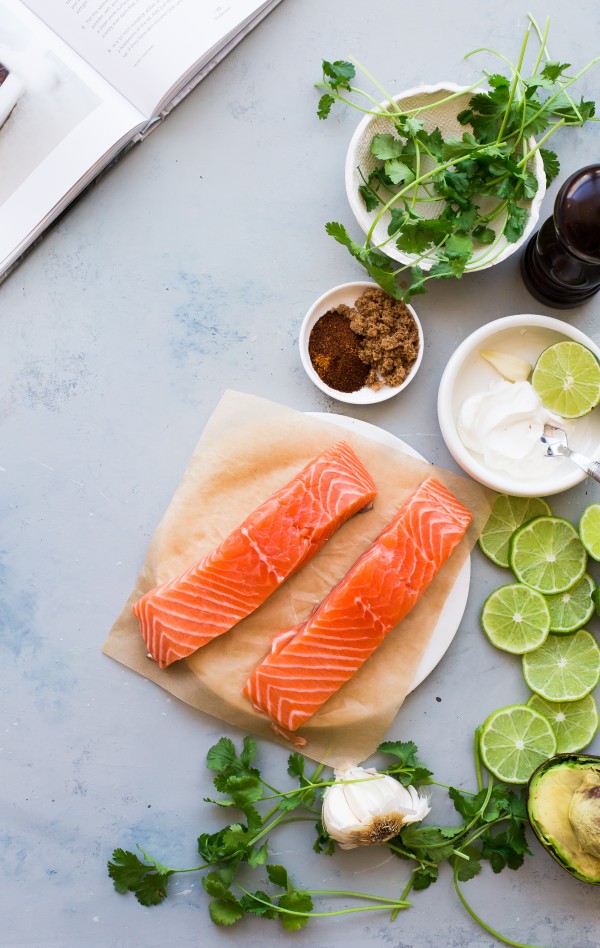 So, after practically devouring her first book cover to cover, I couldn't wait to get my hands on her cookbook. Well, today's the day!
Andie's new cookbook, Eating in the Middle, is in stores this very moment. I love this cookbook for so many reasons. Beyond the gorgeous images and comforting, yet creative and imaginative recipes – I love what this book represents.
Healthy, wholesome eating with a sprinkling of indulgence here and there. It is about celebrating life, cooking with wholesome, flavor-packed ingredients, and at the same time – forgiving and allowing ourselves to enjoy that extra slice of chocolate cake or handful of fries.
The book has a little bit of everything in it and that's why I love it so much. The majority of the recipes are healthy (everything is accompanied by nutritional facts), but there is also room for things like dulce de leche cream-filled doughnuts with chocolate glaze (um, yes!).
In a world that often encourages an all-or-nothing attitude to food and exercise, I can't tell you how refreshing and important this perspective is. In fact, it is this same perspective and attitude that shapes this very blog – or at least, that's my aim and mission.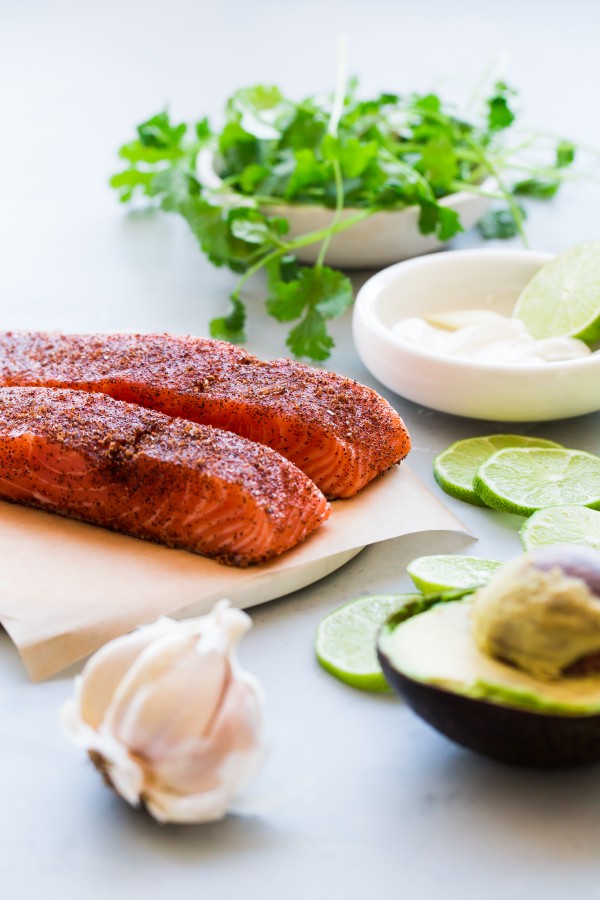 So, without further ado, let's discuss this brown sugar and chili-rubbed salmon with avocado crema from Andie's cookbook. I love it for several reasons.
It is elegant, yet simple. It is a little bit smoky and spicy (if you want to increase the spiciness, up the cayenne pepper!). It involves avocados. It takes less than 30 minutes to prepare start to finish.
And lastly, it is topped with caramelized lime slices. I mean, how cool is that? As Andie says in the headnotes, Ina Garten would be proud. It is one of those perfect dishes that can serve double-duty as an easy weeknight dinner or as an elegant main course at a dinner party.
Can you tell that I'm into it?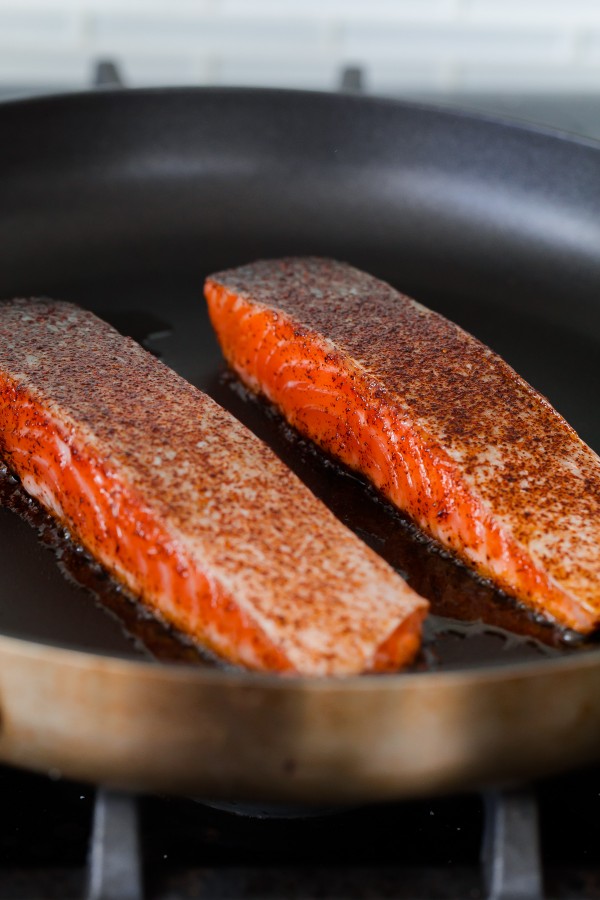 The best part? The recipe is a great starting point for so many variations. You could easily switch up the spice rub or mix up the crema.
The original avocado crema called for flat-leaf parsley. I decided to use fresh cilantro instead (because I had some leftover in my fridge!), but I imagine fresh basil or even tarragon, especially during the summer months, would work just as well.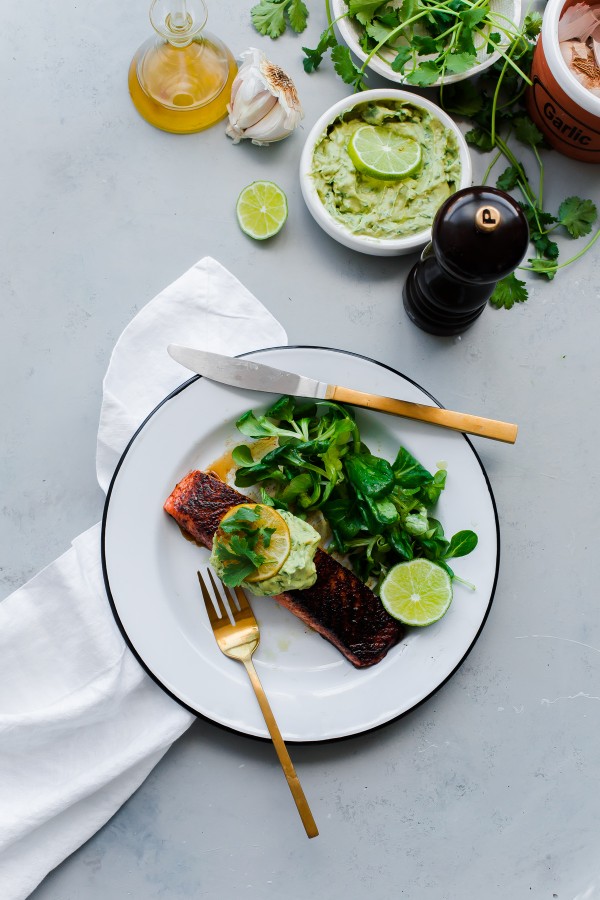 Huge congrats and hugs to Andie on this day and for this beautiful cookbook, which deserves a spot in your kitchen immediately!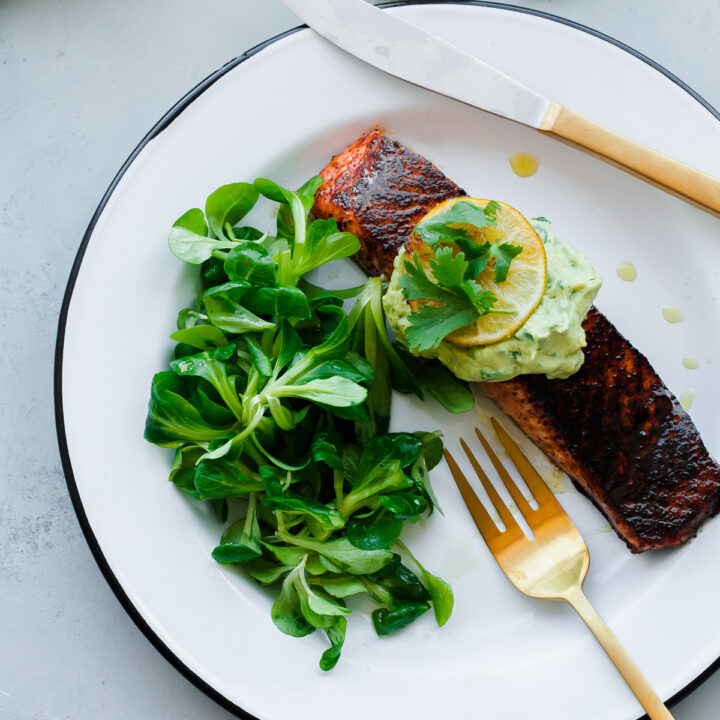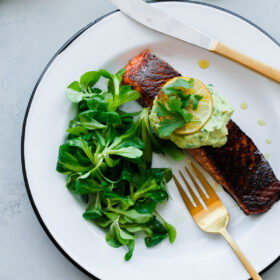 Brown Sugar and Chili Rubbed Salmon with Avocado Crema
Brown Sugar and Chili-Rubbed Salmon with Avocado Crema. An easy, delicious healthy salmon recipe that comes together in less than 30 minutes! 
Ingredients
Avocado Crema:
½ ripe avocado peeled and pitted
2 tablespoons sour cream
2 tablespoons (30 mL) fresh lime juice
1 garlic clove
¼ cup packed cilantro leaves or flat-leaf parsley
pinch kosher salt
Salmon:
1 tablespoon packed light or dark brown sugar
1 tablespoon chili powder
½ teaspoon Diamond Crystal kosher salt
pinch ground cayenne pepper
4 (5-ounce) center-cut salmon filets
4 teaspoons extra virgin olive oil
1 fresh lime sliced into thin rounds
Instructions
Make the avocado crema: In a blender or small food processor, combine the avocado, sour cream, lime juice, garlic, cilantro (or parsley, if using), and salt, and pulse until smooth. The consistency should be similar to sour cream – thick yet spreadable. To thin it, add a tablespoon or two of water and pulse to incorporate. Cover and set aside until ready to serve. The crema will keep in an airtight container in the refrigerator for 24 hours.

Prepare the salmon: In a small bowl, combine the sugar, chili powder, salt, and cayenne pepper. Lay the salmon filets on a clean work surface and sprinkle the brown sugar mixture evenly over each filet, rubbing it into the flesh on all sides.

In a 12-inch non-stick skillet set over medium-high heat, heat 2 teaspoons of the oil. Add two of the salmon filets (skin side up, if they have skin on) and cook, undisturbed, until their undersides are crisp and just beginning to blacken, about 4 minutes. Flip the filets and cook until the fish feels firm to the touch, 4 minutes more. Transfer to a warm plate. Add the remaining 2 teaspoons of oil to the pan and swirl to coat. Repeat the cooking process with the remaining 2 filets of salmon. Set the salmon aside.

Add the sliced lime rounds to the skillet and cook just until they begin to caramelize, about 30 seconds. Flip and cook for an additional 30 seconds.

To serve, divide the salmon filets among 4 plates and spoon 2 tablespoons of cream over each. Press a caramelized lime slice into the crema to garnish and serve.
Serving: 1serving, Calories: 586kcal, Carbohydrates: 9g, Protein: 51g, Fat: 38g, Saturated Fat: 7g, Polyunsaturated Fat: 27g, Cholesterol: 147mg, Sodium: 500mg, Fiber: 3g, Sugar: 4g
This post contains affiliate links, which means that I make a small commission off items you purchase at no additional cost to you. Please read my
privacy policy
for more information.