Bucatini with Porcini Mushroom Ragu
Bucatini pasta tossed with a hearty porcini mushroom ragu sauce. A delicious earthy pasta sauce made from dried porcini mushrooms!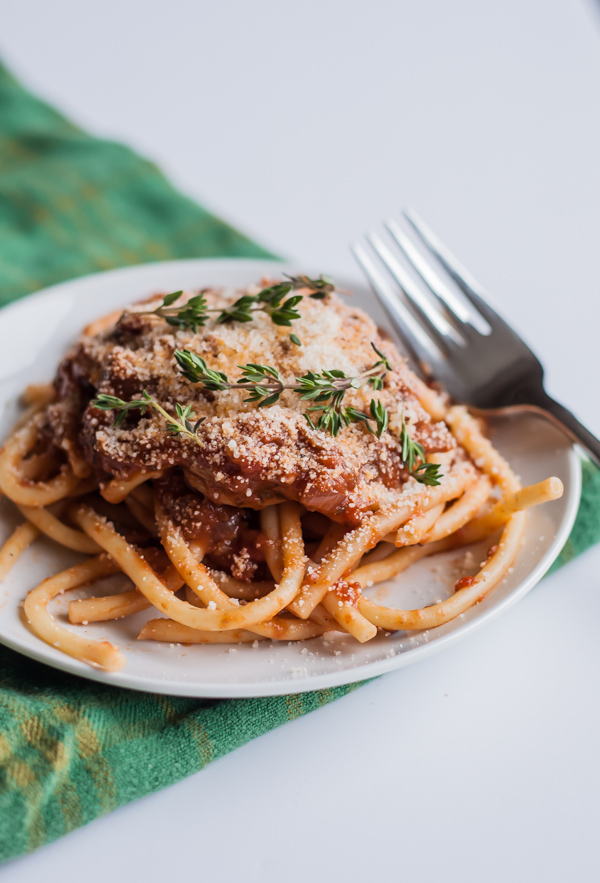 I love a good mushroom ragu and this does not disappoint. Bucatini is tossed with a rich porcini mushroom ragu prepared from dried porcini mushrooms.
Despite a cook time of roughly 1 hour (maximum), this is the type of sauce that tastes like it has been simmering away on the stove for hours.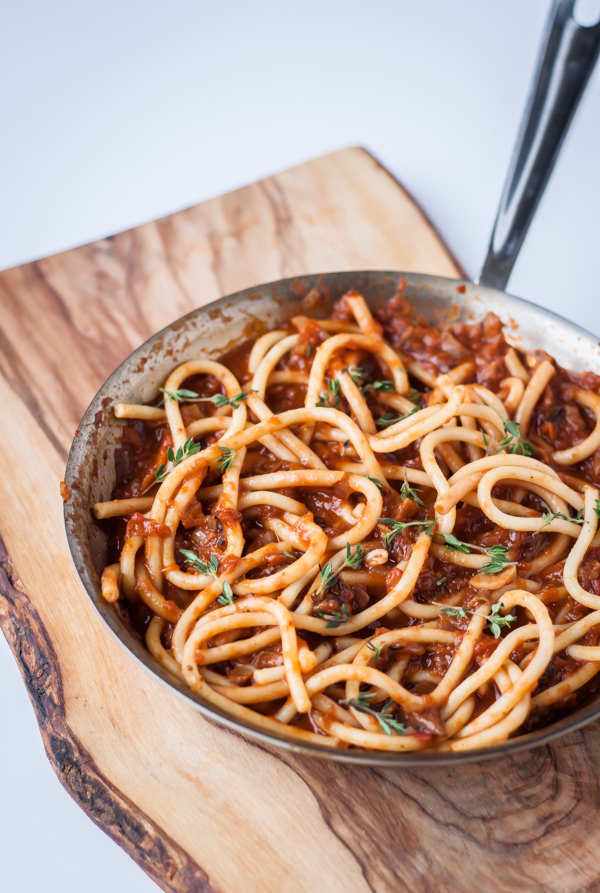 Unfortunately, fresh porcini mushrooms are near impossible to find in the states, but dried porcinis work just as well in this case and are actually even more concentrated in flavor.
If you can't find dried porcini mushrooms, substitute with another dried wild mushroom mix. With that said, porcinis will provide the best and most robust flavor for this sauce!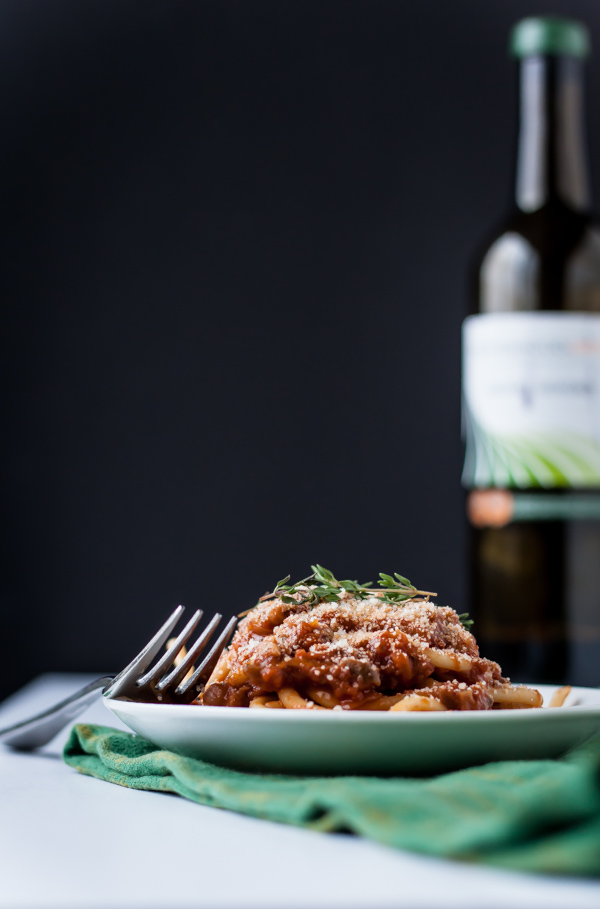 They are so earthy and fragrant. Nothing beats them in my opinion!
For this particular recipe, I recommend chopping the hydrated mushrooms very finely. This enables the mushrooms to almost melt and become one with the sauce. Toss the ragu with bucatini pasta and you have a pretty spectacular meal. Enjoy!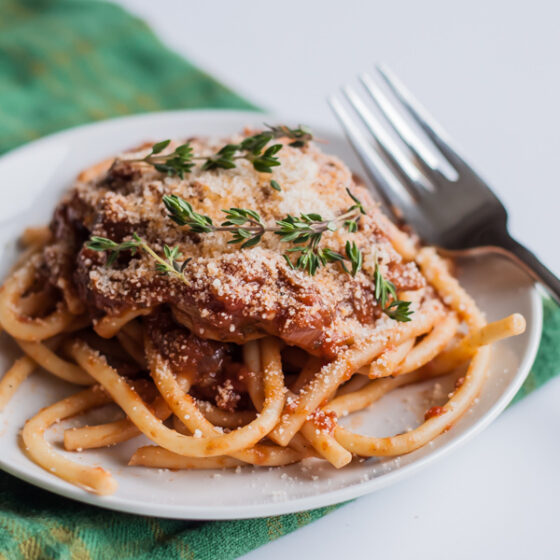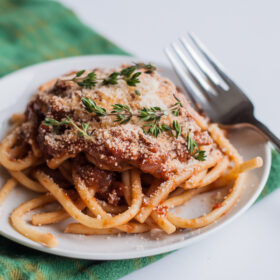 Bucatini with Porcini Mushroom Ragu
Bucatini pasta tossed with a hearty porcini mushroom ragu sauce. A delicious earthy pasta sauce made from dried porcini mushrooms!
Ingredients
1 ounce dried porcini mushrooms or combination of dried porcini and wild mushrooms
¼ cup extra virgin olive oil
1 large yellow onion diced
1 small carrot peeled and finely grated
2-3 tablespoons finely chopped thyme leaves
4 garlic cloves thinly sliced
½ cup dry red wine
1 (28-ounce) can crushed Italian tomatoes
freshly ground black pepper
1 lb dried bucatini pasta
finely grated parmigiano-reggiano cheese for serving
Instructions
Place the dried mushrooms in a small bowl and cover with just enough boiling water to fully submerge the mushrooms. Allow the mushrooms to sit and hydrate for 15 to 20 minutes. Once hydrated, drain the mushrooms (reserving the mushroom broth for later) and finely chop with a knife. Set aside.

Heat ¼ cup of extra virgin olive oil in a large heavy-bottomed saucepan or Dutch-oven over medium heat. Add the diced onion and saute for 8 to 10 minutes, stirring ever few minutes, until the onions are very soft and translucent.

Add the grated carrot and fresh thyme and continue to cook over medium-low heat for an additional 2 to 3 minutes, or until the carrot is very tender. Add the garlic and cook, stirring frequently, for about a minute or until fragrant. Deglaze the pan with the red wine, stirring to scrape up any caramelized bits. Continue to cook until nearly all the red wine has evaporated. Add the crushed tomatoes, chopped hydrated porcini mushrooms, and reserved mushroom broth, stir everything together, and slowly simmer the sauce for 30 to 40 minutes, stirring every so often.

Bring a large pot of salted water to a boil. Boil the pasta until al dente and drain (reserving 1 cup of the starchy pasta water). Toss the pasta with the sauce until it coats the strands well, adding a splash or two of pasta water as necessary.

Serve pasta and top with finely grated parmigiano-reggiano cheese.
Serving: 1serving, Calories: 469kcal, Carbohydrates: 54g, Protein: 10g, Fat: 22g, Saturated Fat: 3g, Polyunsaturated Fat: 18g, Cholesterol: 1mg, Sodium: 186mg, Fiber: 4g, Sugar: 5g
This post contains affiliate links, which means that I make a small commission off items you purchase at no additional cost to you. Please read my
privacy policy
for more information.