Bucatini with Porcini Mushroom Ragu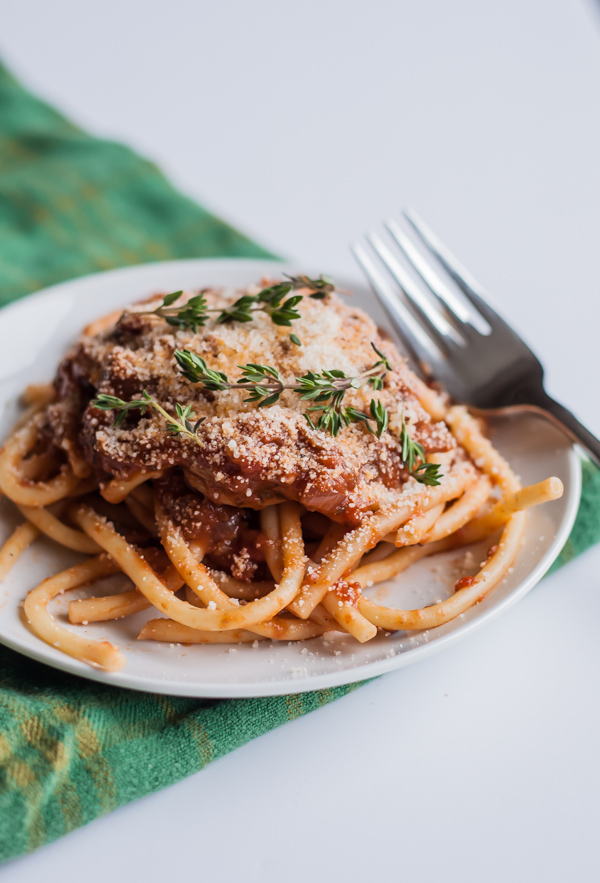 You know that Sex and the City episode where the girls all talk about their secret single behavior? Well..this is mine (minus the secret and single part):
Sometimes I make pasta and eat the leftovers for breakfast the next day.
Not at 6 am before a normal work day (apparently that is where I cross the line?), but on the weekends definitely. It has happened on more than one occasion. I have no shame.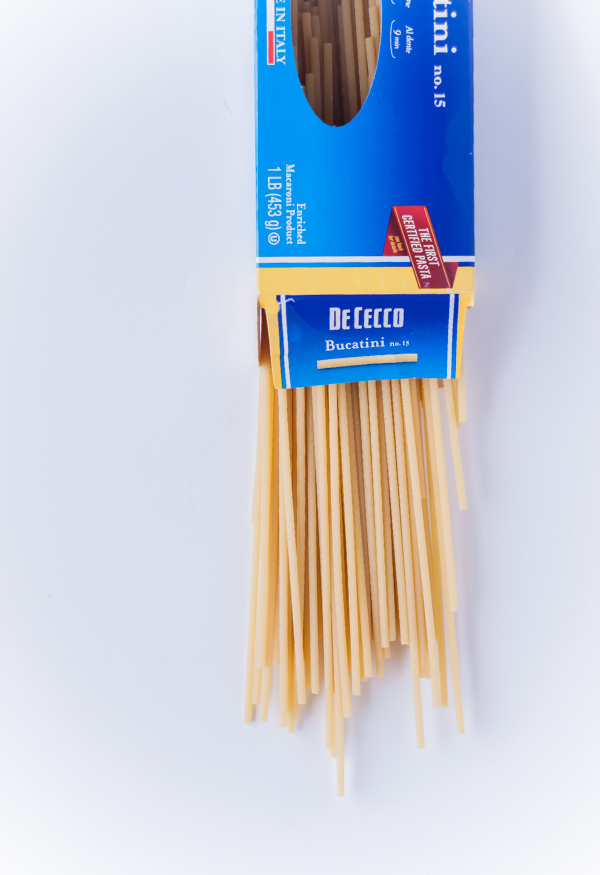 If the pasta is really, really good, I've even eaten it for breakfast, and then repeated this same meal several hours later for lunch.
Should I be embarrassed by this confession? Yes. Probably.
But for me, this just means that I made something really delicious and can't wait the normal, socially-approved span of time to eat it again. And I take that as a really good sign, believe it or not.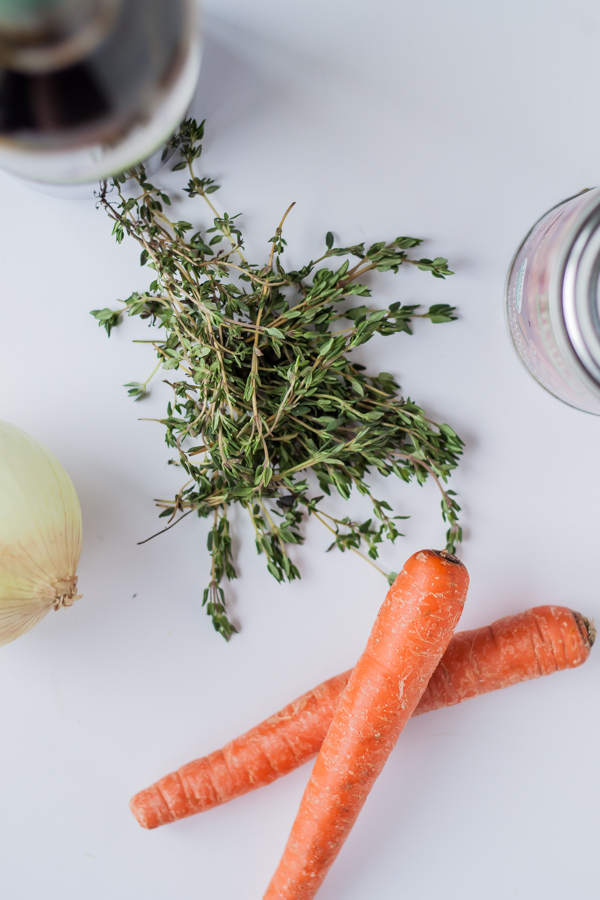 As you might have already guessed, this bucatini tossed with a rich porcini mushroom ragu definitely fell into this worthy-for-breakfast-even-though-I-really-shouldn't-eat-it-for-breakfast category.
It is the type of sauce that tastes like it has been simmering away on the stove for hours (despite a relatively short 45 minute-1 hour cook time). It is also authentic enough in flavor that it instantly brought me back to our trip to Italy last March, where we were fed fresh porcini mushrooms by the cutest (and bossiest) little Italian lady in the small, hillside town of Ravello.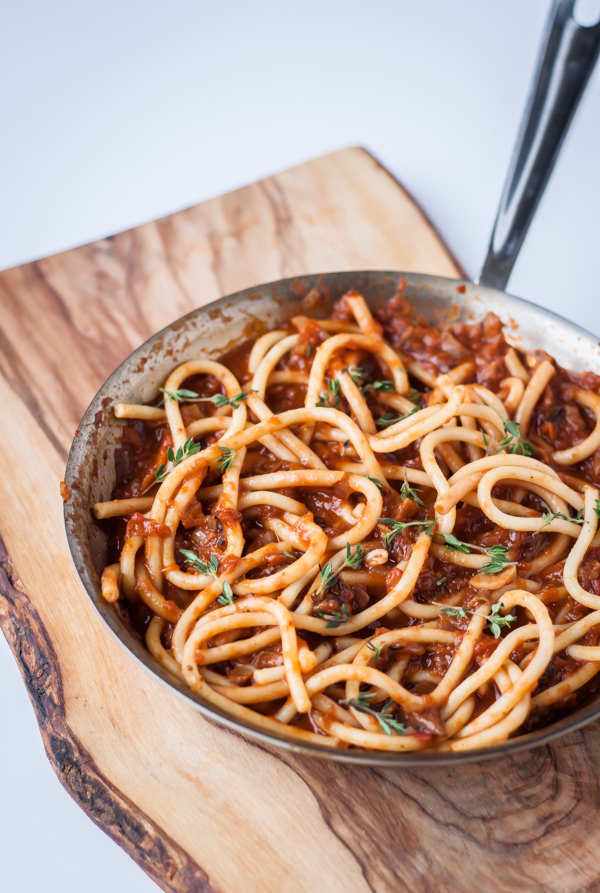 Unfortunately, fresh porcini mushrooms are near impossible to find in the states, but dried porcinis work just as well in this case and are actually even more concentrated in flavor.
If you can't find dried porcini mushrooms, substitute with another dried wild mushroom mix. However, porcinis will provide the best flavor for this sauce!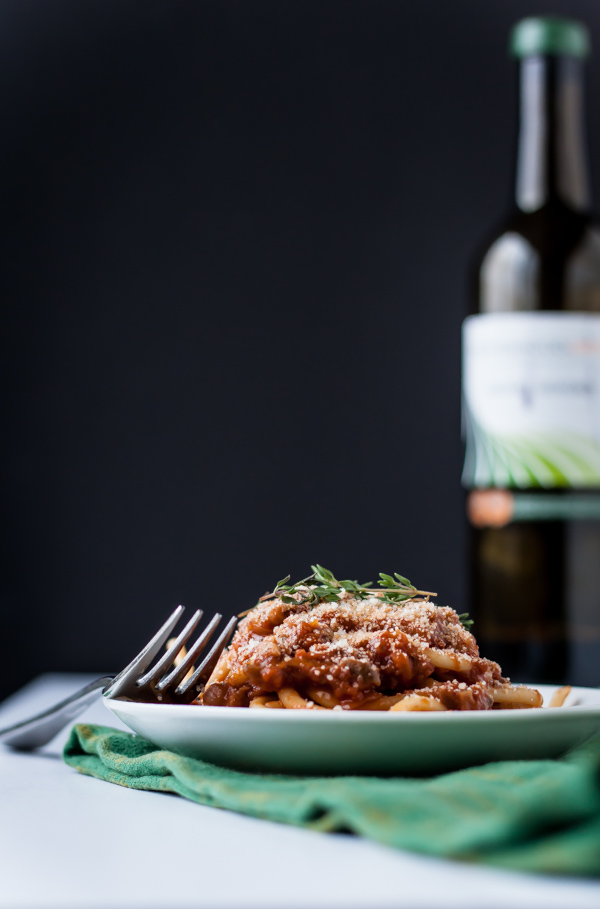 They are so earthy and fragrant. Nothing beats them in my opinion!
For this particular recipe, I recommend chopping the hydrated mushrooms very finely. This enables the mushrooms to almost melt and become one with the sauce!
Toss it with fresh bucatini pasta (one of my favorite shapes) and you have a pretty spectacular meal. Enjoy!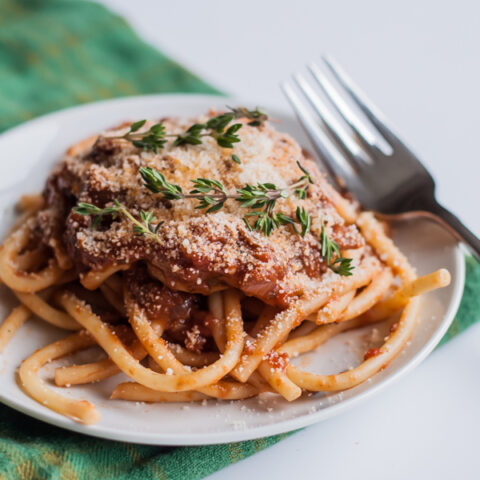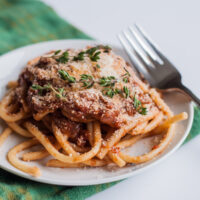 Bucatini with Porcini Mushroom Ragu
Yield: 4 Servings
Prep Time: 15 minutes
Cook Time: 1 hour
Total Time: 1 hour 15 minutes
Ingredients
1/4 cup olive oil
1 medium onion, diced
4 garlic cloves, thinly sliced
1 small carrot, peeled and grated
3 tablespoons finely chopped fresh thyme
1 (28-ounce) cans of crushed whole tomatoes
1 ounce dried porcini mushrooms (or mixture of dried porcini and wild mushrooms)
2 tablespoons olive oil
1 medium onion, diced
1/2 cup dry red wine
kosher salt
freshly ground black pepper
1 lb dried bucatini pasta
parmigiano-reggiano, grated
Instructions
Heat the olive oil in a large heavy-bottomed saucepan or Dutch-oven over medium heat.
Add the onion and garlic, and saute for 8-10 minutes, stirring occasionally, until they are very soft and translucent.
Add the grated carrot and fresh thyme and continue to saute over medium-low heat, for an additional 2-3 minutes, or until the carrot is tender.
Add the canned tomatoes and simmer for 30-40 minutes, stirring occasionally.
Meanwhile, rehydrate the mushrooms in a separate bowl by covering them with boiling water. Allow them to sit for 15-20 minutes. Once hydrated, remove the mushrooms and chop finely. Set aside.
In a separate saute pan, heat the second portion of oil over medium-high heat until almost smoking. Add the onion and saute over high heat for 4-5 minutes, or until golden brown. Stir frequently.
Carefully add the wine and simmer until almost all of the liquid has evaporated.
Add the diced porcini mushrooms and saute for 2-3 minutes. Season with salt and pepper.
Add the onion and mushroom mixture to the simmering tomato sauce. Season to taste.
Bring a large pot of water to boil. Salt generously. Cook bucatini pasta until al dente. Drain (reserving 1/2 cup of pasta water) and toss with the sauce. Thin with pasta water as necessary.
Serve immediately and garnish with freshly grated parmigiano-reggiano chees.e
Nutrition Information:
Yield: 4
Serving Size: 1
Amount Per Serving:
Calories: 469
Total Fat: 22g
Saturated Fat: 3g
Trans Fat: 0g
Unsaturated Fat: 18g
Cholesterol: 1mg
Sodium: 186mg
Carbohydrates: 54g
Fiber: 4g
Sugar: 5g
Protein: 10g
A Beautiful Plate provides nutritional information, but these figures should be considered estimates, as they are not calculated by a registered dietician.
This post contains affiliate links, which means that I make a small commission off items you purchase at no additional cost to you. Please read my
privacy policy
for more information.