Chocolate Raspberry Swirl Pancakes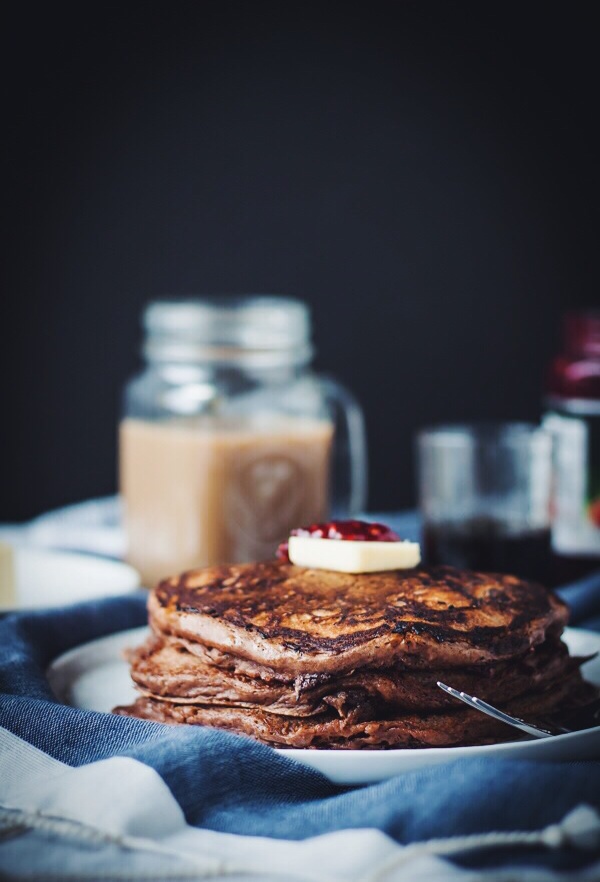 I am so glad that society has welcomed chocolate pancakes with open arms, and deemed them socially acceptable breakfast food.
The brave soul who grabbed that first bag of chocolate chips and went to town deserves a huge round of applause.
Thank you. Thank you, oh so much, for giving us an excuse to eat warm, chocolate cake in the wee hours of the morning. Because that is exactly what these pancakes taste like.
Fluffy, warm, gooey, rich chocolate cake.
To make it a little interesting (and because I have a huge thing for chocolate and raspberries, like most normal people), I chose to swirl in some dollops of raspberry preserves as well. The flavor isn't prominent or overpoweringly sweet, but they add just a little something special. It adds interest to every bite.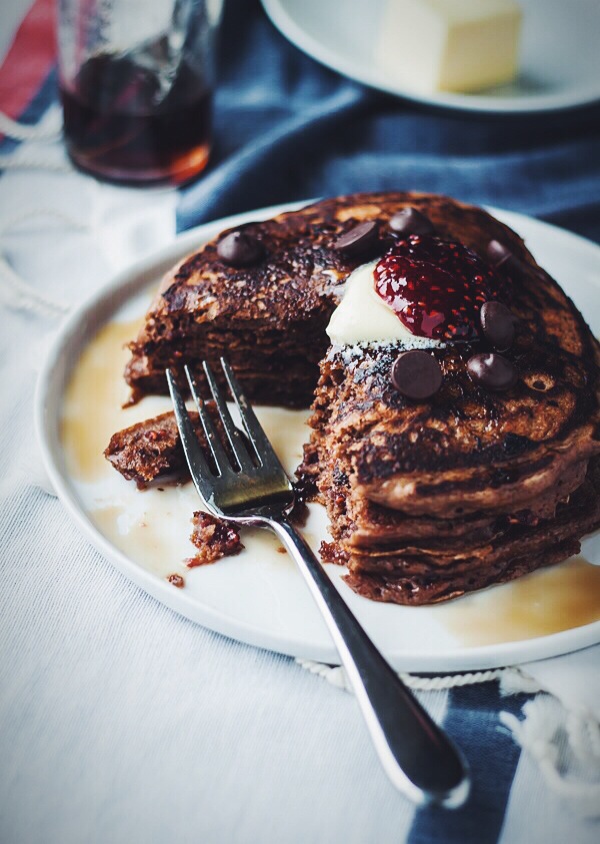 These pancakes are a tweak on my favorite buttermilk pancake recipe. It produces fail-proof, fluffy pancakes every single time. These pancakes are no different.
Although there is cocoa powder in the batter, most of the chocolate flavor comes from the addition of semisweet chocolate chips. Please don't skip them!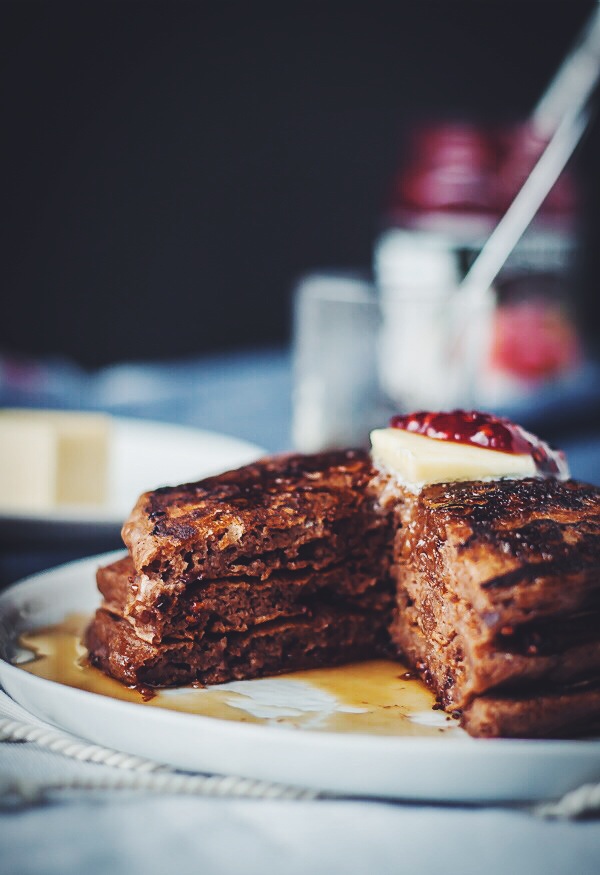 Add warm maple syrup and a nice pat of butter, and these are just out of control.
Agh, so fluffy! Can't even handle it.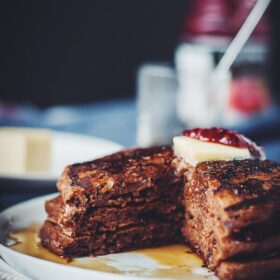 Chocolate Raspberry Swirl Pancakes
Ingredients:
1 cup all-purpose flour
2 tablespoons unsweetened (non-alkalized) cocoa powder, sifted
1 tablespoon sugar
1 teaspoon baking powder
1/2 teaspoon baking soda
1/4 teaspoon salt
1 egg
1 cup buttermilk
1/4 cup milk
1 tablespoon unsalted butter, melted
raspberry preserves
semisweet chocolate chips
Directions:
Combine flour, cocoa powder, sugar, baking soda, baking powder, and salt in a medium sized bowl.
In separate bowl, whisk together the buttermilk, milk, egg, and melted butter.
Add the liquid mixture to the dry ingredients and using a spatula, fold and stir together until just combined. Allow batter to sit for at least 5-10 minutes.
Heat a tab of butter in large non-stick (or cast-iron) skillet over medium heat. Once the butter begins to sizzle, spoon the batter onto the pan–forming 5-6 inch pancakes. Avoid over-crowding the pan.
Using a spoon, spoon several small dollops of raspberry preserves on top of the pancake. Using a knife, swirl the jam gently. Sprinkle with chocolate chips as desired.
Once bubbles begin to form on the tops of the pancakes, flip them carefully and continue to cook on other side until lightly brown. Adjust heat if necessary.
Serve immediately with the warm maple syrup.
All images and text ©
.