Roasted Cauliflower with Tahini and Fresh Mint
A delicious and easy twist on roasted cauliflower! Deeply caramelized and slightly spicy roasted cauliflower florets are served on lemon tahini sauce and garnished with fresh mint and flaky sea salt.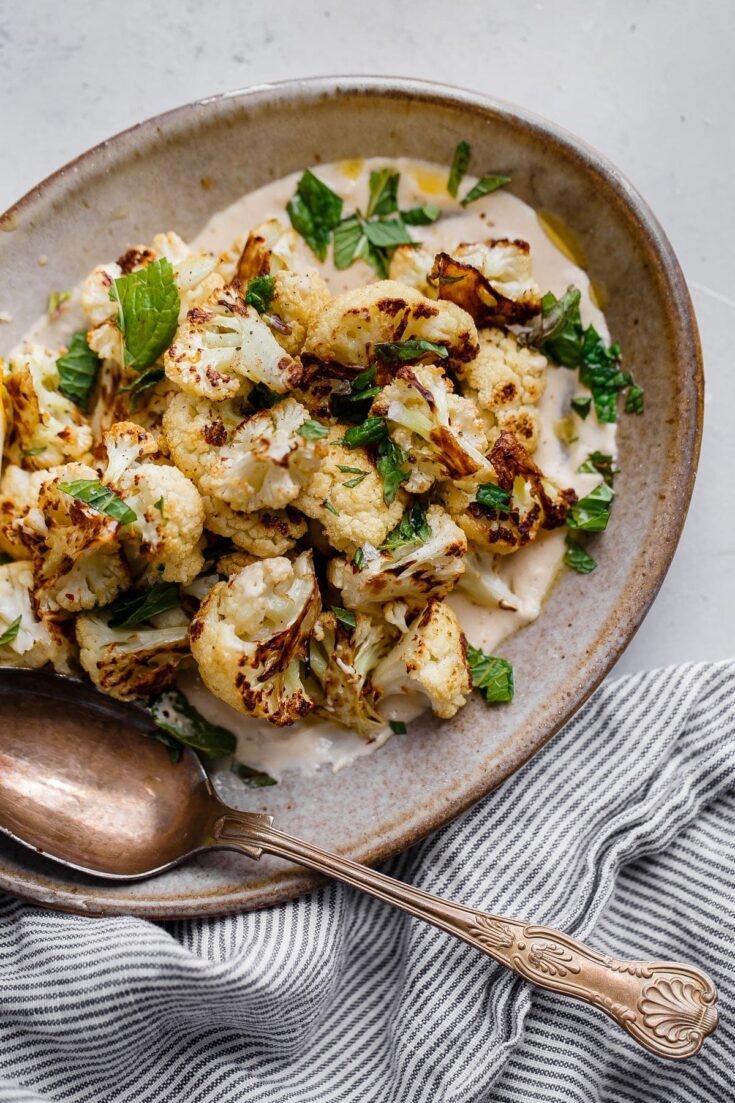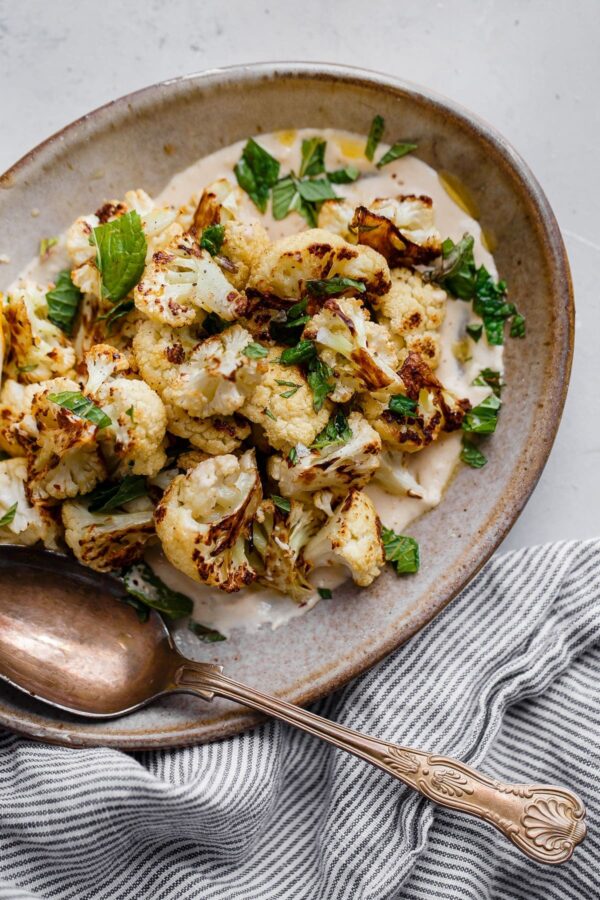 Meet one of my new favorite side dishes! We live in a world that is obsessed with transforming cauliflower into every possible item under the sun (pizza, oatmeal, pasta, crackers, rice, etc.). This isn't that kind of recipe.
This recipe is all about the cauliflower! We're going old school and roasting it today. Deeply caramelized roasted cauliflower florets served on a lemon tahini sauce and garnished with lots of torn mint leaves and flaky finishing salt.
The combination of the deeply caramelized, slightly sweet and spicy cauliflower (I have a few tricks up my sleeve on how to roast cauliflower, which I share below!) with the creamy tahini sauce and bright mint work so harmoniously together.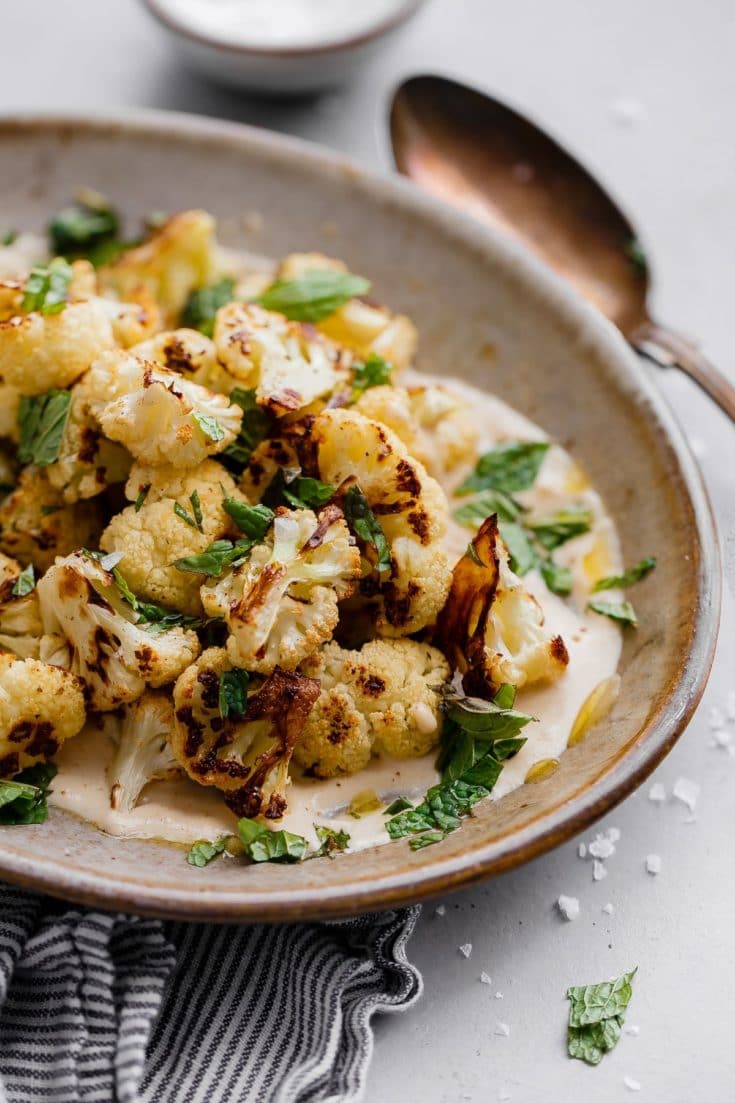 I'm all for elevating simple recipes, and this roasted cauliflower recipe is exactly that. An elegant and fun way to mix up your basic roasted cauliflower recipe and serve something a little different!
So, here's the deal. When steamed, riced, or eaten raw, or prepared in these new popular ways, cauliflower remains plain Jane.
I love cauliflower, but (call me crazy!) I would much rather cook and serve it in a way that coaxes out its best flavor. This is where pan-roasting and roasting at high temperatures comes into play, and this is when cauliflower truly shines.
How to Roast Cauliflower:
First, let's brush up on our basic knife skills. Here's a quick guide on how to cut cauliflower (and cauliflower florets).
To roast cauliflower, you'll need a standard half sheet pan and a few basic ingredients. You won't need aluminum foil or parchment paper for this roasted cauliflower recipe. Clean up only takes seconds!
I'm a firm believer in cranking up the oven heat (450°F / 230°C) for roasting vegetables, particularly those that cook quickly.
A hot oven jump starts the caramelization process and ensures that your cauliflower florets gain color (color equals flavor) while also retaining some texture and bite.
Proper caramelization is especially important for cauliflower because it is naturally bland in flavor.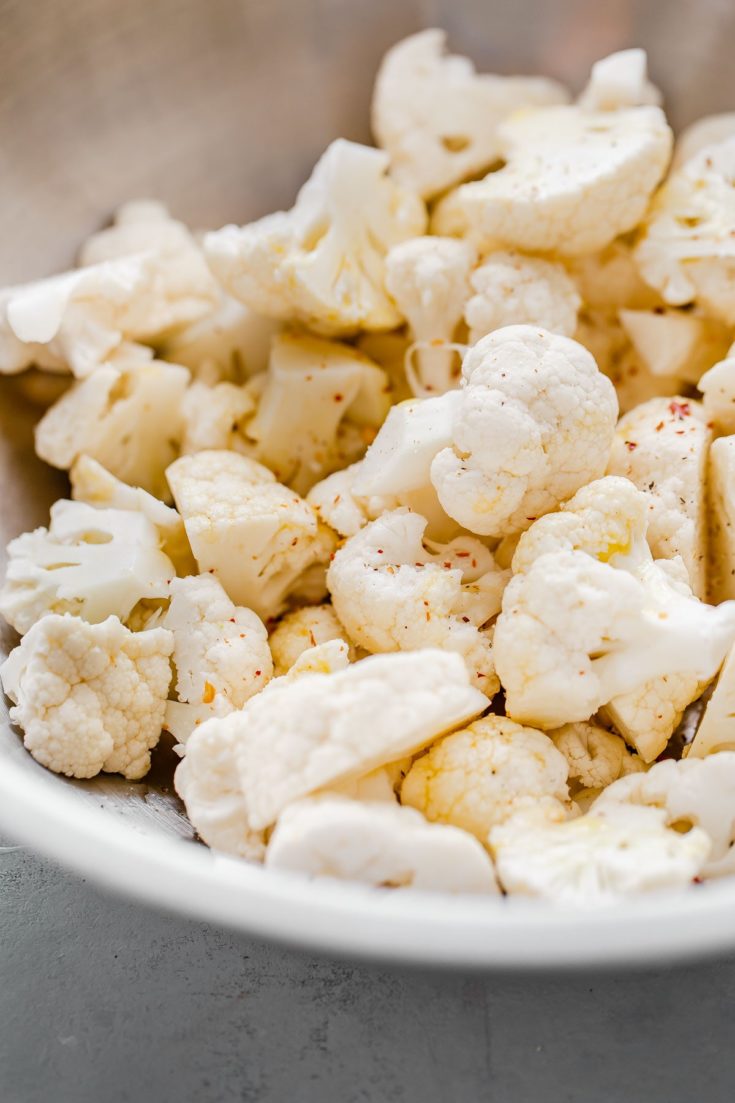 Cold Vegetables = Slower, Stalled Caramelization
Another factor to consider? Many of us use vegetables cold from the fridge.
Cold ingredients will stall the caramelization process, as they will reduce the oven temperature, regardless of whether it is preheated properly. Using a hotter oven, as well as a few other tips (described below) helps mitigate this.
Try to keep these factors in mind whenever determining oven temperature!


My Favorite Tips for Roasted Cauliflower Success:
Use a Hot Oven – similarly to my favorite roasted broccoli recipe, we'll be using a hot oven! Preheat your oven to 450 degrees Fahrenheit (230 degrees Celsius). If your oven runs hot, feel free to reduce the temperature slightly.
Preheat the Empty, Un-Greased Half Sheet Pan – preheating the empty half sheet pan for just 5 minutes jump starts the caramelization process and ensures deep, even caramelization. You can skip this step, but it is one of my favorite roasting tips.
Toss Your Ingredients Together in a Bowl – the cauliflower florets are tossed with the oil, kosher salt, freshly cracked black pepper, and seasoning in a large bowl. This ensures that the fat and seasoning is equally distributed among the cauliflower florets.
Don't Overcrowd The Vegetables – using oven mitts, we'll transfer the seasoned cauliflower florets onto the hot sheet pan. Make sure that your cauliflower florets are even in size (check out this post on how to cut cauliflower for an easy guide!) and spread out evenly on the pan. If the vegetables are crowded, they will not cook or caramelize evenly.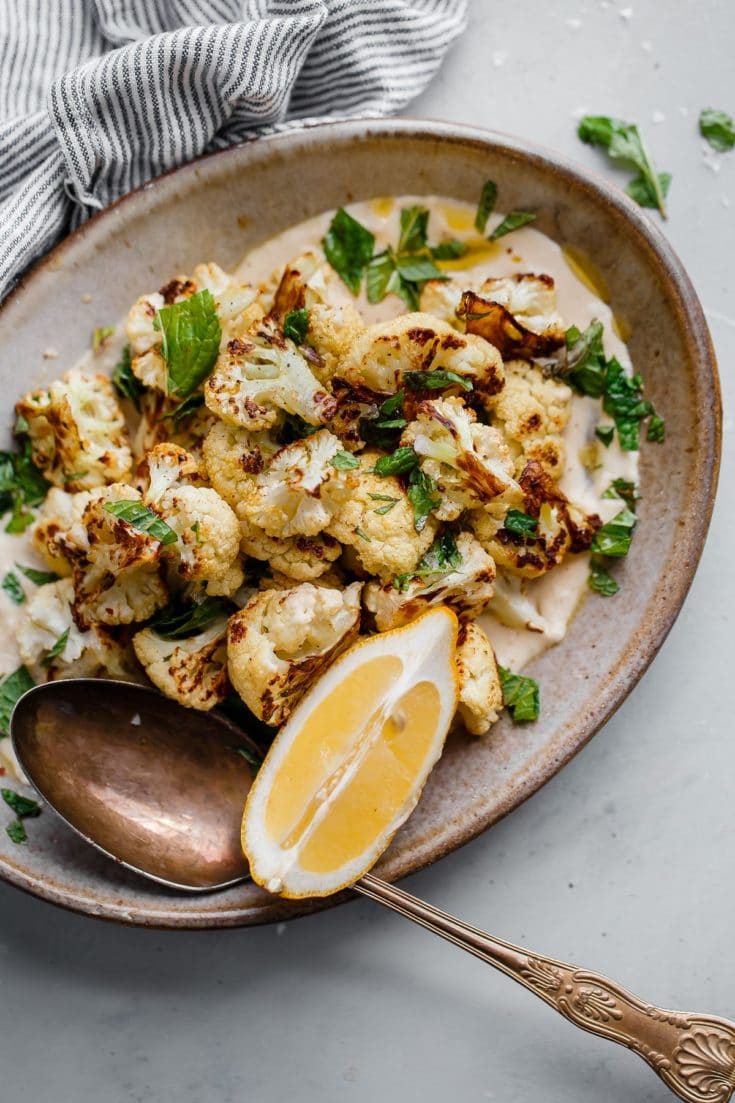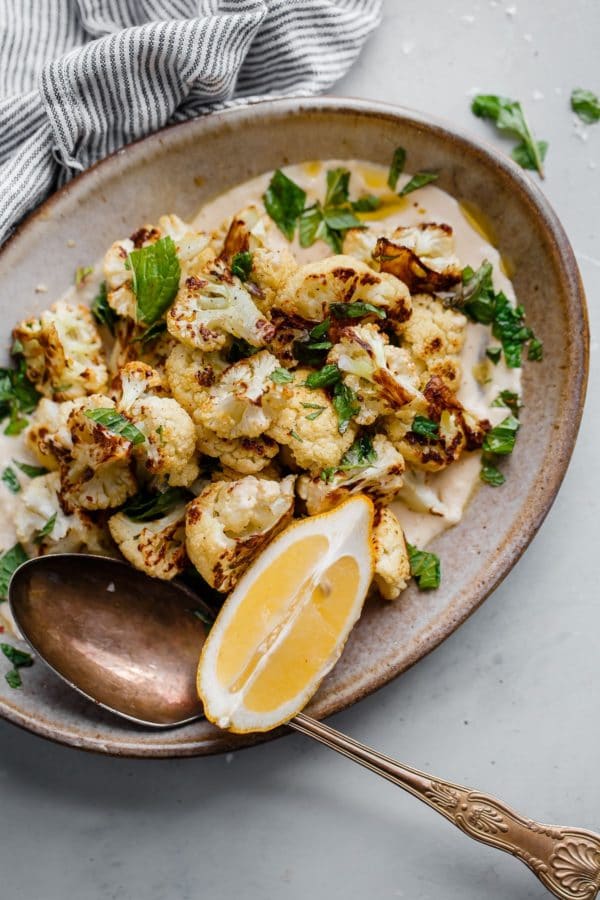 How to Serve This Roasted Cauliflower Recipe:
Spoon the tahini sauce onto a large serving plate or platter and spread it into a thin (but not too thin) layer. Gently place the roasted cauliflower florets on top, and garnish with lots of mint and a crunchy flaky finishing salt, such as Maldon (affiliate link).
Don't let the tahini sauce and fresh mint scare you! This roasted cauliflower recipe goes well with so many dishes. Serve as a side dish to accompany grilled fish, meat (this Middle Eastern chicken would be great!), or other vegetarian main courses or salads.
This dish also happens to be gluten free, vegetarian, vegan, and dairy free, which makes it a great option if you're serving friends and family with dietary restrictions.
Don't be tempted to leave out the fresh mint leaves, as they add a lovely fresh bright and herbaceous element that really pulls the entire dish together. Hope you enjoy this dish as much as we do!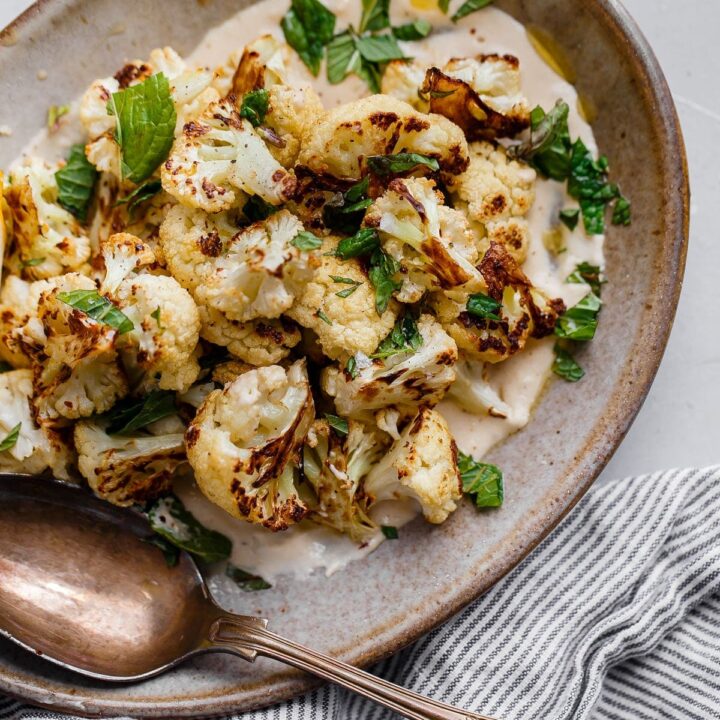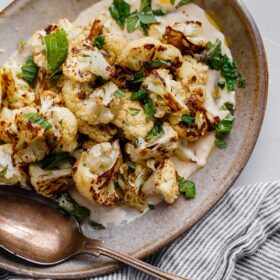 Roasted Cauliflower with Tahini and Mint
A delicious variation on a simple roasted cauliflower recipe! Caramelized and slightly spicy roasted cauliflower florets are served on a lemon tahini sauce and garnished with freshly torn mint leaves and flaky sea salt. Don't be tempted to skip the mint, it adds a lovely bright element to this dish and brings the whole thing together! Serve this roasted cauliflower as a side dish to accompany grilled fish, meat, or other vegetarian main courses. Gluten Free, Vegetarian, Vegan, and Dairy Free.
Ingredients
Roasted Cauliflower:
1 (2 to 2½ lb) head of cauliflower
2 tablespoons extra virgin olive oil
½ teaspoon Diamond Crystal kosher salt
2 pinches dried red pepper flakes
Tahini Sauce:
¼ cup tahini paste *I strongly recommend Soom brand
2 tablespoons freshly squeezed lemon juice
1 teaspoon extra virgin olive oil
1 small garlic clove grated with a microplane or pressed
¼ teaspoon Diamond Crystal kosher salt
freshly ground black pepper
Garnishes:
fresh mint leaves torn into small pieces
flaky finishing salt such as Maldon
Instructions
Prepare the Cauliflower: Preheat the oven to 450°F (230°C) with a rack in the center position. Set a clean and unlined half sheet pan aside.

Using a large chef's knife, cut off the stalk of the cauliflower so it lays flat on your cutting board. Set the stem and any leaves aside (these are edible, see 'tips for success' box below on ways to use them!).

Starting from the top of the cauliflower crown down to the core, slice the cauliflower in half. Holding each cauliflower half with one hand, use your knife at an angle to cut alongside the core in an upside-down V shape. Use your knife to halve or quarter any remaining large florets (top of the crown down through the stem) so that all the florets are medium-large in size. For more tips and step by step photos, check out my how to cut cauliflower guide.

Place the florets in a large mixing bowl. Add the extra virgin olive oil, salt, and red pepper flakes to the bowl and toss gently until the florets are evenly coated with the oil and seasoning.

Place the clean, unlined half sheet pan in the oven and allow it to preheat at 450°F (230°C) for 5 minutes (set a timer!). Cooking Note: You can skip this step, but I find that it helps jump start and produce great caramelization, particularly for cauliflower! Once the sheet pan has preheated, use oven mitts to carefully remove it and carefully dump out the florets on the sheet pan. They should sizzle a bit. Use your fingers (be careful, because the pan is hot!) or tongs to spread them out into an even, thin layer, so they are not touching one another. Place any trimmed florets cut-side down against the sheet pan.

Roast for 25 minutes, gently flipping the florets halfway through the roasting process, or until they are deeply caramelized and just fork tender.

Make the Tahini Sauce: As the cauliflower is roasting, prepare the tahini sauce. Combine the tahini, lemon juice, olive oil, microplaned (or pressed) garlic clove, and salt in a small mixing bowl. It will be thick. Add a tablespoon of water and whisk until it has loosened (*you want it to be the consistency of a thin hummus) - adding an additional teaspoon or more of water as necessary. Season to taste with pepper and more salt, as necessary.

Assemble: Spoon the tahini sauce onto a small serving platter or use the back of your spoon to spread it slightly. Gently place the roasted cauliflowers on top of the tahini sauce. Garnish generously with torn mint pieces and a sprinkling of flaky fishing such, such as Maldon. Serve immediately.
Tips for Success:
Look for whole heads of cauliflower whose florets are firm and tightly closed, with little to no blemishes! 
Can you eat cauliflower stems and leaves? Yes! They are completely edible. Remember to clean them thoroughly. I also recommend peeling the stalk as it can be tough and fibrous. You can sauté the chopped stem and leaves, but my favorite way to use them is to set them aside (freeze or refrigerate) for cauliflower soup, stir fries, or other pureed applications.
Serving: 1serving, Calories: 188kcal, Carbohydrates: 12g, Protein: 6g, Fat: 15g, Saturated Fat: 2g, Polyunsaturated Fat: 12g, Sodium: 330mg, Fiber: 6g, Sugar: 5g
This post contains affiliate links, which means that I make a small commission off items you purchase at no additional cost to you. Please read my
privacy policy
for more information.