Burnt Romaine Salad with Grilled Avocado, Tomatillos, and Cotija Cheese
This post contains affiliate links.
Looking for an interesting summer salad? Try this Burnt Romaine Salad with Grilled Avocado, Tomatillos, and Cotija Cheese.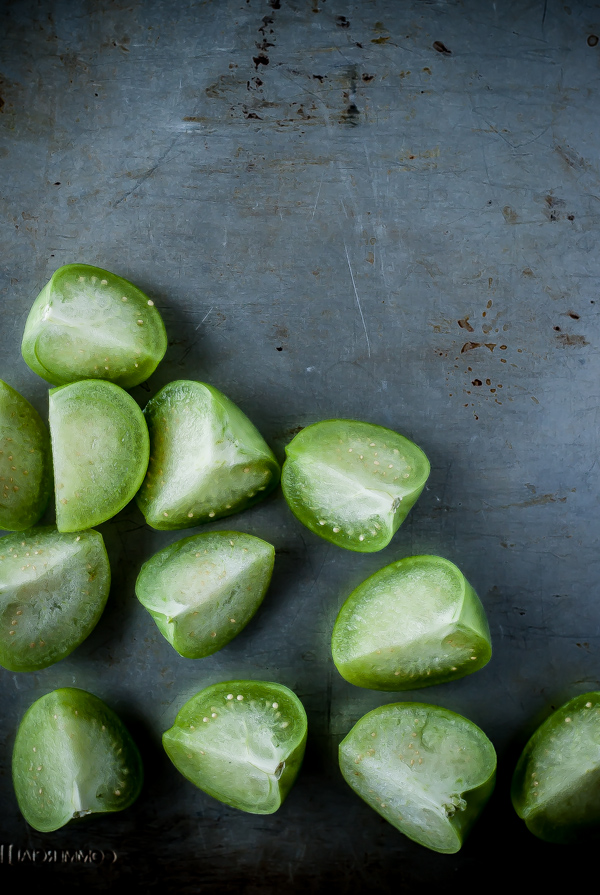 Let me start this post by saying that this salad is a lot tastier than the photos might suggest. Like…a lot tastier.
It also happens to be totally appropriate for that little holiday coming up otherwise referred to as Cinco de Mayo. That was a total coincidence, because I would have shared this salad recipe either way but hey, I'll take it!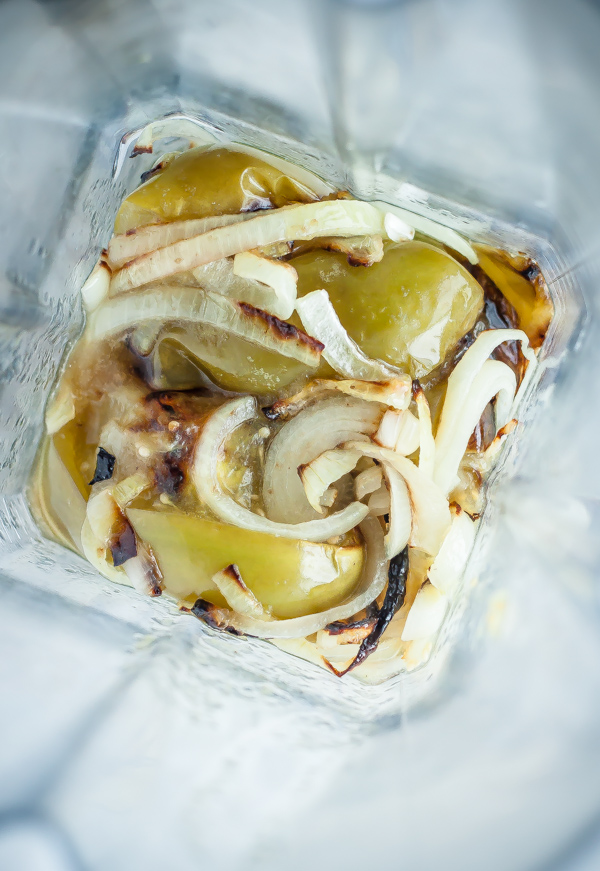 You know that fried chicken dish that I waxed poetic about a week or so ago? The one that inspired me to make the fried cauliflower steaks with honey and hot sauce? Well…the exact same restaurant inspired this dish as well.
It had to be done. I couldn't help myself.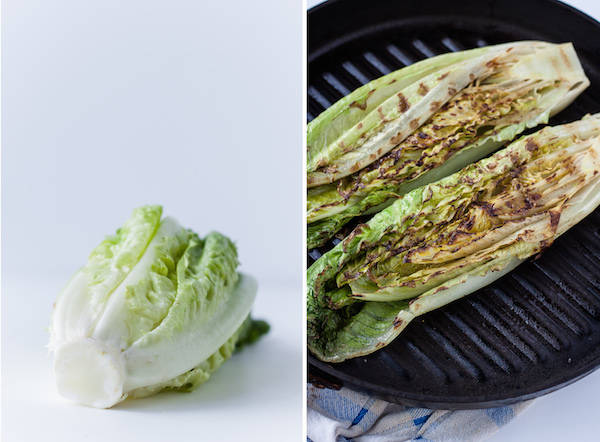 This salad has a lot going for it.
It starts with the  grilled romaine (I used a grill pan, but I highly suggest doing this on an actual grill, because the higher temperatures will yield an even tastier result). It gets this smoky flavor which is unparalleled. Try it! Romaine lettuce has never tasted so good.
To go along with it, I made a roasted tomatillo sauce made with fresh tomatillos, onion, garlic, and a little bit of olive oil and lime juice. The acidity of the sauce balances the entire dish out.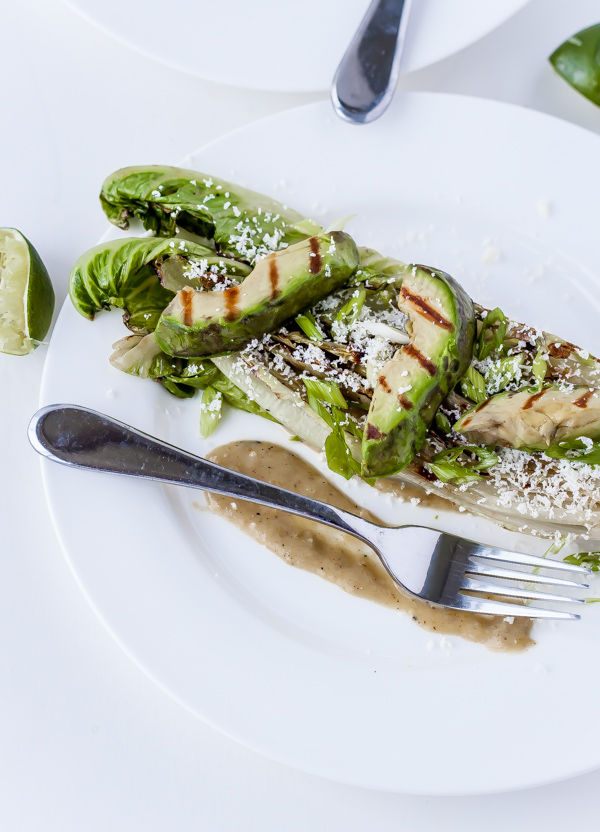 Since the romaine lettuce is fairly sturdy, it can hold up very well to the high heat. It becomes just tender enough, but still retains just enough crunch and texture.
And then you top the whole thing off with grilled avocado slices, sliced green onions, and cotija cheese–which I shaved extremely finely with a microplane. The combination of the slightly bitter charred romaine lettuce, creamy avocado, salty cotija cheese, and slightly sweet, yet acidic sauce work so well together.
This might just be one of the most exciting salads I've made in a long time. Happy Cinco de Mayo!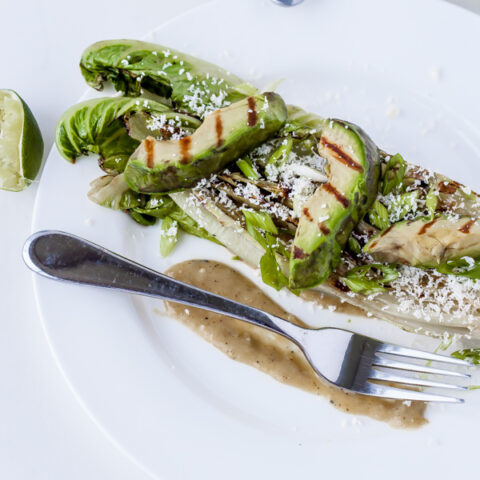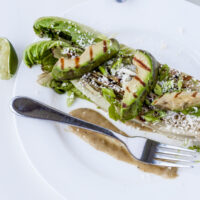 Burnt Romaine Salad with Grilled Avocado, Tomatillos, and Cotija Cheese
Yield: 4 Servings

Prep Time: 20 minutes

Cook Time: 10 minutes

Total Time: 30 minutes
Ingredients
Roasted Tomatillo Sauce:
3 large tomatillos (roughly 3/4 lbs), husks removed and sliced into quarters
1/2 small onion, cut into 1/4″ slices
3 garlic cloves
1 tablespoon olive oil
2 teaspoons fresh lime juice
kosher salt
freshly ground black pepper
Burnt Romaine Salad:
1 avocado
1/2 lime
olive oil
2 heads of romaine lettuce, rinsed and dried thoroughly
2 large green onions, sliced thinly
cotija cheese, grated finely with a microplane
Instructions
Prepare Sauce: Preheat your broiler to high. Place the sliced tomatillos, sliced onion, and garlic on a foil-lined small baking sheet. Toss them with the olive oil. Roast mixture under the broiler for 10-15 minutes, tossing occasionally, until they are charred evenly and the tomatillos are soft.
Remove and allow to cool slightly before processing in a blender. Depending on your preference, you can either choose to make the sauce slightly chunkier or puree it until it is smooth.
Set the sauce aside to cool at room temperature. Add the lime juice and season with salt and pepper to taste.
Prepare Salad: Cut the avocado into 1/2″ slices. Sprinkle them lightly with lime juice (to prevent oxidation). Brush the avocado slices with a small amount of olive oil (so they do not stick to the grill). Using a grill pan, grill the avocado slices on high heat for roughly one minute on each side. Set aside.
Meanwhile, trim the top leaves of the romaine hearts and set aside (you mainly want the crunchy interior leaves, not the outer soft leaves). Slice the romaine hearts lengthwise. Brush the romaine hearts with olive oil, and season with salt and pepper. Using an outdoor grill (preferably) or a grill pan on very high heat, grill the romaine hearts until browned on both sides. Depending on the heat of your grill or grill pan, this will take approximately 2-3 minutes per side.
Smear a large spoonful of the roasted tomatillo sauce on each serving plate. Place the grilled romaine heart on top of the sauce, and then top it with the 2-3 grilled avocado slices, a sprinkle of green onions, and a hefty dose of grated cotija cheese. Serve immediately.
Nutrition Information:
Yield: 4 Serving Size: 1
Amount Per Serving: Calories: 221Total Fat: 16gSaturated Fat: 2gTrans Fat: 0gUnsaturated Fat: 12gCholesterol: 1mgSodium: 195mgCarbohydrates: 20gFiber: 11gSugar: 6gProtein: 6g

A Beautiful Plate provides nutritional information, but these figures should be considered estimates, as they are not calculated by a registered dietician.



This post contains some affiliate links, which means that I make a small commission off items you purchase at no additional cost to you. Please read my
disclosure policy
for more information.