Burnt Sugar Ice Cream with Chocolate Bits
This incredibly creamy and decadent burnt sugar ice cream is studded with dark chocolate pieces.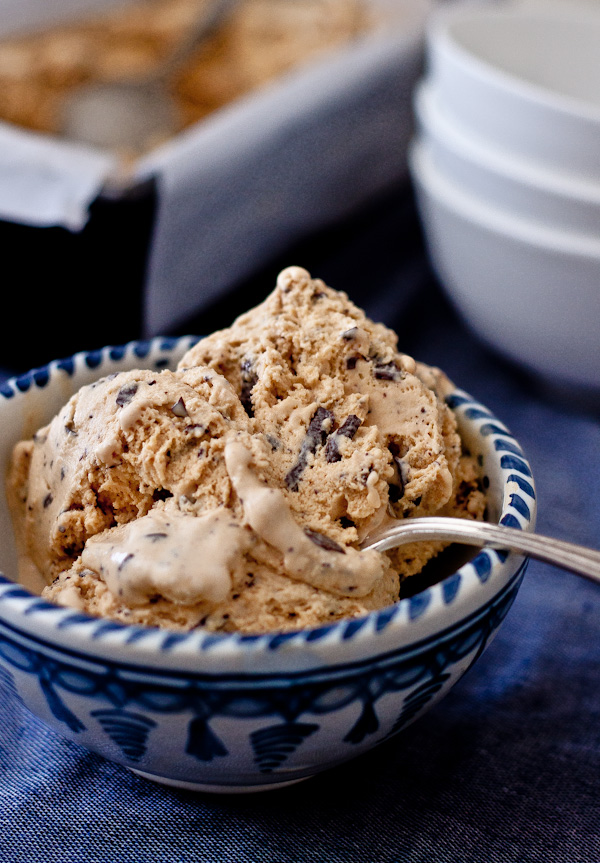 Even though this is only my second official post of the Throwback Thursday series, I've been having so much fun thumbing through old magazine issues and simply deciding which dish to tackle next. One of these days, I'm going to close my eyes, flip some pages, and just point.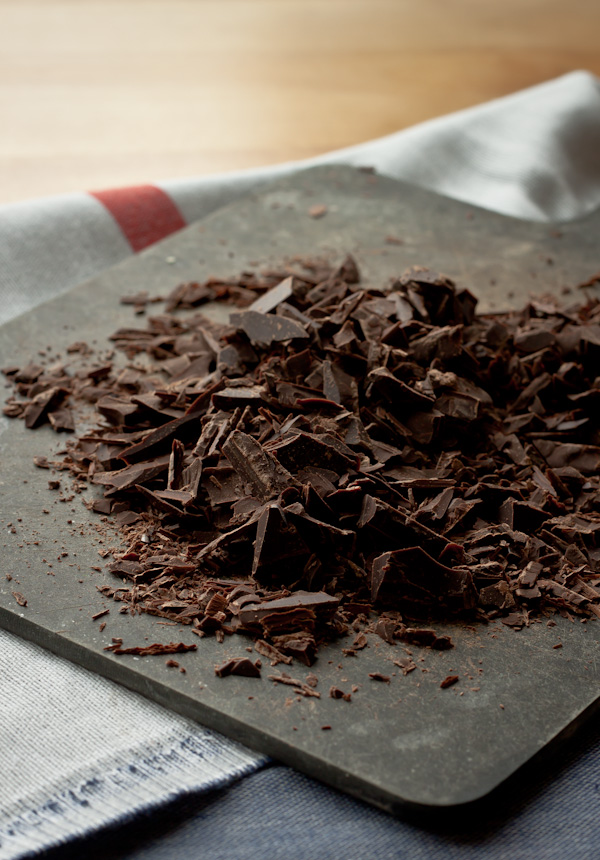 When I first set my eyes upon this recipe for burnt sugar ice cream with chocolate bits, it immediately went to the top of my recipe list.
First of all, whoever came up with the adjective "burnt sugar" is a marketing genius, because if the recipe had just been called caramel ice cream with chocolate bits, I'm not sure I would have gotten as excited about it.
This makes no sense at all, because burnt sugar = caramel. Duh. And yet, as I'm sure you would agree, it sounds much more exciting and exotic.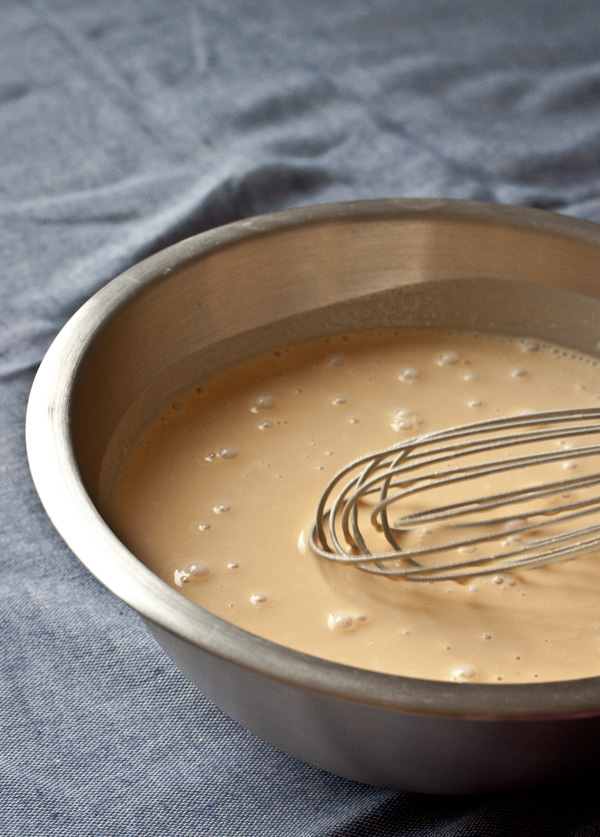 The recipe calls for a 'dry-sugar' caramel method, which basically entails dumping sugar in [very clean] skillet, turning up the heat, and raking it with a fork until the sugar begins to melt and turn into liquid form.
Depending on your preference, you can take the caramel as far as you want. I chose a deeper, medium-dark amber for a more bitter, distinctive "caramelized" flavor. Once you've prepared the caramel, add whole milk, whisk over low heat to allow the sugar to dissolve, temper this into an egg and cornstarch mixture, and bring it back to a boil.
As strange as this "boil-method" sounded to me initially, I quickly realized that it eliminated the need to worry about salmonella or anything of the sort. How convenient! Cool this completely, whisk in heavy cream, and churn. It is as simple as that.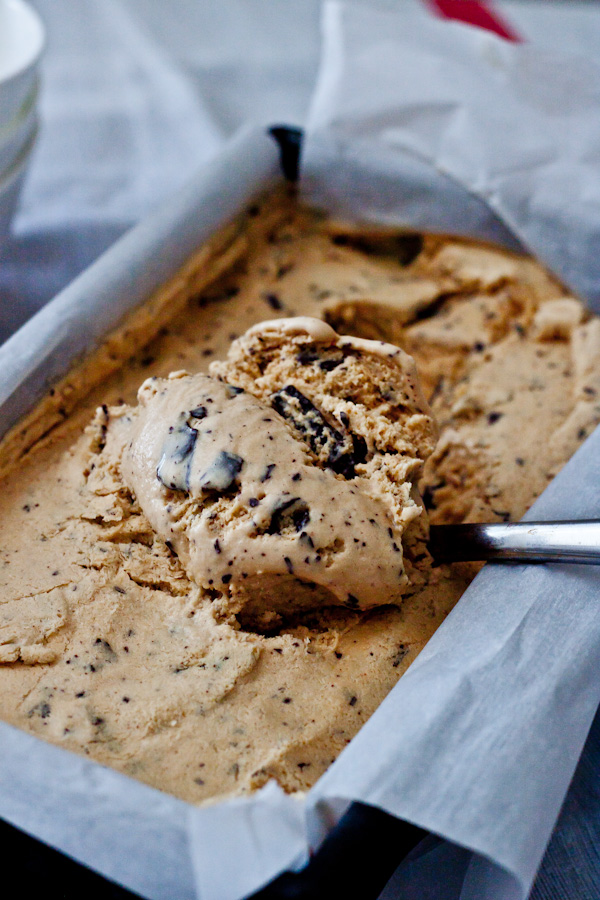 Sometimes you make a recipe and before tasting it just know that its gonna be a good one. This ice cream is definitely one of those types of recipes.
Not only does the burnt sugar add an entirely new dimension of flavor, one similar in ways to roast coffee, but the addition of the finely chopped chocolate adds great texture and bitterness to the mix. Incredibly creamy. Dangerously good.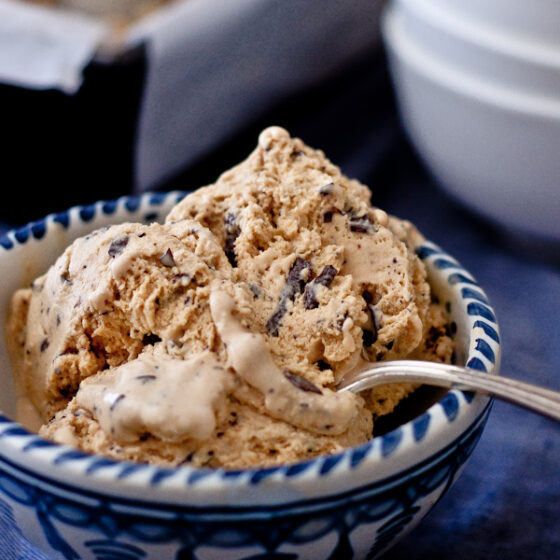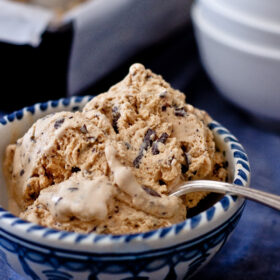 Burnt Sugar Ice Cream with Chocolate Bits
This incredibly creamy and decadent burnt sugar ice cream (a fancy term for a caramel ice cream) is studded with dark chocolate pieces.
Ingredients
¾ cup (150 g) granulated sugar
2 cups (480 mL) whole milk
3 large egg yolks
1 tablespoon cornstarch
1 cup (240 mL) cold heavy cream
1½ teaspoons pure vanilla extract
3½ ounces bittersweet chocolate (72% cocoa) finely chopped
Instructions
Place the sugar in a medium skillet and place over moderate heat. Heat, stirring constantly with a fork, until the sugar begins to melt and turn a deep caramel color. Be careful, once the sugar turns to liquid form, this will happen quickly.

Immediately remove the caramel from heat and very slowly pour the milk into the caramel, be careful it may sputter. The caramel will immediately seize and harden - do not worry. Return the mixture to low-medium heat, stirring frequently until all the caramel has dissolved.

In a separate bowl, whisk together the egg yolks and cornstarch. Temper the egg yolk mixture with the hot caramel milk, pouring slowly, while whisking constantly with your other hand. Transfer the mixture to a medium saucepan and cook over medum heat, stirring constantly with a wooden spoon. Allow the mixture to come to a low boil, stirring constantly, for 2 minutes. As the cornstarch is brought to heat, the mixture will begin to thicken until it is the texture of pudding. Remove from the heat.

Strain the mixture through a fine-meshed sieve into a large heat-proof bowl. Set the bowl in an ice bath, stirring every 10 minutes or so, until the base has cooled. Place ice cream base in an airtight container and set in the refrigerator until it has completely chilled. Once the mixture has cooled, cover surface with plastic wrap and place in fridge for at least one hour or overnight.

Once cooled, whisk in the cold cream and vanilla extract. Churn the ice cream in an ice cream maker according to the manufacturer's instructions. In the last five minutes of churning, add the finely chopped chocolate. Transfer the ice cream to an airtight container, cover the surface of the ice cream lightly with parchment paper or plastic wrap. Freeze for an additional 4 to 6 hours before serving.
Barely adapted from the November 1987 Issue of Gourmet Magazine.
Serving: 1serving, Calories: 251kcal, Carbohydrates: 24g, Protein: 5g, Fat: 15g, Saturated Fat: 9g, Polyunsaturated Fat: 5g, Cholesterol: 133mg, Sodium: 62mg, Sugar: 23g
This post contains affiliate links, which means that I make a small commission off items you purchase at no additional cost to you. Please read my
privacy policy
for more information.