Homemade Potato Gnocchi with Roasted Tomato Basil Sauce
Homemade potato gnocchi served with a roasted fresh tomato basil sauce. This delicious main course is great for summer!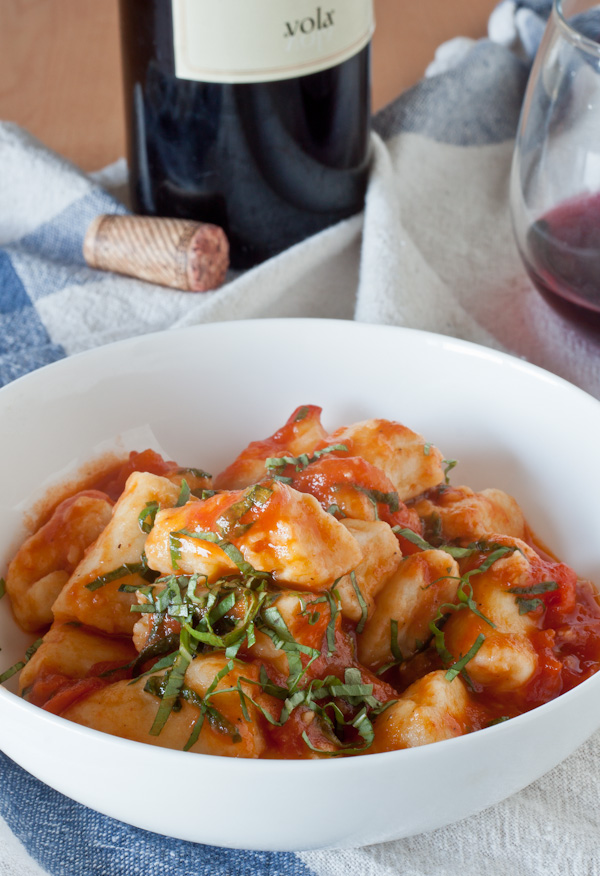 As much as this homemade gnocchi is dreamy in its own right, the thing that takes this dish over the top is the sauce.
Perfectly ripened tomatoes, tossed with garlic and olive oil, and hand-torn basil. Pop this into the oven, set the timer, and walk away. Soak up the aroma.
In about an hour and a half, you'll be greeted with this incredible roasted tomato basil sauce. Resist the urge to eat it all with a spoon.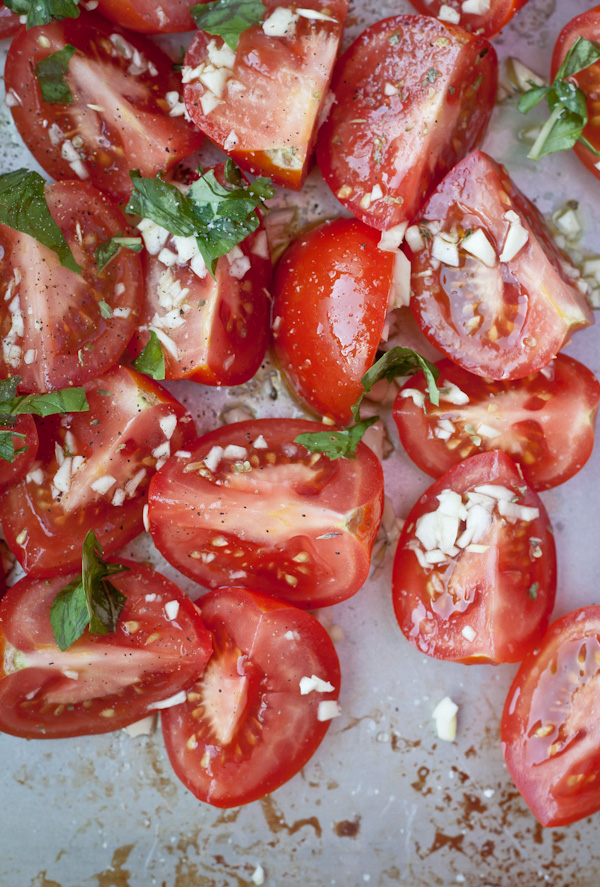 While the roasted tomatoes are cooling, go ahead and make the gnocchi. Homemade gnocchi can feel intimidating, but the dough is a simple mixture of cooked riced potato, beaten egg, and flour. And, in this case, crumbled goat cheese. .
Feel free to substitute the homemade gnocchi with fresh store-bought gnocchi or even dried pasta.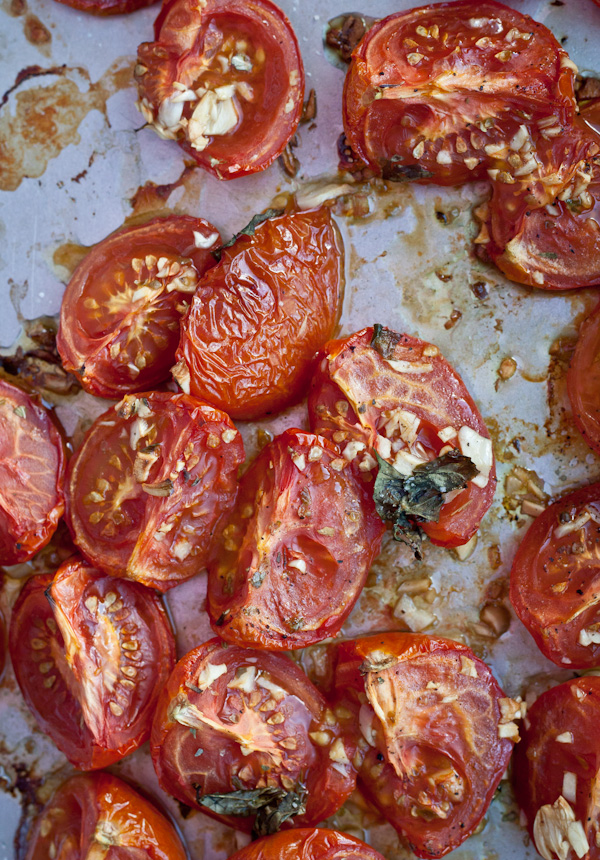 The easiest way to make the sauce is to grab a fine-meshed sieve, grab a handful of roast tomatoes, and start to press it through with a rubber spatula or spoon. If you happen to own a food mill, that's a great easier alternative method.
This step yields an extra smooth, delicate sauce, as well as one that is super concentrated and bursting with flavor.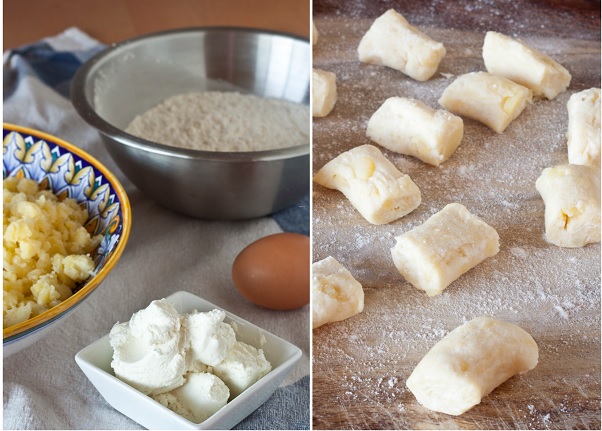 Boil the gnocchi, toss in the warm tomato basil sauce, and serve with a generous spoonful of grated parmigiano-reggiano cheese. Dinner is served!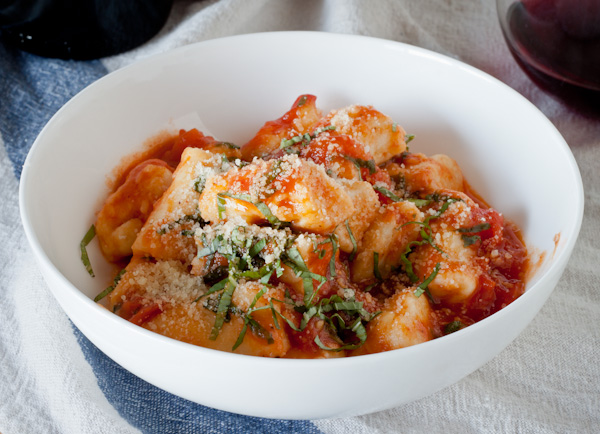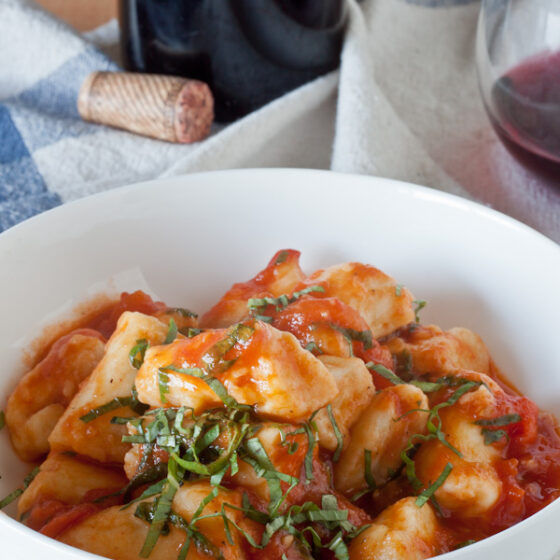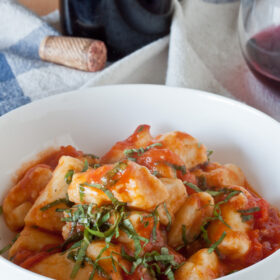 Homemade Potato Gnocchi with Roasted Tomato Basil Sauce
Homemade potato gnocchi served with a roasted fresh tomato basil sauce. This delicious main course is great for the summer months!
Ingredients
Roasted Tomato Basil Sauce:
4 lbs vine-ripened tomatoes quartered
5 garlic cloves finely minced
½ cup packed basil leaves, roughly torn divided
2 tablespoons extra virgin olive oil
kosher salt
freshly ground black pepper
Potato Gnocchi:
1 lb Yukon gold potatoes
3½ ounces soft goat cheese crumbled
1½ cup (200g) unbleached all-purpose flour
1 large egg slightly beaten
kosher salt
freshly ground black pepper
finely grated parmigiano-reggiano cheese for serving
Instructions
Prepare Sauce: Preheat the oven to 350°F (175°C) with a rack in the center position. Lay the tomato pieces, cut side facing up, on a half sheet pan, distributing them evenly across the surface.

Sprinkle on the minced garlic and ¼ cup of the torn basil. Drizzle with the olive oil and season generously with salt and pepper. Using your hands, toss everything until well coated.

Roast for 75 to 90 minutes or until the tomatoes are completely soft and starting to collapse and caramelize. Remove the tomatoes from the oven and cool until lukewarm. To make the sauce, take several spoonfuls of the roasted tomatoes and push through a fine-meshed sieve (using the back of a wooden spoon or rubber spatula). Discard the skin, seeds and fiber. Note: Alternatively use a food mill.

Before serving, reheat in a wide skillet on the stove. Reduce to thicken if desired and season with salt and pepper to taste. Just before tossing with the gnocchi, stir in the remaining torn basil.

Prepare Gnocchi: As the tomatoes are roasting, peel the potatoes, removing any blemishes as you go and cut into similar size (roughly 1½-inch) chunks.

Add the potato chunks to a medium pot and fill with cold water. Salt the water generously and bring to a boil. Lower the heat and simmer until the potatoes are completely tender, then drain well. Using a potato ricer (this will yield a lighter, more fluffy gnocchi) or masher, press and mash the potatoes into a large mixing bowl. Allow the mashed potatoes to cool down until lukewarm.

Once the potatoes have cooled slightly, add the goat cheese, flour, salt, pepper, and egg (slightly beaten) to the bowl. Mix everything together with your hands until the dough begins to come together. Season with salt and pepper and knead slightly to form a firm dough.

Cut the dough into portions and roll each dough portion into ¾-inch wide dowels. Cut the dowels to create 1-inch wide gnocchi pieces. Set the gnocchi on a lightly floured baking sheet or onto a piece of parchment paper.

Cook the Gnocchi: Bring a large pot of water to a gently simmer. Salt generously. Gently add the gnocchi, stirring gently. Once they rise to the surface and are cooked through, scoop them out with a slotted spoon and transfer to the pan with the warm tomato sauce. Serve immediately with grated parmigiano-reggiano cheese for serving.
Serving: 1serving, Calories: 405kcal, Carbohydrates: 56g, Protein: 16g, Fat: 15g, Saturated Fat: 5g, Polyunsaturated Fat: 8g, Cholesterol: 58mg, Sodium: 447mg, Fiber: 7g, Sugar: 12g
This post contains affiliate links, which means that I make a small commission off items you purchase at no additional cost to you. Please read my
privacy policy
for more information.