Butter Basted Flank Steak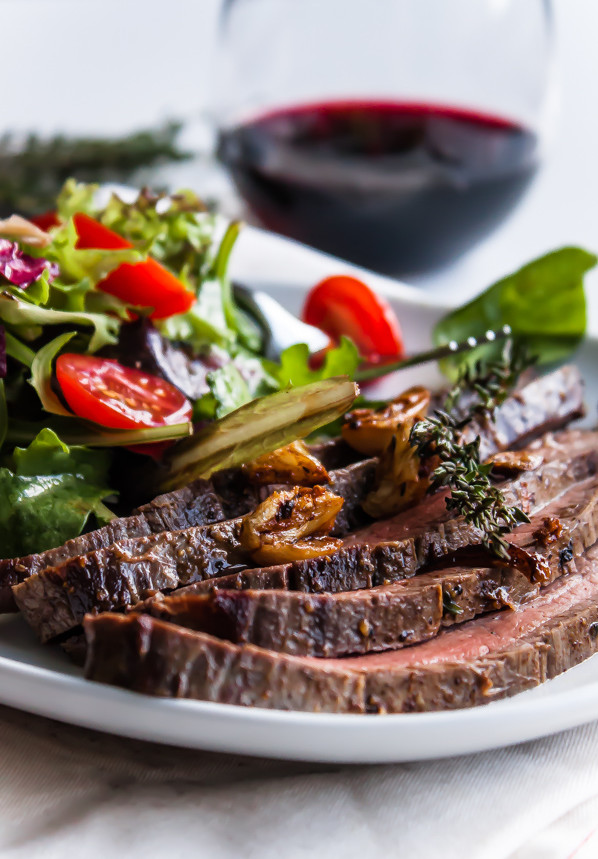 If you're looking for a fast, flavorful dinner recipe, this is it!
Do you see those crispy, pan roasted garlic cloves up there? Get excited. Get very, very excited.
Let's get to it…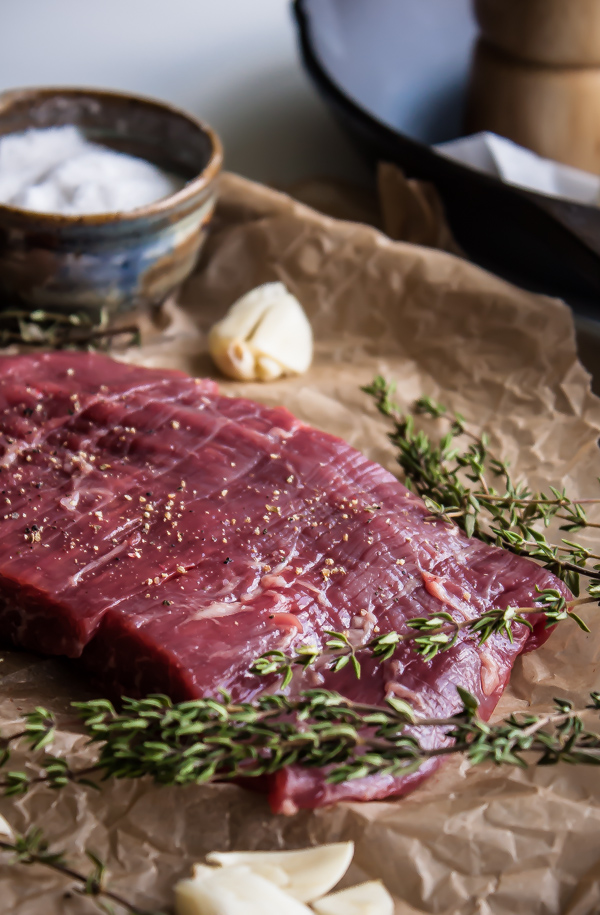 Connor and I are all about the easy, weeknight-friendly meals right now. Ok, to be honest, we're always about those types of meals.
I'm sure you are too, especially when you don't have a lot of spare time to spend in the kitchen after work or between whatever else is on your plate at any given time (no pun intended).
I love to spend more time in the kitchen on the weekend, but when it comes to the average weekday, it needs to be quick and dependable. We've been meeting with wedding vendors almost every evening these past two weeks, so this has become even more important to us lately.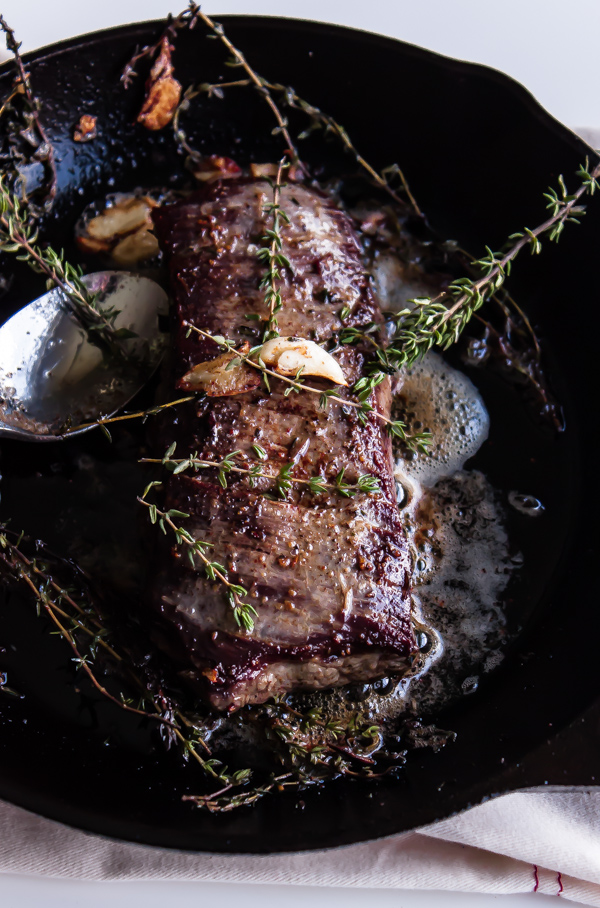 But with that said, sometimes you want a dish that is not only easy, but also a little bit special and faux-fancy (did I just invent a word?). Maybe you're having a friend or a parent over for dinner, or maybe you just want to mix up your routine and impress a loved one.
Not only is this butter basted flank steak a little bit special (ok, it is about a million times more special than our normal weeknight dinner), it can also be prepared in less than 20 minutes.
That is less time than it takes for me to throw together some quesadillas, so that is saying something.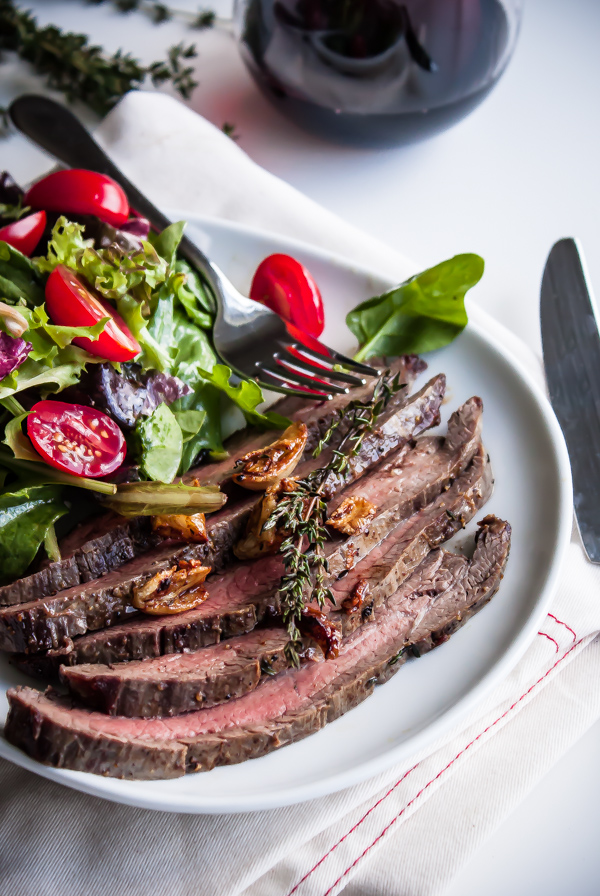 One of my favorite cuts of meat is flank steak. It cooks extremely quickly (and actually requires to be cooked quickly and to medium-rare, otherwise it can easily get tough), has good flavor, and lends itself well to all sorts of flavor profiles.
The trick to having a juicy piece of flank steak in such a short amount of time (without having to marinade it, etc.) is to season it very well–salt and pepper are your friend–and add the flavor while you're cooking it. Butter basting is perfect for this. It is actually how most proteins are cooked in restaurant kitchens!
You sear your meat in a hot pan, flip it, immediately add a generous amount of butter and aromatics (in this case, smashed garlic cloves and fresh thyme), tilt the pan just slightly, and literally spoon the bubbling, melted garlic-thyme infused butter over the steak repeatedly until done.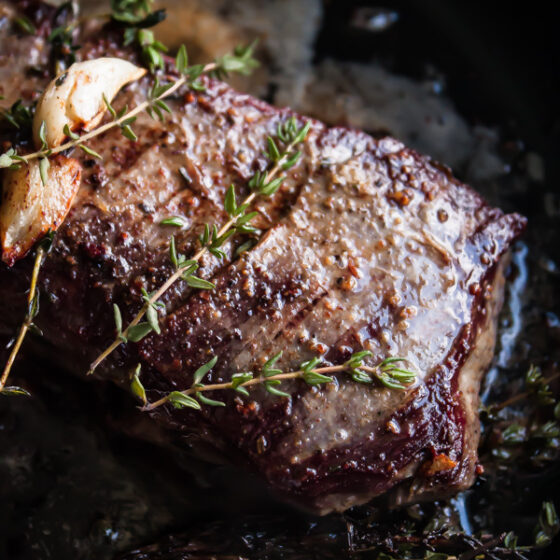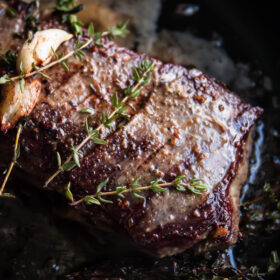 Butter Basted Flank Steak
A simple flank steak recipe basted with butter and fresh herbs. Serve with salad or bulk it up by serving it with roasted fingerling potatoes and sautéed greens or asparagus. You can use this same method for other cuts of beef, such as New York Strip, etc.
Ingredients
10 ounce flank steak, trimmed roughly ¾ to 1-inch thick
freshly ground black pepper
2 teaspoons extra virgin olive oil
3 tablespoons (45 g) unsalted butter
4 garlic cloves peeled and smashed
6-7 sprigs fresh thyme
Instructions
Pat the trimmed steak completely dry and allow it to rest at room temperature for at least 20 o 30 minutes. This will prevent your pan from losing heat quickly and from "shocking" the meat.

Season the steak generously on both sides with salt and pepper. Heat the olive oil in a cast-iron or heavy skillet over medium high heat. When the oil is hot, carefully place the flank steak in the pan and sear it for 4 to 5 minutes on one side, until the bottom is browned - do not move the steak at all.

Flip the steak carefully, reduce the heat to medium, and add the butter, smashed garlic cloves, and fresh thyme to the pan immediately. Hold the pan handle with one hand, use a towel, as it will be very hot, and tilt the pan slightly, use your other hand to spoon the melted, bubbling butter mixture over the steak repeatedly until it is cooked to medium-rare. Note: cooking time will depend on the thickness of your steak–if your steak is 1-inch thick, a medium-rare cook time will take approximately 10 minutes. The best way to check doneness is to use a meat thermometer.

Remove the steak from the pan and allow it to rest on a cutting board for at least 5 minutes. Slice thinly against the grain and serve immediately. Top with the crispy smashed garlic cloves.
Tips for Success:
This butter basted steak goes well with just a simple salad on the side–but you can also bulk it up by serving it with roasted fingerling potatoes and sautéed greens or asparagus.
Serving: 1serving, Calories: 469kcal, Carbohydrates: 3g, Protein: 40g, Fat: 32g, Saturated Fat: 16g, Polyunsaturated Fat: 14g, Cholesterol: 158mg, Sodium: 374mg, Fiber: 1g
This post contains affiliate links, which means that I make a small commission off items you purchase at no additional cost to you. Please read my
privacy policy
for more information.