Challah French Toast with Roasted Apricots, Vanilla Mascarpone, and Toasted Almonds
Challah French toast paired with caramelized roasted apricots, vanilla mascarpone, and topped with toasted almonds for a little bit of crunch.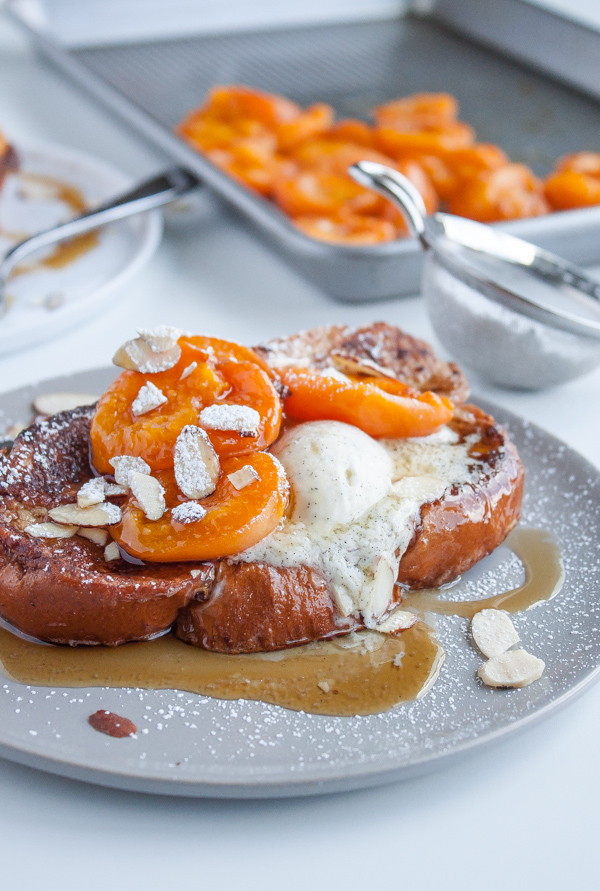 Holla!!! [SORRY.]
I bring you challah French toast topped with all sorts of goodies. First of all, there are the roasted apricots. Oh my gosh, roast your apricots people! 
Some of you might be thinking, "I don't buy apricots because they are always tasteless and mealy." Yes. I totally commiserate with you and I've been there.
Many, many, many times.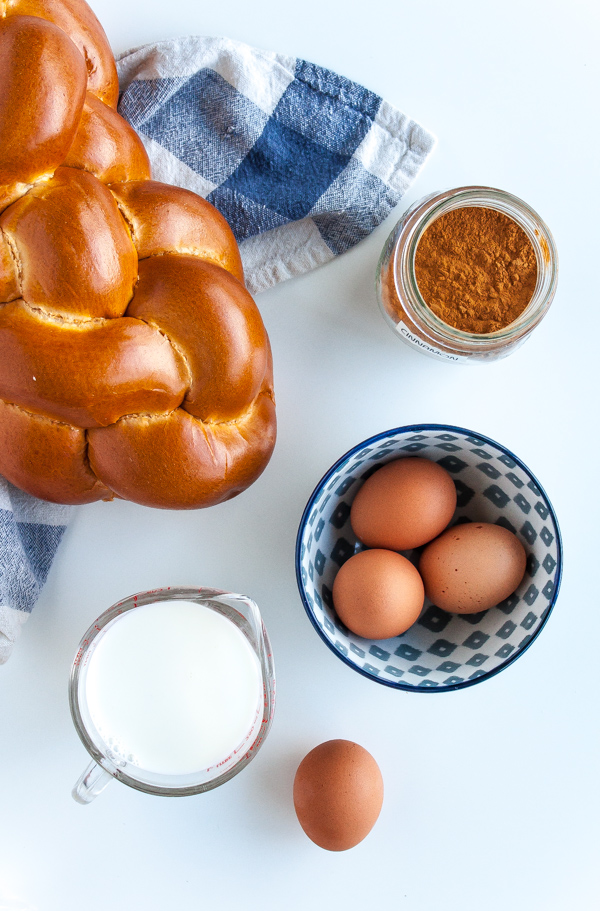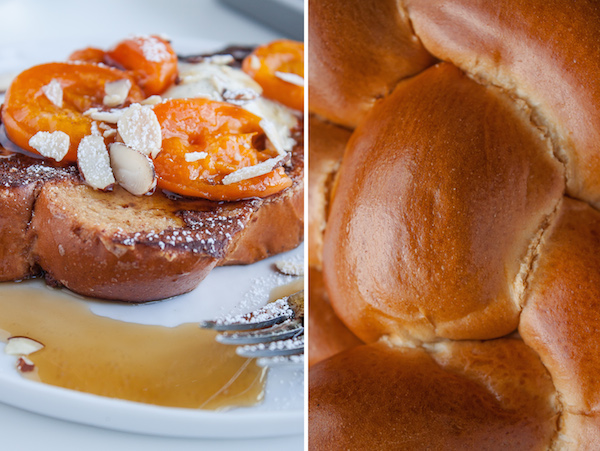 I'm rarely impressed with store-bought apricots.  I get really excited, buy a bagful of them, grab one out of the bag to eat on the way home, and am always disappointed. Maybe it is an East Coast thing, or maybe I just have really bad luck. Or maybe I just need to get myself to an apricot farm.
Eventually this happened so many times that I gave up on apricots for a while and loaded up on nectarines, peaches, and other stone fruit instead. They were half the price and a million times better.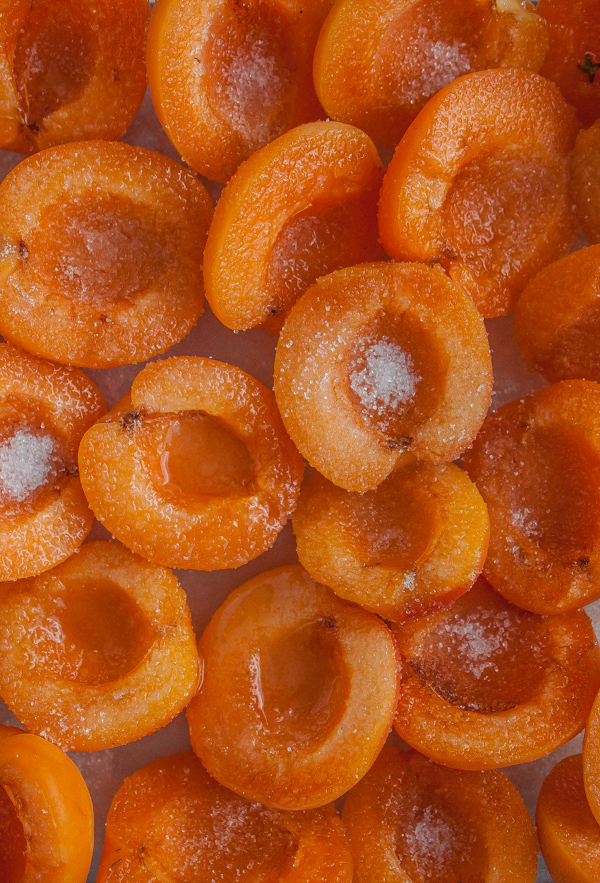 But last summer, I was on my weekly grocery trip to Trader Joe's, saw an amazing deal on apricots, and caved. I probably bought over two pounds worth.
And guess what? They were all horrible. Instead of giving up and ending my relationships with apricots forever, I decided to slice them in half, sprinkle them with lemon juice and sugar, and roast the heck out of them. Because…why not?
Well, this is where I circle back to my previous statement: Roast your apricots people! It is a life-changing thing. You can take the crappiest apricot on the planet, roast it at high heat, and transform it into the best apricot of your life. And yes, that sounds ridiculously dramatic, but it is totally true.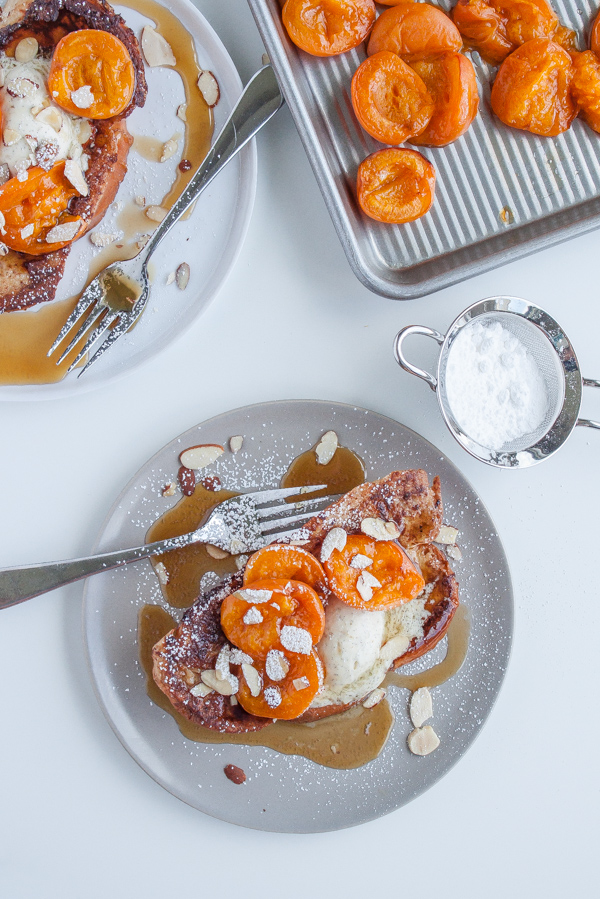 They lose all of their mealiness, soften in their skin and become extremely concentrated in flavor. Tart and sour, but just sweet enough to make you want to devour an entire pan's worth in one sitting.
After my first apricot roasting experience, I haven't looked back once. I roast them every.single.time without fail, and am never ceased to be amazed by how much they transform in the oven.
Instead of just eating them plain or with yogurt as a snack, I recently got the idea of pairing them with challah French toast and topping the whole thing off with toasted almond slices. Apricots and almonds are best of friends in the pastry world, and this dish is no exception.
Somewhere along the brainstorming process, I got the idea of adding vanilla mascarpone into the mix–and never looked back. The vanilla mascarpone is simply mascarpone mixed with scraped vanilla beans and vanilla extract. It is rich and wonderful, melts slightly on the hot French toast, and tastes like butter.
But better.
Don't forget the hot maple syrup!
Challah French Toast with Roasted Apricots, Vanilla Mascarpone, and Toasted Almonds
Yield: 4-5 Servings

Prep Time: 20 minutes

Cook Time: 1 hour

Total Time: 1 hour 20 minutes
Ingredients
Roasted Apricots:
1 lb. apricots, pitted and sliced in half
1 tablespoon granulated sugar
juice of half a lemon
Vanilla Mascarpone:
1/2 cup mascarpone cheese, room temperature
1/2 vanilla bean, scraped
1/4 teaspoon vanilla extract
small pinch of salt
Challah French Toast:
4 large eggs
3/4 cup whole milk
1 teaspoon sugar
1 1/2 teaspoons ground cinnamon
1/2 teaspoon vanilla extract
1/8 teaspoon salt
4-5 (1-inch-thick) large slices of challah bread
unsalted butter
1/3 cup toasted sliced almonds
pure maple syrup, warm
powdered sugar (optional)
Instructions
Roast Apricots: Preheat the oven to 425 degrees Fahrenheit. Place apricots, cut-side up, in a large baking dish or rimmed baking sheet. Toss with lemon juice and sprinkle the apricots evenly with sugar. Roast for 35-45 minutes, or until soft and just starting to caramelize. Allow to cool completely.
Prepare Vanilla Mascarpone: Combine the mascarpone cheese with the scraped vanilla bean seeds, vanilla extract, and salt. Set aside.
Whisk together the eggs, whole milk, sugar, ground cinnamon, vanilla extract, and salt in a large shallow dish until well combined.
Heat butter in a large, heavy skillet over medium heat until small bubbles form. Soak the challah slices, one at a time, in the egg mixture, turning until just saturated. Allow excess egg mixture to drip off, and cook the french toast until golden brown, flipping once.
Top french toast with 3-4 roasted apricot halves and a small spoonful of vanilla mascarpone. Sprinkle with toasted almond slices, dust with powdered sugar, and serve with hot maple syrup.
Nutrition Information:
Yield: 5 Serving Size: 1
Amount Per Serving: Calories: 621Total Fat: 34gSaturated Fat: 16gTrans Fat: 0gUnsaturated Fat: 14gCholesterol: 236mgSodium: 498mgCarbohydrates: 68gFiber: 4gSugar: 48gProtein: 14g

A Beautiful Plate provides nutritional information, but these figures should be considered estimates, as they are not calculated by a registered dietician.
[Excuse me why I go wipe off the drool from my face.]
This post contains affiliate links, which means that I make a small commission off items you purchase at no additional cost to you. Please read my
privacy policy
for more information.