Buttermilk Panettone French Toast with Cranberry Compote
Panettone French Toast – classic Italian Pannetone bread is transformed into delicious and festive French toast for the holidays.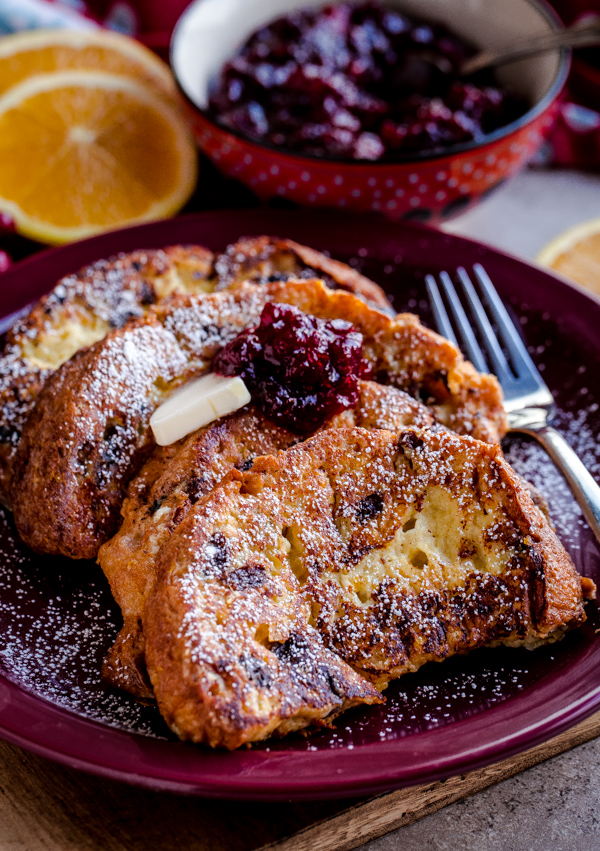 Christmas morning, at my house, is filled with tradition.
And by tradition, I mean food. And by food, I mean…a good loaf of Italian panettone.
After slowly waking up and greeting the morning, my family sits down at our kitchen table, where we feast on Italian panettone, fresh fruit and berries, and warm mugs of hot coffee. Pajamas, robes, and fuzzy socks are the official attire of the day. After eating breakfast, we head to the living room, where we grab our stockings and slowly open them, one gift at a time, attempting to prolong the process as long as possible.
Some little traditions have changed over the years, and others have remained the same for as long as I can remember.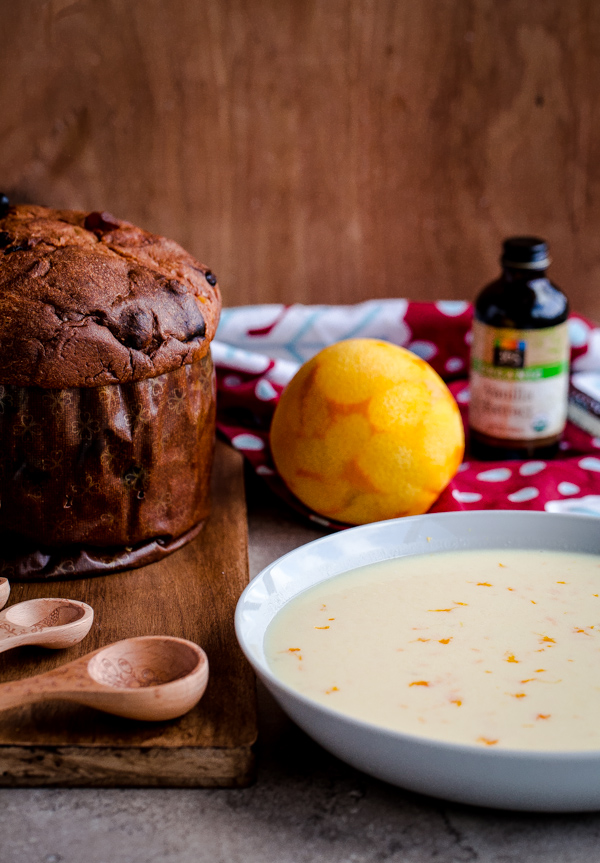 Panettone is one of those long-time traditions that won't be going away anytime soon–or ever. Some people go gaga for Christmas cookies, I go gaga for a nice, thick slice of panettone. It literally tastes like the holidays to me.
And sadly, before you ask, we do not make homemade panettone from scratch. I've tried with little success and decided that no recipes replicate the flavor or texture of the imported variety–plus, one only has so much time over the holidays.
Despite that little confession, my family's panettone snobbery has grown by leaps and bounds over the years. We've tried and tested practically every one out there, and my sister is now responsible for bringing back several loaves of our (current) favorite from New York City's Agata & Valentina every year.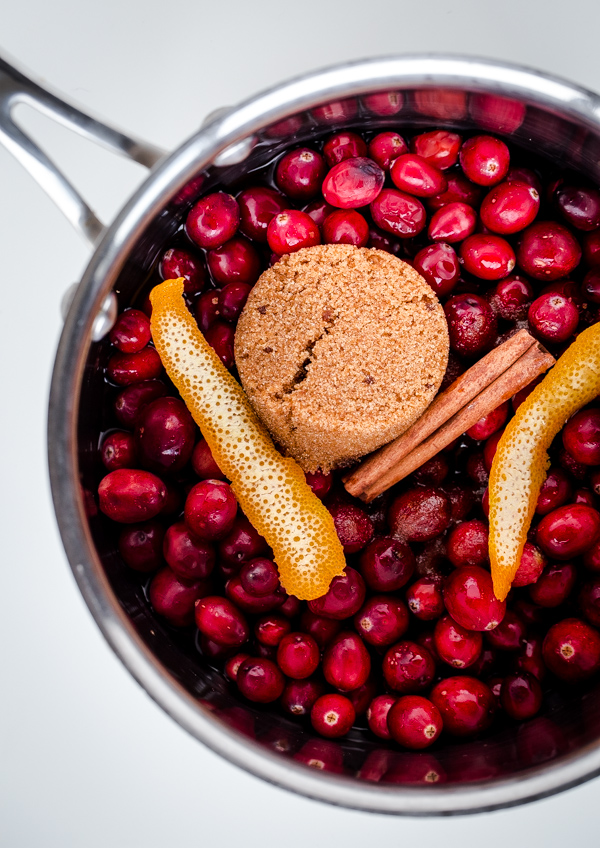 We're usually very boring and eat it plain or with a little bit of butter. A good panettone doesn't need much more than that.
Generally, I'm not one to advocate messing with something so great. But for this buttermilk panettone french toast with cranberry compote, I'd be willing to make an exception.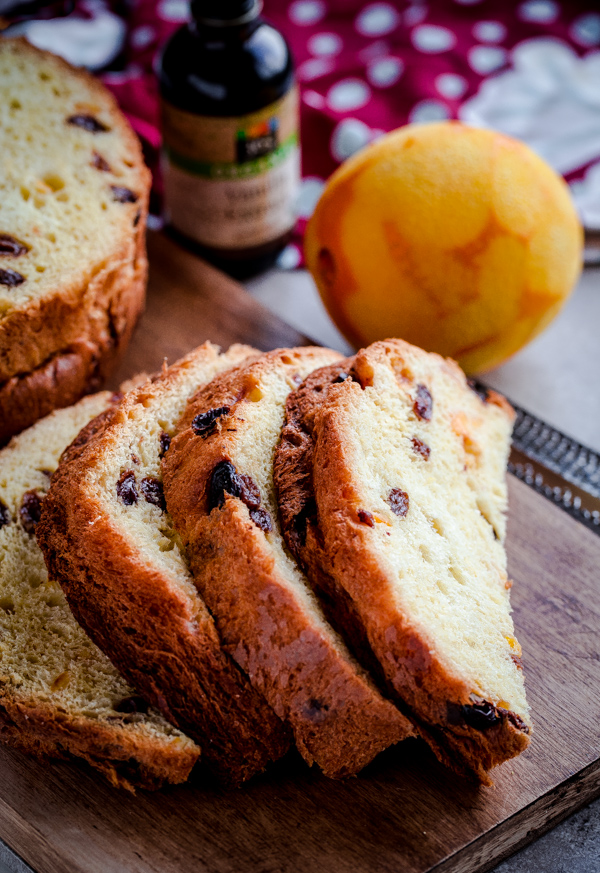 If you've ever had challah or brioche french toast before, you know that egg-filled, yeast breads make the best and most decadent French toast ever. Now imagine using panettone, which has the added bonus of being filled with candied orange, raisins, citron, and zest. Perfection.
Instead of soaking the french toast in a traditional milk mixture with eggs and other spices, this French toast is soaked in a buttermilk mixture with orange zest and a touch of vanilla extract. It is spectacular!
My mom recently gifted me this beautifully written and photographed cookbook that is entirely made up of buttermilk recipes, and I happened to come across the idea for buttermilk French toast in the breakfast section. The author notes that she loves to use buttermilk for French toast, because it adds a subtle tartness that helps balance the sweetness of the dish. This is particularly true for Panettone, as it already is a sweet bread to begin with.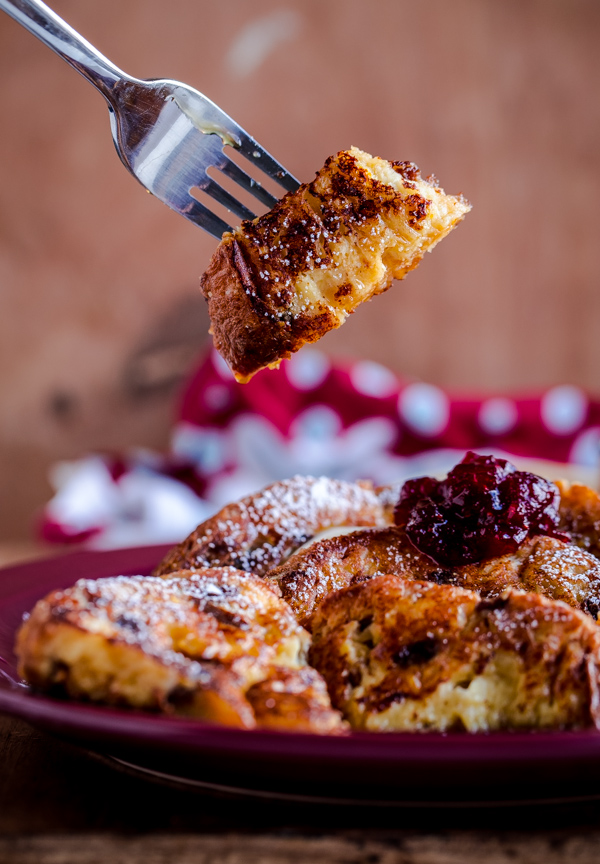 Since orange and cranberry are a match made in heaven, I decided to pair this French toast with a very simple cranberry compote. Just a little spoonful goes a long way, but it helps make this breakfast extra special.
If you're looking for a festive breakfast for Christmas morning, this is it!