Milk and Dark Chocolate Rochers with Caramel Sugar and Sea Salt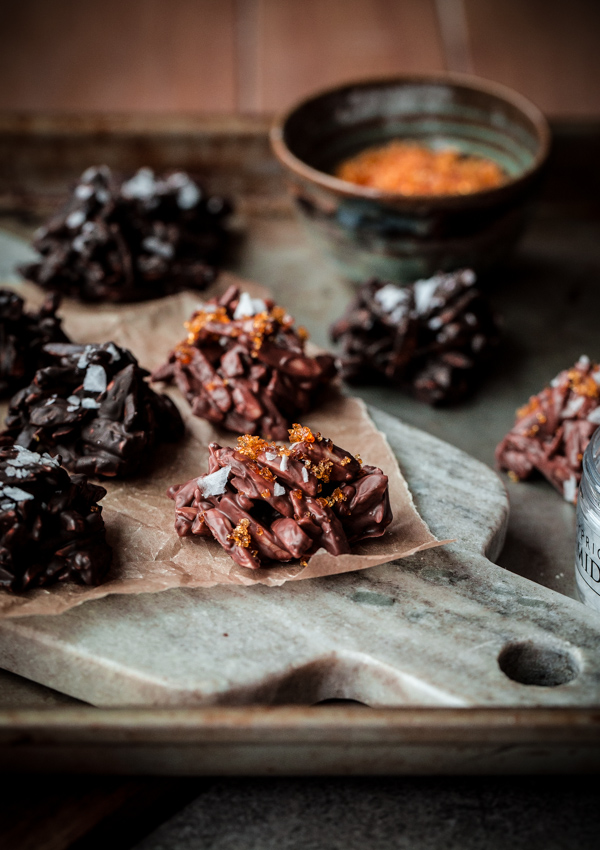 If you're looking for a delicious homemade treat or candy to give to family and friends over the holidays, these almond rochers are for you! I've been looking forward to sharing these with you for a few weeks now.
They look complicated and fancy, but they are so amazingly easy and straight-forward! I promise.
Plus, they only require less than five ingredients: melted dark chocolate and milk chocolate, flaky sea salt, sugar, and dry toasted slivered almonds.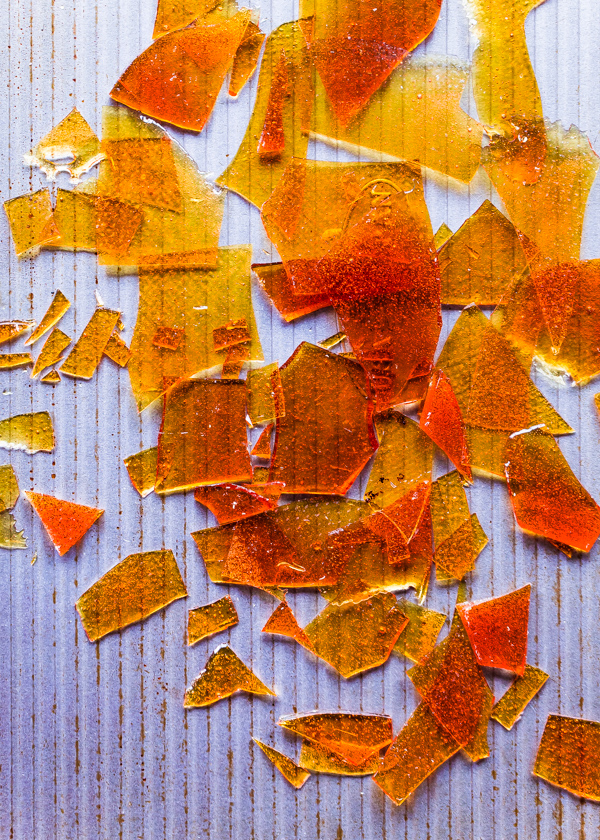 I'm particularly excited about this caramel sugar situation that is happening, but I'll talk more about that in just a bit.
What exactly are rochers though? (Pronounced: RO-SHAY). Well, rocher is actually just a fancy French word for 'boulder' (can you sort of see the resemblance?), and can actually refer to any number of desserts.
I first became familiar with rochers when I worked on the pastry station in a restaurant after culinary school. We would make tons of these little chocolate treats to serve to guests as complimentary petit fours, and I was always amazed by their simplicity.
I mean, melted chocolate and slivered almonds? It can't get much easier than that.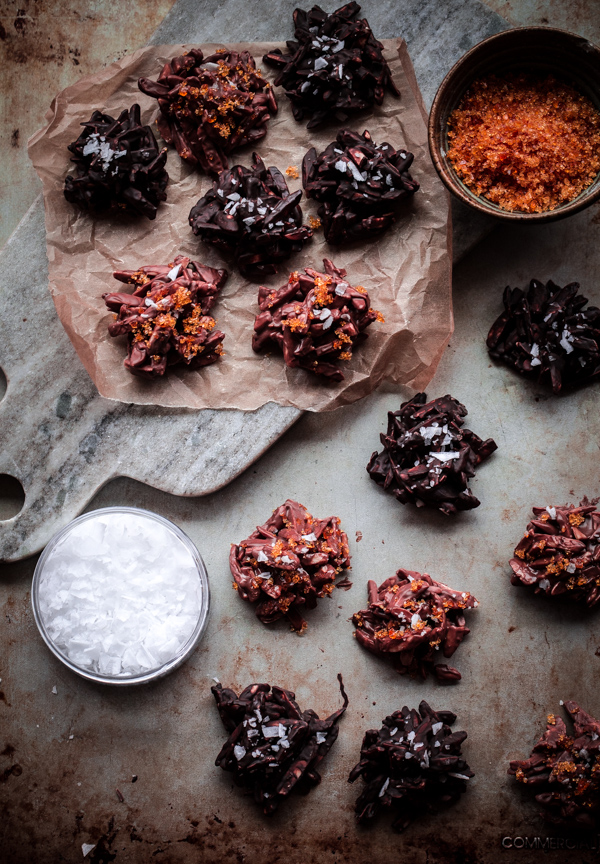 This recipe calls for both milk and dark chocolate in order to make an equal quantity of both dark and milk chocolate rochers. However, if you are only a dark chocolate fan or, alternatively, only a fan of milk chocolate, I've included instructions in the recipe notes.
To up the ante a bit and make them even more exciting and festive, I decided to sprinkle the rochers with flaky sea salt (Maldon is great, Trader Joe's now sells uncannily similar variety) and CARAMEL SUGAR.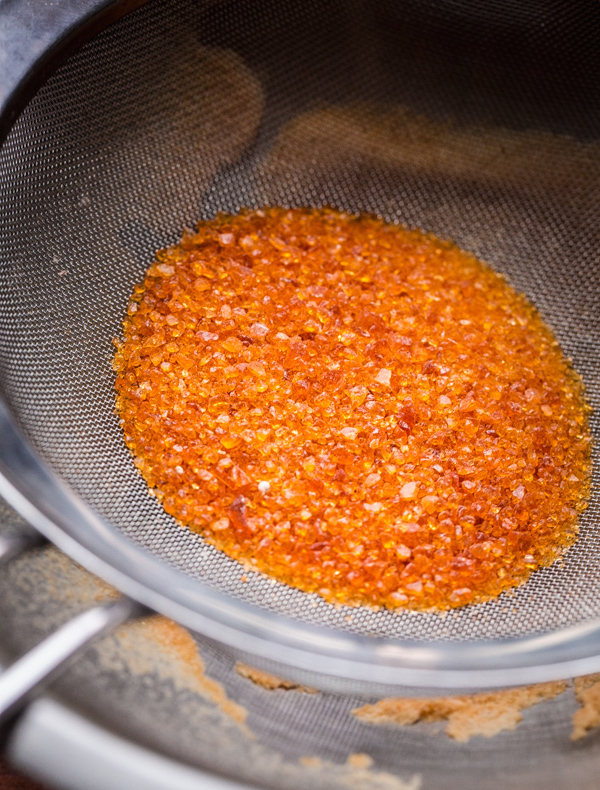 Caramel sugar is exactly what it sounds like. It is basically caramel (or more specifically, water and sugar cooked until they reach a medium-amber color) that has hardened, been broken into shards, and then been pulverized into the most beautiful, golden-hued sugar crystals.
I've literally never made caramel sugar before, and am not even sure if its a 'real' thing, but it was an unbelievably lucky kitchen experiment (I came up with the idea at the last minute and decided to just try it out) that single-handedly transformed these rochers into little, edible works of art.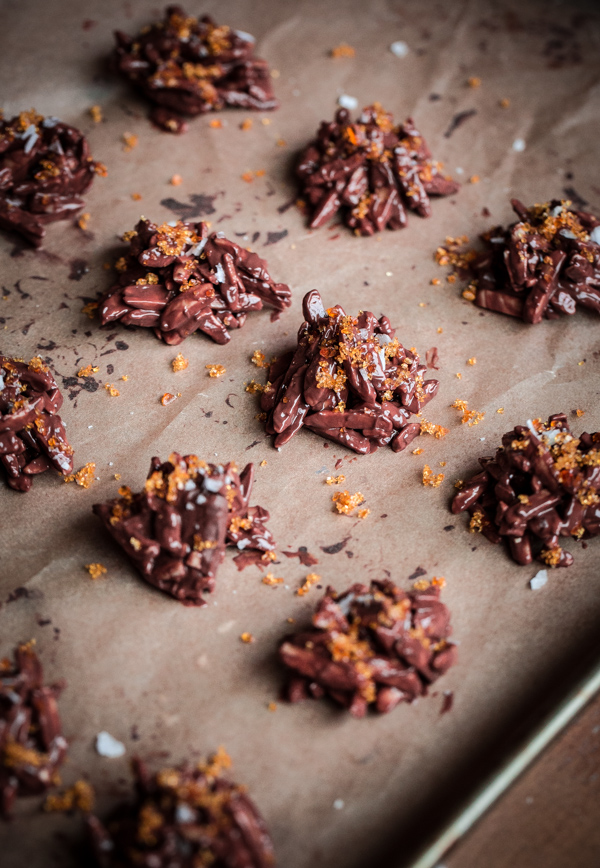 Can you imagine stirring this stuff into coffee or hot chocolate? Um, life-changing.
The one caveat is that since caramel (and thus, caramel sugar) is very prone to absorbing moisture, I don't recommend making or storing the caramel sugar in advance, as it has a tendency to clump over time.
However, once it is sprinkled on the rochers, it stores very well at both room temperature and in the fridge. I've decided that caramel sugar is my new 'sprinkle' of choice–if I can even call it that. I mean, THAT COLOR.
I can't get over it.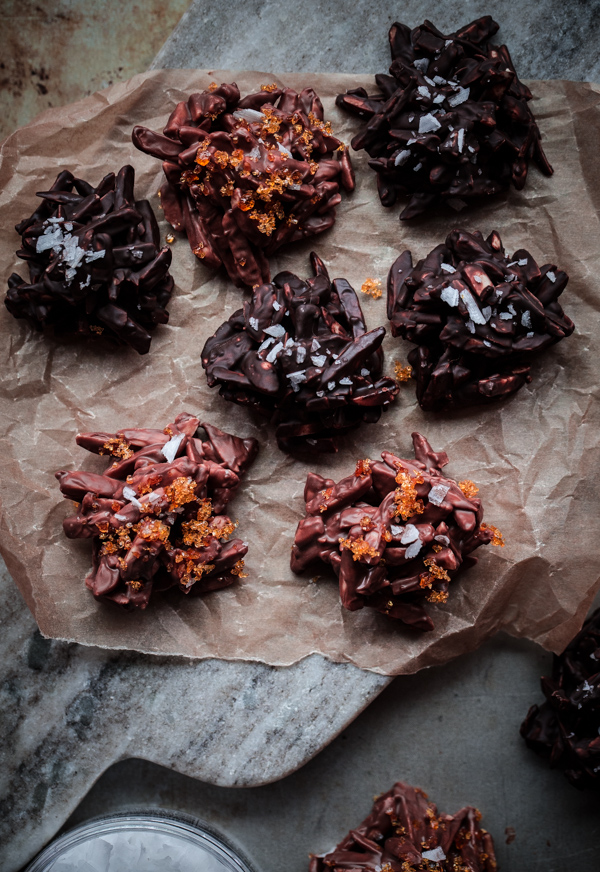 Chocolate covered almond clusters sprinkled with caramel sugar and sea salt! So much texture and flavor. You will impress everyone with these, and no one will be the wiser as to how easy they are to throw together.
This is why I love the holiday season.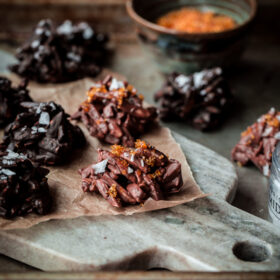 Milk and Dark Chocolate Rochers with Caramel Sugar and Sea Salt
Ingredients:
Caramel Sugar
1/3 cup granulated sugar
2 tablespoons water
Milk and Dark Chocolate Rochers
12 ounces dry toasted slivered almonds, divided
3.5 ounces milk chocolate
3.5 ounces bittersweet chocolate, chopped
Maldon or pyramid sea salt
caramel sugar (see above)
Directions:
Prepare Caramel Sugar: Line a baking sheet with a Silpat mat, and set aside. Combine the sugar and water in a small saucepan. Place the pan over medium-low heat, and cook the sugar until it turns a medium-amber color (without stirring). Immediately remove the pan from the heat and pour the hot caramel (be extremely careful) onto the baking sheet into an even layer. Allow the caramel to cool completely until it is set and hard. Break the sheet of caramel into small pieces, and place in the bowl of a food processor. Pulse until the sugar is pulverized and in very small pieces, similar to a sanding or demerera sugar. Place the sugar in a fine-meshed sieve over a bowl, and sift the sugar to discard any sugar powder. Set aside while you prepare the rochers.
Prepare Rochers: Line a baking sheet with a Silpat mat or parchment paper, and set aside. Place the milk and dark chocolate in two separate heatproof bowls. Melt the chocolate in the microwave in 20 to 30 second intervals, stirring with a spatula after each interval, until the chocolate is smooth and melted evenly. Add 6 ounces of toasted slivered almonds to each bowl of melted chocolate and stir with a spoon to coat the almonds evenly in chocolate.
Using a spoon, and your fingers, portion out the coated almonds into small, tight clusters (roughly a tablespoon or so per rocher) and set them apart on the baking sheet. They will slightly jagged and rustic in size and shape, but that is to be expected. Sprinkle the tops of the clusters with sea salt and caramel sugar (or one or the other, depending on what you prefer). Place the baking sheet in the refrigerator, uncovered, and allow the chocolate to chill and set before serving or packaging.
If you cannot find dry-toasted slivered almonds, spread raw slivered almonds on a large baking sheet and toast at 350 degrees Fahrenheit for 5-10 minutes, or until lightly golden in color. Allow to cool before tossing with chocolate. Rochers can be stored in an airtight container (in layers, separated by wax paper) in a cool, dry place–or alternatively, store in the refrigerator. Since the chocolate is not tempered, it is best not to leave them in a warm place.
All images and text ©
.