M&M Holiday Mint Chocolate Cookies
Chewy M&M mint chocolate cookies. This mint chocolate cookie recipe is perfect for the holiday season!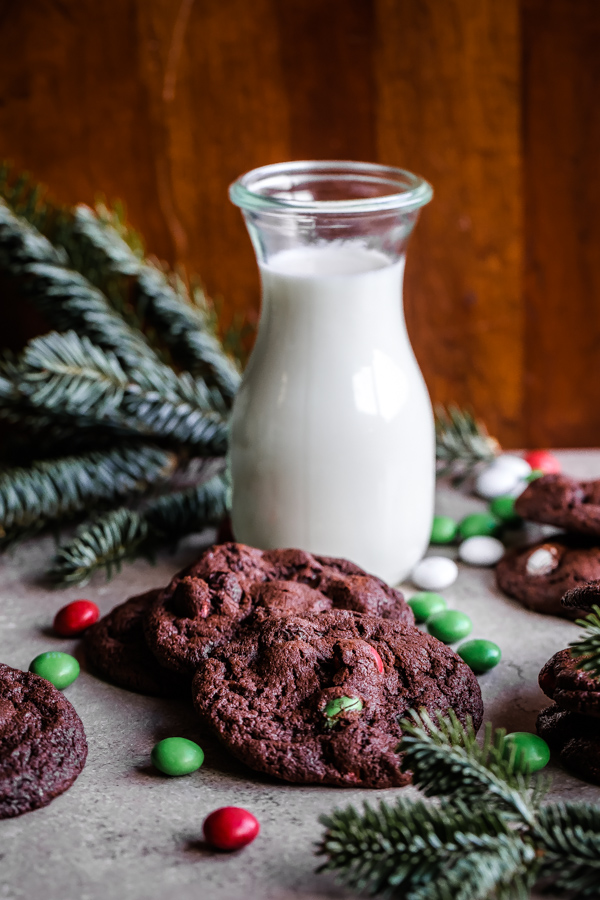 Three cheers for sugar week on the blog! I worried (a teensy bit) about posting too many sweet recipes in a row, and then realized that that is why the holidays are so darn special.
Don't worry, I'm not even done. There is another insanely festive (and frozen) holiday treat coming to the blog on Monday. Prepare your waistbands. Things are about to get real.
Ok, so I know that everyone and their mother is posting holiday cookie recipes right now, but I'm adding one more to the pile! These cookies have it all! Chocolate, cocoa powder, peppermint extract, and lots of one of my favorite holiday candies: M&M holiday mints.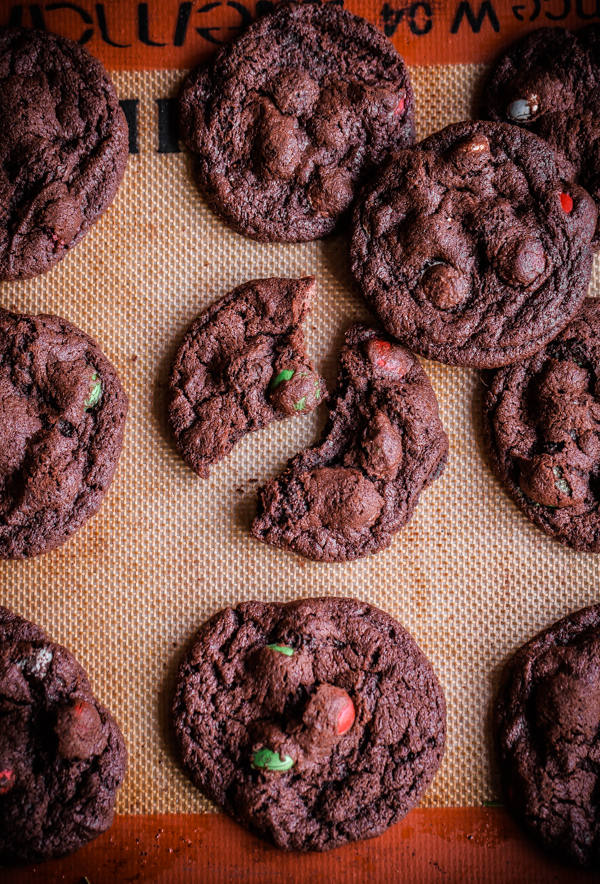 My family has a tradition of putting bowls of these holiday mints on the Christmas table to snack on all day, and I can't resist them for the life of me!
Those candies are dangerous.  I've always had a huge crush on peppermint or mint anything.
I think I inherited it from my late grandmother, Mima, who used to have a drawer-full of York peppermint patties in her house. A visit never went by without me eating several of them in one sitting. And mint chocolate chip ice cream remains my all-time favorite ice cream to this day.
I'm ridiculously predictable.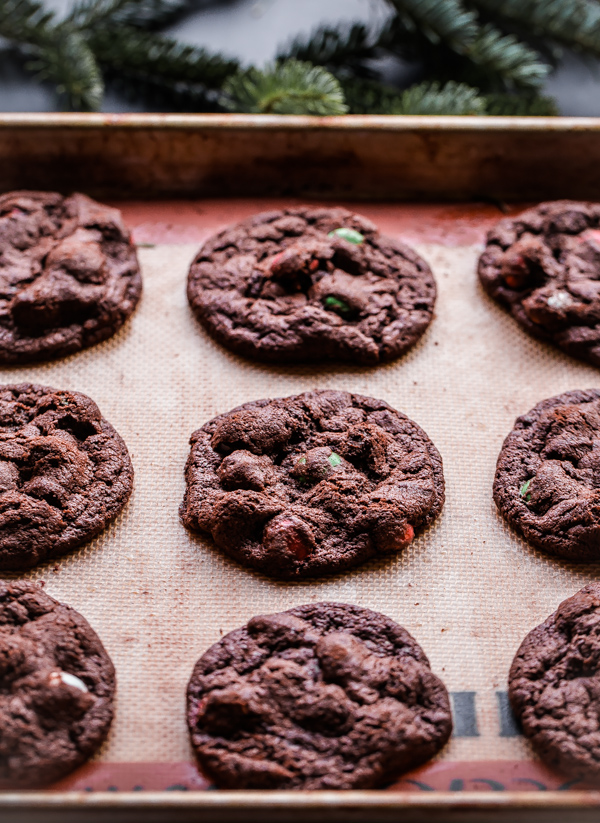 So you can imagine just how addicting these cookies are!
They are perfectly chewy and soft, and are absolutely packed with chocolate flavor! In addition to the mint candy-coated M&Ms, the cookie batter is made with a combination of cocoa powder and melted bittersweet chocolate.
The candy coating on the candies also adds the best, unexpected texture to these guys.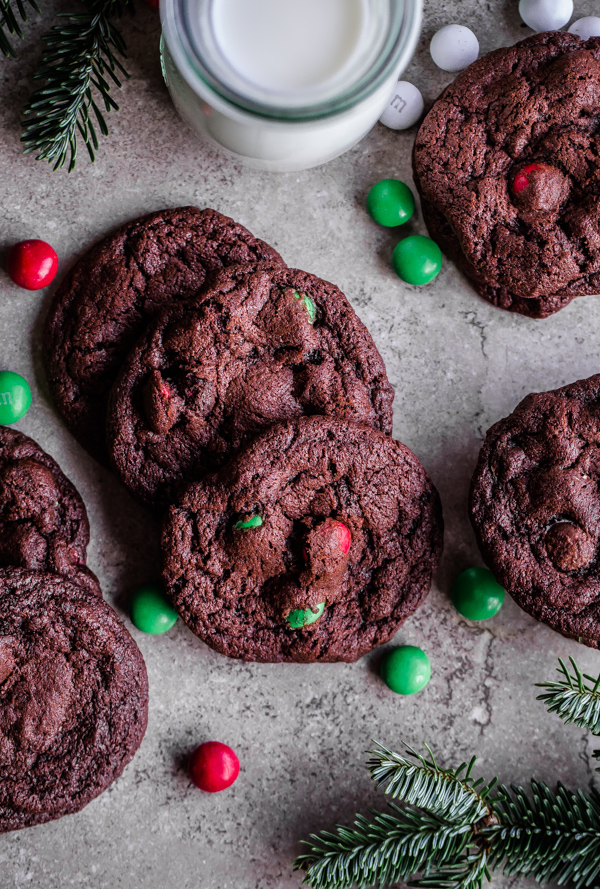 Similar to other cookie recipes, this dough needs to chilled for a minimum of 45 minutes prior to baking. This helps keep the cookies are excessively spreading out in the oven.
If the dough becomes to difficult to handle, allow it to soften slightly at room temperature for 10 to 15 minutes once you take it out of the fridge.
Don't worry if the dough seems dense. I recommend using a spoon and your fingers to shape the dough into balls–as it is too hard of a batter to be scooped! It is a little messy this way (chocolate.all.over), but they come out perfectly nonetheless.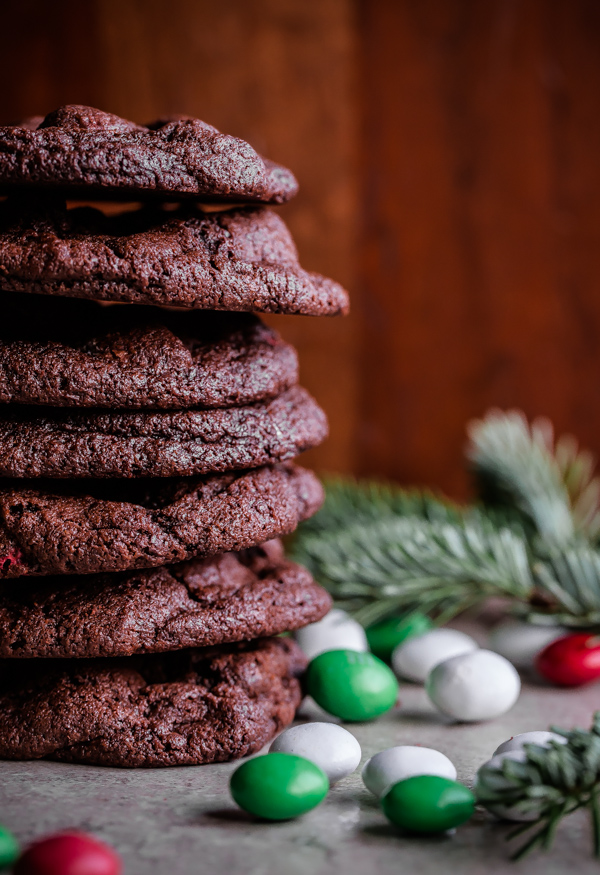 Gahhh! Look at that stack!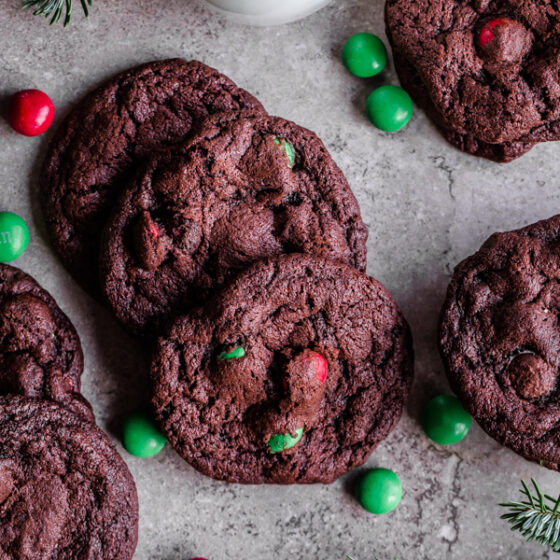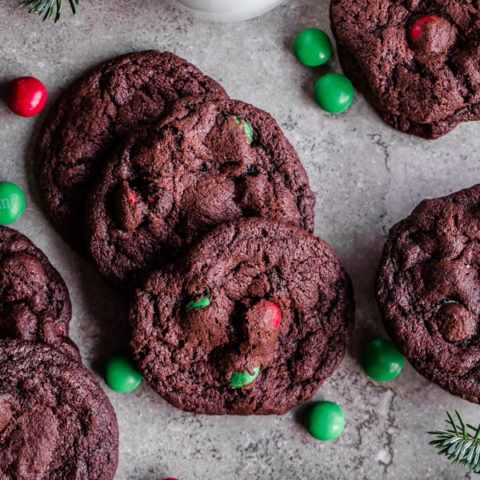 M&M Holiday Mint Chocolate Cookies
Yield: 14 Cookies
Chewy M&M mint chocolate cookies. This mint chocolate cookie recipe is perfect for the holiday season!
Prep Time: 1 hour 20 minutes
Cook Time: 12 minutes
Total Time: 1 hour 32 minutes
Ingredients
5 ounces (142 grams) bittersweet chocolate, broken into small chunks
3/4 cup (85 grams) all-purpose flour
2 tablespoons (15 grams) unsweetened Dutch-process cocoa powder
1/2 teaspoon baking soda
1/4 teaspoon salt
8 tablespoons (115 grams) unsalted butter, softened
1/3 cup (70 grams) packed brown sugar
1/4 cup (50 grams) granulated sugar
1 large egg (50 grams), room temperature
1/2 teaspoon vanilla extract
1/4 teaspoon pure peppermint extract
3/4 cup (150 grams) M&M Holiday mints
Instructions
Place chocolate in microwave proof glass bowl and heat at 20 second increments (stirring each time) until chocolate is just melted. Set aside and allow chocolate to cool for 5-10 minutes until just lukewarm.
In bowl, whisk together the flour, cocoa powder, baking soda, and salt. Set aside. Using stand mixer (or hand-held mixer), beat butter, with a paddle, at medium speed for a minute until creamy. Add the sugars and beat until light and fluffy. Add the egg, peppermint, and vanilla extract and beat until well combined. Beat in the melted (lukewarm) chocolate. On low speed, slowly add the flour mixture until just combined. Using a rubber spatula to scrape the bottom of the bowl to ensure that all of the ingredients are well incorporated.
Gently stir in the M&M holiday mints. Cover the dough with plastic wrap and allow to chill in the fridge for 45 minutes to 1 hour, or until firm.
Preheat the oven to 350 degrees Fahrenheit. Line a full-size baking sheet with a Silpat or parchment paper. Remove the dough from the fridge and allow to sit at room temperature for 10 to 15 minutes to soften slightly (it will be very dense, and hard). Using a spoon and your hands, portion and roll the dough into 1-inch balls–this will be very messy, so be prepared.
Repeat for each cookie–place the cookie balls at least 2-3 inches space between the dough on the baking sheet. Tip: I recommend only baking 8 at one time maximum. Bake the cookies at 350 degrees for 10-14 minutes (rotating baking sheet during the halfway point), or until they have set on the outer edges, but are still somewhat soft in the center. Remove and allow the cookies to cool completely on a rack (*it is important to not remove them from the pan when they are hot or warm). Allow baking sheets to cool completely between batches (or alternatively, run under very, very cold water to speed this up).
Notes
Cookies can be stored in an airtight container for up to a week, and will remain chewy and soft.
Chocolate cookie dough adapted from here.
Nutrition Information:
Yield: 14
Serving Size: 1
Amount Per Serving:
Calories: 104
Total Fat: 8g
Saturated Fat: 5g
Trans Fat: 0g
Unsaturated Fat: 2g
Cholesterol: 31mg
Sodium: 142mg
Carbohydrates: 7g
Fiber: 0g
Sugar: 2g
Protein: 1g