M&M Holiday Mint Chocolate Cookies
Chewy M&M mint chocolate cookies. This mint chocolate cookie recipe is perfect for the holiday season!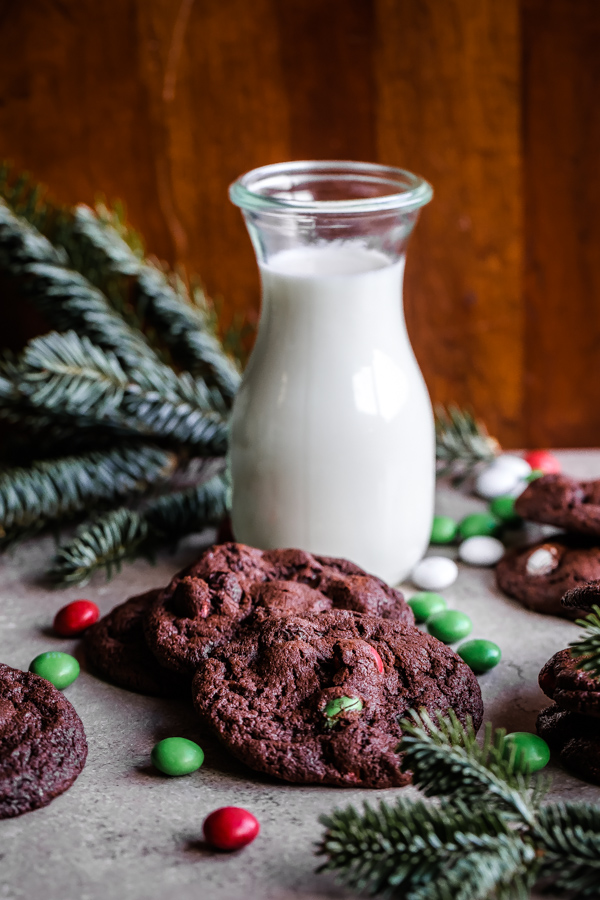 Three cheers for sugar week on the blog! I worried (a teensy bit) about posting too many sweet recipes in a row, and then realized that that is why the holidays are so darn special.
Don't worry, I'm not even done. There is another insanely festive (and frozen) holiday treat coming to the blog on Monday. Prepare your waistbands. Things are about to get real.
Ok, so I know that everyone and their mother is posting holiday cookie recipes right now, but I'm adding one more to the pile! These cookies have it all! Chocolate, cocoa powder, peppermint extract, and lots of one of my favorite holiday candies: M&M holiday mints.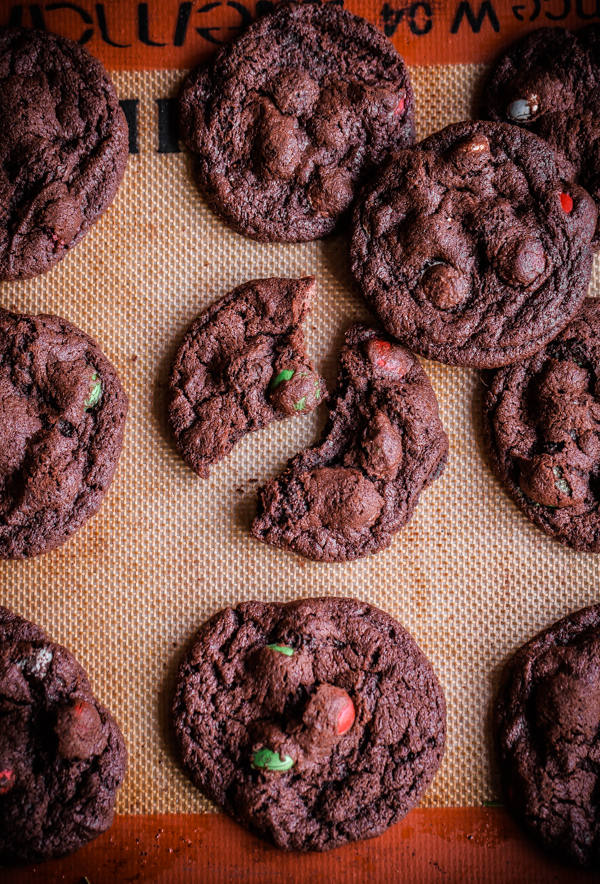 My family has a tradition of putting bowls of these holiday mints on the Christmas table to snack on all day, and I can't resist them for the life of me!
Those candies are dangerous.  I've always had a huge crush on peppermint or mint anything.
I think I inherited it from my late grandmother, Mima, who used to have a drawer-full of York peppermint patties in her house. A visit never went by without me eating several of them in one sitting. And mint chocolate chip ice cream remains my all-time favorite ice cream to this day.
I'm ridiculously predictable.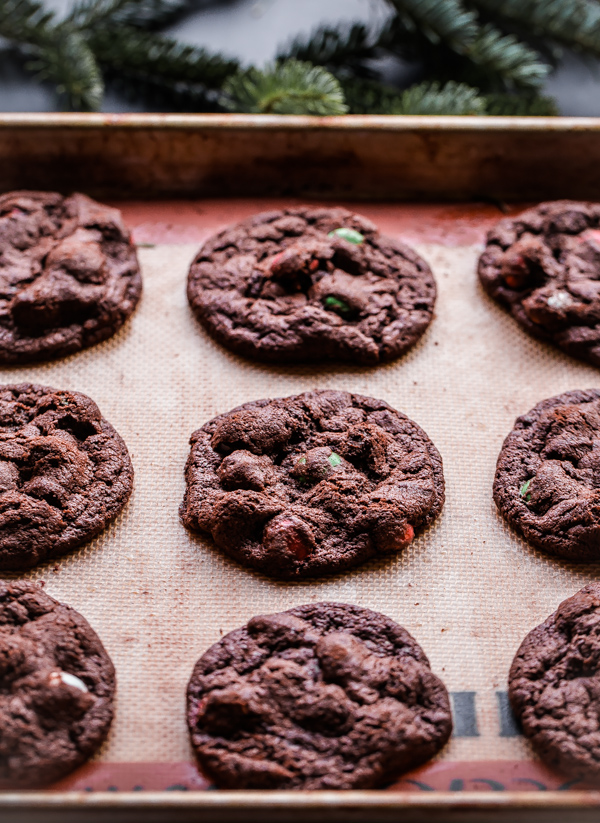 So you can imagine just how addicting these cookies are!
They are perfectly chewy and soft, and are absolutely packed with chocolate flavor! In addition to the mint candy-coated M&Ms, the cookie batter is made with a combination of cocoa powder and melted bittersweet chocolate.
The candy coating on the candies also adds the best, unexpected texture to these guys.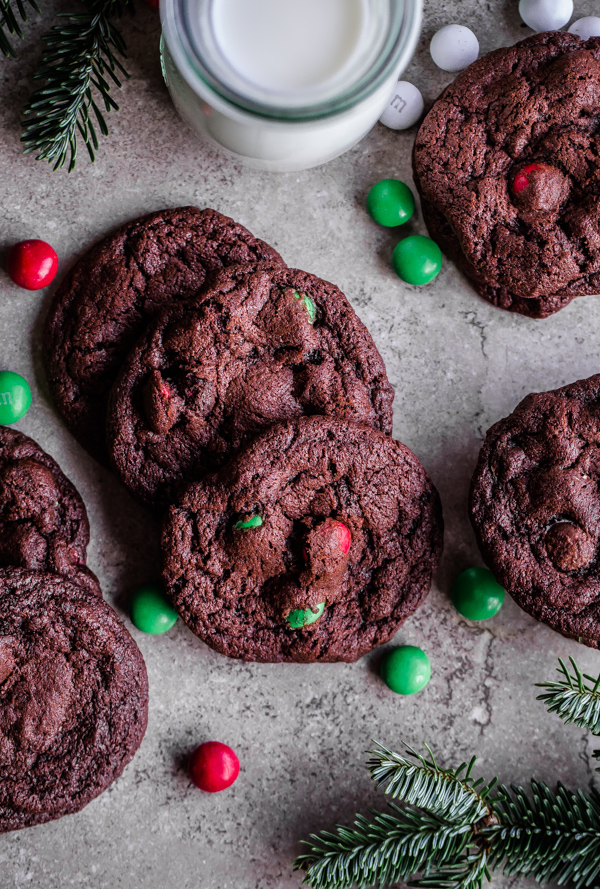 Similar to other cookie recipes, this dough needs to chilled for a minimum of 45 minutes prior to baking. This helps keep the cookies are excessively spreading out in the oven.
If the dough becomes to difficult to handle, allow it to soften slightly at room temperature for 10 to 15 minutes once you take it out of the fridge.
Don't worry if the dough seems dense. I recommend using a spoon and your fingers to shape the dough into balls–as it is too hard of a batter to be scooped! It is a little messy this way (chocolate.all.over), but they come out perfectly nonetheless.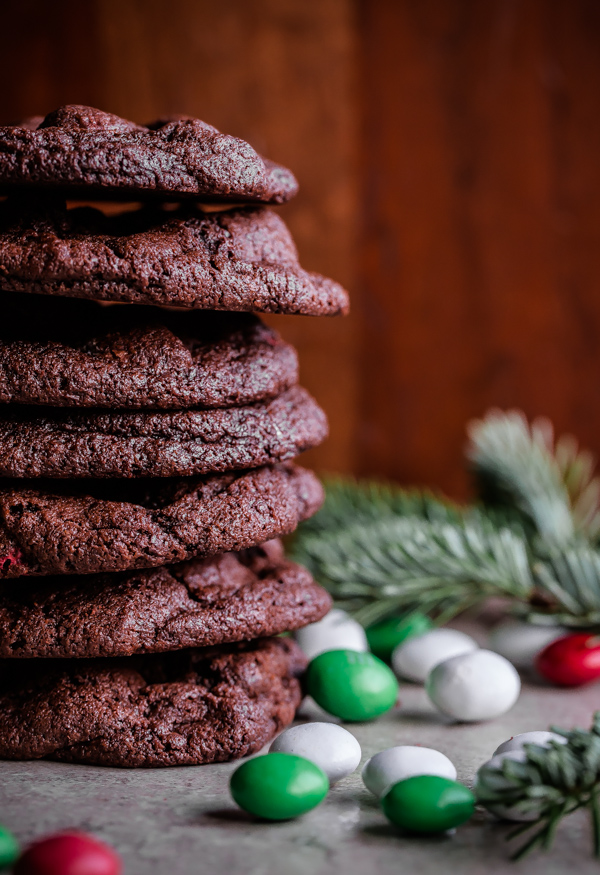 Gahhh! Look at that stack!