Roasted Cauliflower with Pomegranate Seeds, Mint, and Toasted Almonds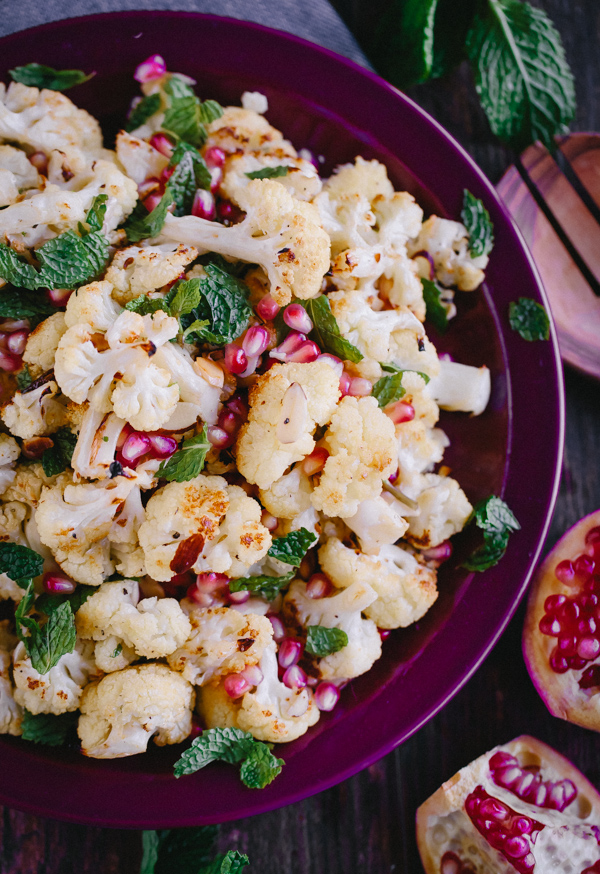 Aaaah, roasted cauliflower. One of my favorite things in the entire world. Cauliflower is totally the new kale. In fact, it is the new everything. I will forever roast my cauliflower.
I've posted four other cauliflower recipes on the blog within the last year alone. There was this pretty unique (totally fall-friendly) curried cauliflower and apple soup, these fried cauliflower steaks with honey and hot sauce (a play on fried chicken), this roasted cauliflower with tahini and lemon sauce (yum!), and these wacky cauliflower burgers.
Head over heels for cauliflower, what did I say?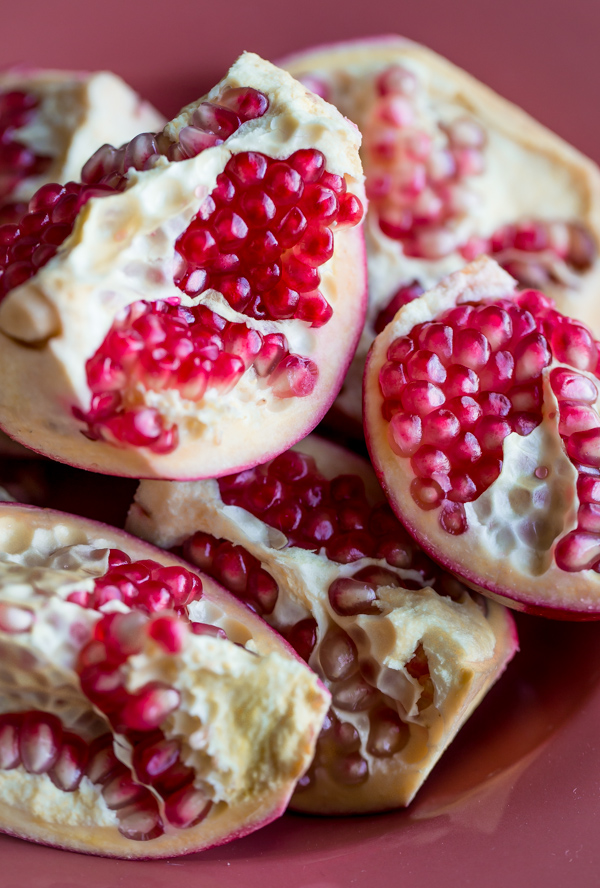 This version might be my favorite one yet. The base of the recipe is simple roasted cauliflower–cauliflower florets tossed with olive oil, salt, pepper and roasted at a high temperature for 30 to 40 minutes in the oven. Then, the magic happens. The addition of fresh pomegranate arils, toasted sliced almonds, and torn mint leaves.
It is the perfect vegetable dish for fall. Light and healthy, and so colorful and pretty.
I know I'm getting a little head of myself, but hello, this would be such a unique Thanksgiving Day side dish! People will be totally impressed.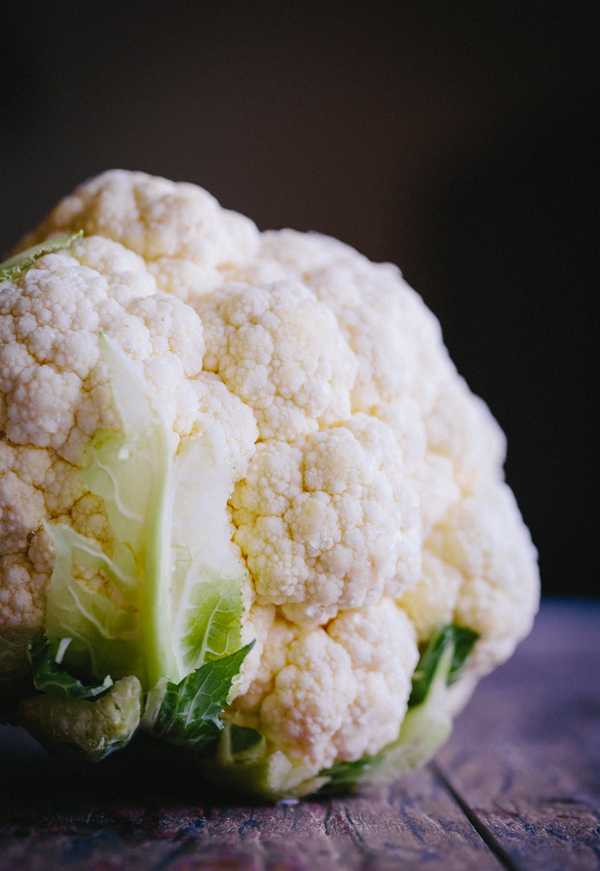 When I was visiting my (other) sister in Oakland this summer, I ended up going over to her husband's house for a really delicious meal, and my sisters' mother-in-law, Carol, served this dish. It stuck me with me, and I've been wanting to make it ever since, but had to wait until the right moment when pomegranates would finally be available on the East Coast.
Well, that time has arrived! Cue Kool & The Gang's "Celebration."
[I totally have that song stuck in my head now.]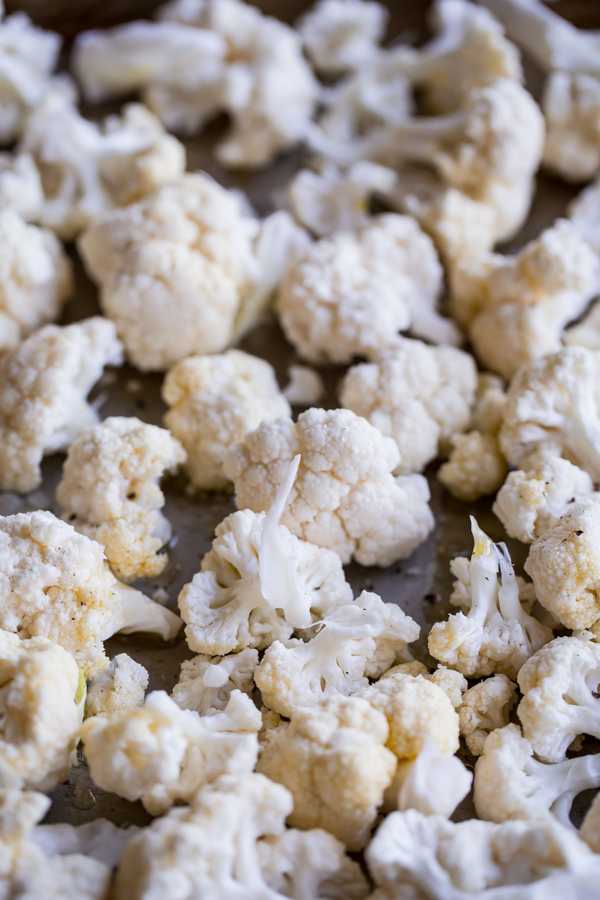 The trick to well-roasted cauliflower is lots of patience and tossing. I carefully toss and flip the cauliflower florets at least 3-5 times throughout the roasting process.
I've noticed from the many times that I've roasted cauliflower in the past, that the majority of browning (i.e. the delicious part) for cauliflower happens in the last ten minutes or so of roasting time. Don't be tempted to take it out of the oven too early, as the caramelized, golden brown bits are the absolute best part. Also, salt is key!
Cauliflower is a relatively flavorless vegetable on its own, so you need both of these things to really bring out the flavor.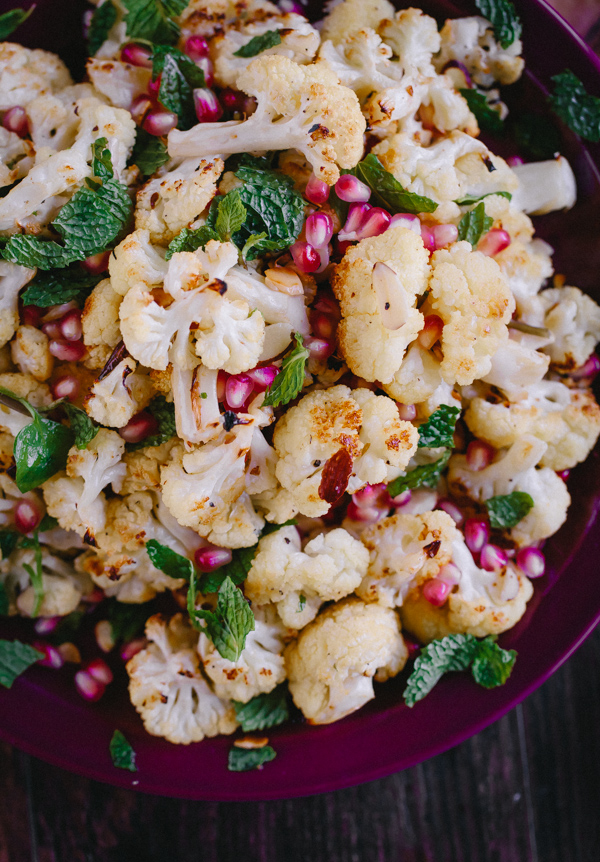 Once roasted, the cauliflower completely transforms and becomes almost addicting. The toasted almonds add great texture, the mint adds a refreshing element, and the pomegranates give it just enough of that acidic, tart punch.
There's a party going on in there, if you know what I mean.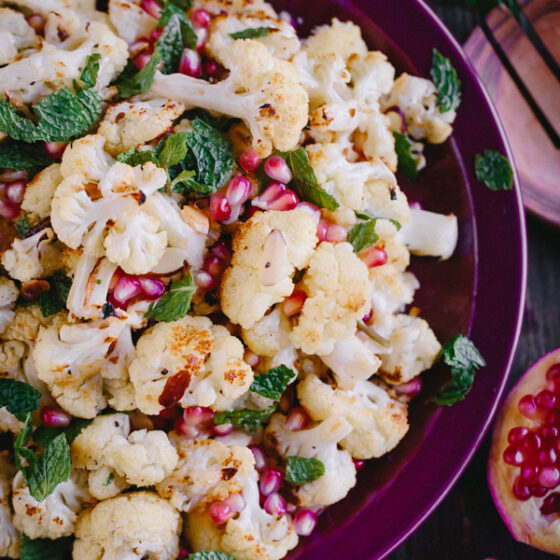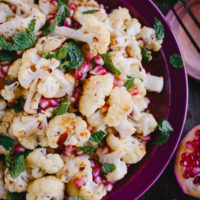 Roasted Cauliflower with Pomegranate Seeds, Mint, and Toasted Almonds
Yield: 4-6 Servings
Prep Time: 15 minutes
Cook Time: 35 minutes
Total Time: 50 minutes
Ingredients
1 head of cauliflower (roughly 2.5-3 lbs), broken into small florets
5 tablespoons + 1 tablespoon extra virgin olive oil
kosher salt
freshly ground black pepper
1/3 cup sliced almonds, toasted
1/2 cup fresh pomegranate seeds
1/3 cup packed fresh mint leaves, roughly torn
Instructions
Preheat the oven to 425 degrees Fahreneheit. Place the cauliflower florets on a large baking sheet and toss with 5 tablespoons of olive oil, and season with salt and pepper. Roast the cauliflower for 30-40 minutes, tossing the florets with a spatula 3-4 times throughout the cooking process, until the florets are golden brown.
Toast the sliced almonds in a small skillet over medium heat, stirring frequently, until they are golden and fragrant. Remove immediately, place in a bowl, and allow to cool.
Allow the roasted cauliflower to cool for 5 minutes, and then toss the florets with the remaining tablespoon of olive oil. Add the toasted almonds, pomegranate seeds, and torn mint leaves, and toss gently. Best served warm or at room temperature.
Notes
To remove the pomegranate arils easily, slice the top and bottom of pomegranate, and carefully, using the ridge of the pomegranate as a guide, cut along the ridges to break the pomegranate into segments. Place the segments in a large bowl filled with cold water, and carefully pry the seeds away from the peel and membrane. The peel and membrane will float so they can easily be discards, then drain the seeds in a fine-meshed sieve.
Nutrition Information:
Yield: 6
Serving Size: 1
Amount Per Serving:
Calories: 90
Total Fat: 6g
Saturated Fat: 1g
Trans Fat: 0g
Unsaturated Fat: 5g
Cholesterol: 0mg
Sodium: 112mg
Carbohydrates: 8g
Fiber: 4g
Sugar: 4g
Protein: 3g
A Beautiful Plate provides nutritional information, but these figures should be considered estimates, as they are not calculated by a registered dietician.