Butternut Squash Carrot Soup
A healthy butternut squash and carrot soup that can be made in just over an hour!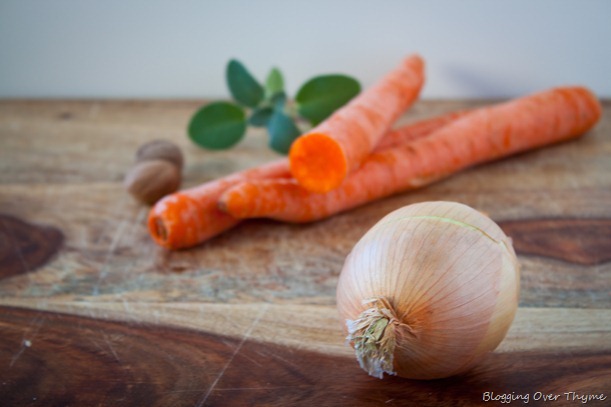 Before I attend to the main crux of this post, I first want to thank you all for your well wishes about my big culinary school reveal! I've been holding the news in for about two months from when I first applied and a month ago, when I officially got accepted. It feels great to finally get it out there and it makes it that much more exciting.
But before I officially don my chef's whites and clog shoes, I have another breaking development to share with everyone. I'm moving…over Christmas…voluntarily. Connor and I have decided to save a bit of money and downsize. Our new building also has a lot of great perks, which I am looking forward to, including an on-site gym (this will be extremely handy with school coming up), a much bigger kitchen to practice all my new skills, and a great view as an added bonus.

Since the next ten days will be filled with moving, cleaning, and more dreaded moving, I'm more and more inclined to make easy dinners. Heck, I think I'm always inclined towards those types of meals, but having little time to spare makes them that much more appealing.
Soup can be time-consuming, but it doesn't always have to be. Especially when you pick ones that involve few, but flavor packed, ingredients and that require short prep and cooking times. This latest creation was adapted from one of my new favorite cookbook addition, The Whole Foods Market Cookbook. It is filled with fresh, healthy, but delicious recipes that can be made any night of the week.

I chose to skip a few ingredients from the original recipe, parsley and orange peel, and instead added a few of my own additions to take it over the top. The small addition of heavy cream gave it a hint of richness to make it more filling and hearty (but without being too noticeable) and…well…the sage leaves just taste good.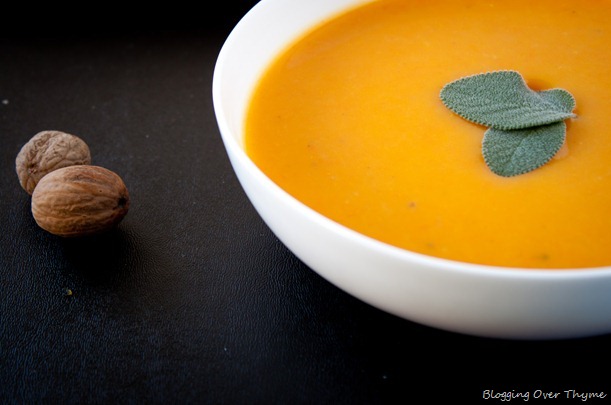 But really, this soup could easily be adapted depending on what you have on hand. For example: substituting other winter squash, giving it some heat with curry powder or cumin, or adding additional vegetables. I served this soup hot for dinner, but it would also taste great served cold as a first course.
Perhaps on Christmas Day? Enjoy!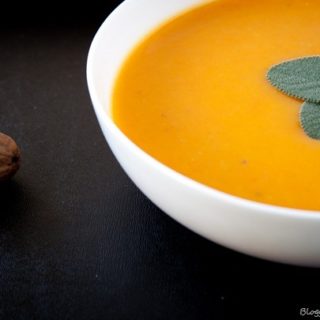 Butternut Squash Carrot Soup
Yield: 4-5 Servings
A healthy butternut squash carrot soup that can be made in just over an hour!
Prep Time: 15 minutes
Cook Time: 1 hour
Total Time: 1 hour 15 minutes
Ingredients
2-3 lbs butternut squash, peeled and cut into 1-inch cubes
3 large carrots, peeled and chopped
1 large onion, chopped
1.5 quarts chicken broth (roughly 6 cups)
1/2 teaspoon ground nutmeg
2-3 tablespoons heavy whipping cream
2 tablespoons extra virgin olive oil
fried sage leaves (garnish)
Instructions
Preheat olive oil in large soup pot over medium heat. Add onion and cook for 2-3 minutes until slightly translucent, stirring consistently.
Add butternut squash and carrot to soup pot and continue to cook, stirring occasionally, for 3-4 minutes over medium heat.
Pour in chicken broth and bring to boil. Turn down heat and simmer for 40-45 minutes with lid on.
Using immersion blender, puree soup until it smooth and all lumps are gone. Season with nutmeg, salt and pepper.
Before serving, stir in heavy whipping cream.
To prepare garnish, wash and dry several whole sage leaves. Heat about 1/4 cup olive oil in skillet over medium high heat until hot. Carefully add sage leaves and pan fry for several seconds. Transfer to paper-lined plate and serve on top of the soup.
Nutrition Information:
Yield: 5
Serving Size: 1
Amount Per Serving:
Calories: 336
Total Fat: 10g
Saturated Fat: 3g
Trans Fat: 0g
Unsaturated Fat: 6g
Cholesterol: 16mg
Sodium: 1150mg
Carbohydrates: 64g
Fiber: 19g
Sugar: 14g
Protein: 8g
A Beautiful Plate provides nutritional information, but these figures should be considered estimates, as they are not calculated by a registered dietician.