Candied Grapefruit Zest
A simple tutorial and recipe for how to make candied grapefruit zest. Perfect for baked goods or gifting over the holidays!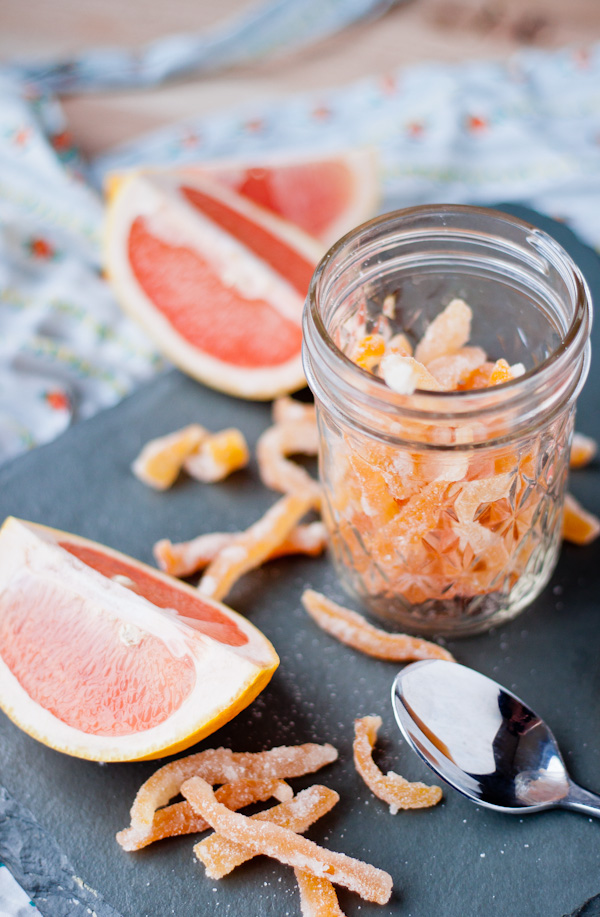 I have always been inexplicably obsessed with grapefruit. As a kid, I used to go through gallons of grapefruit juice a month.
I even took it upon myself to call one of my favorite teachers in preschool, Mrs. Grapefruit. Her real name was Mrs. Fruiterman, so it wasn't totally random. I just heard the word "fruit" and decided to rename her after my favorite one.
And yes, I'm still obsessed with grapefruit. I still can't think of a better accompaniment to a big plate of pancakes doused with maple syrup. Something about the sweet and sour combo gets me every time. Try it!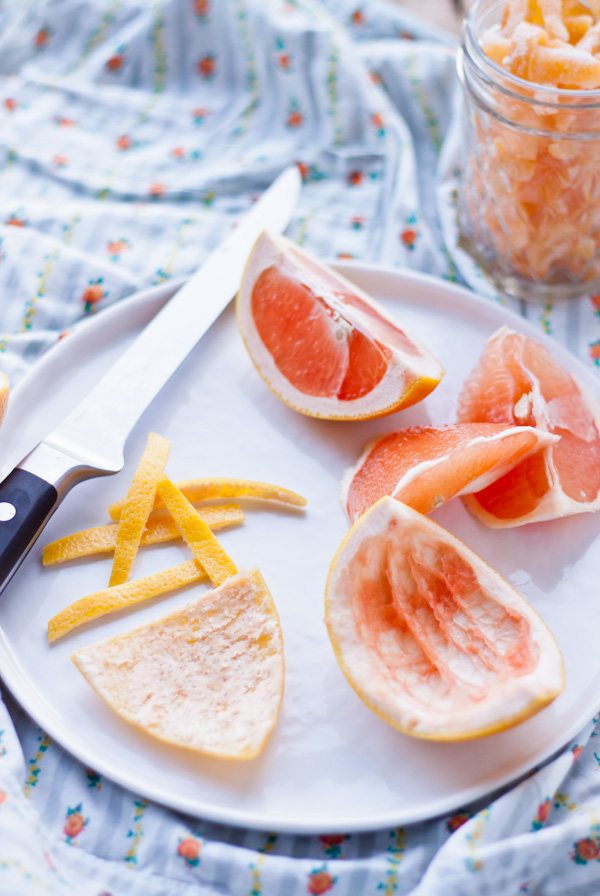 Anyway, so when I stumbled across this candied grapefruit zest in a December 1991 issue of Gourmet magazine, I was hooked. I've always been a huge fan of candied zest and fruit, but had never tried making candied grapefruit zest before.
Essentially, candied citrus comes down to a few steps: blanching the zest at least three times (which helps remove the oils and bitterness) and slowly simmering it in a syrup solution. It's that simple.
There are two important things to note about this recipe. First off, it is very straight-forward. All you'll need is three to four grapefruit, several cups of granulated sugar, water, and a few tablespoons of corn syrup (which gives the sugar syrup you'll simmer the zest in shine and helps prevent crystallization).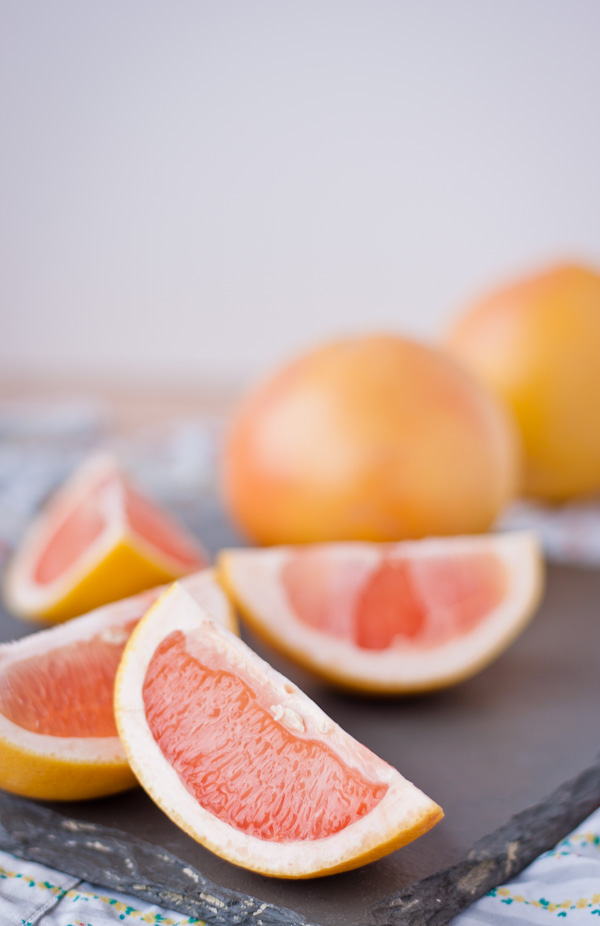 Secondly, although the recipe is very simple, it is a little bit time-consuming. Not in a bad way, but it is definitely not a throw-together-in-five-minutes kind of recipe. It requires a bit of attention.
Depending on how aggressive you are with removing the pith, it can be a bit of an arm workout too. On that note, I don't suggest using a vegetable peeler to speed this part up, since you really want the peel to be a bit thicker and more substantial.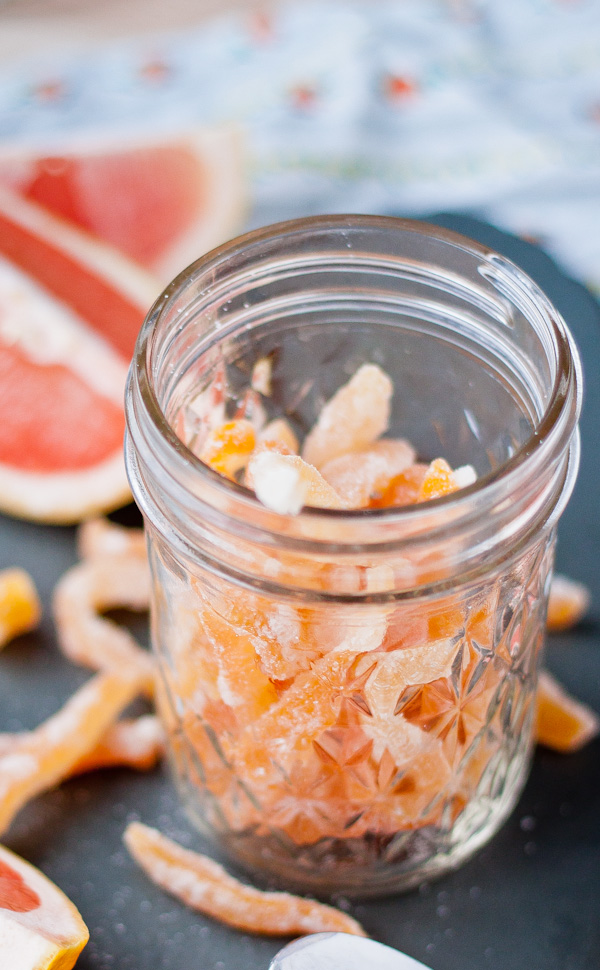 This candied grapefruit zest is sweet, a little bit sour, and would make such a fun edible gift for the holiday season!
You could even use it in baked goods (pound cake, cookies, you name it!) or put out bowl out for people to snack on. So many possibilities. Grapefruit lovers unite!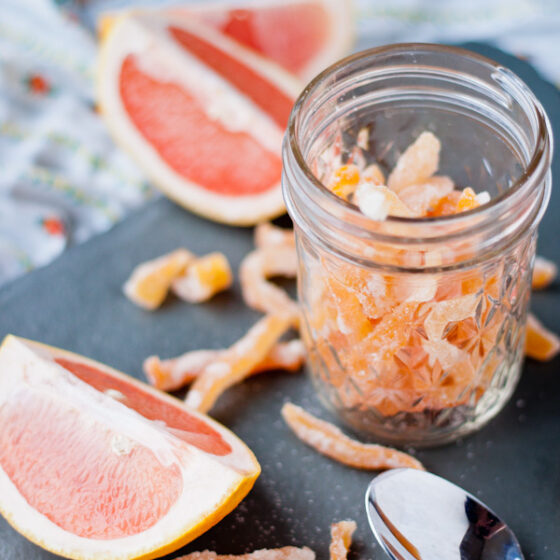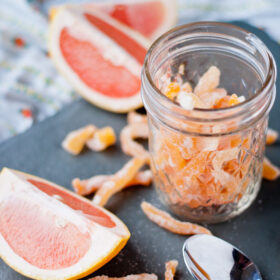 Candied Grapefruit Zest
A simple tutorial and recipe for how to make candied grapefruit zest. Perfect for baked goods or gifting over the holidays!
Ingredients
3 large grapefruits
4 cups (800 g) granulated sugar divided
cold water
3 tablespoons light corn syrup
Instructions
Slice the grapefruit navel-to-navel into four equal segments. Using a sharp knife and spoon, remove the fruit, so that you are left with the peel only. Working with one segment at a time and using a spoon, scrape the inside of the peel repeatedly (and aggressively) to remove as much of the white pith as possible. This will help remove most of the bitterness.

Once you have removed the pith, slice the zest into ¼-inch thick strips. Don't worry if you have some pieces that are longer or shorter than others. Repeat until you have trimmed all of the grapefruit segments.

Place the zest strips in a large saucepan and cover with 4 cups (1 quart) of cold water. Bring to a boil and simmer for 10 minutes. Drain the zest in a fine-meshed sieve, and run until cold water. Repeat this entire process two additional times. This helps remove the oils and natural bitterness.

Set out two half sheet pans and sprinkle each pan with 1 cup (200 g) of granulated sugar. Set aside. Combine the remaining 2 cups (400 g) granulated ugar and 1 cup (240 mL) water in the saucepan and add the corn syrup. Boil the mixture for 3 to 4 minutes.

Continue to simmer the syrup, add the zest, and cook, stirring frequently, until a candy thermometer reaches 230°F (110°C). At this point, the zest should look fairly translucent and shiny, similar to a gummy bear in appearance.

Transfer the zest to the sugar-dusted pans with a fork, draining as much of the syrup as possible, and spread the pieces out. Toss the zest with the sugar to coat well, separating the strips. Allow them to cool completely.

Transfer zest to cooling rack, place a sheet of wax underneath to catch any sugar mess, and allow the zest to dry overnight. This may take slightly longer, depending on the humidity of your kitchen. Store candied zest in a covered container, place in layers separated by wax paper, for up to 1 month.
Recipe from December 1991 issue of Gourmet magazine.
Serving: 1serving, Calories: 179kcal, Carbohydrates: 46g, Sodium: 3mg, Fiber: 1g, Sugar: 45g
This post contains affiliate links, which means that I make a small commission off items you purchase at no additional cost to you. Please read my
privacy policy
for more information.