Gingerbread Cupcakes with Marshmallow Frosting and Pomegranate Caramel
Delicious and fluffy gingerbread cupcakes topped with an airy sweet marshmallow frosting and drizzled with homemade pomegranate caramel.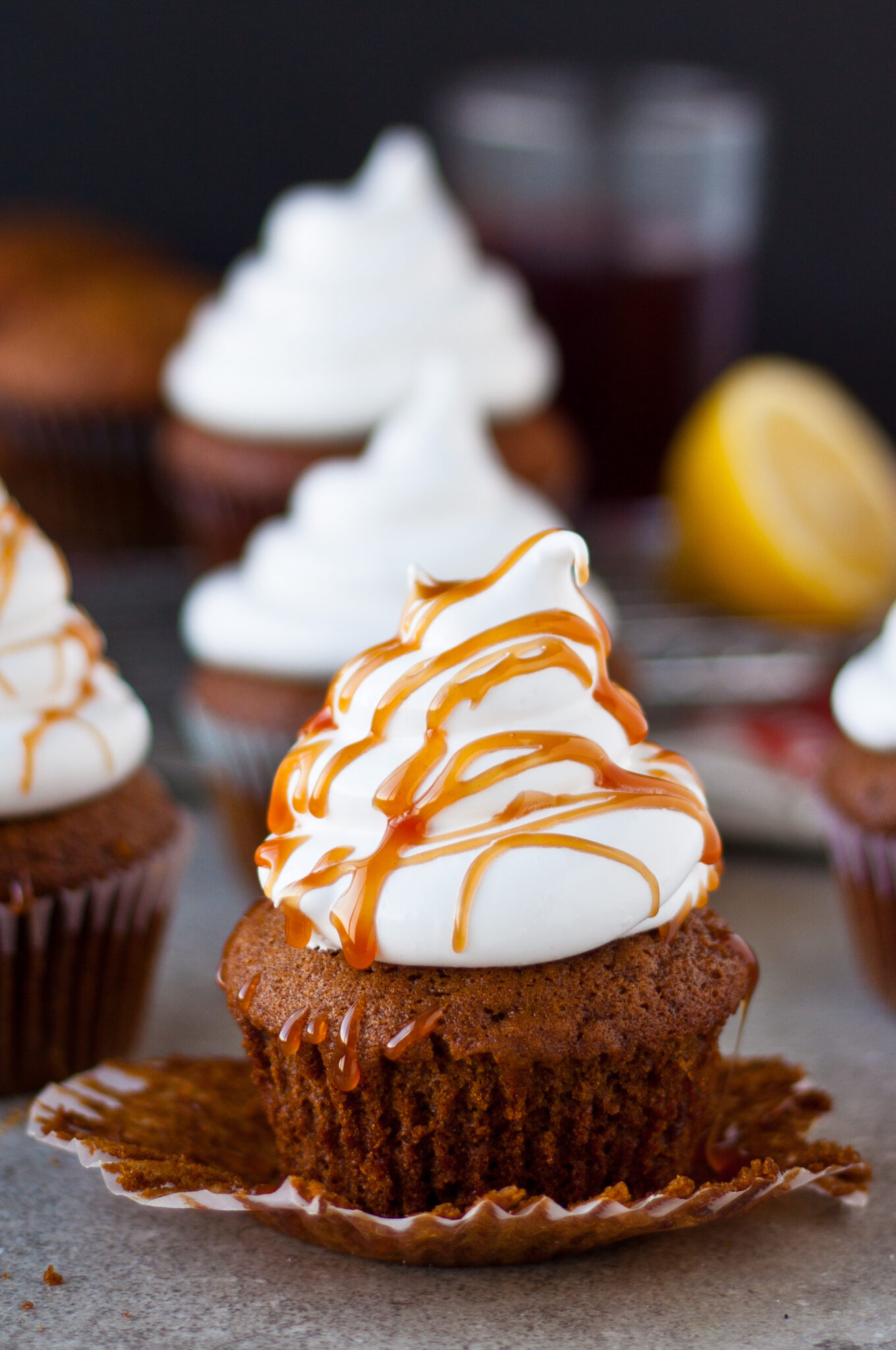 These gingerbread cupcakes with marshmallow frosting and pomegranate caramel might be some of the best baked goods I've ever made. And I take that statement very seriously.
Can you believe that this is my first cupcake recipe on the blog? Total disgrace. I know. Especially since I spent almost a year baking and decorating them all day, every day, not all that long ago.
[Wait, maybe that's why it took me so long…]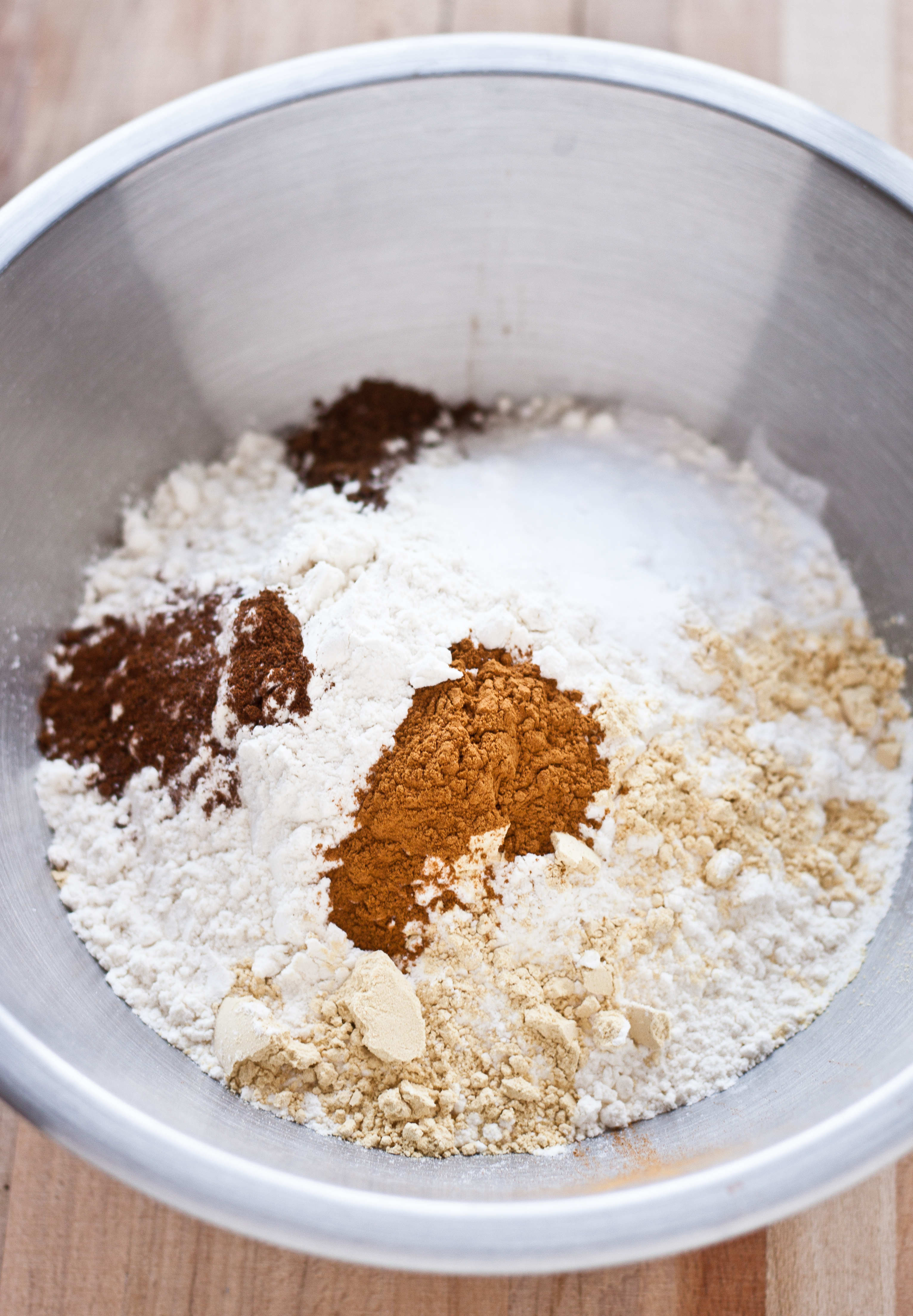 So you can imagine the amount of pressure (read: a lot) I've put on myself over the years. The "first blog cupcake" that I would inevitably share with you guys had to be special. And different.
Nothing too wacky, but definitely different.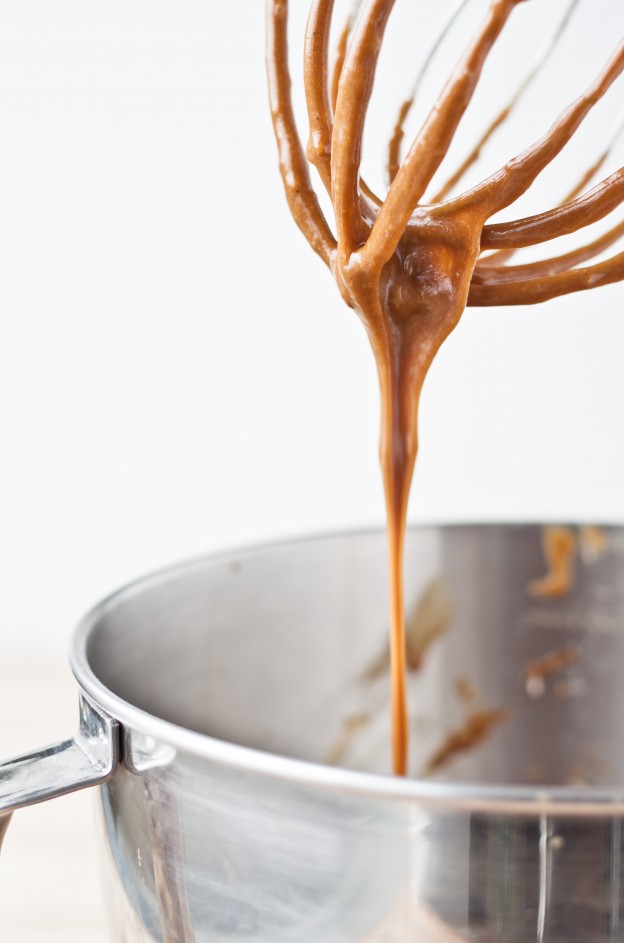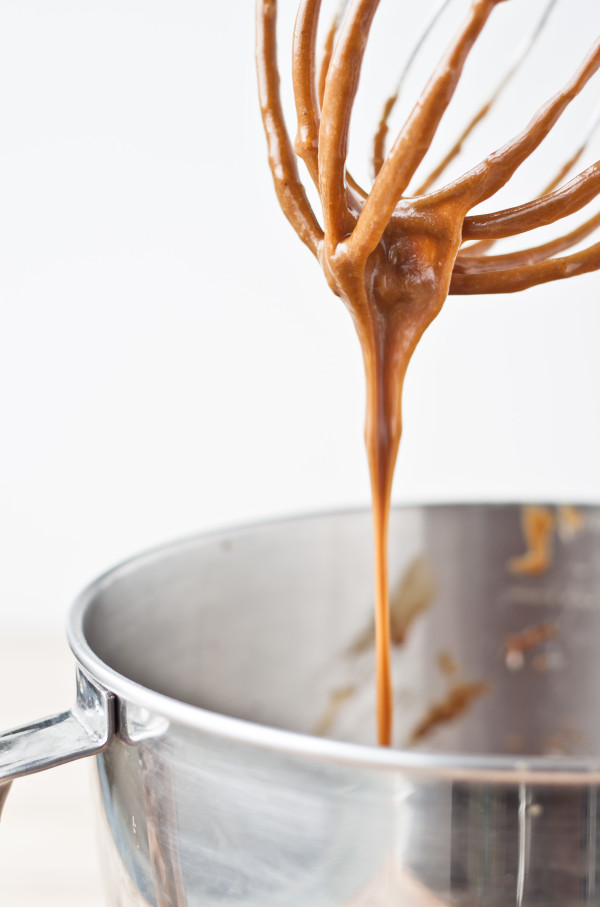 These cupcakes meet both requirements. Plus, they're festive. So festive!
Cue the carolers, light the Christmas tree, break out the Christmas mugs, quote Elf ("oh my god! Santa's coming!? I know him! I know him!") and listen to Carol of the Bells on repeat–that kind of festive, you know?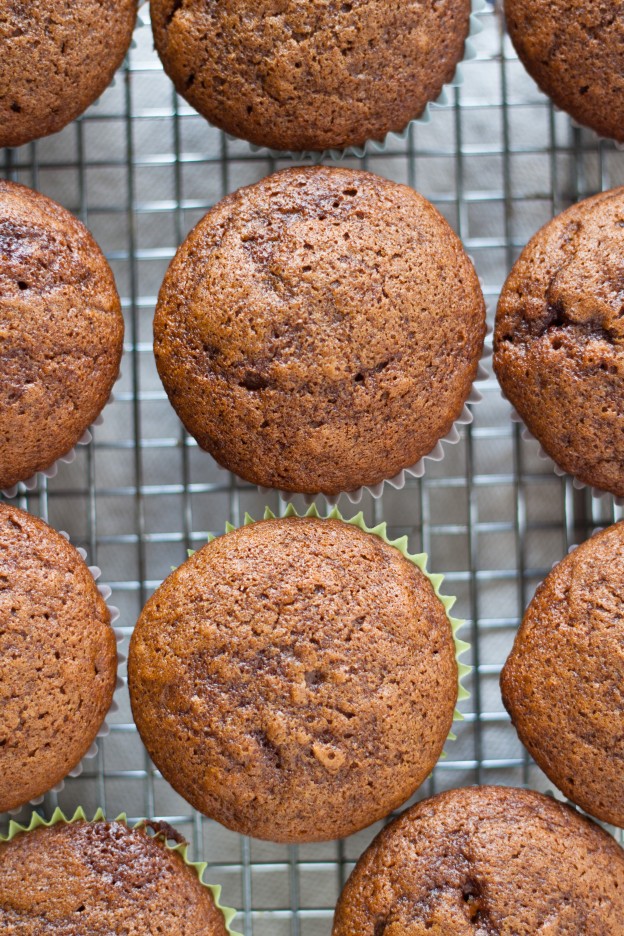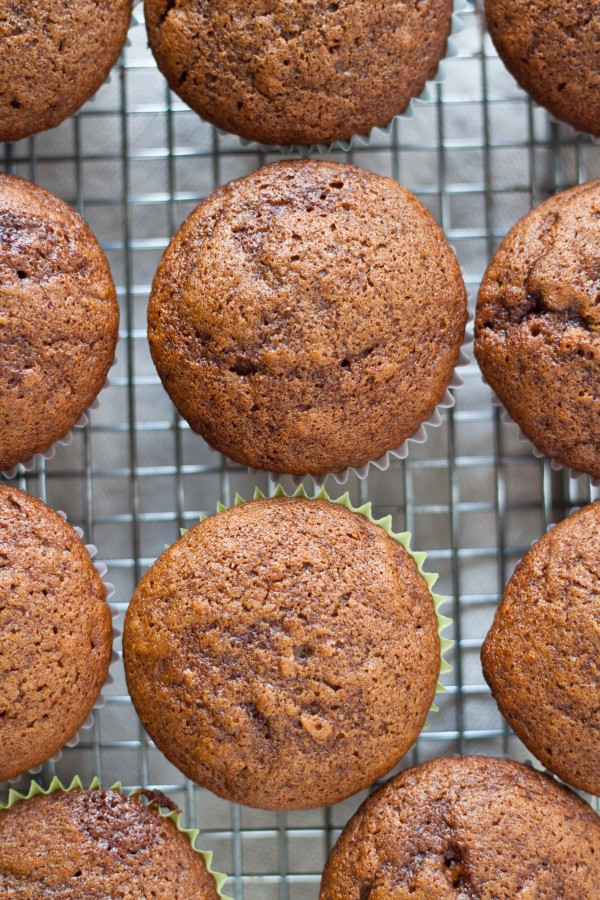 First of all, there are the gingerbread cupcakes, which are full of dark molasses flavor, cinnamon, ginger, allspice, and cloves.
They are tender, moist and incredibly simple to throw together. You could eat them as muffins, but that's not nearly as fun.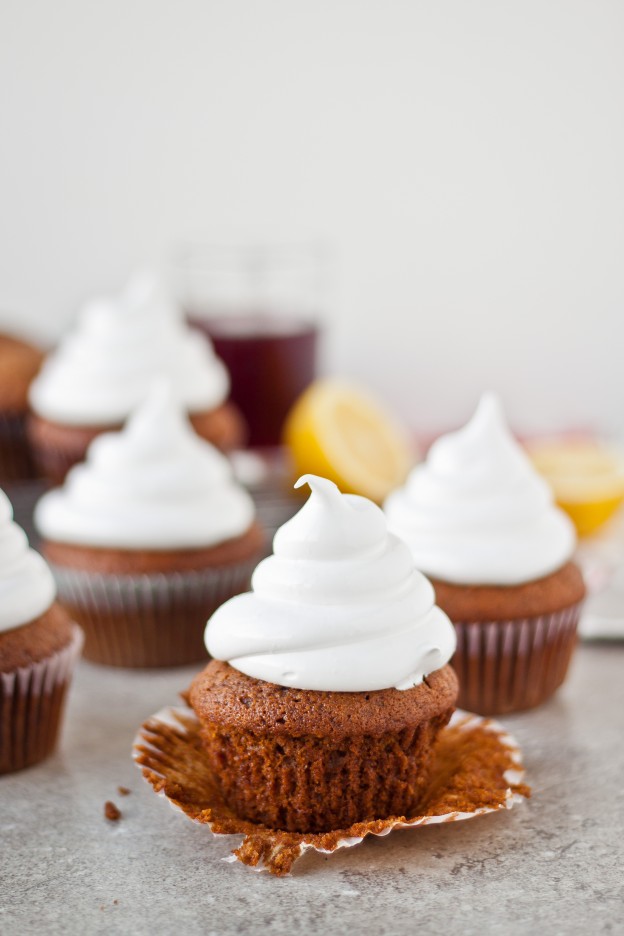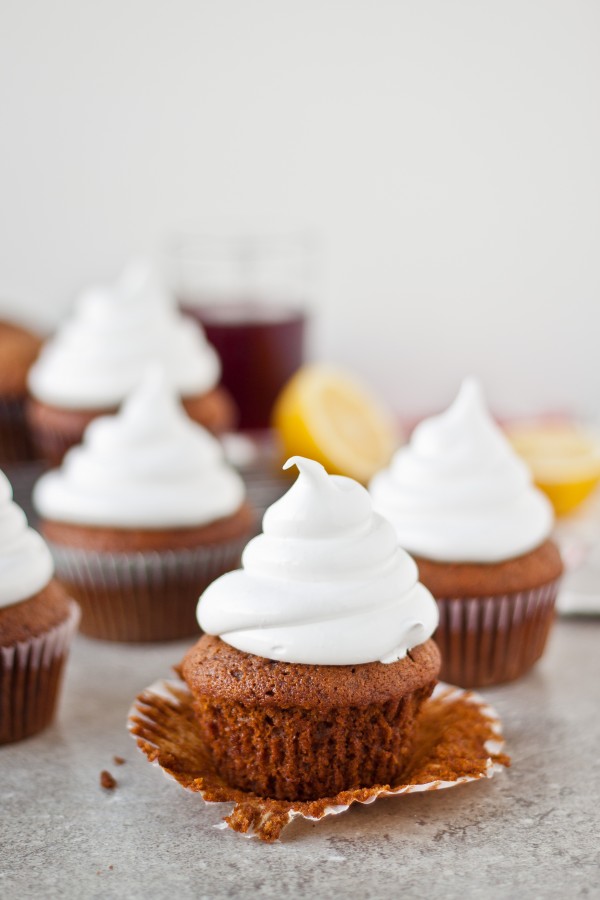 Once the cupcakes have baked and cooled, you top them with the world's fluffiest marshmallow frosting–made from egg whites, sugar, lemon juice, and vanilla extract.
It's about three million times better than marshmallow fluff (which in my opinion, isn't all that fluffy). In fact, it should really be called cloud frosting! So light and fluffy, I can hardly stand it.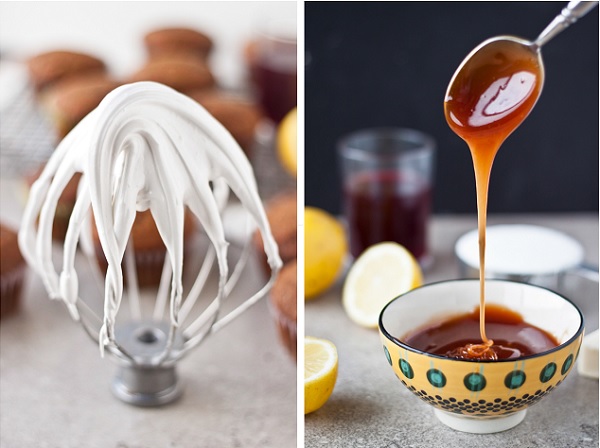 Then you drizzle each frosted cupcake with homemade pomegranate caramel! This part is mandatory, because this stuff is amazing and totally takes these cupcakes over the top.
You know that step when you're making normal caramel where you carefully whisk in cream and butter? Well, for this version, you're going to skip the cream and add in pomegranate juice. And just a teensy bit of butter.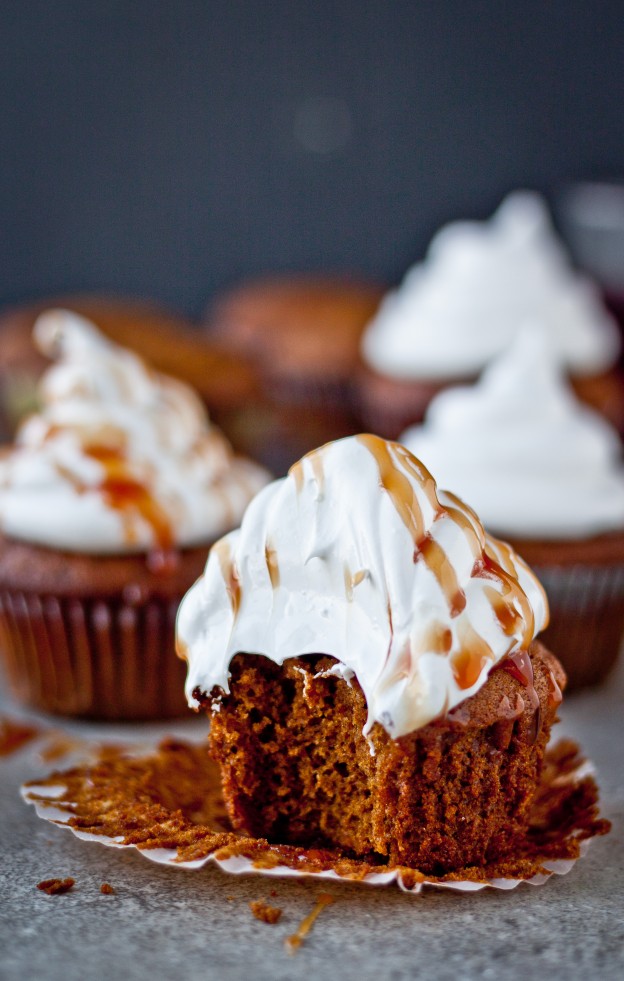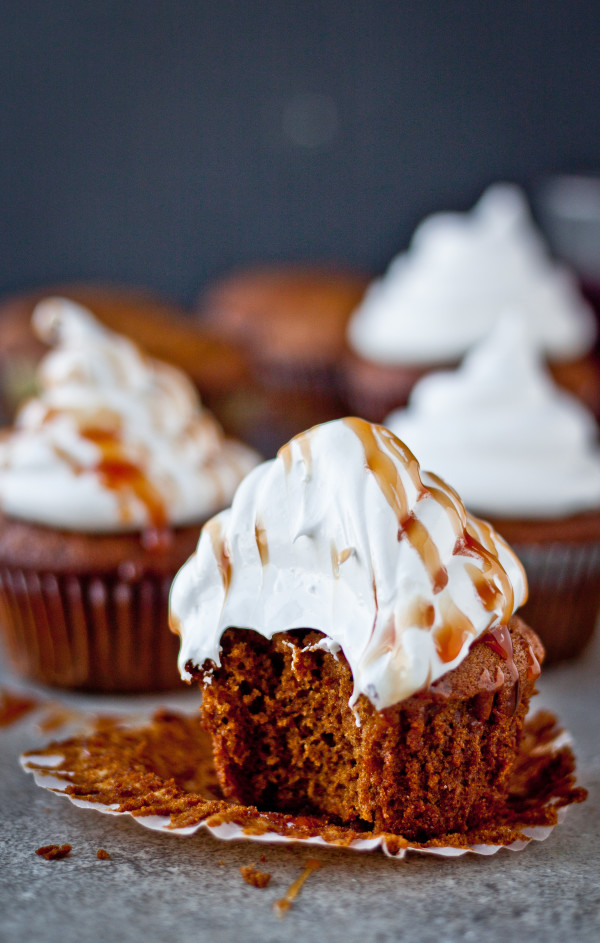 Unlike regular caramel, this pomegranate caramel is a little sour and tart, with just the right amount of bitterness from the burnt sugar. It cuts the sweetness of the frosting perfectly and pairs so well with the gingerbread cake. It also has the prettiest red hue!
These cupcakes were practically inhaled before my eyes. And loved by all.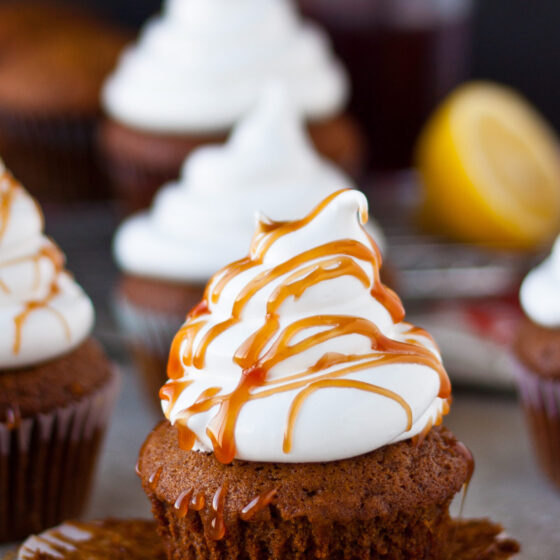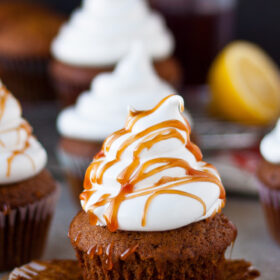 Gingerbread Cupcakes with Marshmallow Frosting and Pomegranate Caramel
Delicious and fluffy gingerbread cupcakes topped with an airy sweet marshmallow frosting and drizzled with homemade pomegranate caramel. These showstopping cupcakes make a wonderful fall or winter dessert!
Ingredients
Gingerbread Cupcakes:
1¾ cups (210 g) unbleached all-purpose flour
1 teaspoon baking soda
2 teaspoons ground cinnamon
2 teaspoons ground ginger
¼ teaspoon ground cloves
¼ teaspoon ground allspice
¼ teaspoon kosher salt
¼ cup (2 oz; 60 g) unsalted butter melted and slightly cooled
¼ cup (60 mL) vegetable oil
½ cup packed light brown sugar
½ cup unsulfured molasses
1 large egg room temperature
½ cup (120 mL) lukewarm water
Pomegranate Caramel:
⅔ cup (130 g) granulated sugar
3 tablespoons (45 mL) water
⅓ cup (80 mL) 100% pomegranate juice
1 tablespoon (15 g) unsalted butter
1 teaspoon lemon juice
pinch of kosher salt
Marshmallow Frosting:
4 large egg whites
1 cup (200 g) granulated sugar
1 teaspoon lemon juice
¼ teaspoon vanilla extract
Instructions
Prepare Cupcakes: Preheat the oven to 350°F (176°C) with a rack in the center position. Line a standard 12-cup muffin pan with paper liners and lightly grease with baking spray.

In a medium bowl, whisk together the flour, baking soda, spices, and salt. Set aside.

In the bowl of stand mixer, fitted with a whisk attachment, whisk together the melted butter, oil, brown sugar, molasses, and egg until combined. Over low speed, add half of the water to the egg mixture, followed by half of the dry flour mixture. Repeat with remaining water and flour mixture until just combined.

Remove and scrape down the bowl with a spatula, ensuring that all ingredients have been incorporated evenly. Divide the batter evenly among the lined muffin pan, so that each cup is ¾ full - it will most likely only fill 11 cups.

Bake for 20 to 22 minutes, rotating the pan halfway, or until tops of cupcakes are springy to touch and toothpick inserted in center comes out clean. Allow the cupcakes to cool in the pan on a wire rack for 3 minutes. Remove cupcakes and allow them to cool completely on a rack before decorating.

Prepare the Pomegranate Caramel: Combine the sugar and water in a small saucepan. Keep a small bowl of water with a pastry brush nearby to brush any sugar crystals that form on side of pan.

Place over medium-high heat, stirring until the sugar dissolves. Once the sugar has dissolved, stop stirring and continue to cook until the sugar reaches a medium-amber color.

Carefully add the pomegranate juice, lemon juice, followed by the butter, and whisk together until mixture is well incorporated. Continue to simmer over low heat, whisking occasionally, for another 3 to 4 minutes until the caramel is slightly thickened. Set aside in a heatproof bowl and allow to cool to room temperature.Note: The caramel at this point will still seem relatively loose–but don't worry, it will thicken considerably as it cools. The caramel should be cool (but still drip freely from a spoon) for decorating–if it gets too thick, heat it in the microwave at 10 second intervals.

Prepare Marshmallow Frosting: Combine the egg whites, sugar, and lemon juice in a very clean and dry bowl of a stand mixer. Set the bowl over a pot of lightly simmering water to create a double boiler. Using the whisk attachment, whisk constantly with your hand until the sugar has dissolved and whites are lightly warm to touch. Use your fingertips to test that the sugar has dissolve and it is warm; this step should take roughly 4 to 5 minutes.

Transfer the bowl to stand mixer and using the whisk attachment, beat over low speed for 1 to 2 minutes. Increase speed to high and continue to beat for another 5 to 6 minutes until the frosting is thick, shiny, and stiff. It should hold its peak. Add the vanilla extract and beat for another couple seconds until completely incorporated.

Assemble Cupcakes: Frost the cooled cupcakes using your favorite tip (I used a 8PT round) and drizzle the tops with pomegranate caramel. Serve immediately.
Gingerbread recipe adapted from
King Arthur
; Marshmallow Frosting adapted from
Martha
.
Serving: 1serving, Calories: 335kcal, Carbohydrates: 58g, Protein: 3g, Fat: 11g, Saturated Fat: 4g, Polyunsaturated Fat: 7g, Cholesterol: 31mg, Sodium: 212mg, Fiber: 1g, Sugar: 51g
This post contains affiliate links, which means that I make a small commission off items you purchase at no additional cost to you. Please read my
privacy policy
for more information.