Tortilla-Crusted Chicken Salad with Cilantro Dressing
This post contains affiliate links.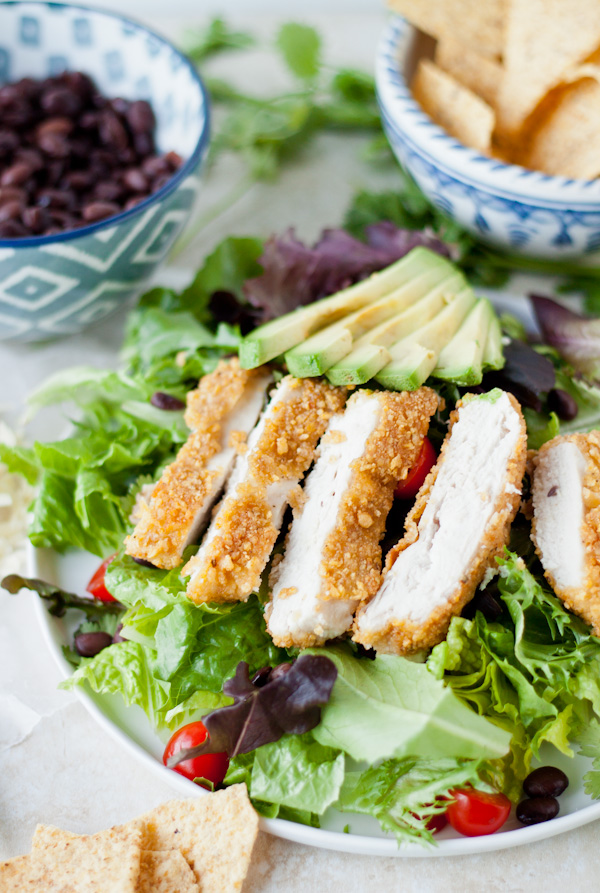 Otherwise known as "I have no idea what to call this" or "who cares about the name, because it's yummy" chicken salad.
Literally, I must have spent a good thirty minutes just trying to figure out how to describe this one.  There is a decent amount of stuff going on.  And I didn't want to play favorites.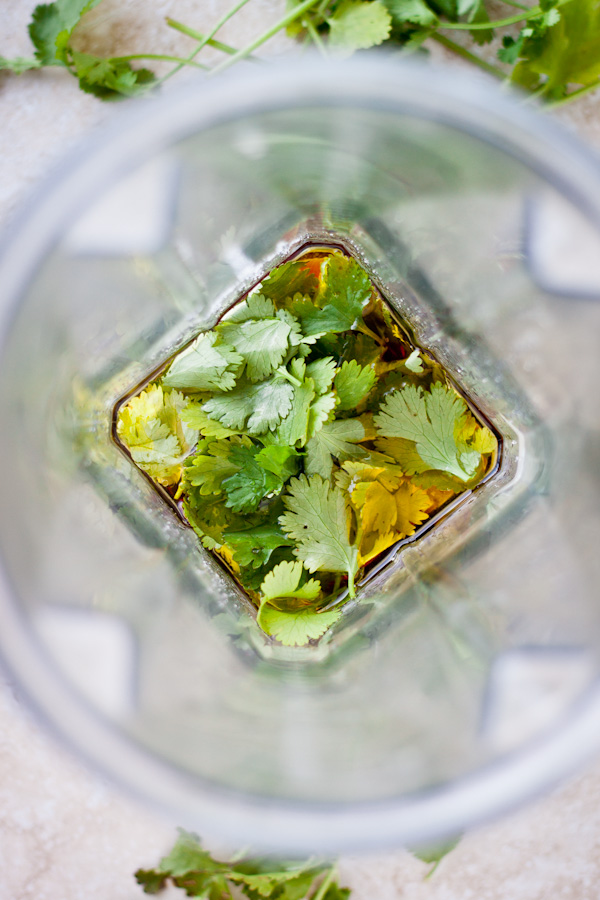 I feel like I did everything backwards this week.
I was probably supposed to tell you guys about this salad on Monday (especially since it was the Monday after Thanksgiving and all) and then share those cupcakes with you today.  As a sort of end-of-the-week celebration dessert.
On Monday, we could have pretended that coating chicken with crushed tortilla chips and pan-frying them was healthy.  I mean, it is a salad after all.
But now, it's officially Friday and we're all craving pizza and all of the foods, so who the hell cares anymore.  The more, the merrier.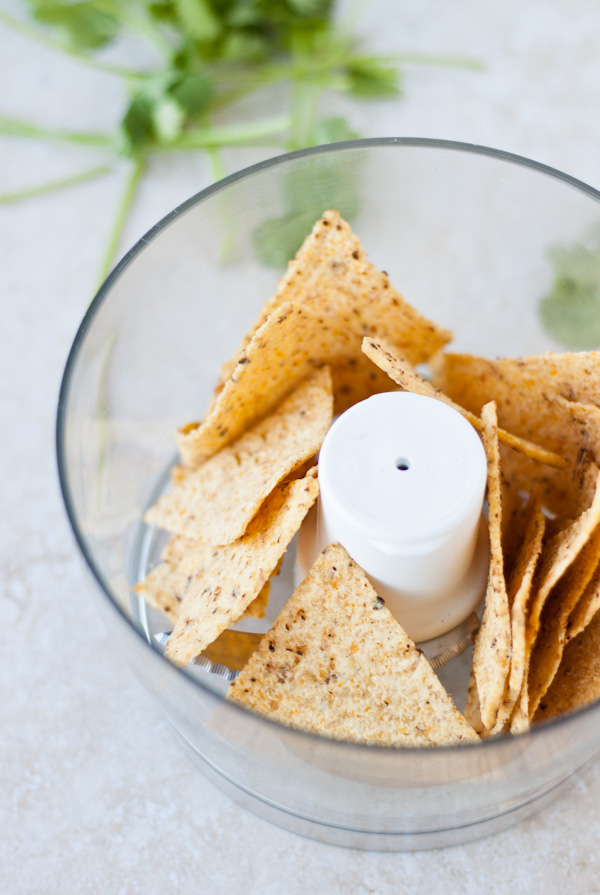 I first got this idea when I went to a popular Mexican restaurant in DC a few months ago and had fish tacos (in a flour tortilla) that were crusted with tortilla chips.
Good, but the idea seemed a bit redundant to me–and it totally overpowered the fish.  But I did love the texture!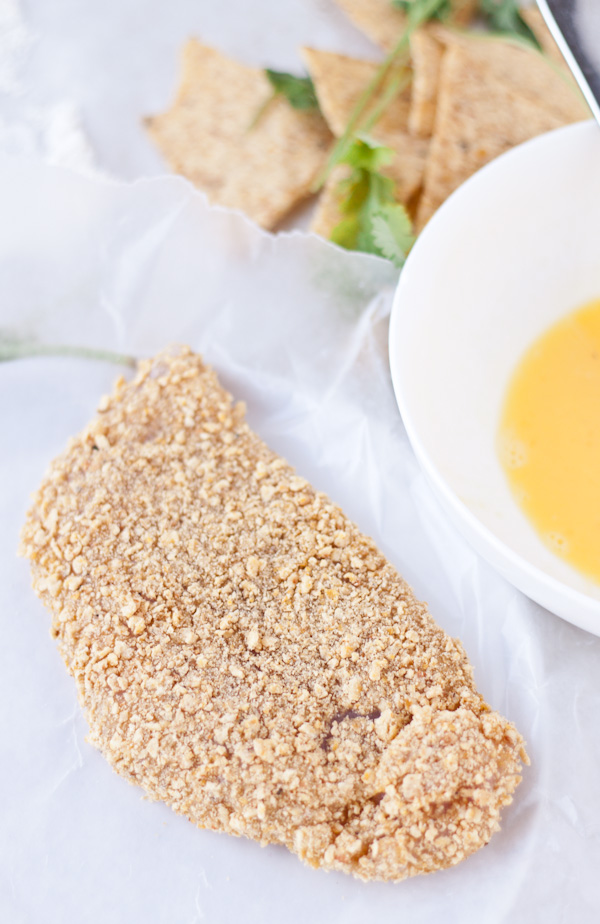 I kept thinking about how I wanted to try it out at home with a Tex-Mex salad that was full of avocado, black beans, tomatoes, cilantro and other goodies.
If it were summer, I probably would have also added some pico de gallo too.  And maybe some fresh corn.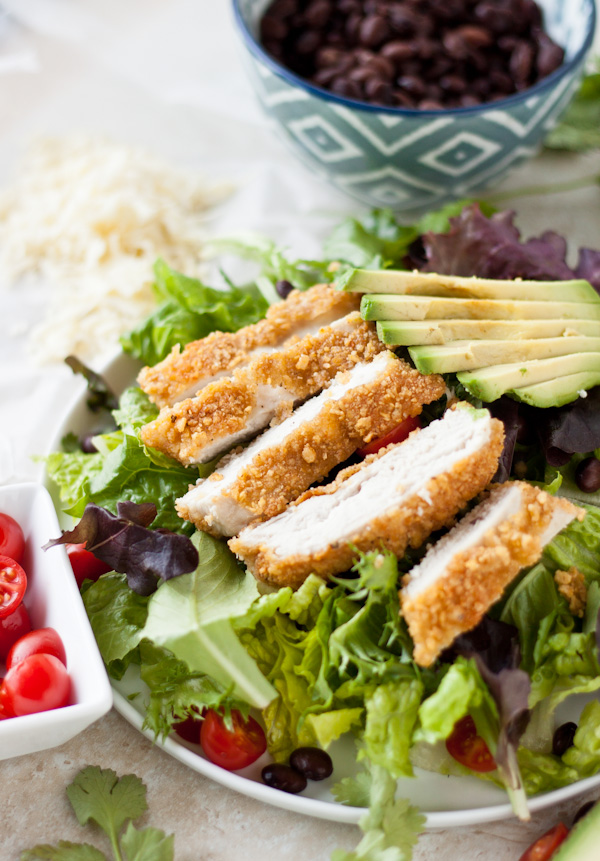 The dressing (adapted slightly from Joe Yonan's Serve Yourself) is a simple combination of cilantro, red wine vinegar, oil, and garlic.  I added some lime juice as well to give it a bit more brightness.
I know I shared salad measurements below, but its more of a rough estimation.  I've never ever measured lettuce in real life….and I'm pretty sure you most likely haven't either, so feel free to adjust it depending on how many people you're serving!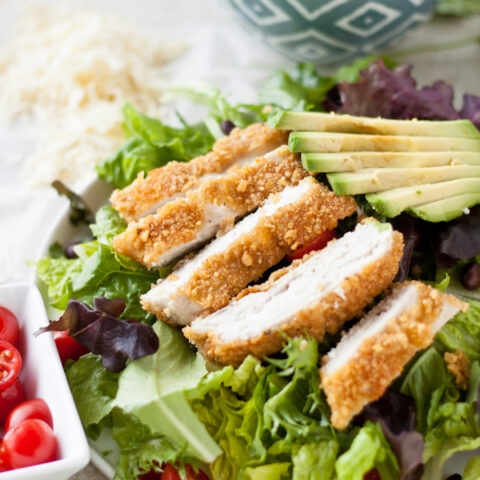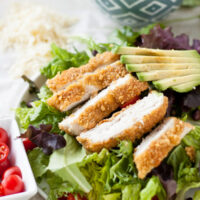 Tortilla Crusted Chicken Salad with Cilantro Dressing
Yield: 2 Servings
Prep Time: 20 minutes
Cook Time: 20 minutes
Total Time: 40 minutes
Ingredients
Cilantro Dressing:
1 clove garlic, roughly chopped
1 teaspoon sugar
1/2 teaspoon salt
2 tablespoons lime juice
1/4 cup extra virgin olive oil
1/4 cup safflower or other neutral oil
1/4 cup red wine vinegar
1/2 (loosely packed) cup fresh cilantro leaves, removed from the stem
Tortilla-Crusted Chicken:
1 large skinless, boneless chicken breast (pounded until 3/4-1″ thick)
1 large handful of tortilla chips, finely crushed in food processor
1/4 cup all-purpose flour
1 egg, beaten
salt
pepper
2 tablespoons canola/safflower oil
Salad:
3-4 cups of mixed greens
2 cups thinly sliced romaine
1 small avocado, thinly sliced or cubed
1/2 cup canned black beans, drained and rinsed
1/2 cup cherry tomatoes, halved
1/3 cup grated extra sharp cheddar cheese
cilantro dressing (see above)
wedge of lime
cilantro leaves (for garnish)
Instructions
Prepare Dressing: Combine ingredients in a blender and puree until smooth. Set aside (or dressing can be refrigerated and kept for up to three weeks in fridge).
Prepare Chicken: Place tortilla chips in bowl of a small food processor and process until tortilla chips are ground relatively evenly (but still a little rough)–it might take a few minutes. Prepare a breading station with flour, the beaten egg, and ground tortilla chips.
Pound out the chicken breast between two pieces of wax paper until it is 1/2-3/4″ thick. Season with salt and pepper.
Dredge the chicken bread in flour, shaking off excess; dip in egg mixture, and dredge in the crushed tortilla chips. Lay on a piece of wax paper.
Heat a medium non-stick skillet over medium heat. Add the oil. Cook the chicken on each side for roughly 3-4 minutes, without turning until beginning to brown. Adjust heat as necessary (cook time will vary depending on thickness of meat).
Transfer cooked chicken to a clean paper-towel lined plate. Season lightly with salt and allow to rest for 5 minutes or so, before slicing.
Assemble Salad: Combine salad ingredients in a large bowl, add dressing, and toss until coated evenly. Top with cilantro leaves and sliced tortilla-crusted chicken.
Squeeze the lime juice over the salad. Serve immediately.
Notes
Dressing barely adapted from Joe Yonan's Serve Yourself
Nutrition Information:
Yield: 2
Serving Size: 1
Amount Per Serving:
Calories: 697
Total Fat: 64g
Saturated Fat: 8g
Trans Fat: 0g
Unsaturated Fat: 53g
Cholesterol: 62mg
Sodium: 511mg
Carbohydrates: 18g
Fiber: 6g
Sugar: 3g
Protein: 15g
A Beautiful Plate provides nutritional information, but these figures should be considered estimates, as they are not calculated by a registered dietician.
P.S.  Happy Friday!
This post contains some affiliate links, which means that I make a small commission off items you purchase at no additional cost to you. Please read my
disclosure policy
for more information.