Tortilla Crusted Chicken Salad with Cilantro Dressing
Hearty tortilla crusted chicken salad filled with tomatoes, avocado, black beans, cheddar cheese, and tossed with a cilantro dressing.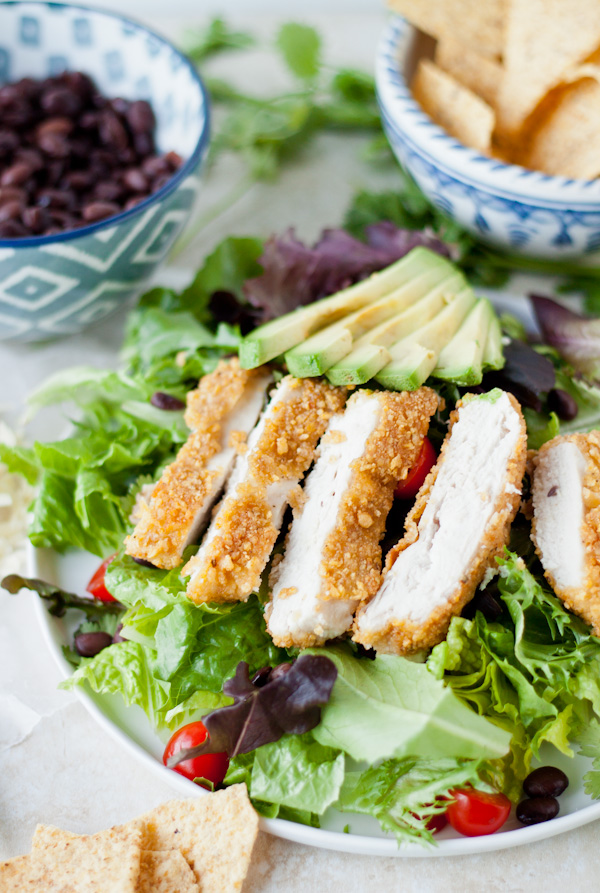 If you're looking for a hearty main course salad to add to your meal rotation, this Tortilla Crusted Chicken Salad with Cilantro Dressing is a great choice.
The idea for tortilla crusted chicken came about when I visited a popular Mexican restaurant in DC and enjoyed fish tacos crusted with tortilla chips. It adds great texture and is a fun change of pace from regular breadcrumbs.


I feel like I did everything backwards this week.
I was probably supposed to tell you guys about this salad on Monday (especially since it was the Monday after Thanksgiving and all) and then share those cupcakes with you today. As a sort of end-of-the-week celebration dessert.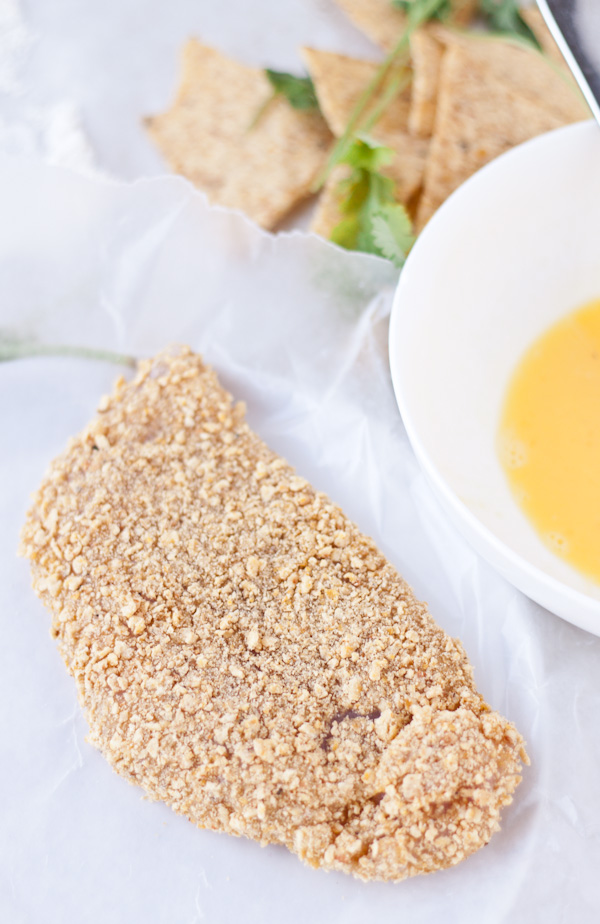 The cilantro dressing is a simple combination of cilantro, red wine vinegar, lime juice, oil, and garlic.
During summer, I love to top this salad with a generous spoonful of fresh pico de gallo and grilled corn.
Rough lettuce amounts are provided below in the recipe, but feel free to adjust the quantities depending on how many people you're serving!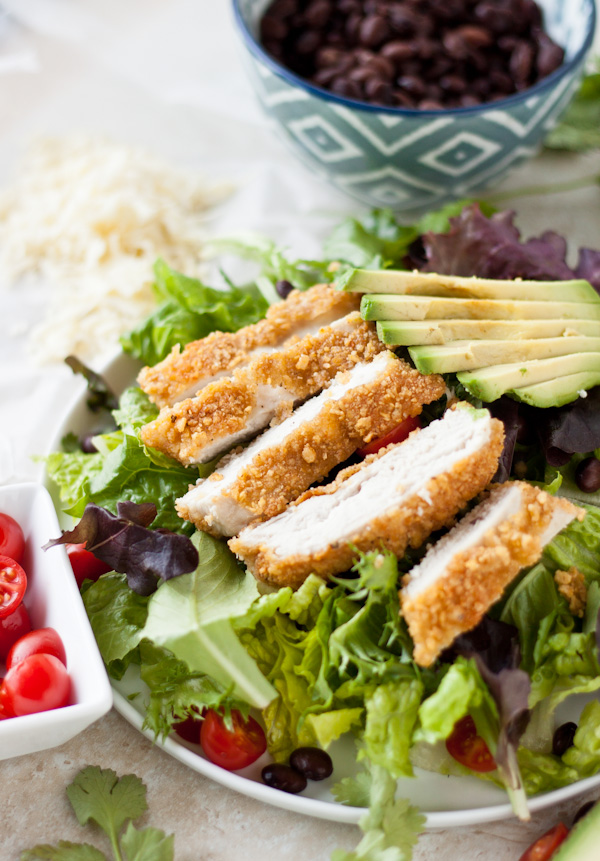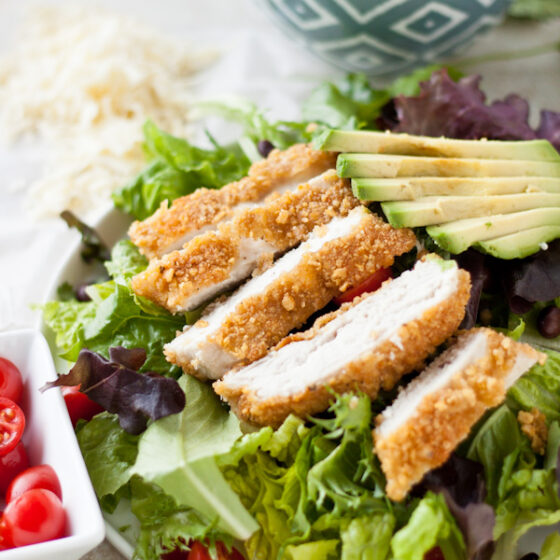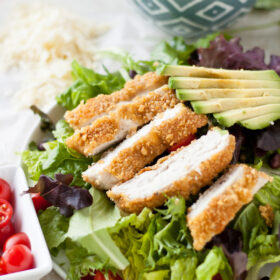 Tortilla Crusted Chicken Salad with Cilantro Dressing
Hearty tortilla crusted chicken salad filled with tomatoes, avocado, black beans, cheddar cheese, and tossed with a cilantro dressing. In lieu of breadcrumbs, chicken breasts are dredged with finely ground tortilla chips for a fun textural twist!
Ingredients
Cilantro Dressing:
1 garlic clove roughly chopped
1 teaspoon granulated sugar
½ teaspoon Diamond Crystal kosher salt
2 tablespoons (30 mL) fresh lime juice
¼ cup (60 mL) extra virgin olive oil
¼ cup (60 mL) safflower or other neutral oil
¼ cup (60 mL) red wine vinegar
½ cup packed fresh cilantro leaves
Tortilla Crusted Chicken:
1 large handful thin corn tortilla chips
1 boneless chicken breast (without the skin)
unbleached all-purpose flour for dredging
1 large egg beaten
kosher salt
freshly ground black pepper
vegetable oil for cooking
Salad:
3-4 cups mixed greens
2 cups thinly sliced romaine leaves
1 small ripe avocado thinly sliced or cubed
½ cup cooked black beans
½ cup cherry tomatoes halved
⅓ cup grated extra sharp cheddar cheese
cilantro leaves for garnishing
lime wedges
Instructions
Prepare Dressing: Combine ingredients in a high powered blender and puree until smooth. Set aside in a container with a tight fitting lid (dressing can also be refrigerated and kept for up to a week in the fridge.

Prepare Chicken: Place tortilla chips in the bowl of a small food processor and process until tortilla chips are evenly ground, but still have some texture. This might take several minutes. Prepare a breading station with flour, the beaten egg, and ground tortilla chips on separate plates or sheets of wax paper.

Pound out the chicken breast between two pieces of wax paper until it is ½ to ¾-inch thick. Season on both sides with salt and pepper. Dredge the chicken breast in flour, shaking off any excess; dip in the beaten egg, and coat on both sides with the ground tortilla chips.

In a medium sized non-stick skillet, heat a thin layer of vegetable oil over medium-high heat. Once the oil is shimmering, add the breaded chicken breast (it should immediately sizzle in the cooking oil) and cook until golden brown on both sides, roughly 3 to 4 minutes per side. Adjust heat as needed; total cook time will vary depending on the thickness of your chicken breast.

Transfer the cooked chicken to a clean paper-towel lined plate and immediately sprinkle lightly with salt. Allow the chicken to rest for 5 to 10 minutes before slicing and serving on the salad.

Assemble Salad: Combine the mixed greens, romaine lettuce, avocado, cherry tomatoes, and grated cheese in a large salad bowl. Toss with dressing until the leaves are evenly coated (be sure to shake the dressing well before using). Season to taste with salt and pepper. Serve and top with slices of tortilla crusted chicken, cilantro leaves, and limed wedges for squeezing.
Dressing barely adapted from Joe Yonan's Serve Yourself
Serving: 1serving, Calories: 697kcal, Carbohydrates: 18g, Protein: 15g, Fat: 64g, Saturated Fat: 8g, Polyunsaturated Fat: 53g, Cholesterol: 62mg, Sodium: 511mg, Fiber: 6g, Sugar: 3g
This post contains affiliate links, which means that I make a small commission off items you purchase at no additional cost to you. Please read my
privacy policy
for more information.