Carrot Cake Scones with Maple Cream Cheese Glaze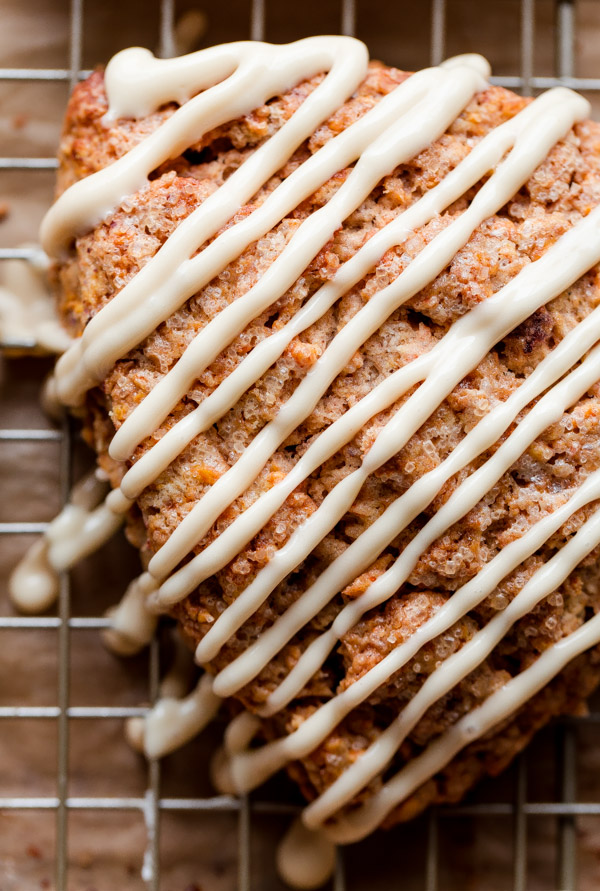 It always seems that within a week of the weather warming, and April quickly approaching, carrot cake takes over the internet. Seriously? Have you guys been on Pinterest or Facebook recently? It's carrot cake central.
Well, I'm officially boarding the carrot cake train. And guess what? I'm totally cool with it.
I figured we have more than enough traditional carrot cake recipes to choose from, but scones?  Fluffy carrot cake scones that can served at all times of the day? Yes, please. People will judge you if you serve carrot cake with frosting for breakfast, but carrot cake scones with maple cream cheese glaze? Totally acceptable breakfast fare.
See what I did there? You're welcome.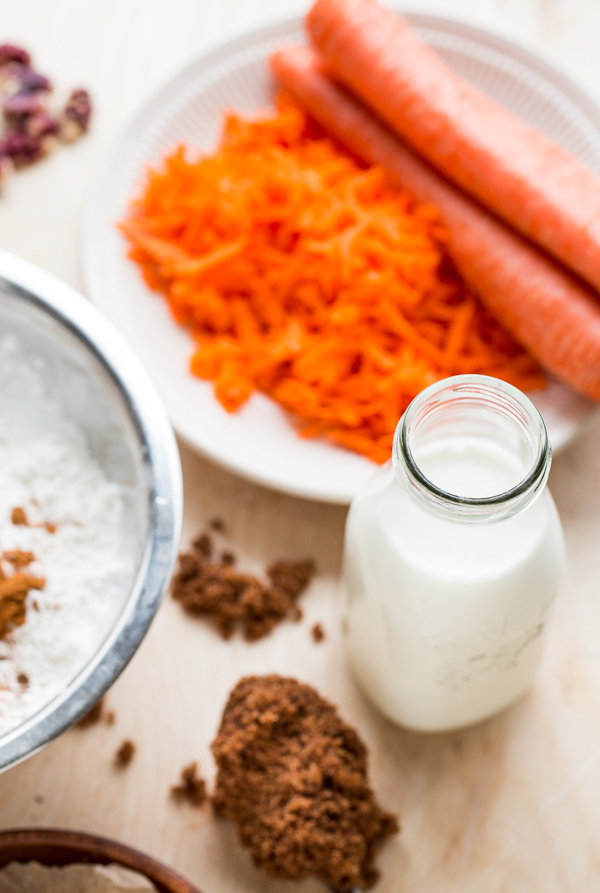 Truthfully though, I am a huge carrot cake fan. I'd take it over traditional chocolate cake any day of the week.
I can't even really describe why I love it so much, but the combination of the subtle warm spices and sweet carrot win me over every time. It makes me think of tulips, light sweaters, and the first days of spring.
But really though, have you ever noticed how passionate people are about carrot cake? It is a hotly debated subject. People are very particular about it. Should it contain nuts? Pineapple? Flaked coconut? Almost every single version exists, and has its staunch group of supporters.
And let's not forget the most hotly debated carrot cake addition of all time…raisins! I'm pretty sure raisins have caused more controversy in the the culinary world than foie gras.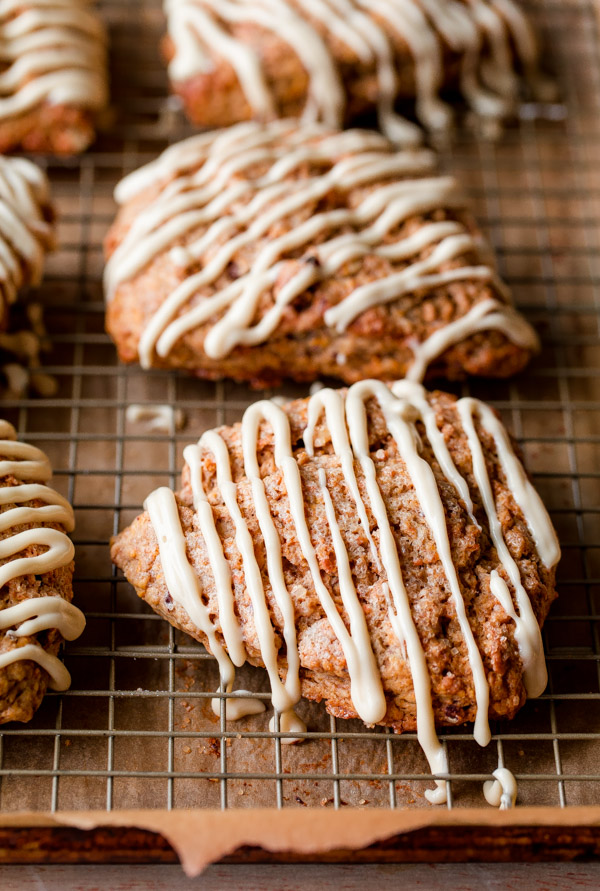 After some experimentation with my favorite scone base, I was able to make a scone that has all of the flavor characteristics of a classic carrot cake! The trick? Freshly grated carrot and just the right balance of spices, including ground cinnamon, allspice, and nutmeg–the hallmark spices of a good carrot cake.
I was this close to adding dried coconut flakes, but decided against it at the last minute. No raisins, no pineapple, no coconut. Just a classic carrot cake inspired scone without all the frills or distractions!
I did add chopped walnuts for a bit of texture, but they are completely optional!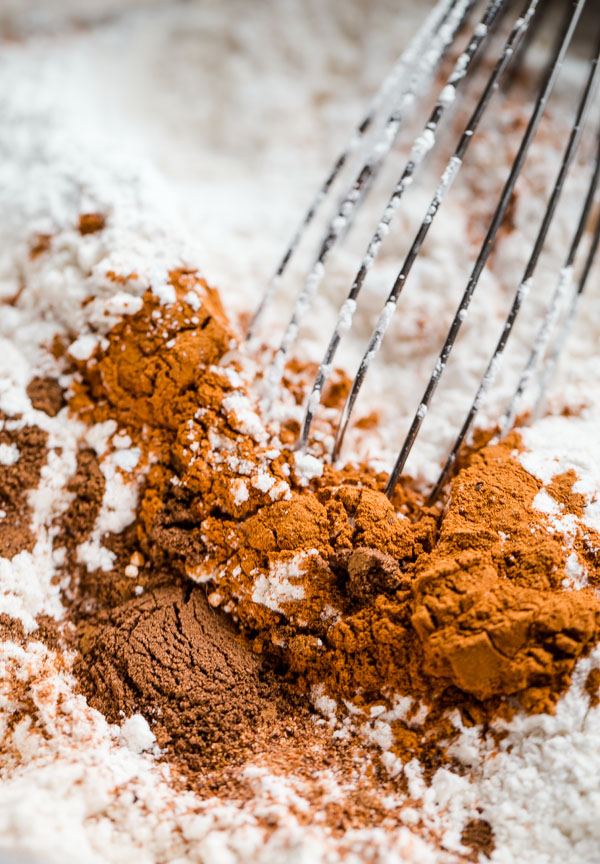 This recipe comes together in very little time, particularly if you use a large food processor, which I have to say, is my favorite method for making scones. It allows you to incorporate the butter quickly, allowing it to stay very cold, which is ideal for producing light, flaky scones.
Since these scones have the addition of freshly grated carrot, which incorporates more moisture into the dough, it's worth noting that they are slightly more cake-like in texture than a traditional butter and cream based scone; however, they are just as tasty!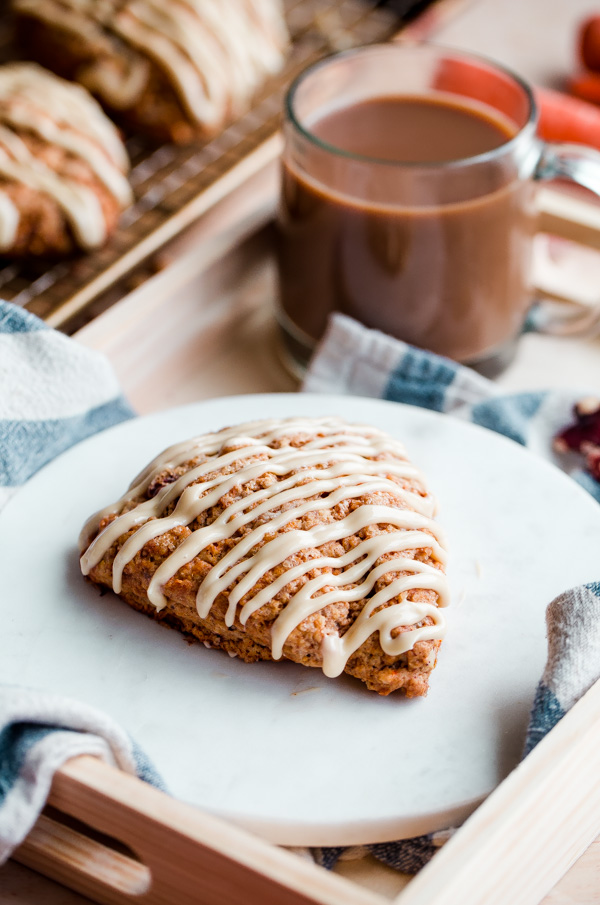 The icing on the scone? Literally?
The ridiculously over-the-top cream cheese glaze sweetened with real deal, Grade B (the best!) maple syrup. It's thick, slightly tangy, and has a noticeable maple syrup flavor that complements the walnut-studded scones perfectly.
Unlike carrot cake, which can often be too heavy or overpowered by too much frosting, these scones have just the right level of sweetness that makes them suitable for breakfast, brunch, post-lunch snack, or tea time!
Spring has finally sprung!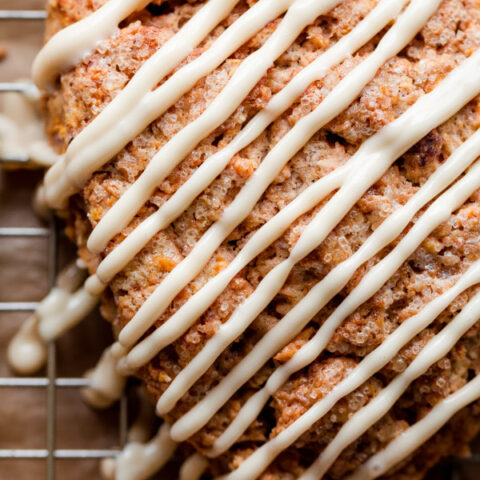 Carrot Cake Scones with Maple Cream Cheese Glaze
Yield: 6 Servings
These carrot cake scones have all of the flavor characteristics of a classic carrot cake! The trick? Freshly grated carrot and just the right balance of spices, including ground cinnamon, allspice, and nutmeg–the hallmark spices of a good carrot cake. They're topped with an optional maple cream cheese glaze!
Prep Time: 15 minutes
Cook Time: 20 minutes
Total Time: 35 minutes
Ingredients
Carrot Cake Scones:
2 cups (250 grams) unbleached all-purpose flour
1/4 cup (55 grams) packed dark brown sugar
1 tablespoon baking powder
3/4 teaspoon ground cinnamon
3/4 teaspoon ground allspice
1/8 teaspoon ground nutmeg
1/2 teaspoon kosher salt
1 cup (110 grams) packed roughly grated carrot
2.5 ounces (5 tablespoons) very cold, unsalted butter, cut into small cubes
1/2 cup chopped walnuts
1 cup cold heavy cream, plus more for brushing
turbinado sugar, for sprinkling
Maple Cream Cheese Glaze: 
2 ounces cream cheese, room temperature
2 tablespoons pure maple syrup (Grade B, preferably)
pinch of salt
1 tablespoon (plus 1-2 teaspoons, if needed) heavy cream
Instructions
Preheat the oven to 425 degrees Fahrenheit. Line a large baking sheet with parchment paper, and set aside.
Prepare Scones: In a large food processor (fitted with a blade attachment), combine the flour, brown sugar, baking powder, cinnamon, allspice, nutmeg, and salt. Pulse several times until all of the ingredients are evenly incorporated. Add the grated carrot, and pulse 2 to 3 times. Add the cold, unsalted butter and pulse 10 times, or until the butter is no smaller than the size of a pea. Transfer mixture to a large mixing bowl, and stir in the chopped walnuts.
Create a well in the center of the ingredients, and pour in the heavy cream. Using a fork, stir the cream into the dry ingredients until the dough just comes together. Scrape the scone dough onto a clean, lightly floured counter-top. Knead the dough for 5 to 10 seconds, and pat the dough into a 8-inch disc, roughly 1-inch thick. Using a sharp knife, cut the dough into six wedges (**note: this will produce extra-large scones, you can also cut them into eight wedges, but reduce baking time slightly to adjust for size).
Transfer scone wedges to the parchment-paper lined baking sheet. Brush the tops of the scones lightly with heavy cream, and sprinkle them generously with turbinado sugar. Bake at 425 degrees Fahrenheit for 16 to 20 minutes, or until the scones are golden brown. Remove from the oven, and transfer them with a spatula to a wire rack to cool completely before glazing.
Prepare Glaze: Once the scones have cooled completely, prepare the maple cream cheese glaze. Combine all of the ingredients in the bowl of small food processor. Pulse until the glaze is smooth and all of the ingredients are evenly incorporated (scrape down the sides of the bowl with a spatula as necessary). The glaze should be relatively thick, but pipeable. Transfer the glaze to zip lock bag. Press and compress the frosting into one corner of the bag. Using scissors, make a small snip (about 1/4-inch) at the corner of the bag. Carefully pipe the glaze in diagonal lines, back and forth, across the tops of the scones. Best served the day they are baked.
Nutrition Information:
Yield: 6
Serving Size: 1
Amount Per Serving:
Calories: 571
Total Fat: 29g
Saturated Fat: 15g
Trans Fat: 1g
Unsaturated Fat: 13g
Cholesterol: 66mg
Sodium: 507mg
Carbohydrates: 73g
Fiber: 3g
Sugar: 37g
Protein: 8g