Triple Alps Cheese Gougeres
A big thank you to Castello Moments for sponsoring this post–and giving me the opportunity to share these delicious cheeses with you all.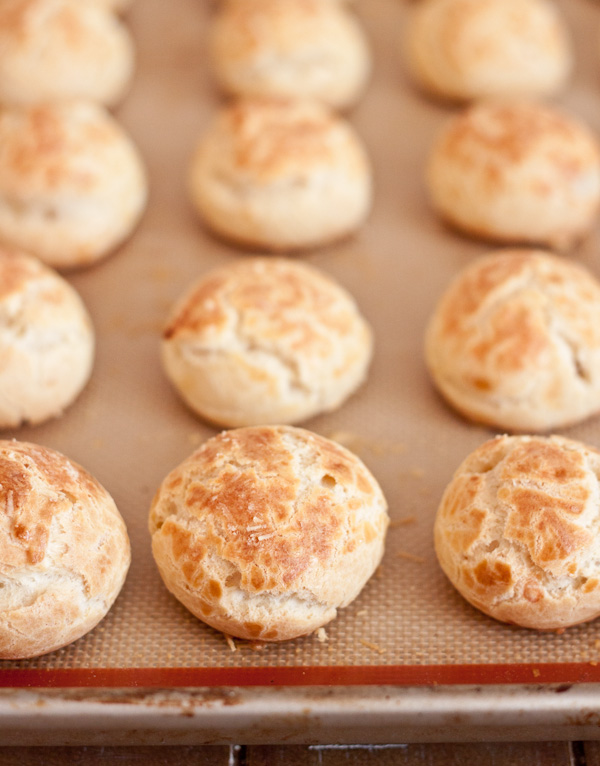 As you probably already know, I'm sort of obsessed with cheese.  I like all sorts of cheese, mild, sharp, stinky, not-so-stinky, and everything in between.
So you can imagine just how excited I was to arrive home from work a few weeks ago and see pounds upon pounds of glorious Castello cheese (produced with milk from cows grazing on small mountain farms in the Alps) sitting in my fridge.
Since I have very little self control, I opened them up almost immediately and had to take a few small bites of each….
Weissbier: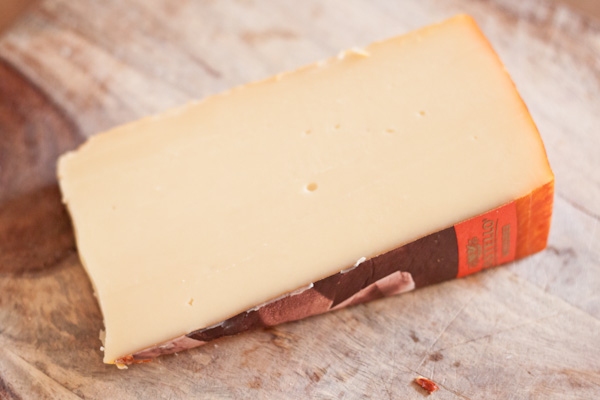 Weissbier, with its distinct orange wax rind, is soft, smooth, buttery, and the epitome of a great melting cheese.  It has a nutty, but delicate flavor, with just a touch of funkiness, and beer undertones.  Perfect for a homemade mac 'n cheese (which I made about two days later), cheese sandwiches, omelettes, and grilled vegetables.
Classic: 
The next cheese on my agenda to try was the Castello Classic, which is much firmer than the Weissbier.  It is a slightly sharper cheese and offers a hint of spice, as well as smoky aroma.  It pairs extremely well with charcuterie, sun-dried tomatoes, and full-bodied red wines.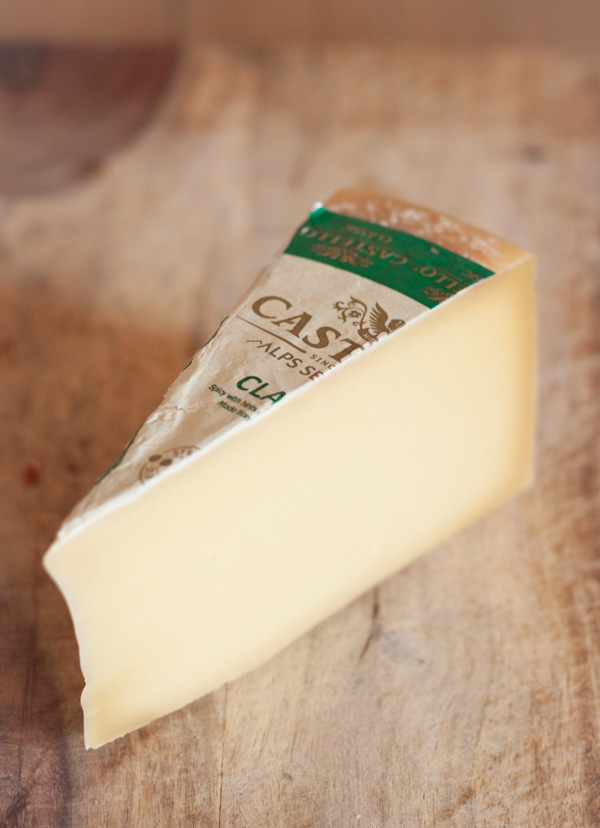 And lastly, but certainly not least…
Hirten: 
This was my absolute favorite among the three!  I could happily munch on this cheese all day long–which is quite dangerous, considering I have quite a bit of it left.  As you can see below, it is a dry, hard, granular cheese (very similar to a high-quality Parmesan), which is perfect for grating or slicing into very thin slices (I use a vegetable peeler to do this).  

It is much more salty and complex than the other two cheeses, with overtones of caramel and pine–and works perfectly grated over your favorite pasta dishes or salads.  Delicious!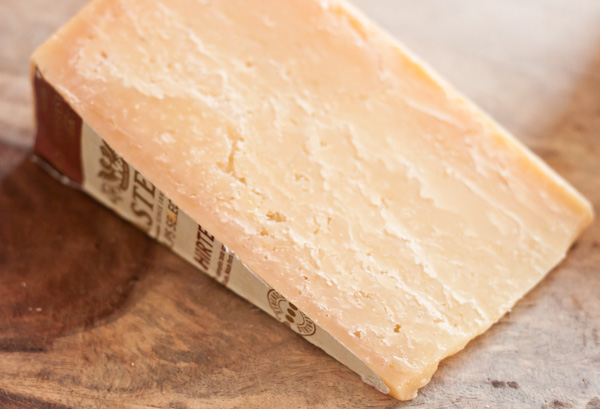 As you can probably already tell, there are so many ways that these cheese can be used–whether served alone on a nice cheeseboard with some great wine, or added into your favorite dishes. They also work and compliment each other extremely well.
For this reason, I chose to make classic French gougeres with a combination of all three Castello cheeses.  What one cheese offers in melt-ability, another offers in saltiness, and so forth.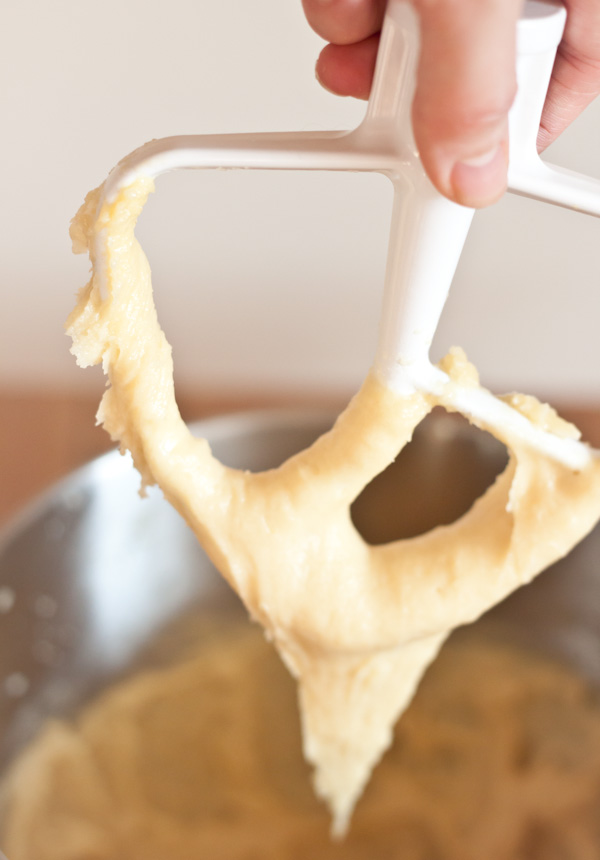 Gougeres are made with a choux pastry that is mixed with cheese, baked at a high temperature (to puff and steam), and generally served warm as an appetizer.
While they traditionally are supposed to be very small (about the size of a Brussels sprout), I tend to prefer to make them a tad bit larger and more substantial.
Topped with a little bit of fresh Hirten cheese, these little baked pastries can be put together extremely quickly and customized to your liking (with more cheese, fresh herbs, roasted garlic, etc.)
Enjoy!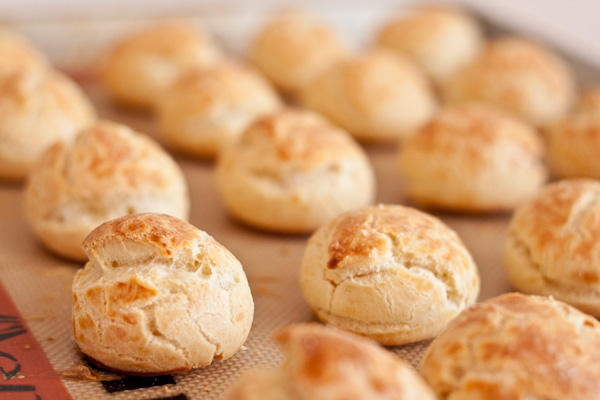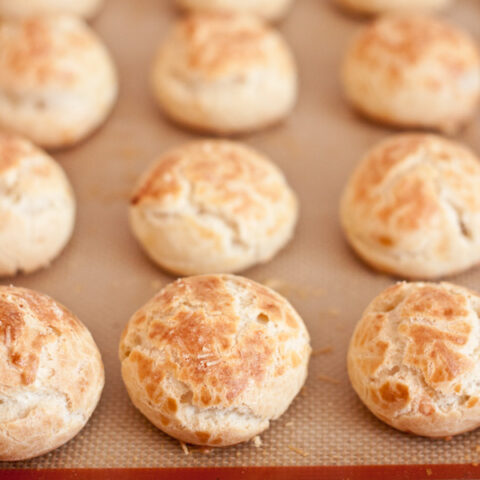 > Blogging Over Thyme" srcset="https://www.abeautifulplate.com/wp-content/uploads/2013/07/gougeres-1-10-480x480.jpg 480w, https://www.abeautifulplate.com/wp-content/uploads/2013/07/gougeres-1-10-190x190.jpg 190w, https://www.abeautifulplate.com/wp-content/uploads/2013/07/gougeres-1-10-280x280.jpg 280w, https://www.abeautifulplate.com/wp-content/uploads/2013/07/gougeres-1-10-560x560.jpg 560w, https://www.abeautifulplate.com/wp-content/uploads/2013/07/gougeres-1-10-200x200.jpg 200w, https://www.abeautifulplate.com/wp-content/uploads/2013/07/gougeres-1-10-320x320.jpg 320w" sizes="(max-width: 480px) 100vw, 480px" data-pin-media="https://www.abeautifulplate.com/wp-content/uploads/2013/07/gougeres-1-10.jpg">
Triple Alps Cheese Gougeres
Yield: 10 Servings
Prep Time: 20 minutes
Cook Time: 25 minutes
Total Time: 45 minutes
Ingredients
1/2 cup whole milk (or water)
2 ounces unsalted butter
2 1/2 ounces all-purpose flour
1/2 teaspoon kosher salt
1/4 teaspoon ground cayenne pepper
3 ounces Castello Swiss Alps cheese (equal combination of Hirten, Weissbier, and Classic) + more for dusting
2 1/2 eggs (use the other half of an egg for a simple egg wash)
Instructions
Preheat oven to 425 degrees Fahrenheit. Line a large baking sheet with parchment paper (or Silpat). Prepare all your ingredients and set aside.
In small bowl, combine flour, salt, and cayenne pepper and whisk together.
In a saucepan, combine the whole milk and butter. Bring to a rolling boil (over medium-high heat), watch carefully to avoid the mixture from evaporating.
Turn down the heat to low and immediately add in the entire flour mixture at once, stirring with a wooden spoon until the mixture comes together (there should be a light coating on the bottom of the pan) and begins to dry out a bit.
Add the cheese and stir until melted and combined.
Transfer the dough to the bowl of a stand mixer (fitted with the paddle attachment) and turn on to medium high speed, allowing the dough to cool slightly.
With the mixer at medium high speed, add one egg at a time, allowing the eggs to be absorbed one at a time. You want the dough to not be stiff or runny–but have it be able to hang from the paddle in a "V" shape.
Transfer the dough to a piping bag (fitted with a round large tip)–or use two spoons–and pipe small rounds (about an inch in diameter) onto the baking sheet. Brush the tops of each gougere with leftover egg wash and a sprinkle of grated Hirten cheese.
Bake for ~15 minutes at 425 degrees. Rotate the pan and turn down the oven to 325 degrees and bake for an additional 7-10 minutes or until golden brown.
Notes
Gougeres can be made a few hours ahead of time (or frozen) and reheated in the oven just before serving.
Nutrition Information:
Yield: 10
Serving Size: 1
Amount Per Serving:
Calories: 125
Total Fat: 9g
Saturated Fat: 5g
Trans Fat: 0g
Unsaturated Fat: 3g
Cholesterol: 68mg
Sodium: 145mg
Carbohydrates: 6g
Fiber: 0g
Sugar: 1g
Protein: 5g
A Beautiful Plate provides nutritional information, but these figures should be considered estimates, as they are not calculated by a registered dietician.
Win a Private Cheese Tasting in your own home – enter by clicking on the banner below. Castello Moments and this post is a collaboration between the blogger and Arla Foods USA.