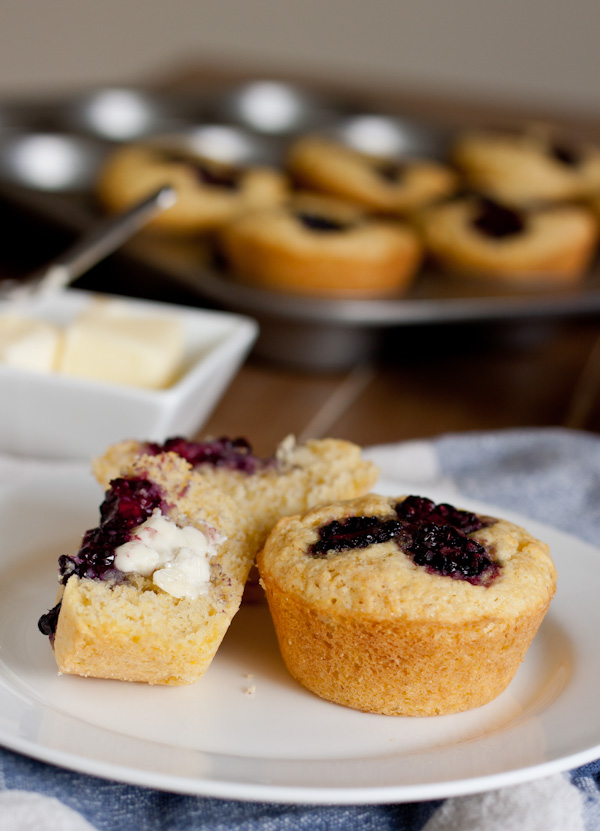 Technically, I was supposed to tell you about these muffins yesterday.  But it just ended up being one of those days–and instead of being productive, all I really wanted to do was sit in front of the TV (current favorites: old episodes of Diners, Drive-Ins, and Dives and, my guilty pleasure, Real Housewives of OC or New Jersey, both are equally entertaining) and stare blankly at a screen.
Preferably not a computer screen.  It happens.  Hopefully these blackberry corn muffins will make up for it?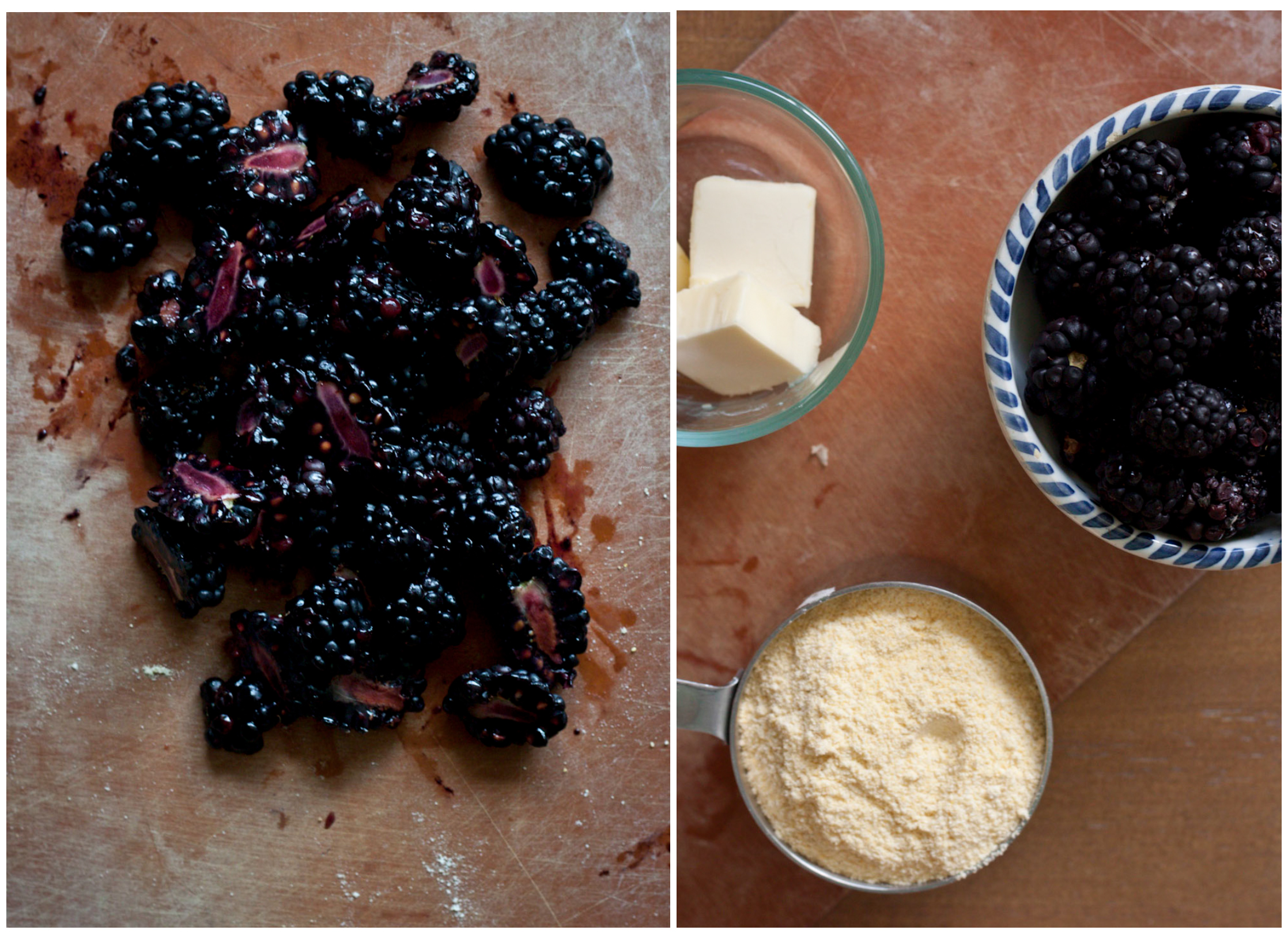 These muffins were a product of a craving for cornbread (again, these things happen) and tons of leftover blackberries from the farmers market (seemingly impossible considering my love for fresh berries in the summertime, but slightly more possible when you buy an entire flat for only two people–myself and Connor).
Oh yes, and my low tolerance for baking in the summertime.  Can't forget that one.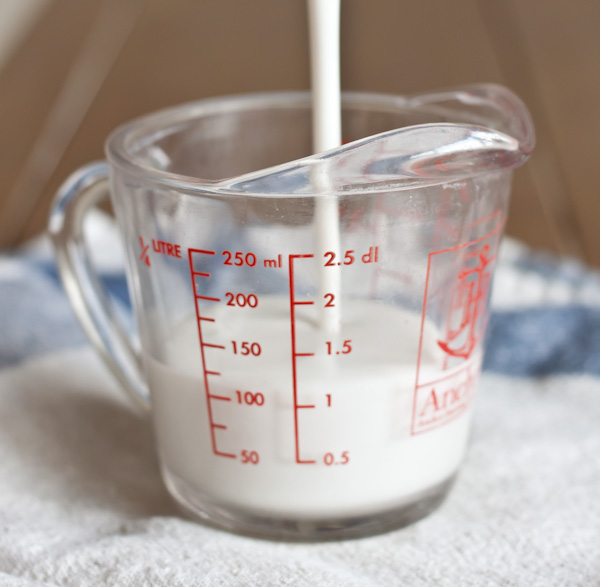 Muffins are a lazy baker's best friend.  In other words, I love them.
Don't get me wrong, I totally daydream about spending an entire day in the kitchen making elaborate and decadent layer cakes just like the next person (do you do that too?!).  Layer cakes are romantic.  Muffins are…practical.
And unfortunately, as my recipe page attests, I tend to err on the side of practicality.
However, practicality has its perks.  As in, you can pretty much make this whole recipe, start to finish, in about 30 minutes or so.
Instead of just making a regular old cornbread muffin, I decided to change things up just a bit…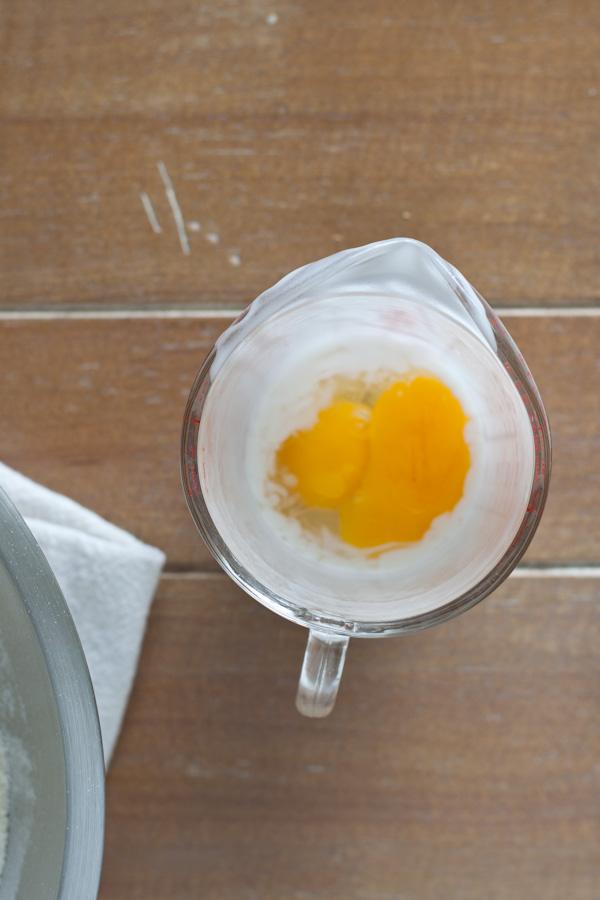 Here's where I have a little bit of a confession.  I actually initially made this recipe using coconut milk as the liquid.  The idea sounded pretty delicious (in my head)–cornbread with a hint of coconut goodness, fresh lime zest, and lastly, topped with tart, juicy blackberries.
Unfortunately, this genius plan didn't pan out nearly as well in reality and I could barely taste any coconut whatsoever in the final baked good.  Good news?  They still tasted really good and work perfectly with traditional buttermilk.
Be sure to gobble a few up while they are warm out of the oven!  You can even add a small pat of butter to make them extra decadent.  Enjoy!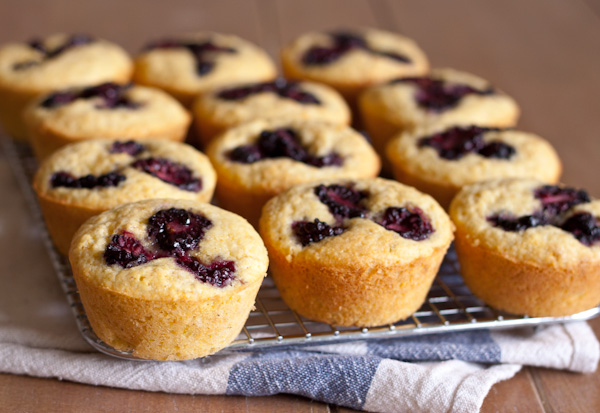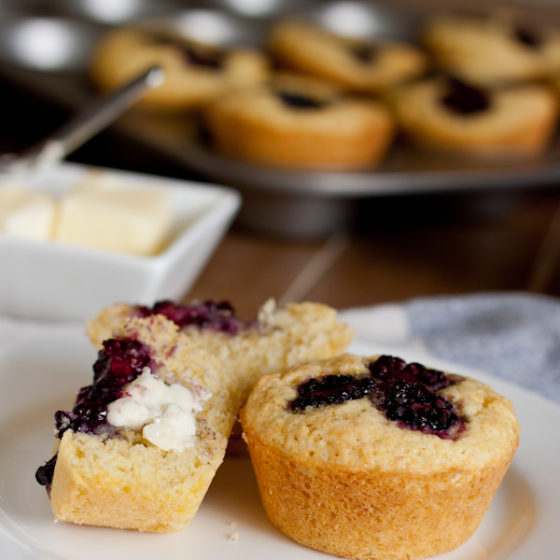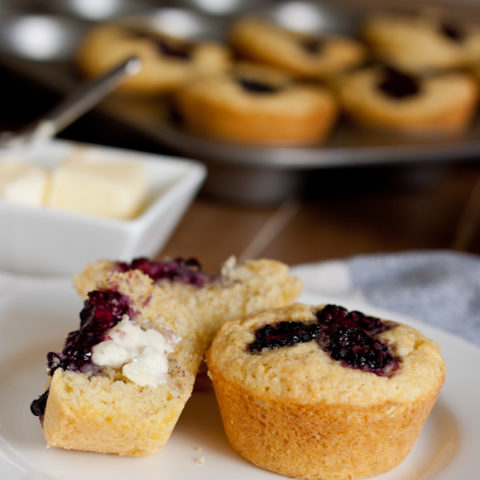 Blackberry Corn Muffins
Yield: 12 Standard Muffins
Prep Time: 20 minutes
Cook Time: 15 minutes
Total Time: 35 minutes
Ingredients
1 cup all-purpose flour
1 cup yellow, stone-ground cornmeal
7 tablespoons granulated sugar
1/2 teaspoon freshly grated lime zest
2 1/2 teaspoons baking powder
1/4 teaspoon baking soda
1/2 teaspoon kosher salt
1 cup buttermilk
3 tablespoons unsalted butter, melted and cooled
3 tablespoons canola oil
1 large egg, room temperature
1 large egg yolk, room temperature
~1 cup fresh blackberries, sliced lengthwise
turbinado sugar, for sprinkling
Instructions
Preheat oven to 400 degrees Fahrenheit. Grease a standard muffin pan or use paper muffin cups.
In large bowl, add the granulated sugar and lime zest. Using your fingers, gently rub the lime zest into the sugar until fragrant.
Add the all-purpose flour, cornmeal, baking powder, baking soda, and salt to same bowl and whisk together until consistent.
In separate small bowl, whisk together the buttermilk, whole egg and yolk, melted butter, and oil.
Pour the liquid ingredients over the dry and gently, but quickly fold together using a rubber spatula. Do not over mix, batter should be slightly lumpy.
Divide evenly among the muffin cups and gently top (cut side up) with the batter with fresh blackberry halves and sprinkle generously with turbinado sugar.
Bake for 15-18 minutes, or until muffins are golden brown and toothpick inserted in center comes clean. Transfer pan to cooling rack for five minutes, before removing each muffin. Best eaten slightly warm the day they are made.
Nutrition Information:
Yield: 12
Serving Size: 1
Amount Per Serving:
Calories: 191
Total Fat: 8g
Saturated Fat: 3g
Trans Fat: 0g
Unsaturated Fat: 5g
Cholesterol: 55mg
Sodium: 272mg
Carbohydrates: 26g
Fiber: 2g
Sugar: 9g
Protein: 4g
A Beautiful Plate provides nutritional information, but these figures should be considered estimates, as they are not calculated by a registered dietician.