Cheddar Biscuits with Black Pepper Honey Glaze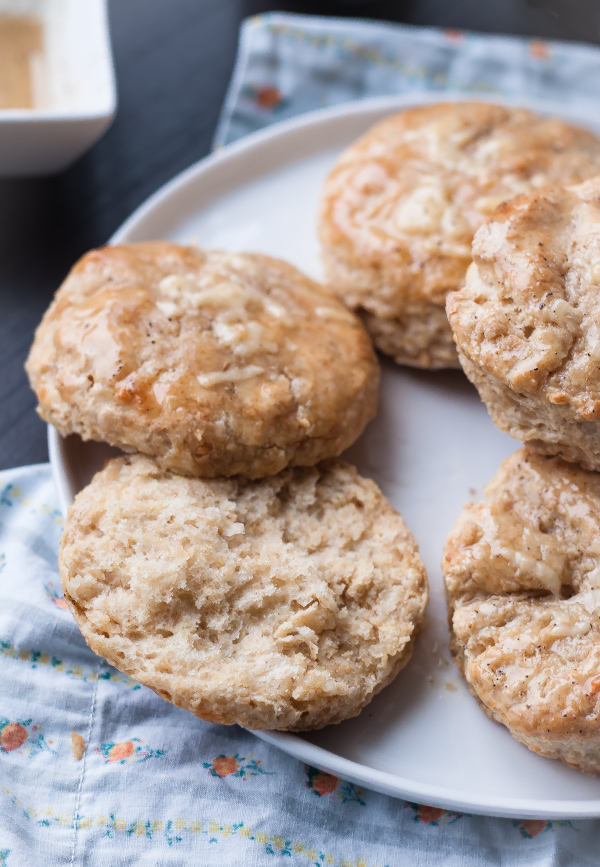 Recipe development is a mixed bag of emotions for me. Sometimes ideas seem to materialize out of thin air and other times, I can't think of anything to save my life.
Somehow along the way the idea for these Cheddar Biscuits with Black Pepper Honey Glaze came about!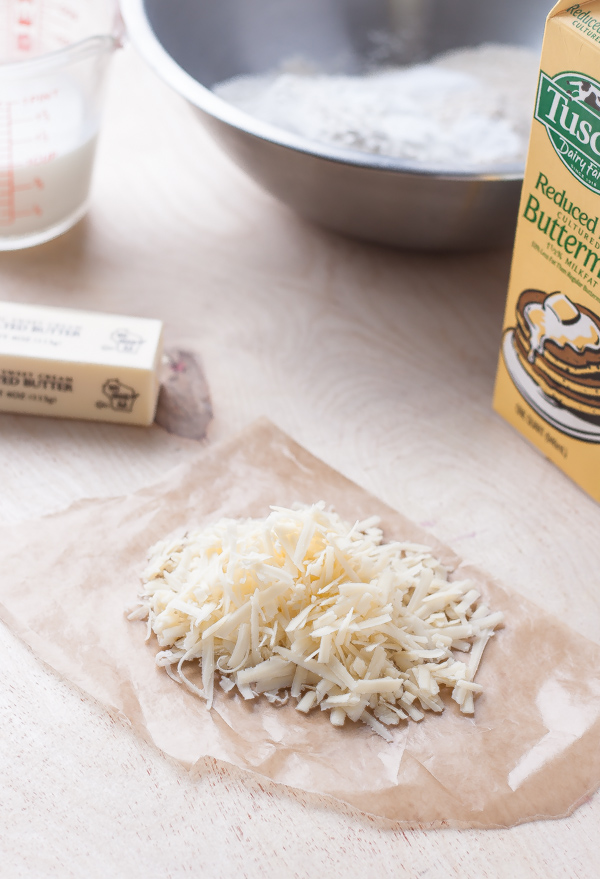 I prefer to think large picture (biscuits, cake, muffins) most of the time. Once I decide on the category, the flavor ideas appear to come more naturally to me.
That is exactly how these biscuits came to be.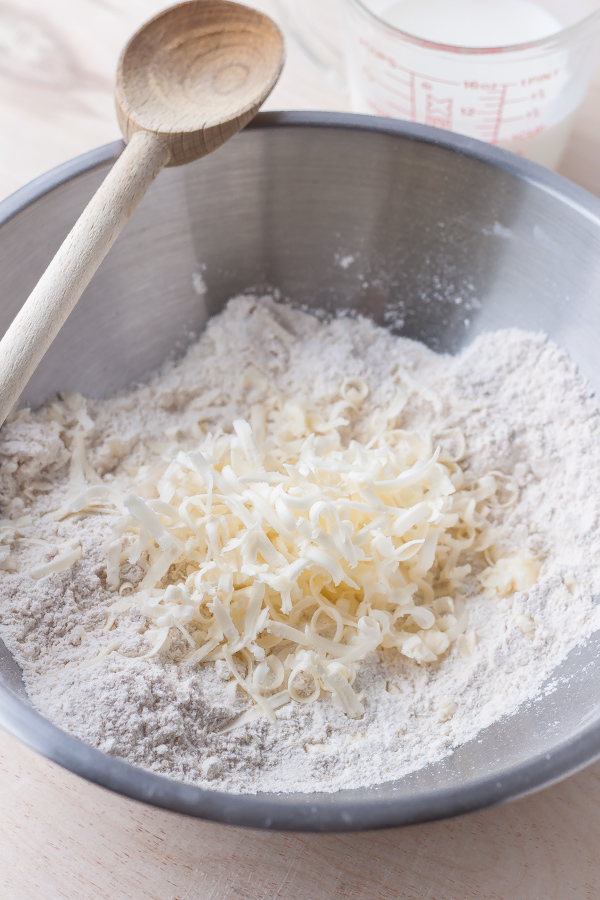 I've also been fixated on the combination of savory peppery foods with honey ever since Connor and I went to an amazing restaurant in DC and feasted on pickle-brined fried chicken with honey, hot sauce, and benne seeds.
It was the perfect blend of salty, sweet, and spicy.
Somehow that fried chicken dish inspired me with the idea for these Cheddar Biscuits. I was drawn to the idea of incorporating some sort of salty, sweet, and peppery component.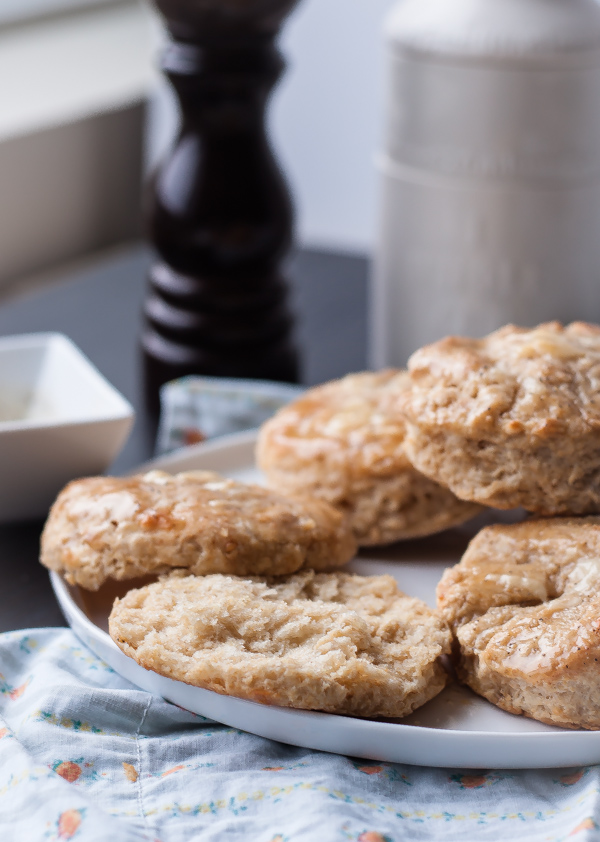 The pepperiness of the black pepper is balanced with the sweet honey, and the sharp, salty cheddar helps pull it all together. These biscuits are definitely not your average, everyday staple kind of biscuit, but they are a fun change of pace.
If you're not feeling the black pepper honey glaze, feel free to leave it out and eat the cheddar biscuits as is!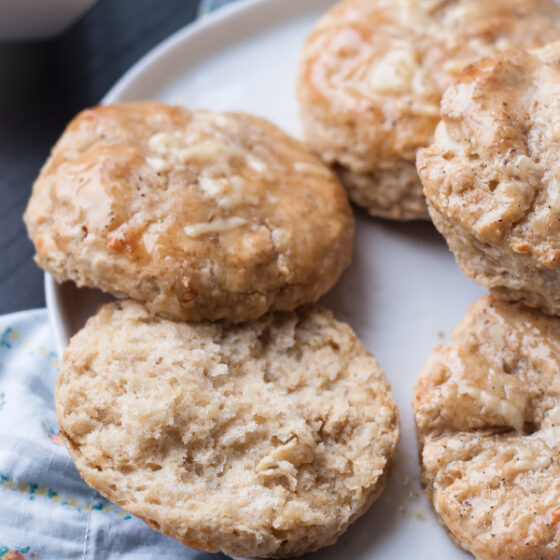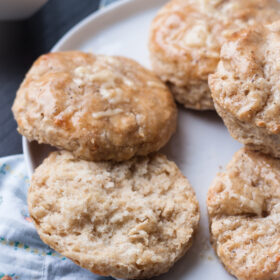 Cheddar Biscuits with Black Pepper Honey Glaze
Sharp cheddar biscuits topped with a black pepper honey glaze. Simple and easy to make any night of the week!
Ingredients
Cheddar Biscuits:
1 cup (120g) unbleached all-purpose flour
1 cup (120g) white whole wheat four or whole wheat pastry flour
2 teaspoons baking powder
1 teaspoon kosher salt
½ teaspoon baking soda
¾ cup grated sharp cheddar cheese roughly chopped
3 tablespoons cold unsalted butter
1 cup + 1 tablespoons cold buttermilk
Black Pepper Honey Glaze:
3 tablespoons honey
¼ teaspoon freshly ground black pepper
1-2 teaspoons heavy cream
Instructions
Preheat the oven to 425°F (220°C) with a rack in the center position. Line a half sheet pan with parchment paper or a Siplat. Set aside.

Place the butter in freezer for at least 10 to 15 minutes or until it is almost frozen.

Whisk together the flours, baking powder, salt, baking soda, and grated cheese together in a large mixing bowl. Using large grater, grate the frozen butter directly into bowl with the dry ingredients. Toss lightly with fingers until all the butter is coated and evenly incorporated into the flour. Place mixture in freezer for another five minutes.

Meanwhile, lightly dust the countertop with flour. Remove the flour and butter mixture from freezer and create a large well in the center with your fingers. Add the buttermilk and using a wooden spoon or fork, mix gently until the dry ingredients are just moistened.

Using your fingers, remove dough (it should be wet and shaggy) onto the floured counter top. Dust your hands with flour and knead lightly until the dough just begins to come together.

Press the dough into a ¾-inch thick large disc and using a 1½ to 2-inch biscuit cutter, cut the biscuits (do not twist the cutter or it will prevent the biscuits from rising properly). Place the biscuits on the lined sheet pan, setting them apart by several inches. If you prefer softer edges biscuits, place them against each other. Press and knead together any dough scraps and repeat, cutting out any additional biscuits.

Bake for 12 to 15 minutes or until biscuits are lightly golden brown. Set on a wire rack to cool while you prepare the glaze.

Prepare Glaze: In a small bowl, whisk together the honey, pepper, and cream. Set aside. Brush the tops of the warm biscuits with the glaze and serve immediately.
Serving: 1serving, Calories: 290kcal, Carbohydrates: 36g, Protein: 11g, Fat: 12g, Saturated Fat: 7g, Polyunsaturated Fat: 4g, Cholesterol: 34mg, Sodium: 607mg, Fiber: 3g, Sugar: 7g
This post contains affiliate links, which means that I make a small commission off items you purchase at no additional cost to you. Please read my
privacy policy
for more information.