Spicy Harissa, Spinach, & Feta Skillet Pizza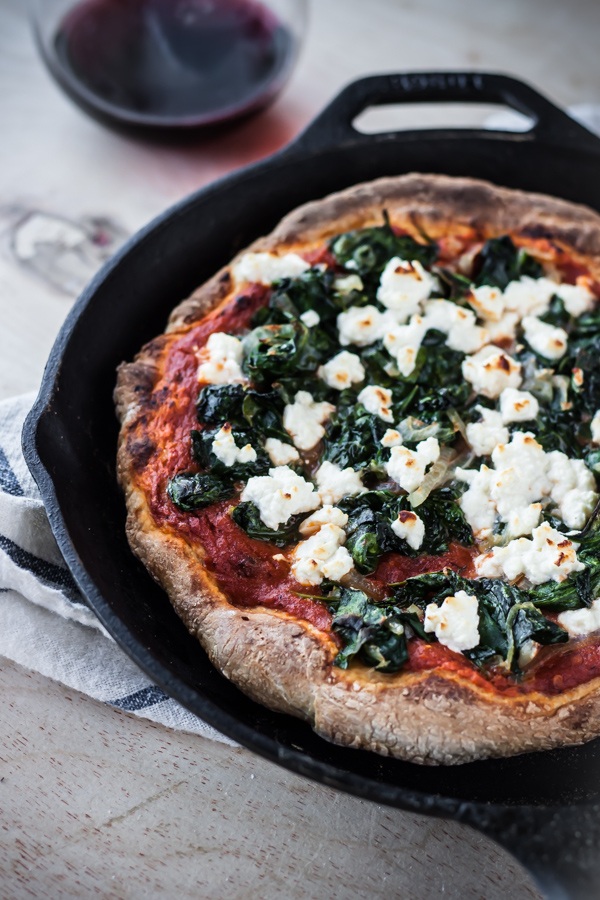 Can I tell you guys about my weird and sort of amusing weekend?  I know it's Friday and it seems a little late to be doing that, but just stick with me.
I really was going to tell you all about it on Monday, but I got distracted by my obsession with asparagus soup.  These things tend to happen.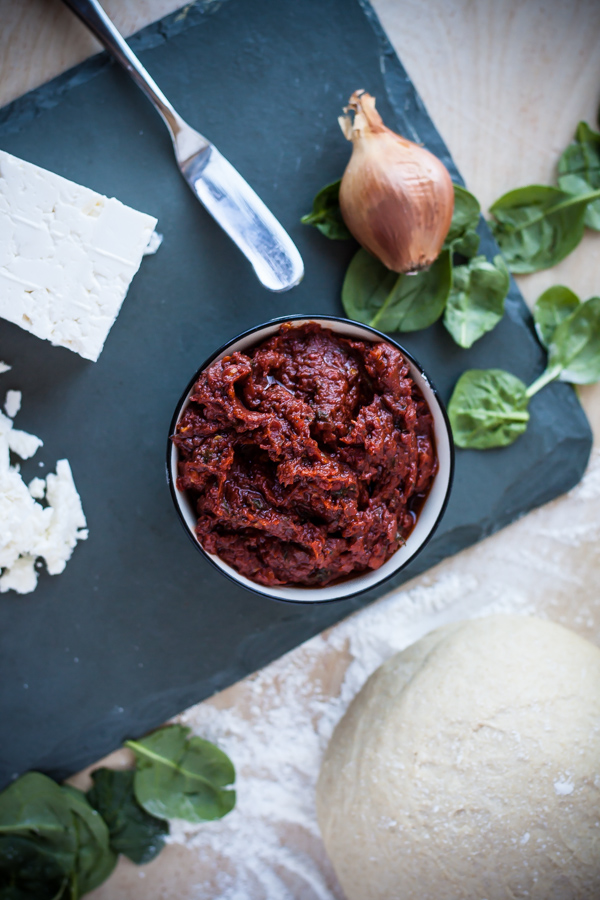 So, I went to a bridal expo on Sunday. 

Yes!  The anti-bride (ok, I'm exaggerating just a bit) went to a bridal expo.  Honestly, I'm pretty shocked by this too.  The worst part is that I actually think I could have enjoyed it?
But it happened to be the worst bridal expo ever.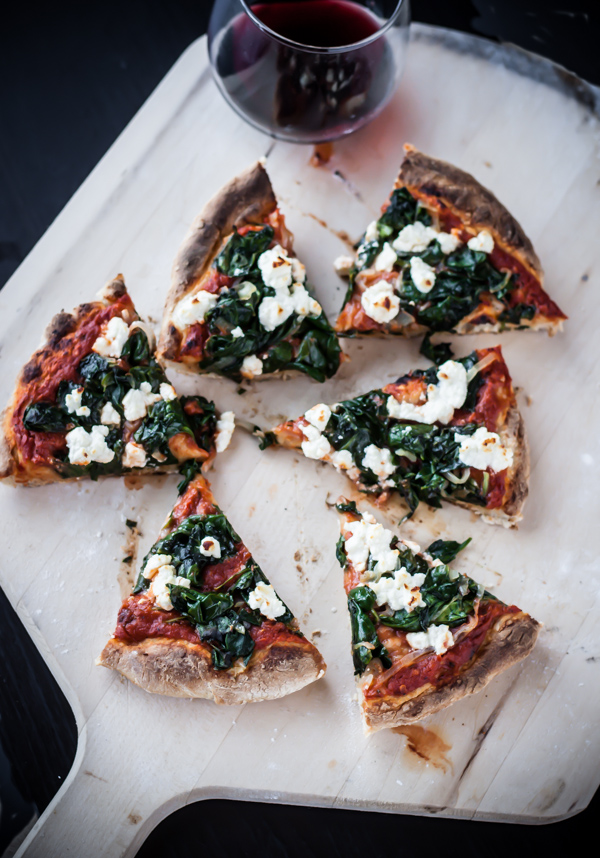 They had everything from flower vendors to food vendors to DJ/music vendors and everything in between.  But nothing was my style.  Correction: It was pretty much the polar opposite of my style.
Frilly, over-the-top stuff scares me.  And I'm fairly positive everything that could be bejeweled at this expo was.  Bouquets, tabletop settings, you name it.  I've never seen that many fake rhinestones in my life.
The tablecloths were practically living things.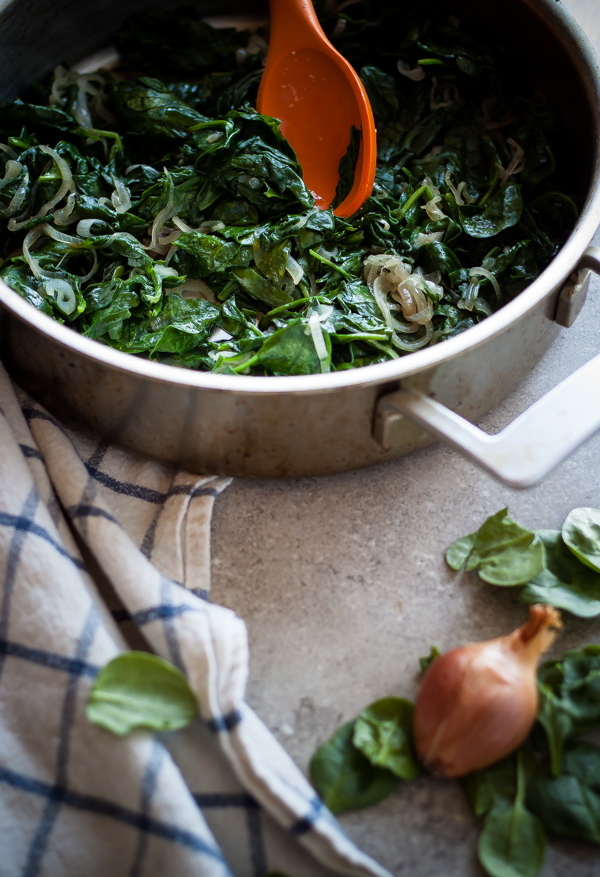 Some very nice lady even tried to convince me that we needed to have a personalized "Laura & Connor" projector light displayed on our wedding dance floor.  I nodded and smiled a lot.
Oh yeah, and then I told some catering woman that we were getting married in April of 2013.  YES!  I couldn't make this stuff up if I tried.  2014 might have been an acceptable fumble.  But 2013?
Really, Laura?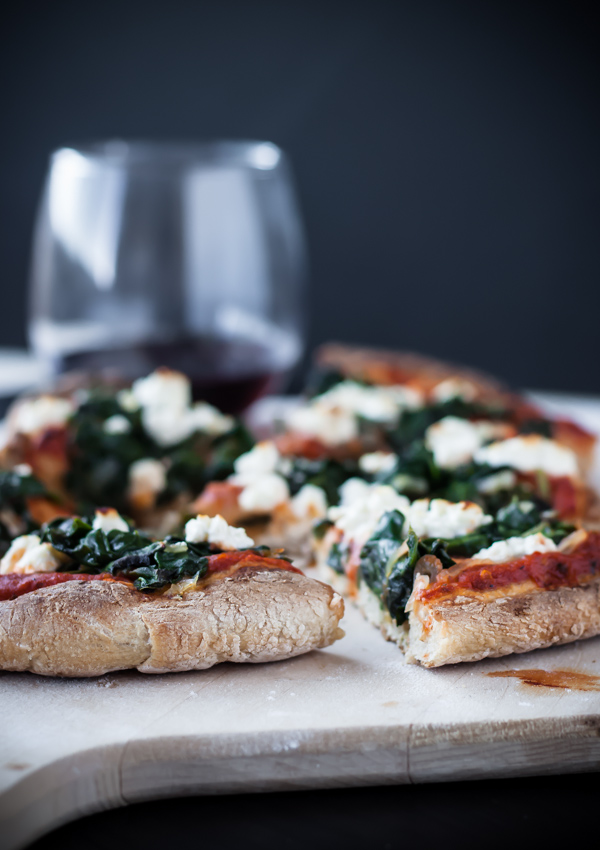 In better news, I realized the other day that we are getting married during 'ranuncula' season.  Picture me doing a lot of this.  Also!  Peonies!
Ok, I swear I'm done.  Let's eat pizza and pretend this never happened.  Kudos to my pal Jessica for providing the great dough recipe, and Bev and Brandon for sharing this amazing cast-iron skillet method!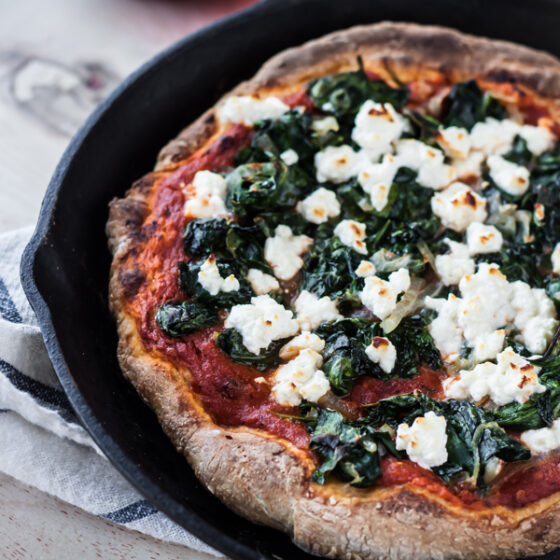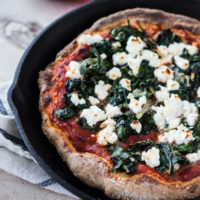 Spicy Harissa, Spinach and Feta Skillet Pizza
Yield: 2 Pizzas
Prep Time: 2 hours
Cook Time: 15 minutes
Total Time: 2 hours 15 minutes
Ingredients
Pizza Crust:
1 and 1/8 cups warm water
3 teaspoons active dry yeast
1 tablespoon honey
1 tablespoon olive oil
1 and 1/2 cups unbleached all-purpose flour
1 and 1/2 cups white (or regular) whole wheat flour
1 teaspoon kosher salt
Toppings:
1 tablespoon olive oil
2 shallots, finely sliced
6 ounces baby spinach
kosher salt
freshly ground black pepper
1/2 cup crushed canned tomatoes
2 tablespoons harissa
4-5 ounces of feta, crumbled
Instructions
Prepare Dough:
In a separate bowl, stir together the flours and salt.  Set aside.
Whisk together the warm water, yeast, honey, and olive oil in a large bowl.  Allow the mixture to proof for 10 minutes–until the yeast is foamy and bubbly.
Using a wooden spoon, incorporate 2 1/2 cups of the flour mixture until a sticky dough forms. Remove the dough to a countertop and incorporate the remaining flour–kneading the dough for several minutes until it comes together and becomes smooth.
Place the dough in a lightly oiled mixing bowl (use the same one from before)–and cover with a clean, slightly damp kitchen towel.  Allow dough to rise in a warm place for 1.5 hours.
Punch down the dough and divide into two pieces.  Add additional flour if sticky. Cover with a clean kitchen towel while you prepare the pizza toppings (see below). 
Toppings:
Heat the oil in a large sauté pan.  Add the sliced onions and sauté over medium heat until soft and translucent.  Add the spinach and cook util just wilted.  Season with salt and pepper and set aside in a bowl.  Drain off any excess moisture that develops.
In a separate bowl, stir together the crushed tomatoes and harissa paste. Set aside.
Assembly:
Working with one ball of dough at a time, press or roll the dough so that it is no larger than the size of your cast-iron skillet (I used a 10-inch skillet for this recipe)
Preheat the oven broiler to its highest setting (and place the rack as close to the broiler as possible).  Preheat a cast-iron skillet over high heat on the stove for 10 minutes–if it begins to smoke, reduce the heat slightly.
Place the prepared dough on to a floured pizza peel (or other surface).  Spoon on half of the tomato mixture (roughly 1/4 cup), then top with sautéed spinach and sprinkle with feta cheese.
Slice the pizza carefully into the hot skillet on the stove and cook for 30-45 seconds.
Carefully remove from the heat (as the handle will be very hot) and transfer the skillet to the oven.  Broil the pizza for roughly 3-5 minutes –rotating halfway–(the time might vary depending on the strength of your oven and whether you have a top or bottom drawer broiler), or until the crust is golden brown and the cheese is caramelized slightly.
Slide the pizza off of the skillet onto a cutting surface and slice into wedges.  Serve immediately.  Repeat with the remaining dough.
Nutrition Information:
Yield: 4
Serving Size: 1
Amount Per Serving:
Calories: 628
Total Fat: 40g
Saturated Fat: 22g
Trans Fat: 0g
Unsaturated Fat: 15g
Cholesterol: 126mg
Sodium: 2161mg
Carbohydrates: 44g
Fiber: 5g
Sugar: 13g
Protein: 27g
A Beautiful Plate provides nutritional information, but these figures should be considered estimates, as they are not calculated by a registered dietician.