Classic Asparagus Mimosa Salad
Asparagus mimosa salad prepared with blanched asparagus and topped with chopped hard boiled eggs, parmesan, and a light lemon dijon vinaigrette.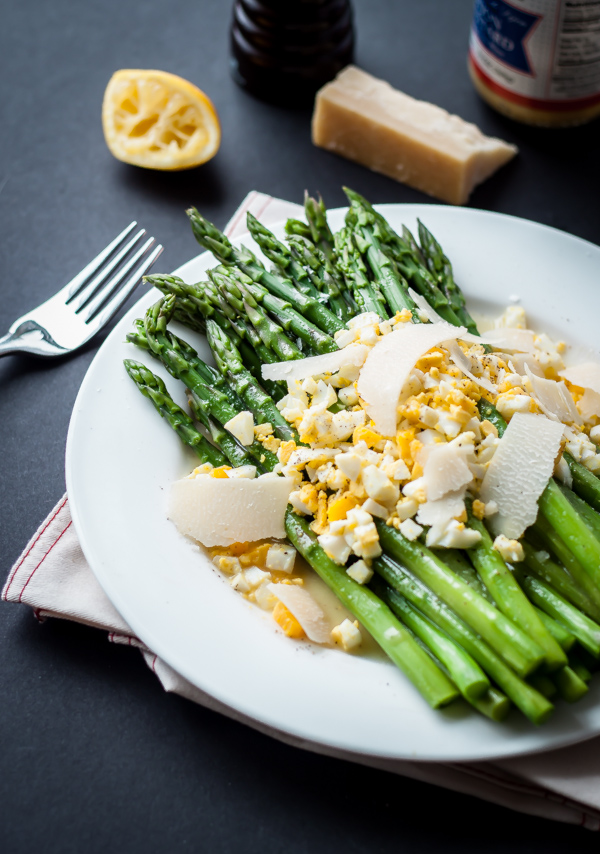 It is fresh asparagus season and we're not holding back. Instead of making asparagus potato soup, we're making a light, cold asparagus salad today with blanched asparagus.
It also goes by the name Asparagus Mimosa.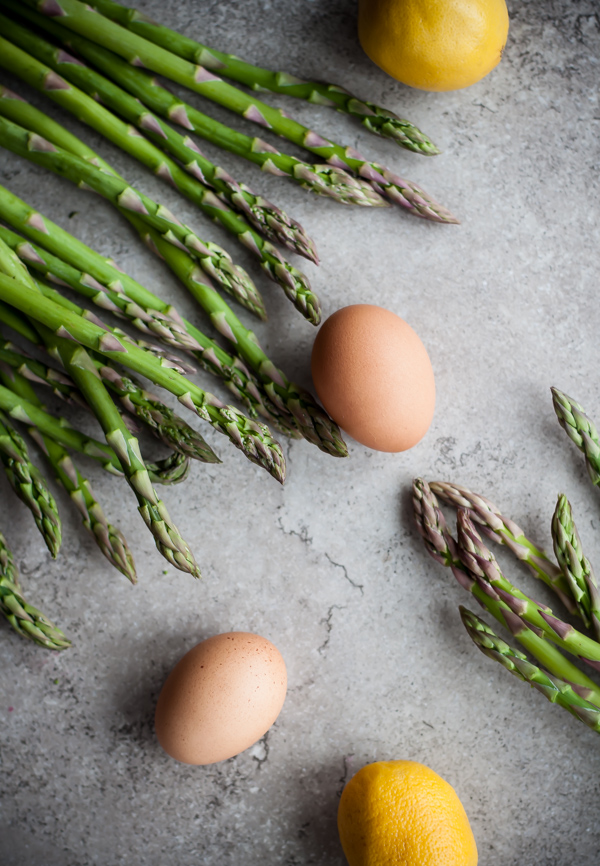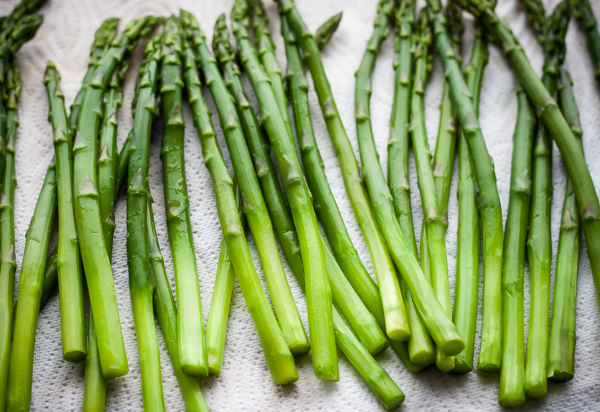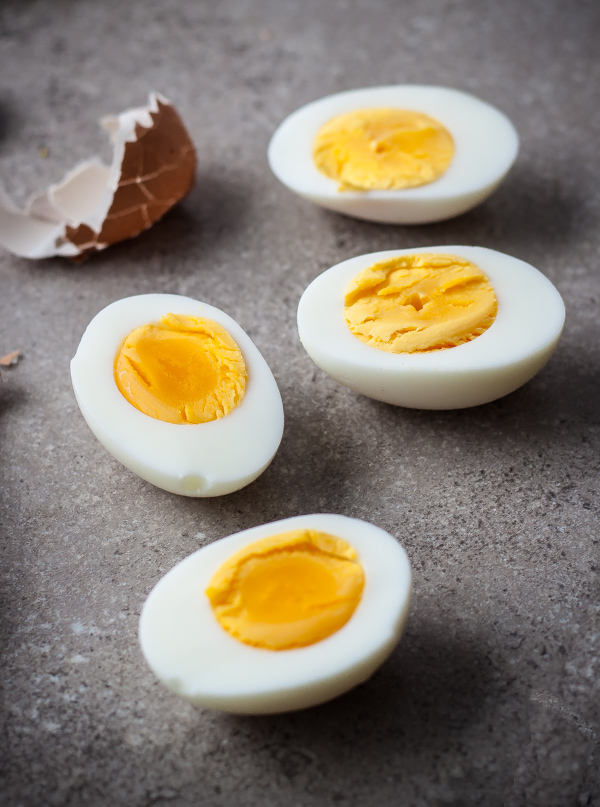 What is Asparagus Mimosa Salad?
Asparagus mimosa salad is essentially a fancy term for blanched asparagus tossed with a Lemon Dijon vinaigrette and topped with hard boiled eggs.
Traditionally, the hard boiled eggs are pushed through a strainer to produce a very fine garnish. For this version, we'll be finely dicing them with a knife. This eliminates cleaning one more kitchen tool.
The diced egg yolks melt into the dressing and add richness to this classic dish. The lemon dijon vinaigrette adds some acid to balance everything. For an extra kick of umami and saltiness, we'll top the whole thing off with parmigiano reggiano shavings!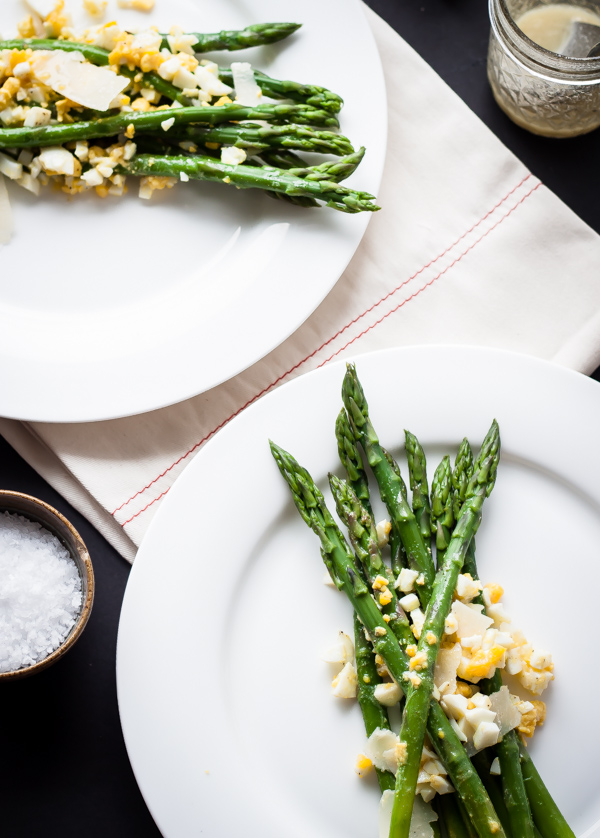 To keep the asparagus vibrant and green, be sure to blanche them in very, very salty water, then immediately shock them in an ice bath. The combination of these two steps helps produce crisp and colorful, green asparagus that doesn't lose its color.
Depending on the freshness of your asparagus, I recommend peeling the bottom inch or two of the stalks to avoid any stringy, fibrous bits.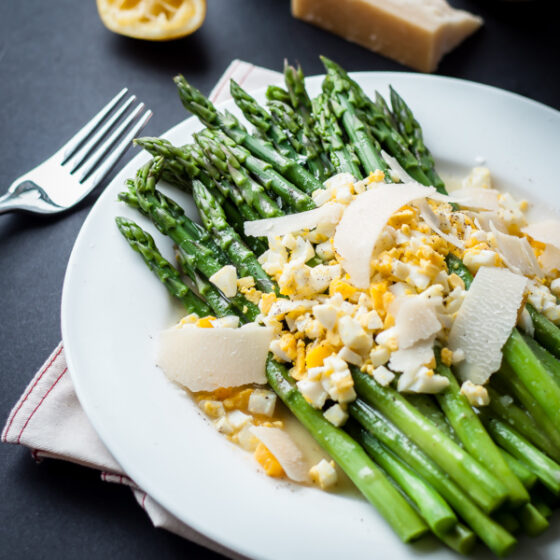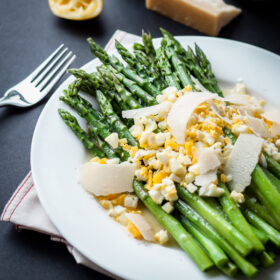 Asparagus Mimosa Salad
Asparagus mimosa salad made with blanched asparagus and topped with chopped hard boiled eggs, parmigiana shavings, and a light Lemon Dijon vinaigrette. A classic and refreshing cold asparagus salad for springtime!
Ingredients
2 large eggs
1¼ fresh asparagus spears woody stalks trimmed and discarded
Lemon Dijon Dressing:
3 tablespoons (45 mL) fresh lemon juice
1 teaspoon Dijon mustard
6 tablespoons (90 mL) extra virgin olive oil
freshly ground black pepper
Garnish:
shavings parmigiano-reggiano cheese
Instructions
Prepare Hard-Boiled Eggs: Fill a small saucepan with water and bring to a very, very low simmer (small bubbles begin to form on the bottom of the pan). Add the eggs carefully and simmer over very low heat for 12 minutes.

Remove eggs from the water and place in an ice bath until completely cool. Peel and finely dice the eggs. Season with salt and set aside in a bowl.

Prepare Asparagus: Trim any tough ends from the asparagus stalks. Lightly peel the first inch or two of the base of the stalks.

Bring a large pot of water to a boil. Salt the water very generously (it should taste like salty, sea water). Blanch the asparagus until just fork tender (they will just begin to curve and bend if you hold a stalk horizontally), roughly 2 to 3 minutes depending on the size and thickness of the asparagus stalks.

Shock the asparagus immediately in an ice bath. Remove the chilled asparagus and on a clean linen or thick layer of paper towels to drain any excess water. Meanwhile, prepare the dressing.

Prepare Lemon Dijon Dressing: In a bowl, whisk together the lemon juice and Dijon mustard. Slowly pour in the oil, whisking continuously, until emulsified. Season to taste with salt and pepper.

Assemble: Gently toss the blanched asparagus with the dressing and season with additional salt and pepper as necessary. Serve on a platter and top with the diced hard boiled egg mixture and parmigiano-reggiano shavings, as desired.
Serving: 1serving, Calories: 231kcal, Carbohydrates: 3g, Protein: 4g, Fat: 23g, Saturated Fat: 4g, Polyunsaturated Fat: 18g, Cholesterol: 94mg, Sodium: 387mg, Fiber: 1g, Sugar: 1g
This post contains affiliate links, which means that I make a small commission off items you purchase at no additional cost to you. Please read my
privacy policy
for more information.