Asparagus Mimosa
This post contains affiliate links.
Asparagus mimosa salad made with blanched asparagus and topped with chopped hard-boiled eggs, parmesan, and a light lemon-Dijon vinaigrette.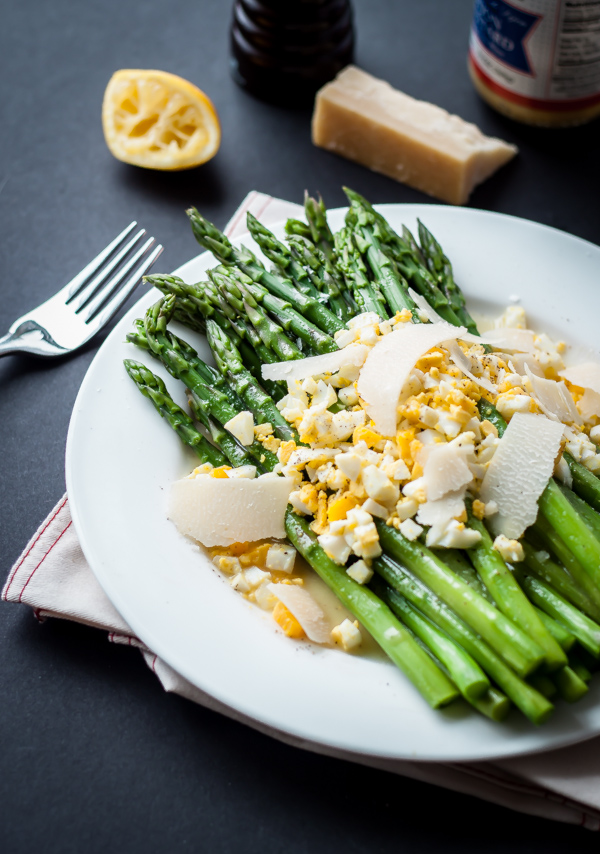 Tidings! I bring you more asparagus.
I'm tempted to say that this may be my very last asparagus recipe this season, but I'm not even going to pretend that that is even remotely possible.
Nope. Sorry.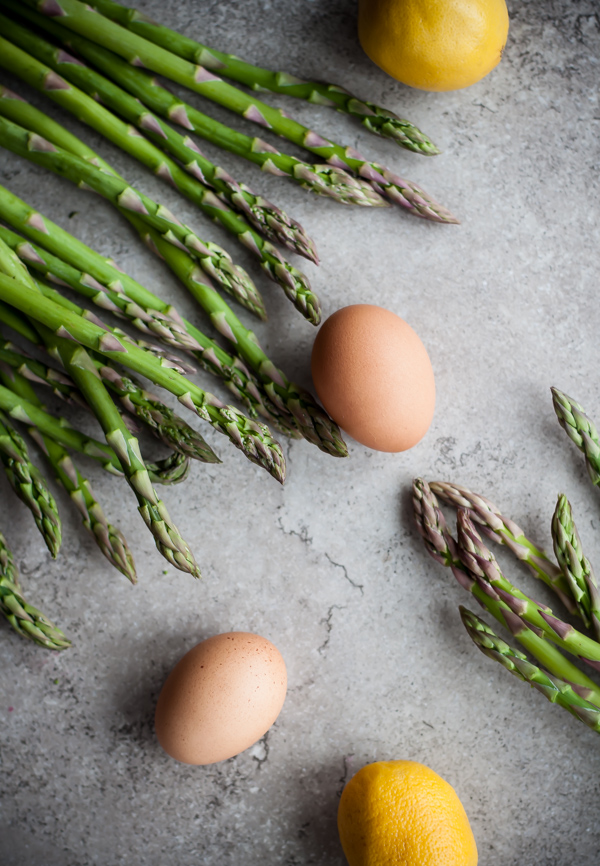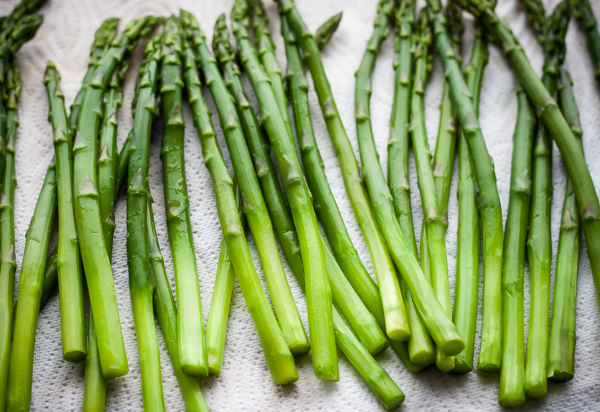 In fact, you may see another one as soon as next week. I hope you are all asparagus fans–or as my family likes to put it, aspergrass fans.
We (and by we, I mean either myself or one of my two older sisters) accidentally called it that as a kid and the name has stuck for good.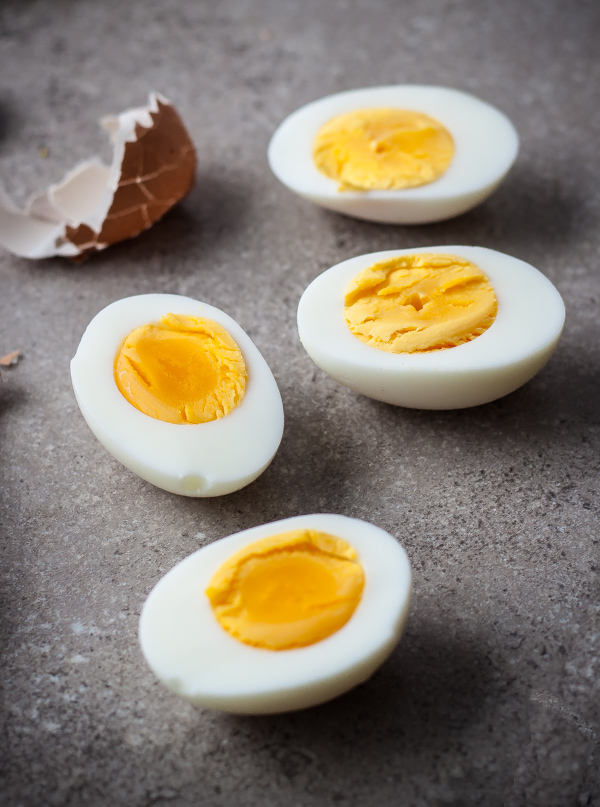 Instead of making a hot soup, this time I decided to go in the polar opposite direction and make a light, cold salad. Otherwise known as a classic asparagus mimosa, which is essentially a fancy term for blanched asparagus tossed with a lemon Dijon dressing and topped with hard-boiled eggs.
It is not nearly as refreshing as I would have liked it to be (an unfortunate side effect of living in a city that has witnessed snow in the past 48 hours), but you get the idea. Instead of pushing the hard-boiled eggs through a strainer (as tradition calls for), I chose to finely dice them with a knife. This eliminates the step of having to clean one more kitchen utensil, and that is my general preference in life.
The diced yolks melt into the dressing and add a level of egg-y richness to the dish, which is cut perfectly by the lemon juice. To add a bit of saltiness, I chose to also add shavings of parmigiano-reggiano cheese on top!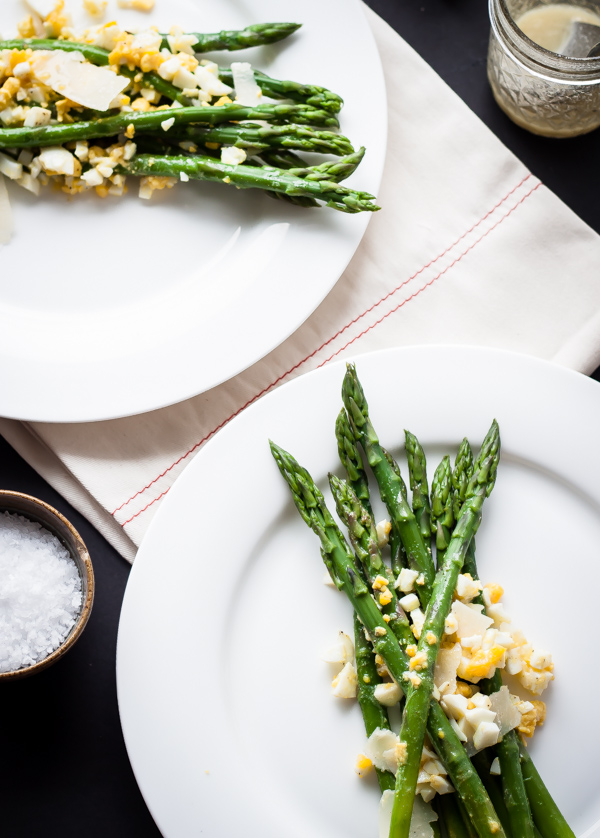 In order to keep the asparagus vibrant and green in the final dish, be sure to poach them in very, very salty water–before immediately shocking them in an ice bath.  The combination of these two steps helps keep the asparagus nice and crisp, and prevents them from turning color.
Depending on the freshness of your asparagus, I also recommend lightly peeling the bottom 1-2″ inches of the asparagus stalks to avoid any potential stringy, fibrous situations –> those are the worst. 
Enjoy!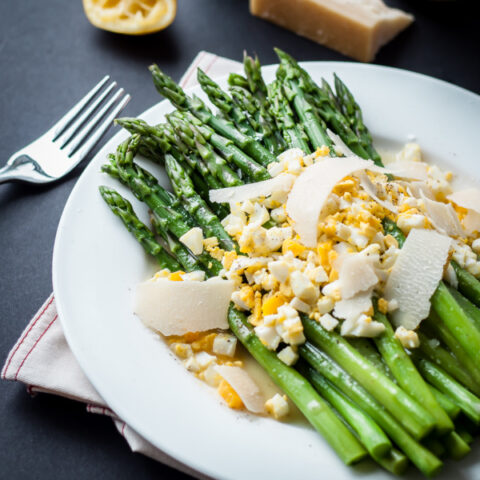 Asparagus Mimosa
Yield: 4 Servings
Asparagus mimosa salad made with blanched asparagus and topped with chopped hard-boiled eggs, parmesan, and a light lemon-Dijon vinaigrette.
Prep Time: 25 minutes
Cook Time: 5 minutes
Total Time: 30 minutes
Ingredients
2 large whole eggs
1 and 1/4 lb fresh asparagus, trimmed
kosher sea salt
Lemon-Dijon Dressing:
3 tablespoons fresh lemon juice
1 teaspoon Dijon mustard
6 tablespoons olive oil
kosher sea salt
freshly ground black pepper
Garnish:
parmigiano-reggiano cheese, shaved
Instructions
Prepare Hard-Boiled Eggs: Fill a small saucepan with water and bring to a very, very low simmer (small bubbles begin to form on the bottom of the pan). Add the eggs carefully and simmer over very low heat for 12 minutes.
Remove eggs from the water and place in an ice bath until completely cool. Peel and finely dice the eggs. Season with salt and set aside in a bowl.
Prepare Asparagus:
Trim any tough ends from the asparagus stalks. Lightly peel the first 1-2″ of the base of the stalks.
Bring a large pot of water to a boil. Salt the water very generously (it should taste like salty, sea water).
Blanch the asparagus until just fork tender (they will just begin to bend if you hold them horizontally), roughly 2-3 minutes (depending on thickness).
Shock the asparagus immediately in an ice bath, until completely chilled. Remove and place the asparagus on a thick layer of paper towels to drain. Meanwhile, prepare the dressing (see below).
Prepare Dressing: In a bowl, whisk together the lemon juice and Dijon mustard. Slowly pour in the oil, whisking continuously, until emulsified. Season to taste with salt and pepper.
Assemble: Toss the blanched asparagus with the dressing and season with additional salt and pepper as necessary.
Serve on a platter and top with the diced hard-boiled eggs and parmigiano-reggiano shavings, as desired.
Nutrition Information:
Yield: 4
Serving Size: 1
Amount Per Serving:
Calories: 231
Total Fat: 23g
Saturated Fat: 4g
Trans Fat: 0g
Unsaturated Fat: 18g
Cholesterol: 94mg
Sodium: 387mg
Carbohydrates: 3g
Fiber: 1g
Sugar: 1g
Protein: 4g
A Beautiful Plate provides nutritional information, but these figures should be considered estimates, as they are not calculated by a registered dietician.
This post contains some affiliate links, which means that I make a small commission off items you purchase at no additional cost to you. Please read my
disclosure policy
for more information.