Cheesy Whole Wheat No-Knead Focaccia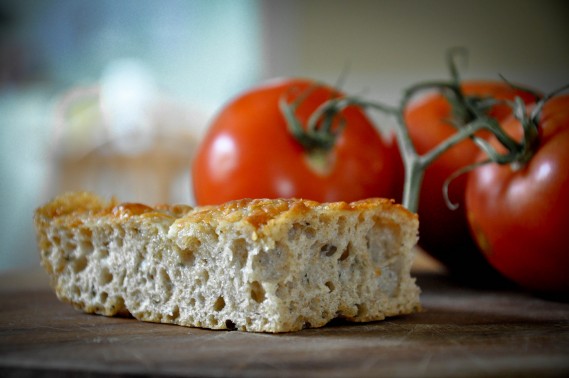 I know what you're thinking, "Two bread recipes in one weekend?!" –yep! I've been meaning to share this No-Knead Focaccia Bread since I shared this simple Zucchini Lima Bean Soup.
Unlike my last post for Whole Wheat Biscuits, this bread recipe does involve yeast. But to make up for it, it is a no-knead recipe. So technically, the biscuits may have involved slightly more arm power than this one.
This dough comes together rapidly (10 minutes) and only needs to rise for about an hour. It is pretty much impossible to mess up this recipe, so if you're new to bread making, please try it out and don't be intimidated!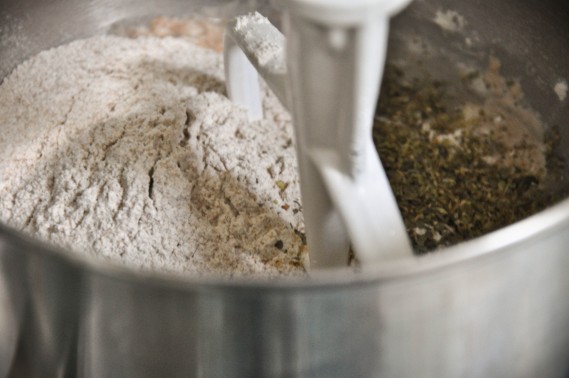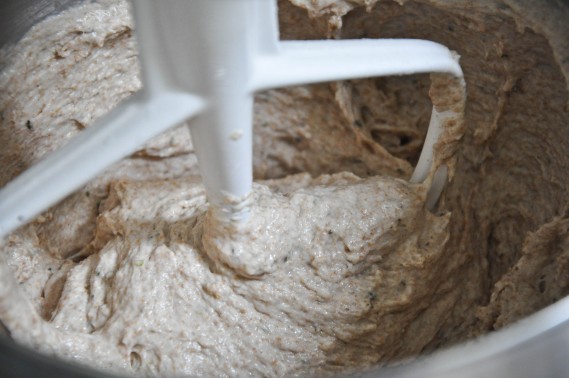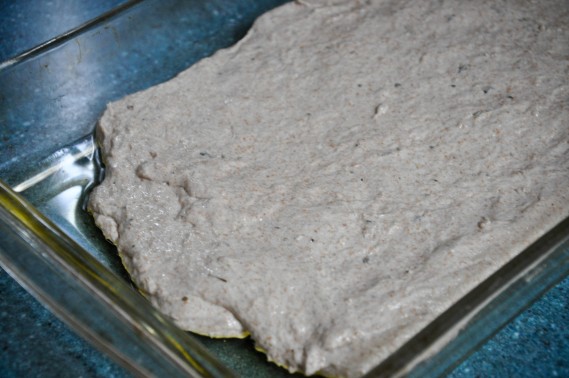 If you're going to make this focaccia, I recommend eating it the day of. While it still tastes good the second day around, it loses its crispy crust factor, which, to me, is my favorite thing about baked bread to begin with.
Serve this no-knead focaccia with soup, main course, or slice it to make delicious sandwiches. Perhaps a tomato, mozzarella and basil sandwich?
If you'd like to scale this recipe down, you can always halve the recipe use a smaller baking dish too.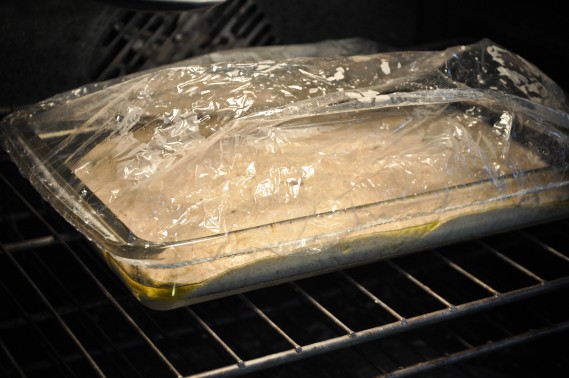 I've never been a shower cap girl before, but this shower cap bread trick may have me stealing them from hotel rooms from now on. One of my pet peeves is when I try to cover baking dishes or bowls with plastic wrap and they just won't stick or stay put for the life of me.
I'm pretty sure some company has caught on to this idea and started selling elastic plastic wrap covers, but this option is free, so I'll stick with shower caps. It would be a great way to transport dishes or baked goods in the car too!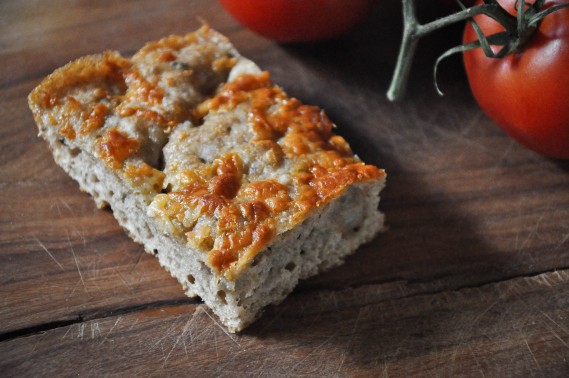 Homemade bread is definitely becoming one of my favorite things to make in this kitchen. And whenever I see the price tags on everyday baked bread at the grocery store (usually 4-5 dollars a loaf), that thought is confirmed.
Crispy cheese on warm, hot and fluffy homemade focaccia. Can't get much better than that!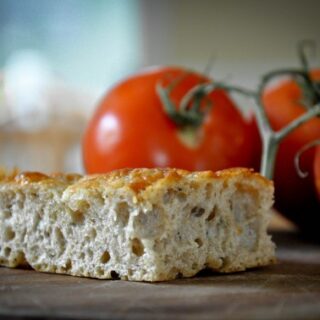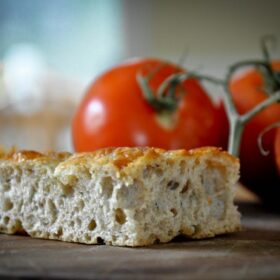 Cheesy Whole Wheat No-Knead Focaccia
A simple recipe for whole wheat no-knead focaccia bread topped with cheddar cheese. This bread recipe comes together in a few hours!
Ingredients
4 tablespoons (60 mL) extra virgin olive oil divided
1½ cup (360 mL) warm water 105°F-110°F (41°C-43°C)
2 cups (240g) whole wheat flour
1½ cups (180g) unbleached all-purpose flour
1 tablespoon instant yeast
1 tablespoon dried basil
2 tablespoons dried oregano
1¼ teaspoons kosher salt
½ cup grated sharp white cheddar cheese optional
Maldon or other flaky finishing salt
Instructions
Grease a 9 x 13-inch (23 x 33 cm) baking dish with 2 tablespoons (30 mL) of extra virgin olive oil.

In the bowl of a stand mixer fitted with a paddle attachment, combine the warm water, whole wheat flour, all purpose flour, instant yeast, dried basil, dried oregano, and salt. Beat over high speed for about 1 minute or until all of the ingredients have been evenly incorporated. The dough will be sticky.

Lightly oil your hands so the dough is easier to work with. Scoop the dough out of the bowl and transfer to the greased baking dish. Press and spread the dough out - it does not need to reach the corners perfectly as once it rises, this will naturally occur.

Cover the baking dish with a clean shower cap or plastic wrap and set in a warm, dry place and let the dough rest for 60 to 90 minutes, or until it is puffy and has filled out to the edges of the pan.

Preheat oven to 375°F (190°C) with a rack in the center position. Once dough has proofed, drizzle the top of the dough evenly with the remaining 2 tablespoons (30 mL) of extra virgin olive olive oil and gently poke the dough with your fingers, distributing it evenly. Sprinkle on the grated cheddar cheese, if using.

Bake until golden brown, roughly 35 to 40 minutes. Sprinkle lightly with flake salt, such as Maldon. Cut and serve warm.
Adapted from King Arthur Flour's
Focaccia
.

Serving: 1serving, Calories: 199kcal, Carbohydrates: 28g, Protein: 7g, Fat: 7g, Saturated Fat: 2g, Polyunsaturated Fat: 4g, Cholesterol: 9mg, Sodium: 332mg, Fiber: 3g
This post contains affiliate links, which means that I make a small commission off items you purchase at no additional cost to you. Please read my
privacy policy
for more information.