Easy Homemade Whole Wheat Biscuits
These are my family's go-to biscuits that we make whenever we need a good, easy carb with a great soup. Or a bread basket for a dinner or cheese course! I love them because they are delicious, healthy, and a heck of a lot cheaper than the bread you can find at your supermarket. Why the heck is bread so expensive anyway?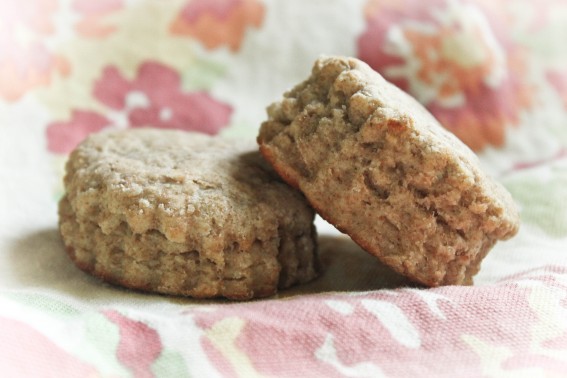 These biscuits are yeast-less and take about 5 minutes to put together, 10 minutes to bake, and 0 minutes to inhale. I would call them no-knead biscuits, but you actually need to knead the dough 10-20 times, so I guess that would be lying. But since that takes only about 30 seconds and pretty much zero arm muscle, I would like to any way.
Another fabulous thing about them is that they are incredibly versatile. The ones you see above are actually Quinoa Whole-Wheat Biscuits. Normally I make these with 100% whole wheat flour, but this time, I decided to sub out half the flour with quinoa flour instead. It was equally as delicious, possibly even more fluffy and didn't make any difference whatsoever to how they turned out. You could also substitute other grains, such as cornmeal, rye, or spelt!
If you don't have any buttermilk on hand, substitute a low fat yogurt or Kefir! See? I told you these were versatile. Now you have no excuse not to make them. It's best to bake these right before you plan on eating them so they are piping hot right out of the oven! This also helps melt the butter that you will inevitably want to spread on them.
If you want a really genuine Southern biscuit, you could make these with White Lily flour…oh my goodness, it is so good! It's basically glorified white flour, but for some reason, it's famous and makes incredibly fluffy biscuits. I learned that trick from my godfather who is from Tennessee and grew up on a farm. He is probably one of the best chefs I know. I actually learned how to make these biscuits probably when I was only 8 years old and would always make them with him whenever we went over for dinner. Nothing beats mixing biscuit dough with your bare hands, getting flour everywhere, and the smell of fresh buttermilk.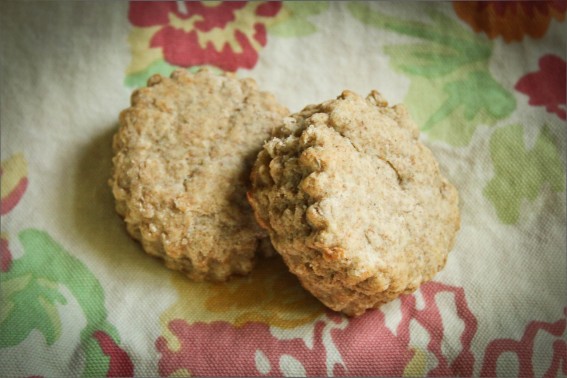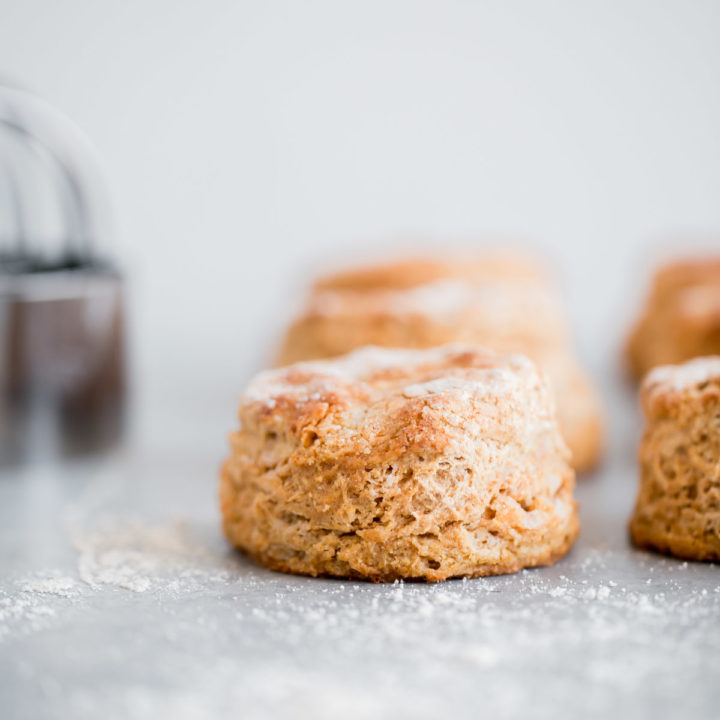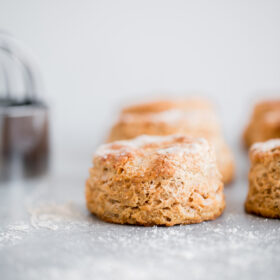 Easy Whole Wheat Biscuits
Easy whole wheat biscuits made with 100% whole grain flour. These fluffy buttermilk biscuits can be made in less than 30 minutes, making them the perfect side for breakfast, soups, and main courses. 
Ingredients
2 cups (240 g) whole wheat pastry flour plus more for dusting
1 tablespoon aluminum-free baking powder
1 teaspoon baking soda
¾ teaspoon Diamond Crystal kosher salt
4 tablespoons (2 oz) very cold unsalted butter cut into ½-inch cubes
1 cup (236 mL) cold buttermilk
Instructions
Preheat the oven to 425°F (220°C) with a rack in the center position. Line a sheet pan with parchment paper or silicone baking mat.

In a medium mixing bowl, whisk together the pastry flour, baking powder, baking soda, and salt. Add the cold butter and toss in the flour mixture. Using a pastry cutter or a fork, cut the butter into the flour mixture until the butter is pea sized. Place the bowl in the freezer for 5 minutes to chill.

Remove the flour mixture from the freezer. Create a well in the center of the dry ingredients and add the buttermilk. Using a wooden spoon, stir the buttermilk into the flour mixture until just absorbed. The dough will seem slightly wet.

Transfer the dough to a lightly floured countertop. Knead the dough 4 to 5 times until it comes together, dusting the dough lightly with flour as necessary to prevent it from sticking to the countertop.

Pat the dough gently with your hands into a disc that is roughly 1-inch thick. Fold the dough over itself 2 to 3 times, this will help create layers. Dip a 2½-inch-diameter biscuit cutter in flour and cut out the biscuits. Do not twist the biscuit cutter as you cut the dough, this will prevent the scones from rising evenly. Transfer the biscuits to the sheet pan, setting them apart. Gently press and knead any remaining biscuit dough (avoid overworking) and repeat to make roughly 10 biscuits total.

Place the biscuits in the oven and immediately increase the oven temperature to 450°F (230°C). Bake until lightly golden, about 9 to 11 minutes. Transfer to a wire rack. Biscuits are best served hot out of the oven, sliced, and with a little bit of salted butter.
If not serving right away, warm the biscuits briefly in a toaster oven (or microwave at 10 second bursts, if desperate!).
Tips for Success:
If you want slightly lighter and taller biscuits, substitute half of the whole wheat pastry flour with regular all-purpose flour.
It is important to use very cold ingredients when working with biscuit dough. Try to avoid over-working if at all possible, as this will affect the rise and texture of the biscuits.
Serving: 1serving, Calories: 222kcal, Carbohydrates: 41g, Protein: 9g, Fat: 4g, Saturated Fat: 2g, Polyunsaturated Fat: 1g, Cholesterol: 8mg, Sodium: 560mg, Fiber: 5g, Sugar: 3g
This post contains affiliate links, which means that I make a small commission off items you purchase at no additional cost to you. Please read my
privacy policy
for more information.