Mushroom Galette
Rustic and flavorful, this cremini and shiitake mushroom galette is filled with sharp blue cheese and wrapped in a flaky sour cream pastry dough. This homemade mushroom tart is great for entertaining!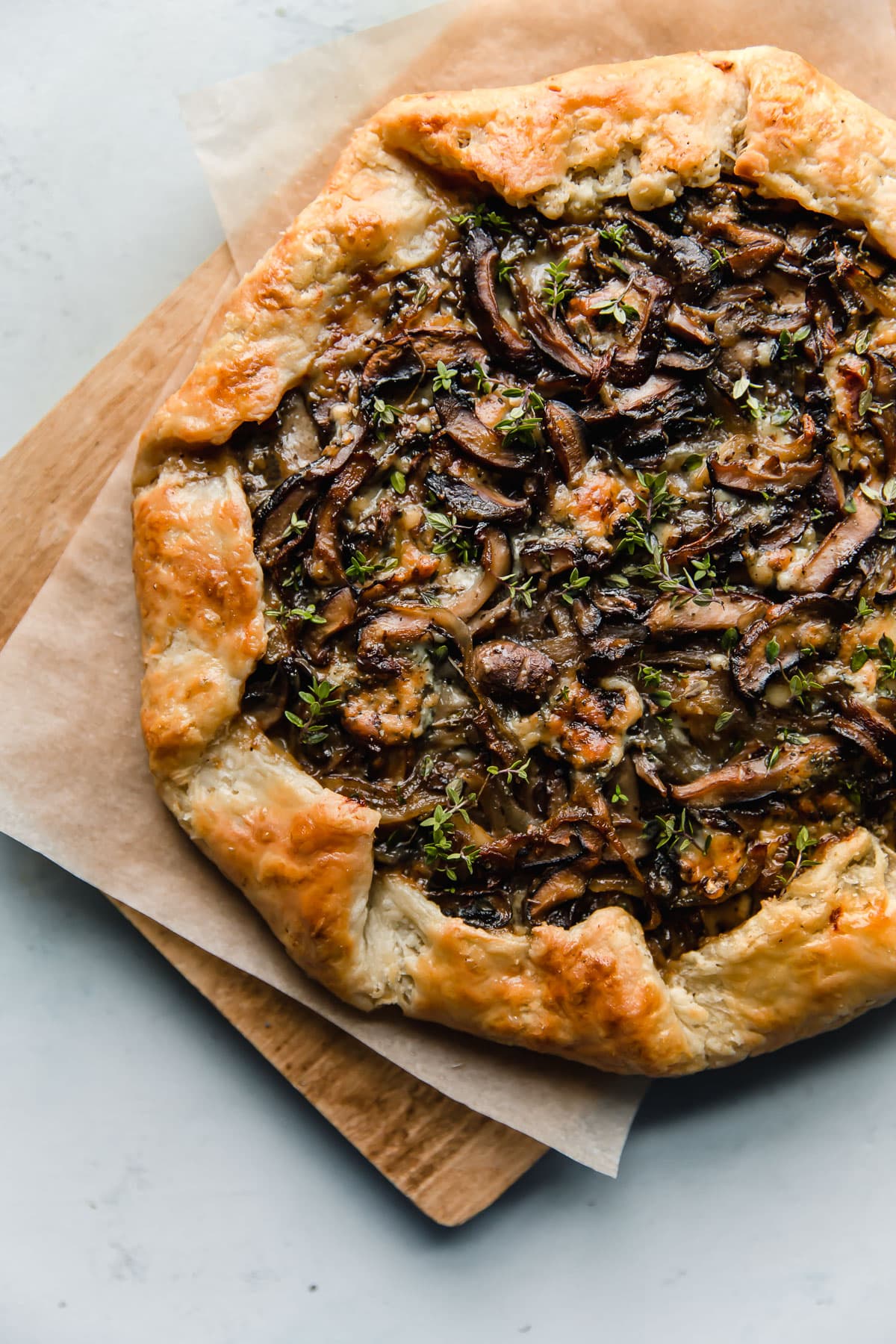 I'm never opposed to eating pie for dinner (remember this butternut squash pie?) and this mushroom galette makes it feel almost virtuous.
A sour cream pastry crust is folded over a rich blue cheese mushroom filling and baked until golden brown. The blue cheese adds a sharp, salty tang, while the mushrooms add heft to this rustic vegetarian tart.
Baking is my love language, particularly this time of year, but homemade pastry dough can be laborous and time intensive. Galettes are a great and easy compromise. While you'll need to reserve time for preparing and chilling the dough, the free-form crust is very forgiving.
Elegant and hearty, this tart can be served warm or at room temperature any time of day, making it great for holiday entertaining.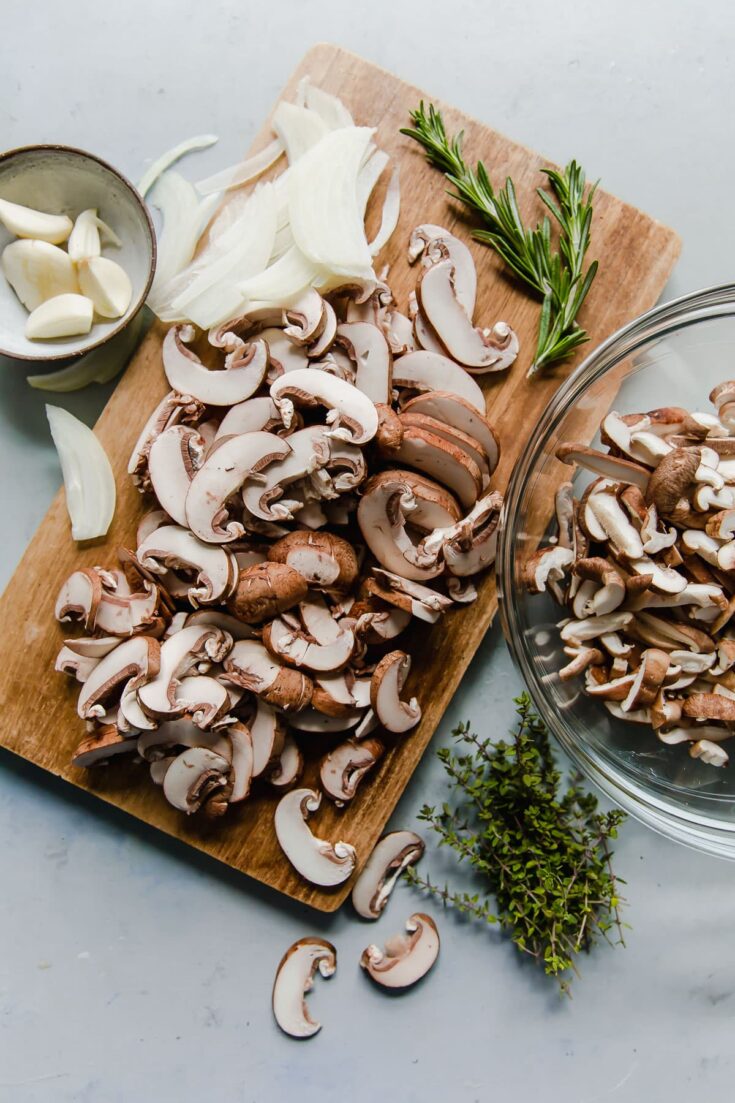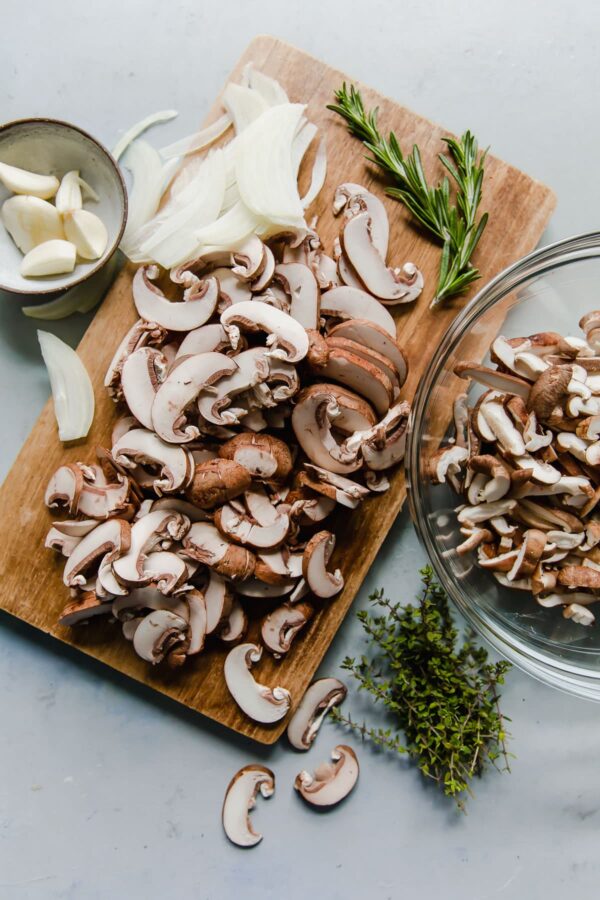 What is a Galette?
A galette is a French pastry, similar to a tart, that doesn't require a pie dish since it's shape is free form. It stems from the French word galet, which translates to a smooth, flat "pebble."
By definition, the earliest examples of galettes were any unleavened bread or round pastry. The term has evolved, and today galette refers to a rustic tart made with pastry and folded over a juicy filling.
They can be savory or sweet!


Mushroom Galette Ingredients:
SOUR CREAM PASTRY – this galette uses an unbelievably flaky and flavorful sour cream pastry as its base. The additional acid and fat from the sour cream – and added lemon juice – adds flavor and helps tenderize the gluten.
CREMINI AND SHIITAKE MUSHROOMS – Shiitake mushrooms, originally from China and Japan, have a meaty texture and slightly smoky flavor. Cremini mushrooms, also referred to as "baby bellas", are exactly that: a young portobello mushroom. They are dark color with a firm, smooth cap. Feel free to substitute other mushroom varieties if you prefer! I love this combination because they're readily available at most grocery stores.
ONION AND GARLIC – add flavor, heft, and depth when those bits at the bottom of the pan are deglazed with sherry.
SHERRY – a generous splash of medium-dry sherry deglazes the pan and adds so much flavor to this galette.
FRESH ROSEMARY AND THYME – to infuse more flavor, we'll add whole thyme and rosemary stems to the mushroom mixture, but discard them just before assembling the galette.
BLUE CHEESE – crumbled blue cheese is added to the mushroom filling before assembling the galette. Blue cheese has an incomparable tang that pairs extremely well with mushrooms. I used a California aged blue cheese, specifically Point Reyes Original Blue, but an English Stilton or other aged blue cheese will work too. A little bit goes a long way! If you don't like blue cheese, an aged or young goat cheese is a great substitute.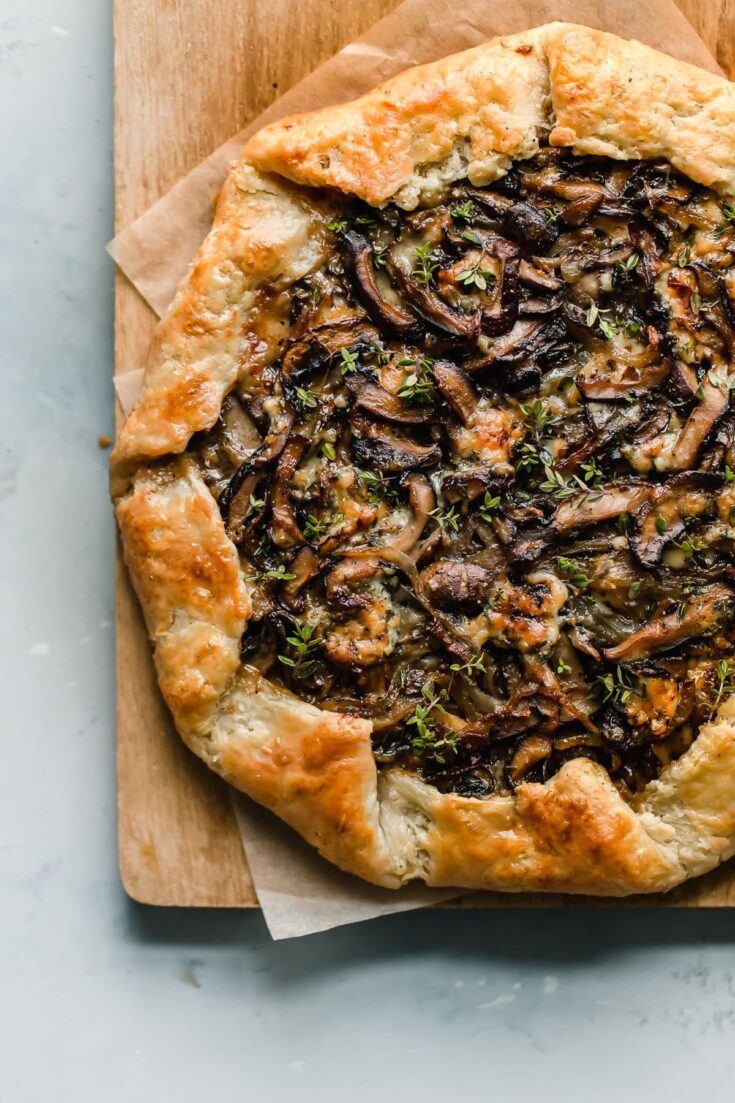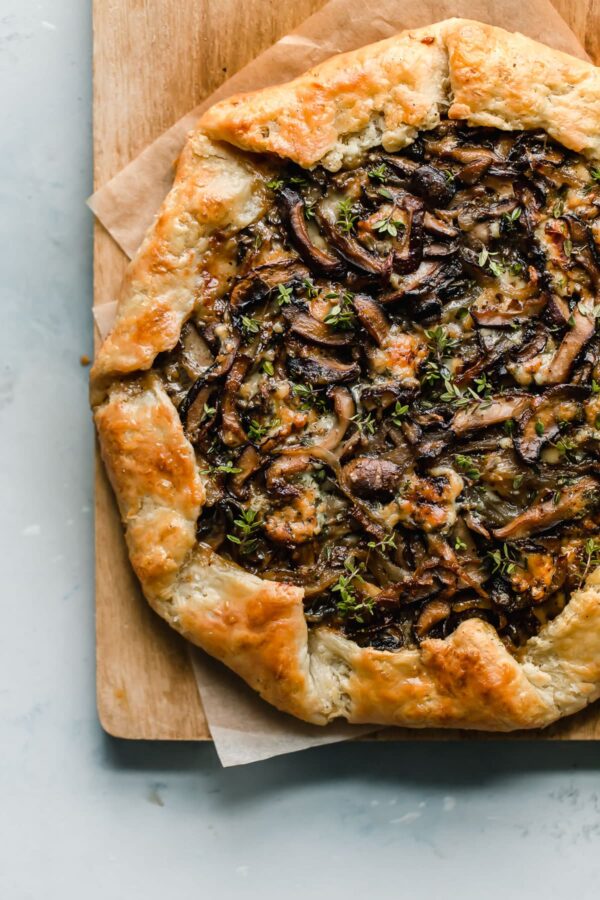 HOW TO SERVE THIS MUSHROOM GALETTE:
I like to think of the galette as rustic elegance. Unlike a tart or more traditional pie, galettes welcome imperfections and encourage adaptations.
Whereas a fruit galette often needs to set so that the filling doesn't run, savory galettes can be served almost immediately. This mushroom galette tastes great warm or at room temperature.
Cut into thin slices and serve as a hearty appetizer, side dish, or main course accompanied by a a large garden salad. This shaved vegetable salad is a great choice!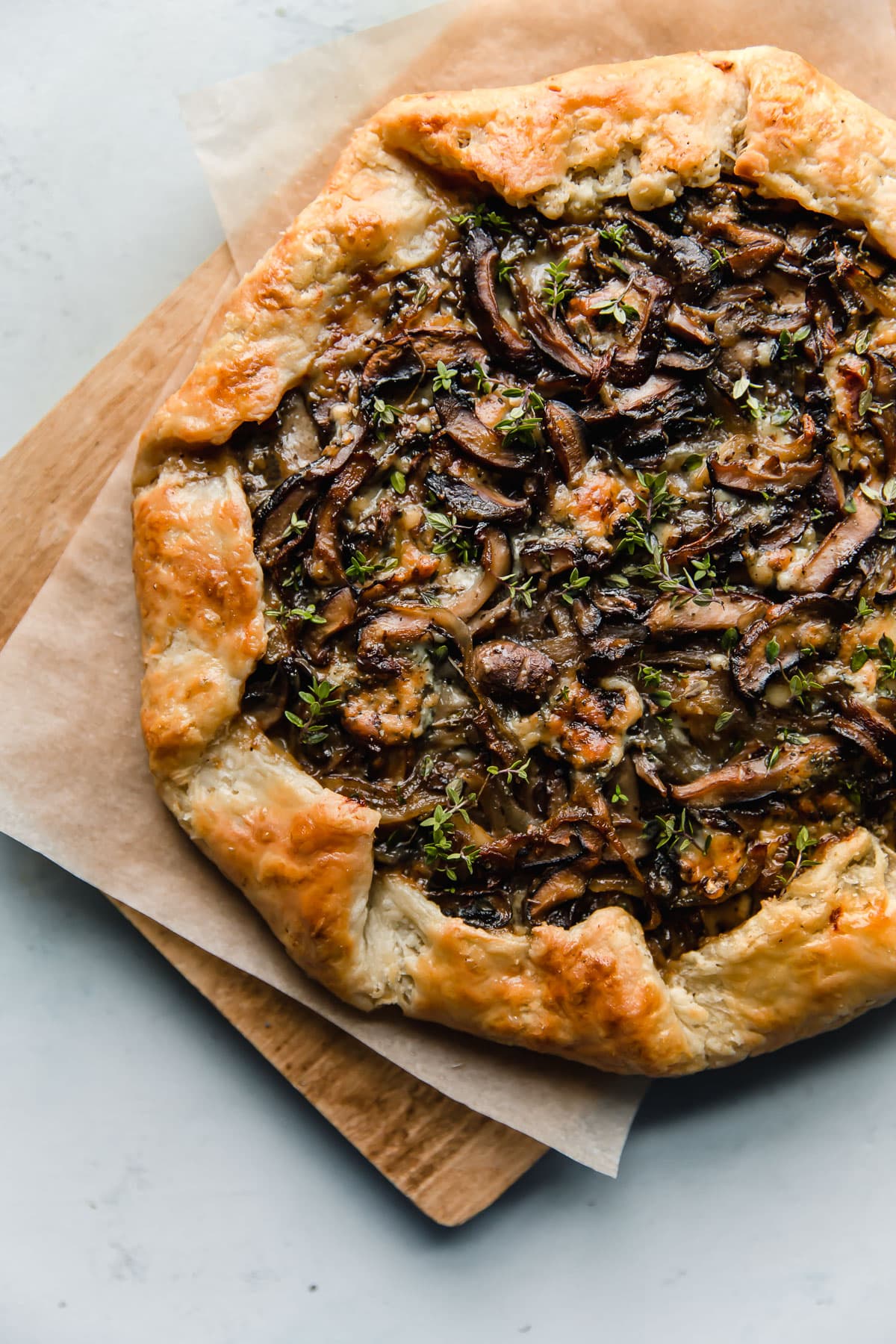 Mushroom Galette
Yield: 6-8 Servings
Rustic and flavorful, this cremini and shiitake mushroom galette is filled with sharp blue cheese and wrapped in a flaky sour cream pastry dough. This rustic mushroom tart is great for entertaining and can be served warm or at room temperature. The tender and flaky sour cream pastry dough can be prepared and refrigerated up to 1-2 days in advance.
Prep Time: 30 minutes
Cook Time: 40 minutes
Chill Time: 2 hours
Total Time: 3 hours 10 minutes
Ingredients
Sour Cream Pastry Dough:
1 and 1/4 cups (150 grams) unbleached all-purpose flour
1/2 teaspoon kosher salt
1/2 cup (1 stick; 115 grams) cold unsalted butter, cut into small cubes
1/4 cup (60 grams) cold full-fat sour cream
2 teaspoons freshly squeezed lemon juice
1/4 cup (60 mL) ice water
Mushroom Cheese Filling:
1 tablespoon extra virgin olive oil
1 lb (16 oz) cremini (Baby Bella) mushrooms, stemmed, and thinly sliced
1/2 lb (8 oz) shiitake mushrooms, stemmed, and thinly sliced
1 tablespoon unsalted butter
1/2 large yellow onion, finely julienned
2 large garlic, finely minced
4-5 sprigs fresh thyme, plus more for garnishing
1 sprig fresh rosemary
1/2 cup dry sherry
kosher salt
freshly ground black pepper
1.5 oz aged blue cheese (eg. Point Reyes, Stilton) or 3 ounces aged goat cheese, crumbled
Egg Wash:
1 large egg
1 teaspoon whole milk
Instructions
Prepare Dough: Whisk together the all purpose flour and salt in medium mixing bowl. Add the cubed butter and toss in the dry flour mixture, separating any pieces that stick together, until lightly coated. Use a pastry cutter to cut the butter into the flour until the mixture resembles coarse meal and butter pieces are no bigger than the size of small peas.
In a seperate bowl, whisk together the sour cream, lemon juice, and ice water. Create a well in the flour mixture and add the wet ingredients. Stir with a spatula until the dough begins to clump together. Transfer the dough and any dry bits to a lightly floured countertop. Use your hands to press and knead the dough gently until it comes together. Flatten into a thick disk, cover tightly with plastic wrap, and refrigerate for a minimum of 1-2 hours - or until chilled and firm.
Prepare the Mushroom Filling: Heat a 12-inch stainless steel skillet over medium-high heat. Add the olive oil, followed by the mushrooms, spreading them evenly across the pan. Sauté the mushrooms, stirring every minute or so, until they've released their moisture, shrink down considerably, and begin to caramelize, about 4 to 6 minutes. Season lightly with salt and pepper.
Add the butter and allow it to melt slightly. Add the julienned onion, thyme, and rosemary sprigs. Cook, stirring frequently, until softened, about 3 to 5 minutes. Add the garic and cook for an additional minute or until fragrant.
Deglaze the pan with sherry, scraping any brown bits that may have formed on the bottom of the pan, and continue to cook until the liquid has cooked off and the pan is almost dry. Season mixture with salt and pepper (*be mindful of salt, as we will be adding cheese to the mushroom mixture).
Transfer the mushroom mixture to a sheet pan to cool, spreading it into an even layer. Allow mixture to come to room temperature before assembling the galette.
Make the Egg Wash: Whisk together the egg and milk in a small bowl. Set aside.
Assemble and Bake the Galette: As the mushroom mixture is cool, preheat the oven to 400°F (205°C) with a rack in the center position. Line a half sheet pan with parchment paper and set aside.
Remove the dough from the fridge and lightly dust with flour. If it is too cold, allow it to sit at room temprature for 5 to 10 minutes before proceeding. On a floured work surface, roll into a 12-inch round. Transfer to the lined baking sheet. Note: If the dough warms too quickly or becomes sticky, chill in the refrigerator for 10 to 15 minutes before proceeding.
Crumble the blue cheese (or goat cheese) into a large bowl, add the cooled mushroom mixture (discard the thyme and rosemary sprigs), and stir together gently.
Spoon the mixture into the center of the dough, spreading it in a thick even layer, leaving a 1-1/2 inch border on all sides. Fold and pleat the edges of the dough border over the mushrooms – leaving the center exposed. Lightly brush the edges of the dough with egg wash.
Bake for 40 to 50 minutes, rotating the pan halfway, or until the crust is golden brown in color. Place on cooling rack and allow to cool for 5 to 10 minutes before slicing and serving. Garnish with fresh thyme leaves, as desired. Serve hot, warm, or at room temperature.
Recommended Products
As an Amazon Associate and member of other affiliate programs, I earn from qualifying purchases.
Nutrition Information:
Yield: 8
Serving Size: 1
Amount Per Serving:
Calories: 203
Total Fat: 10g
Saturated Fat: 6g
Trans Fat: 0g
Unsaturated Fat: 3g
Cholesterol: 22mg
Sodium: 320mg
Carbohydrates: 23g
Fiber: 3g
Sugar: 3g
Protein: 8g
A Beautiful Plate provides nutritional information, but these figures should be considered estimates, as they are not calculated by a registered dietician.