Chocolate Clementine Cupcakes with Candied Citrus Slices
Chocolate clementine cupcakes topped with candied citrus slices! Inspired by my favorite chocolate orange candy, these cupcakes are a lovely dessert for the holiday season.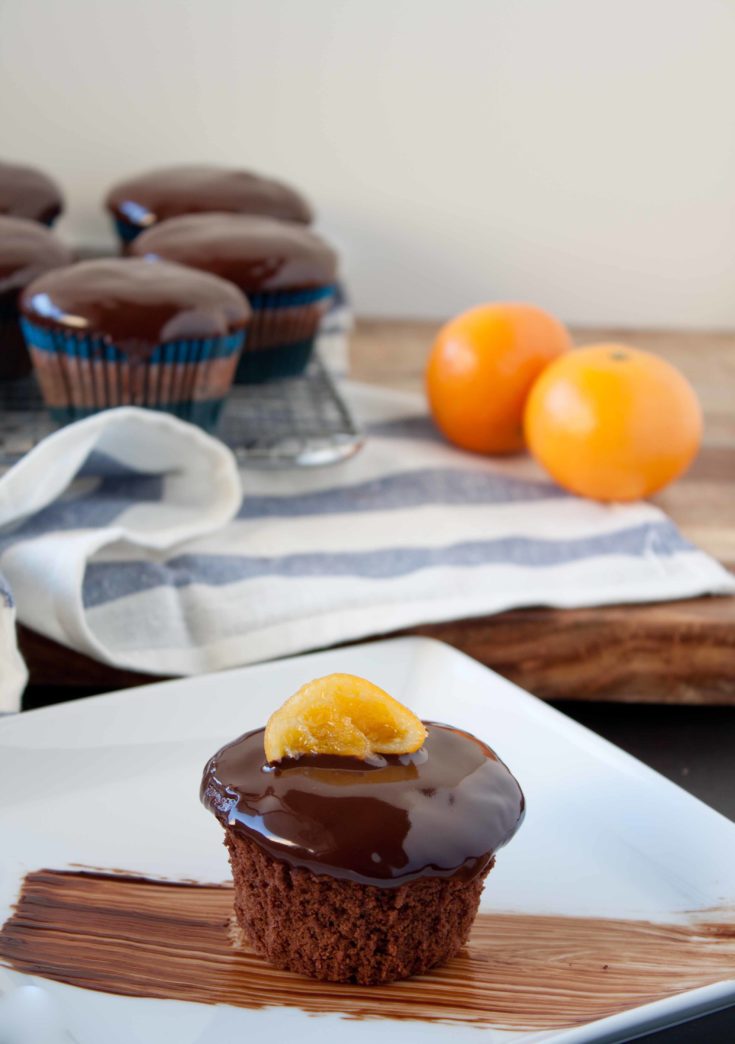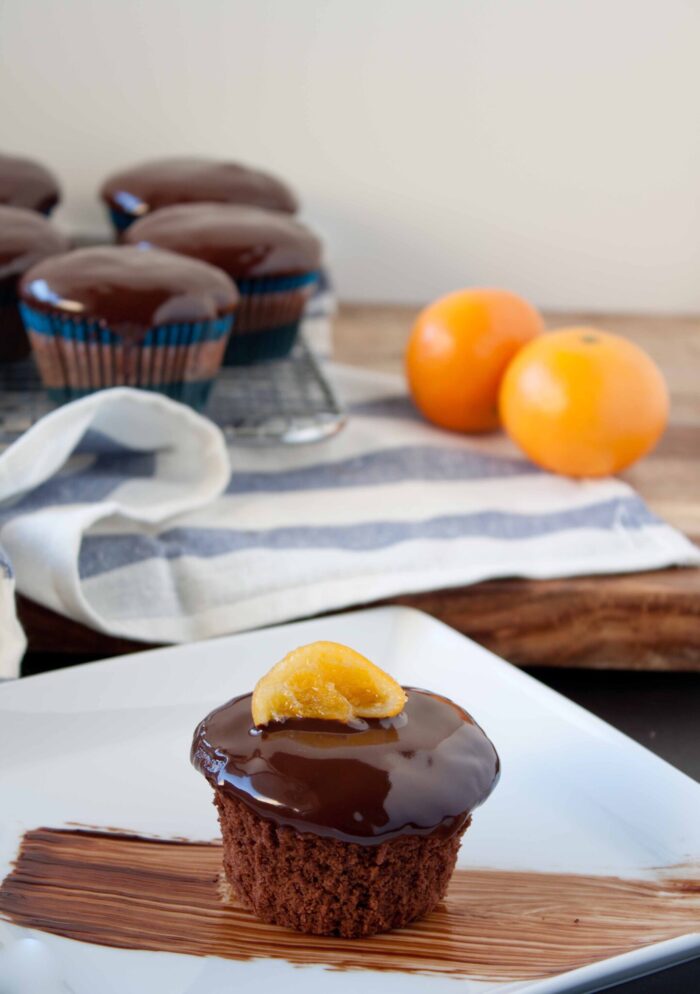 Christmas Day, at my house, is filled with tradition. After slowly waking up and greeting the morning, my family sits down at our kitchen table, where we feast on Italian panettone, fresh fruit and berries, and warm mugs of hot coffee.
Every year, my sisters and I reach our hands deep into our stockings and pull out a fresh clementine. Amidst all the other gifts, it is the most simple, but perhaps one of the most sentimental.
We usually end up munching on tons of fresh clementines throughout the holidays, leaving small trails of peel wherever we go, the smell of citrus lingering on our hands and fingers.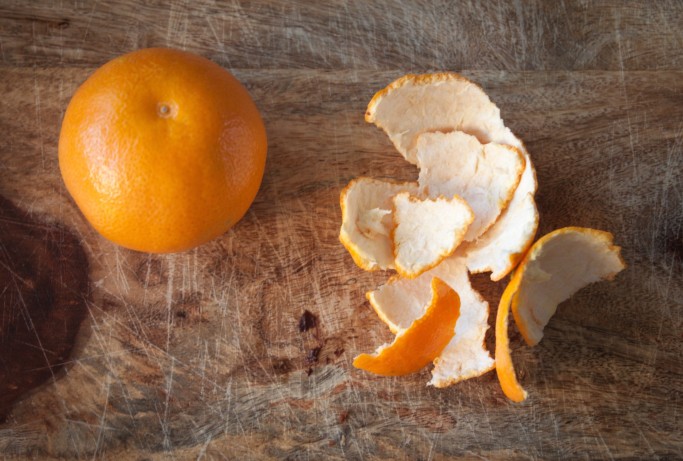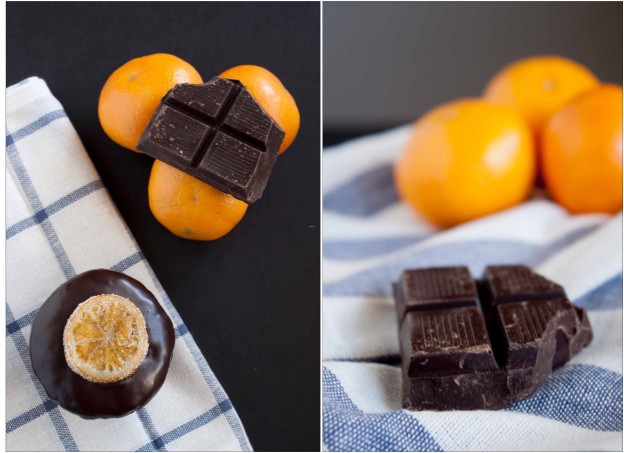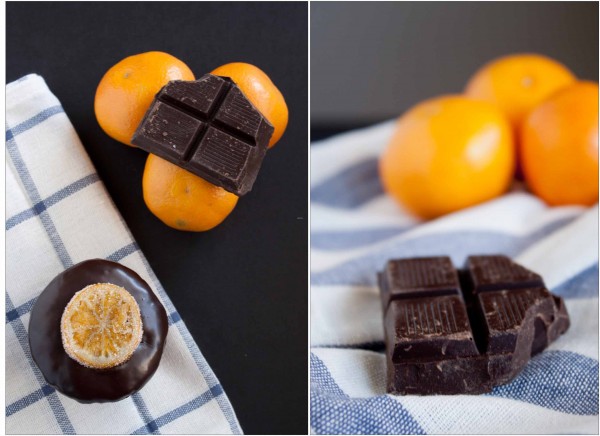 When I saw fresh clementines hit the shelves recently, I knew that I wanted to create a holiday dessert incorporating them and immediately began daydreaming up ideas.
Chocolate was the next logical choice. Orange and chocolate is a classic combination and one of my all-time favorites.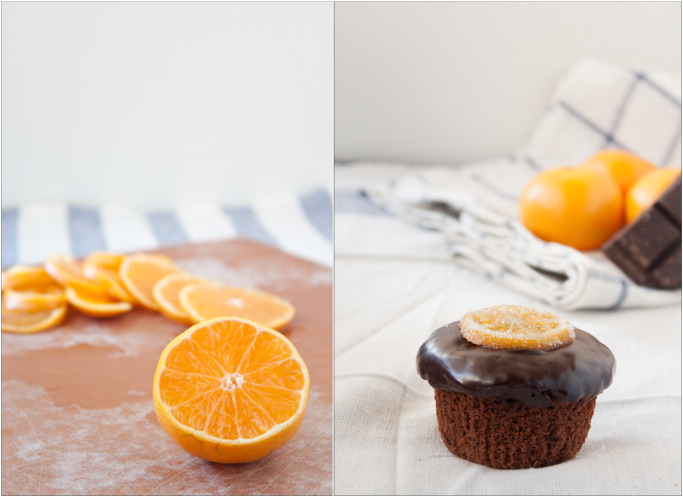 Tarts, cookies, and cakes all came to mind, but cupcakes inevitably won for their portability, cute factor, and individual portion size.
The next step was getting into my kitchen, cranking up the oven, and whipping up several trial and test batches. It instantly brought back memories of my days working at the bakery!
While some cupcakes can be heavy and leave you feeling weighed down, these Chocolate Clementine Cupcakes are surprisingly light and airy, while still being decadent and full of flavor.
The cake is infused with clementine zest and orange extract, dipped in rich (72%) dark chocolate ganache, and topped with candied clementine slices (optional). These cupcakes have just the right amount of citrus and chocolate flavor, without either taste overwhelming the other.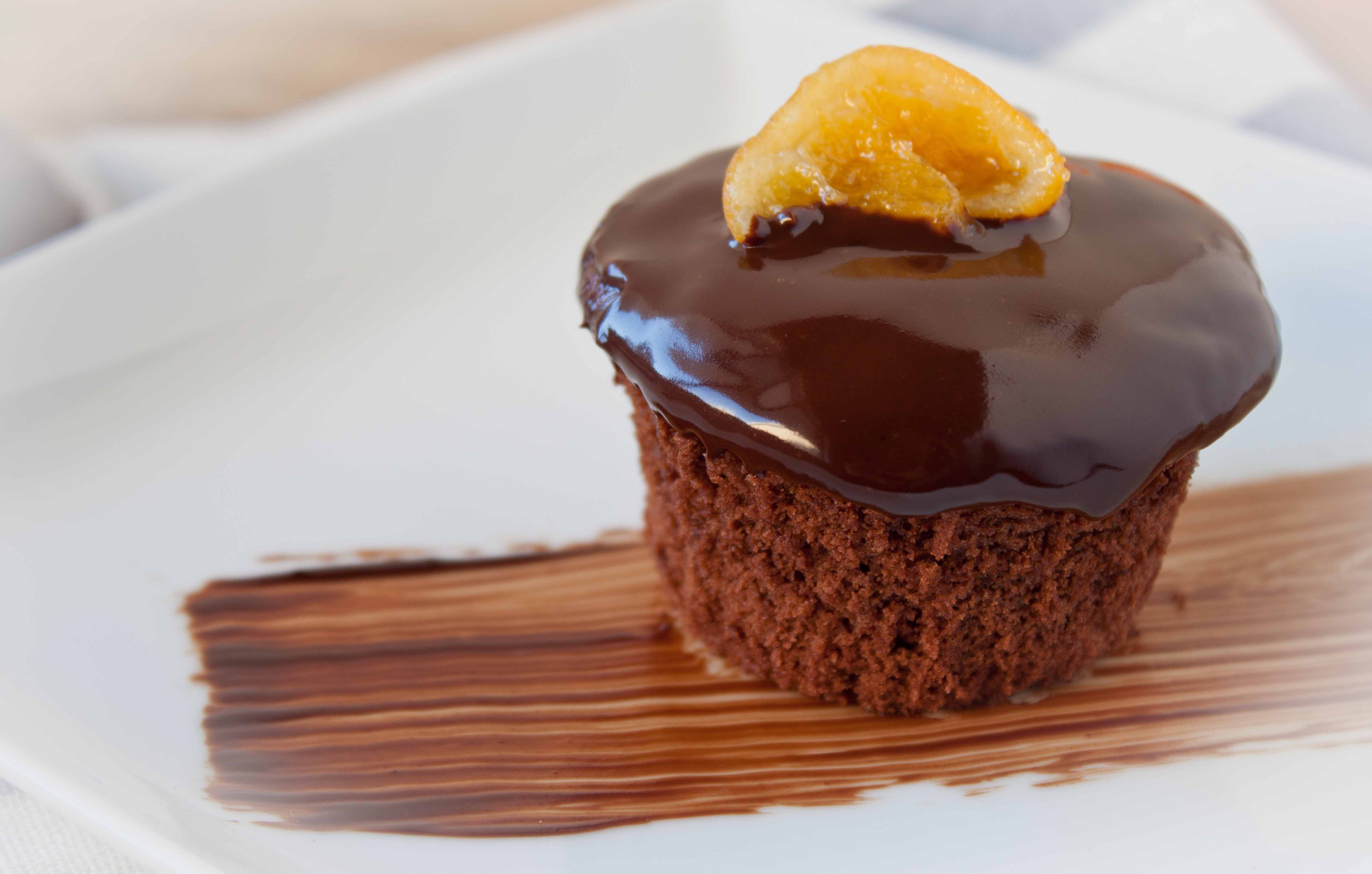 When I took my first bite, I was instantly reminded of Terry's Chocolate Oranges, a favorite childhood treat.
These cupcakes are a bit more sophisticated, special, and sure to impress your family and friends over the holidays. Enjoy!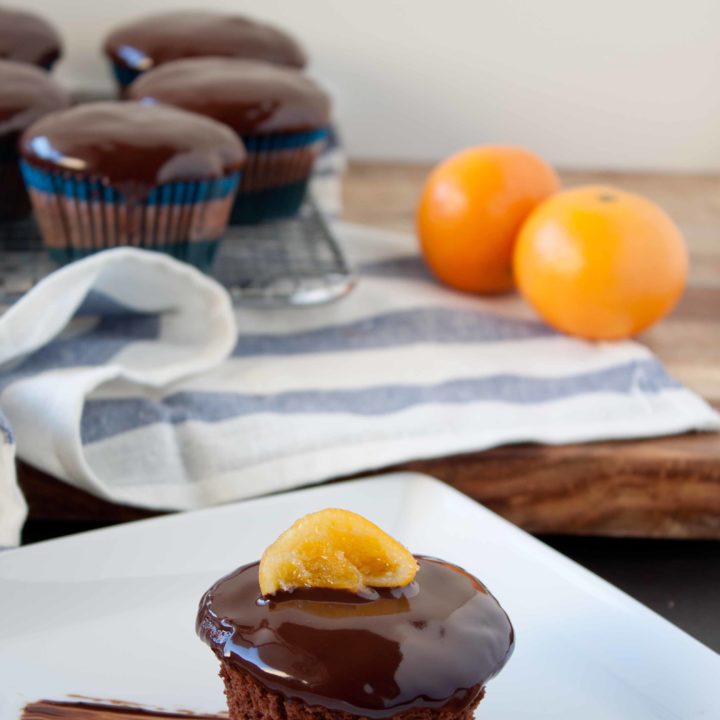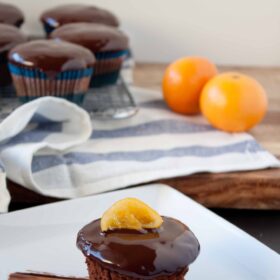 Chocolate Clementine Cupcake with Candied Citrus Slices
Chocolate clementine cupcakes topped with candied citrus slices! Inspired by my favorite chocolate orange candy, these cupcakes are a lovely dessert for the holiday season. Note: While the candied citrus slices can be prepped several days ahead, these cupcakes are best served the day of baking.
Ingredients
Candied Citrus Slices (optional–prepare 1-2 days in advance)
3 whole clementines
4 cups water
2 cups fine granulated sugar plus more for tossing
Cupcakes:
½ cup unsweetened Dutch-processed cocoa
⅔ cup (160 mL) boiling hot water
2 large eggs room temperature
1½ teaspoons pure orange extract
1 teaspoon pure vanilla extract
1 cup (200g) granulated sugar
1 heaping tablespoon grated orange zest roughly 2-3 clementines
1½ cups sifted cake flour
1¾ teaspoons baking powder
½ teaspoon Diamond Crystal kosher salt
9 tablespoons (135g) unsalted butter softened
Dark Chocolate Ganache:
5 ounces dark chocolate finely chopped
½ cup + 3 tablespoons (165 mL) heavy cream
Instructions
For the Candied Citrus Slices (Prepare 2-3 Days in Advance):
Clean each clementine well, ensuring that any wax coating is removed. Using sharp serrated knife, trim the top and bottom of each clementine. Slice each clementine into ½-inch thick slices, removing and discarding any seeds if present.

Bring a large pot of water to a boil and drop in the clementine slices. Boil for 2 minutes, then drain the slices into a colander and rinse immediately with cold water. Refill the pot and repeat the boiling, draining, and cooling process once more. This helps to remove some of the natural bitterness from the citrus.

Rinse out the same pot and add 4 cups (960 mL) of water. Stir in the granulated sugar and bring to a boil. Return the clementine slices to the pot, cover, and reduce the heat to a gentle simmer. Cook the clementine slices for roughly 30 minutes, stirring occasionally. Remove the pot from the heat and allow the slices to sit in the syrup overnight at room temperature.

Remove the citrus slices from the syrup, lay on greased cooling rack set over a half sheet pan, and allow to dry completely. This will generally take at least 24 hours. Toss the candied citrus slices in fine granulated sugar until lightly coated and shake off any excess sugar. Set aside to use as a garnish on the cupcakes.
Prepare the Chocolate Cupcakes:
Preheat the oven to 350°F (175°C) with a rack in the center position. Line a 12-cup muffin pan with paper liners and set aside.

In a medium bowl, whisk together the cocoa powder and boiling water until smooth. Set aside and allow to cool to room temperature.

Once the cocoa mixture is at room temperature, combine the eggs, ¼ of the cocoa and water mixture, orange extract, and vanilla extract in a medium bowl. Set aside.

Combine the sugar and orange zest in the bowl of a stand mixer fitted with a whisk attachment. Using fingers, rub the sugar and zest together until moist and aromatic. Add the cake flour, baking powder, and salt and mix on low speed for about 30 seconds to combine.

Add the softened butter and remaining cocoa and water mixture and mix on low speed until the dry ingredients are moistened. Increase to medium speed and beat for 1 to 2 minutes to aerate. Scrape down sides of bowl with spatula.

On low speed, gradually add the egg-cocoa mixture in three additions, beating for 20 seconds after each addition to incorporate the ingredients, scraping down the sides of the bowl as needed. Distribute the batter evenly among the lined muffin pan. Bake for 15 to 18 minutes, rotating halfway.

Set on a wire rack and allow the cupcakes to cool in the pan for 2 to 3 minutes. Remove the cupcakes from the pan and set on a wire rack to cool completely before decorating with ganache.
Prepare Ganache and Decorate Cupcakes:
Place the finely chopped chocolate in a heat-proof bowl. Heat the cream in a measuring cup (watch carefully!) in the microwave in 15 to 20 seconds intervals. The cream should be very hot, but not boiling.

Pour the hot cream over the chocolate and allow the mixture to sit for about 15 seconds. Whisk very slowly until cream and chocolate come together (emulsify) and the ganache is very smooth and shiny. Do not over whisk.

Dip the tops of the cooled cupcakes (ensuring that you do not dip beyond the liners) into the chocolate ganache. Set cupcakes right-side up on a rack and allow the ganache to set.

Once the ganache is almost set, garnish each cupcake with a piece of candied citrus. Serve.
Inspired by Rose Levy Beranbaum's The Cake Bible.
Serving: 1serving, Calories: 459kcal, Carbohydrates: 77g, Protein: 5g, Fat: 15g, Saturated Fat: 9g, Polyunsaturated Fat: 5g, Cholesterol: 59mg, Sodium: 181mg, Fiber: 3g, Sugar: 58g
This post contains affiliate links, which means that I make a small commission off items you purchase at no additional cost to you. Please read my
privacy policy
for more information.