Chocolate Peppermint Syrup
This chocolate peppermint syrup qualifies as one of the easiest things I've ever made in my kitchen.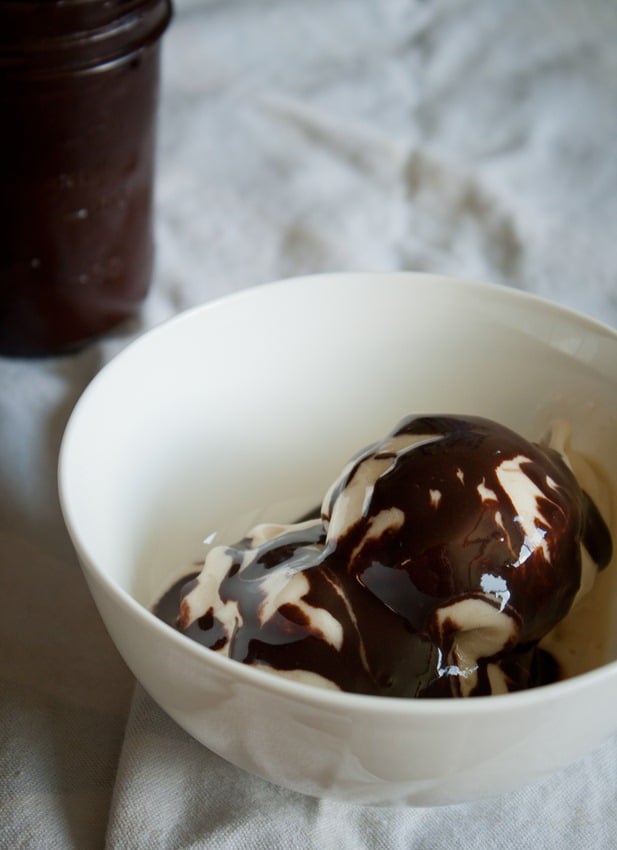 Like many other recipes that are created due to cravings for one thing or the other, it was made late one night, when I desperately wanted chocolate sauce to pour on some vanilla ice cream that was lingering in the back of my freezer.
I turned to Google to solve my problems (as I often do) and typed in "simple chocolate sauce recipe", hoping for a miracle since all I had on hand was a very small amount of bittersweet chocolate chips.  I immediately found David's Lebovitz's recipe for the "best chocolate sauce ever".  Heck, I was just looking for easy, but if it also was going to be the best, I'm not one to complain!
I immediately scrolled down to the ingredient list.  Chocolate, water, corn syrup, cocoa powder, and sugar—check, check, check, check, and check.  I wasn't entirely sure if my chocolate chips would do the trick in exchange for chopped bittersweet chocolate, but I went for it anyway.

Along the way, I realized I could make the syrup even more exciting by adding peppermint extract.  Pretty much the lazy girl's solution to not having her favorite mint chocolate chip ice cream on hand.  In the end, I halved the recipe and changed a few of the ingredient amounts to make it the perfect thick consistency.
Luckily, the chocolate chips worked perfectly, which I think we can all agree is a wonderful thing.  Chopping bar chocolate is one of the messiest and annoying tasks out there—trust me, I had to chop pounds and pounds of chocolate during my time working at the bakery.  Bar chocolate and chocolate chips are in no way substitutes for one another (most of the time, at least), but in this case, grab the easy stuff and don't look back.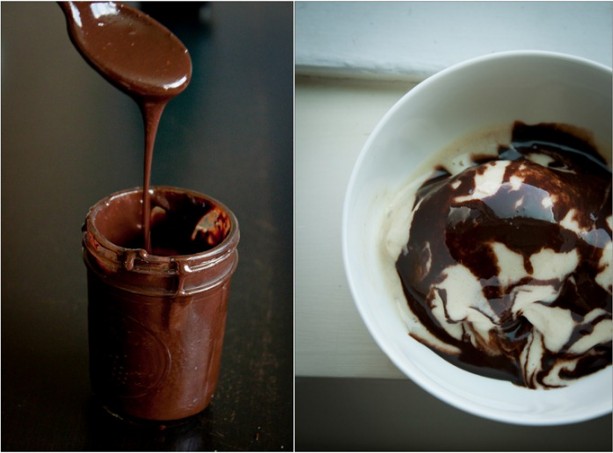 I devoured it warm on top of vanilla ice cream, but I imagine it could be even more appreciated in homemade ice cream shakes, (mint) chocolate milk, or even drizzled on top of warm, gooey brownies.  Hmm…brownies.
Or you could easily spread the love, put it in small mason jars, and give it it to friends and family over the holidays!

This chocolate syrup is a cinch to put together.  The peppermint really takes it up a notch and makes it all the more unique and exciting, but feel free to remove the peppermint extract altogether if you are not a fan of peppermint or do not have any on hand.  Be sure to allow the syrup to cool for several hours, as it will get much more thick and syrup-like with time!
Enjoy.