Chocolate Peppermint Syrup
This chocolate peppermint syrup qualifies as one of the easiest things I've ever made in the kitchen.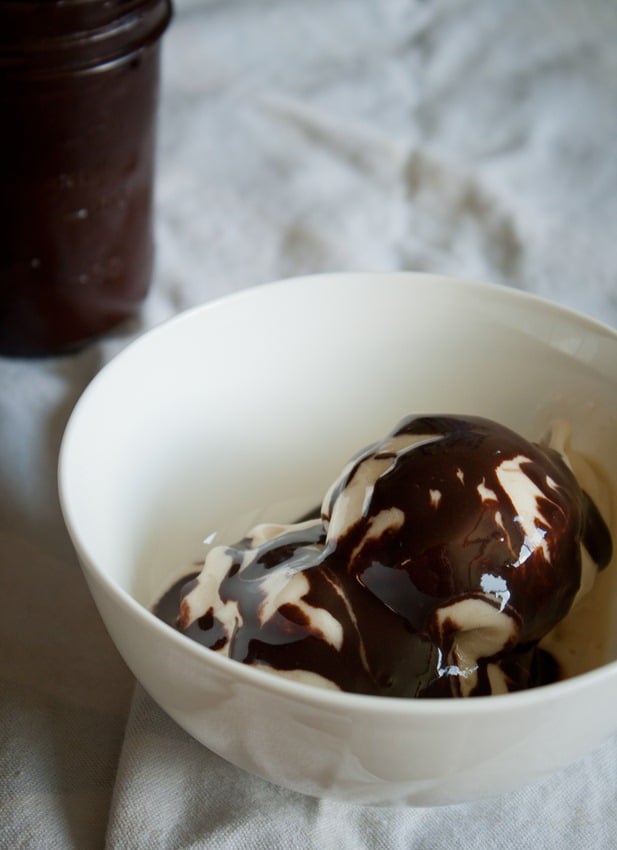 Like many other recipes that are created due to cravings for one thing or the other, it was made late one night, when I desperately wanted chocolate sauce to pour on some vanilla ice cream that was lingering in the back of my freezer.
I turned to Google to solve my problems (as I often do) and typed in "simple chocolate sauce recipe", hoping for a miracle since all I had on hand was a very small amount of bittersweet chocolate chips.
In the process, I discovered David's Lebovitz's recipe for the best chocolate sauce ever. Heck, I was just looking for easy, but if it also was going to be the best, I'm not one to complain!
A quick scroll of the ingredient list: chocolate, water, corn syrup, cocoa powder, and sugar—check, check, check, check, and check. I wasn't entirely sure if my chocolate chips would do the trick in exchange for chopped bittersweet chocolate, but I went for it.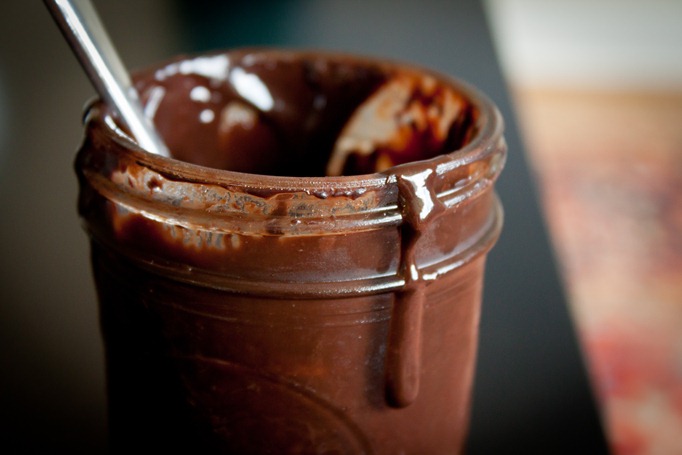 Along the way, I realized I could make the syrup even more exciting by adding peppermint extract. Pretty much the lazy girl's solution to not having her favorite mint chocolate chip ice cream on hand. In the end, I halved the recipe and changed a few of the ingredient amounts to make it the perfect thick consistency.
Luckily, the chocolate chips worked perfectly, which I think we can all agree is a wonderful thing. Chopping bar chocolate is one of the messiest and annoying tasks out there—trust me, I had to chop pounds and pounds of chocolate during my time working at the bakery. Bar chocolate and chocolate chips are in no way substitutes for one another (most of the time, at least), but in this case, grab the easy stuff and don't look back.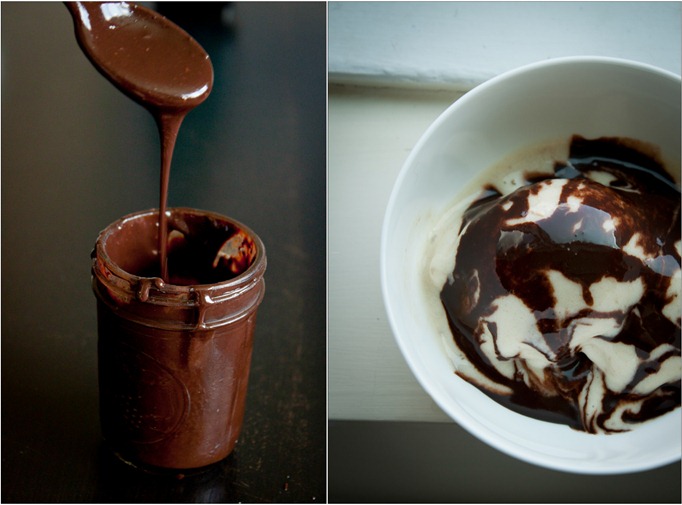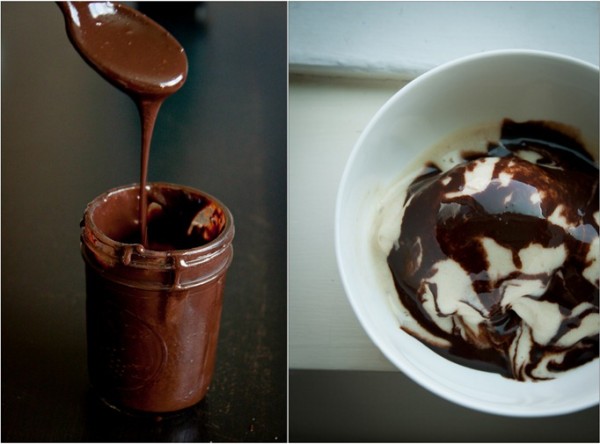 I devoured it warm on top of vanilla ice cream, but I imagine it could be even more appreciated in homemade ice cream shakes, mint chocolate milk, or drizzled on top of warm, gooey brownies.
It would also make a lovely edible holiday gift! Add to a small mason jars, top with a ribbon or bow, and gift to friends and family over the holiday season.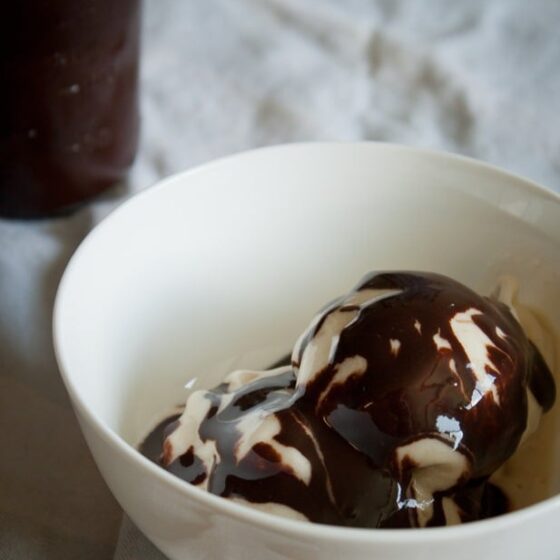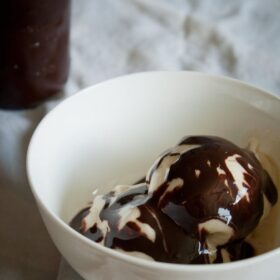 Chocolate Peppermint Syrup
This chocolate peppermint syrup comes together in minutes and uses everyday ingredients. Be sure to allow the syrup to cool for several hours, as it will get much more thick and syrup-like with time! Allow to cool slightly, transfer to a small mason jar and top with a bow for an easy edible gift during the holiday season.
Ingredients
½ cup (120 mL) water
¼ cup (50g) granulated sugar
¼ cup (60 mL) light corn syrup
⅓ cup unsweetened cocoa powder
¼ + ⅛ teaspoon pure peppermint extract
2 ounces bittersweet chocolate chips
Instructions
Combine the water, granulated sugar, corn syrup, and cocoa powder in a small saucepan. Whisk until smooth. Set over medium heat and bring to a low boil.

Remove from the heat and immediately add the peppermint extract and chocolate chips, stirring until all of the chocolate has melted.

Set aside to cool. The sauce will appear very thin, but will thicken as it cools. Serve warm (or chilled from fridge) over ice cream or incorporate into your favorite milkshake. Store in a jar in the refrigerator for up to 10 days.
Serving: 1serving, Calories: 132kcal, Carbohydrates: 20g, Protein: 2g, Fat: 5g, Saturated Fat: 2g, Polyunsaturated Fat: 2g, Sodium: 27mg, Fiber: 2g, Sugar: 15g
This post contains affiliate links, which means that I make a small commission off items you purchase at no additional cost to you. Please read my
privacy policy
for more information.