Authentic Mexican Tortilla Soup
This authentic Mexican Tortilla Soup recipe, adapted from Rick Bayless, is the best chicken tortilla soup that I've ever had. Bright and acidic with smoky and spicy undertones.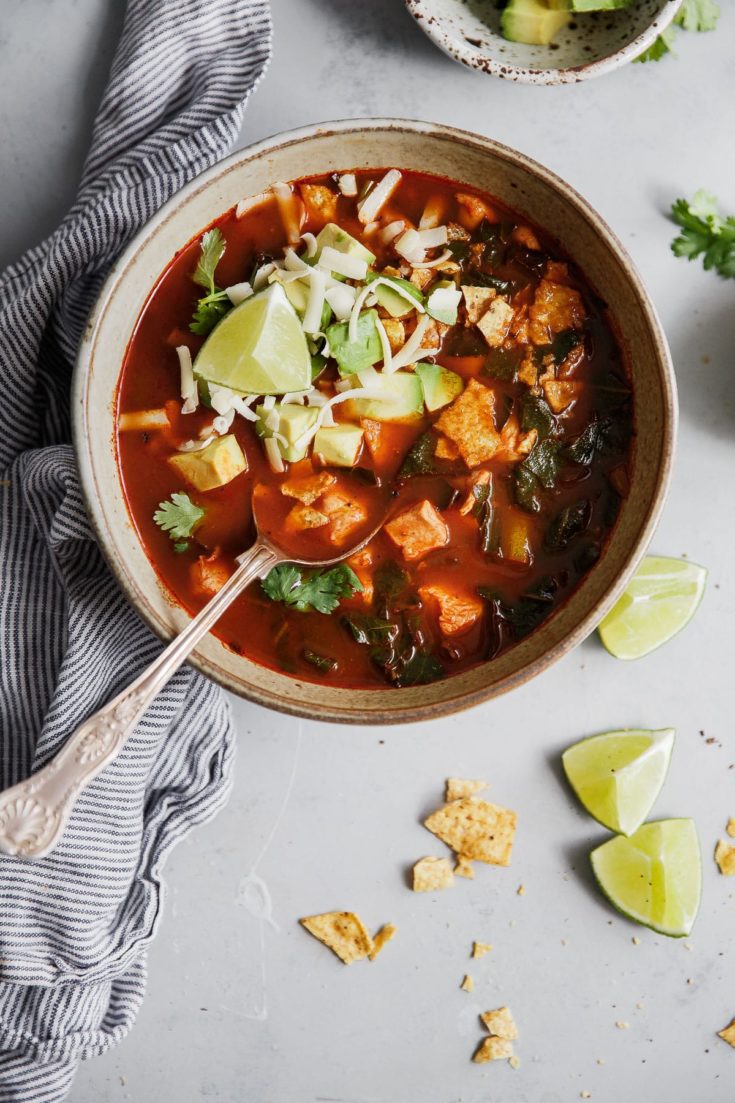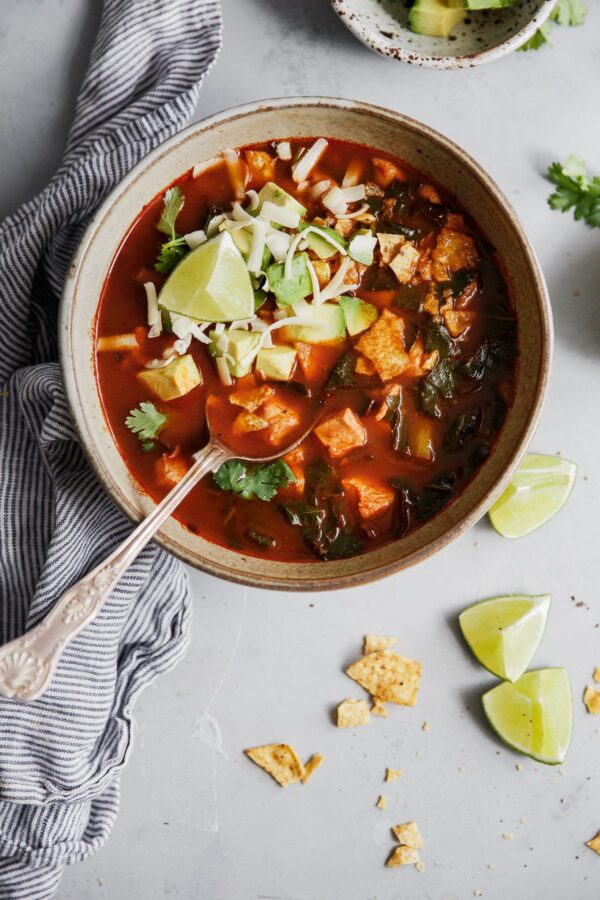 One of my favorite soups of all time just got a makeover! I've made this Authentic Mexican Tortilla Soup recipe more times than I can count and we never tire of it. During the colder months, we make it at least once a month.
If you've stuck around the blog for some time, you might recognize this chicken tortilla soup. It was shared for the first time over four years ago and it has remained a reader favorite to this day.
The recipe has been re-tested, clarification and notes have been added to the instructions, and the photographs have been updated. It deserved some attention after all of these years, if only to remind you of just how good it is!
If you've been disappointed with other Mexican tortilla soup recipes, please give this one a try. It is the best that I've ever had and takes just under an hour start to finish.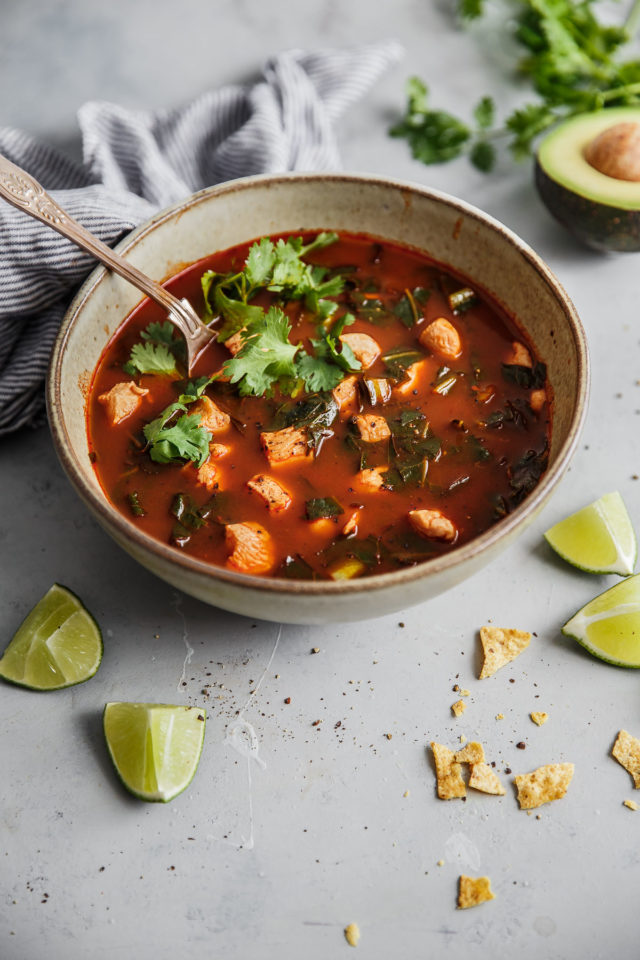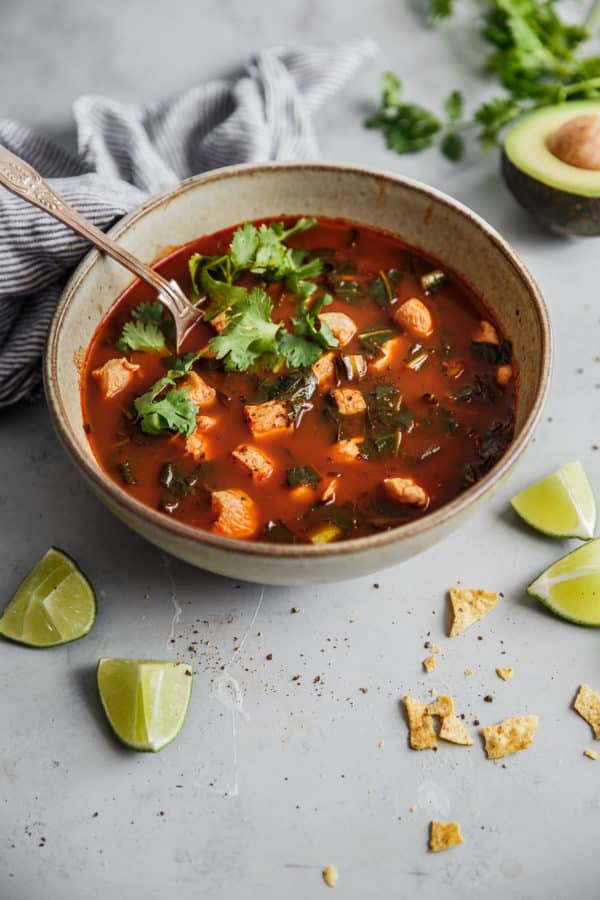 How to Make The Best Mexican Tortilla Soup:
The key to an incredible Mexican tortilla soup is all in the broth. This is where most other chicken tortilla soup recipes fall flat.
Using dried ancho chiles is what sets this recipe apart and makes it so delicious and unforgettable. For this recipe, we'll actually be toasting the dried chiles over an open flame to increase their flavor and smokiness.
Ancho chiles are dried poblano peppers. They are large, nearly black in color, and very wrinkly. They can be found with Mexican and Spanish specialty ingredients in the international aisle of most supermarkets. You can also order them online here [affiliate link].
The toasted chiles (along with canned fire-roasted tomatoes) provide this tortilla soup with a medium heat level and smokiness that ground spices or fresh peppers can't replicate.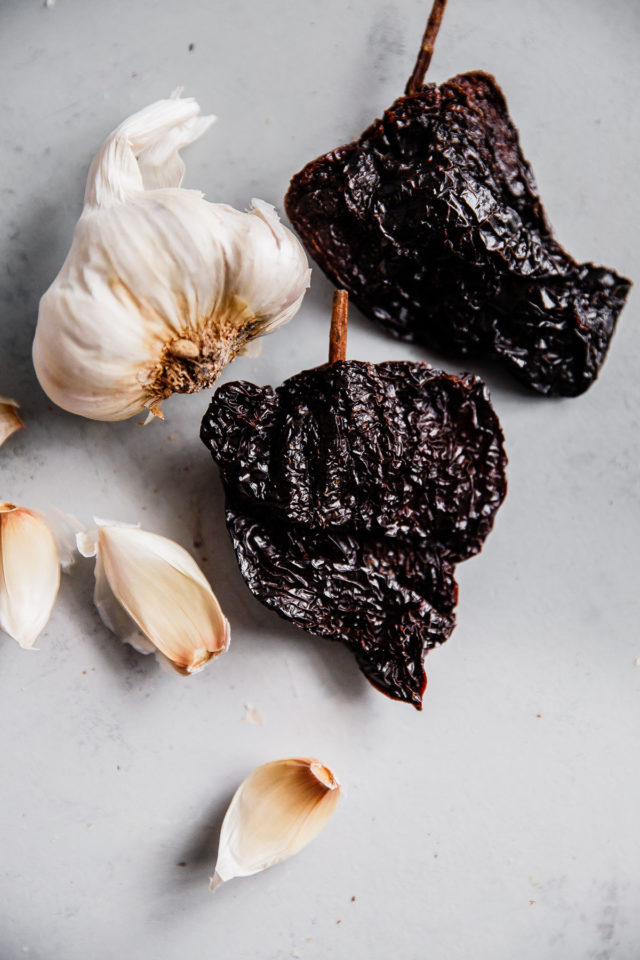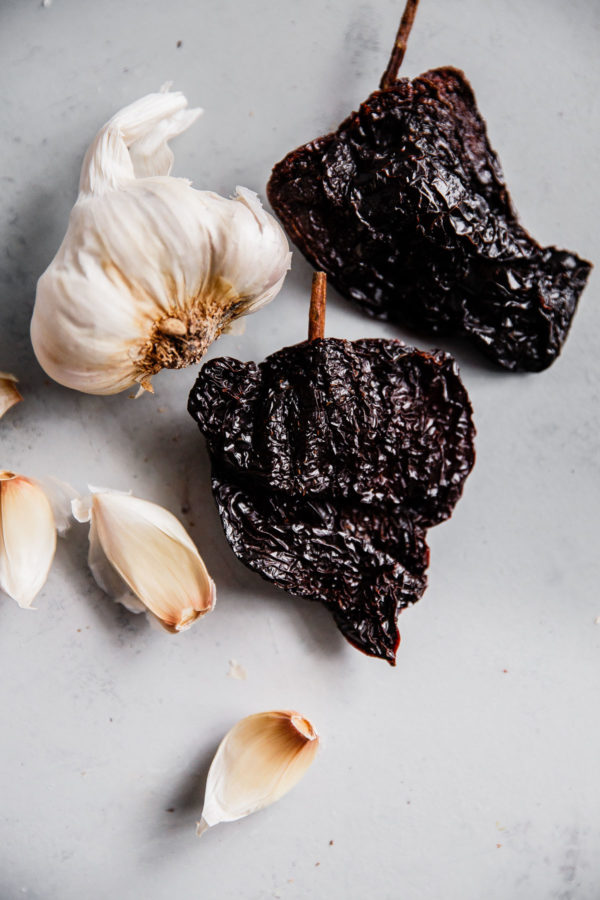 Why You'll Love This Tortilla Soup Recipe:
This soup's broth is bright and acidic with smoky undertones and a decent level of spiciness. It is good enough to drink on its own.
The soup base is made from toasted dried ancho chiles, fire roasted tomatoes, and sautéed onion and garlic.
The mixture is combined in a high-powered blender until very smooth and then reduced over high heat until it has thickened and concentrated in flavor. I use a similar method in this Vegetarian Chili Recipe.


At this point, you simply add chicken broth and allow the flavored broth to simmer for an additional 20 minutes before adding the chicken.
To make the soup a bit heartier, I stray from tradition and add baby kale leaves (or chopped collard greens or curly kale).
The greens add a nutritional boost without detracting from the flavor and give each spoonful a bit more heft. If you'd prefer to leave them out, feel free to do so!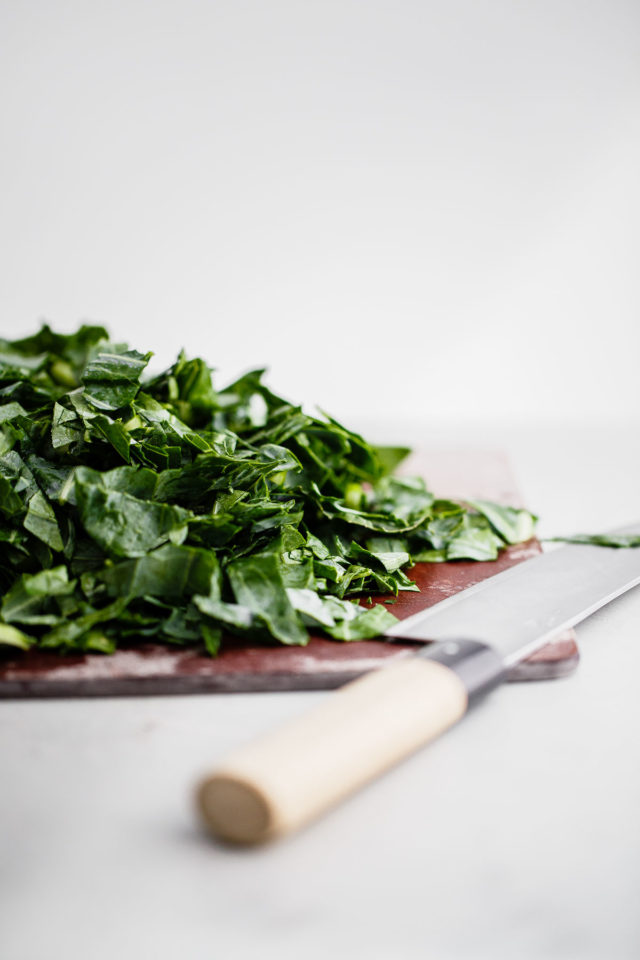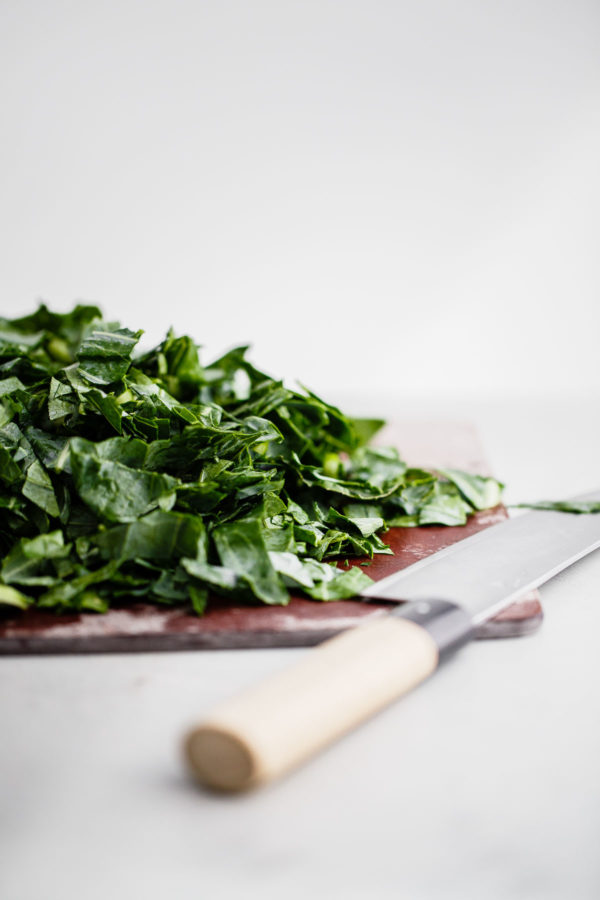 Mexican Tortilla Soup Toppings:
Then, of course, comes the best part. The toppings! This is what brings Mexican tortilla soup together and takes this soup over the top. Each one contributes texture, flavor, and balance.
crushed tortilla chips
grated extra sharp cheddar cheese
diced avocado
cilantro leaves
freshly squeezed lime juice
If you're serving this soup to a crowd, you can set out individual bowls of toppings and have everyone help themselves.
Alternatively, you can add the toppings to each empty soup bowl and ladle the hot soup over them just before serving. It's up to you!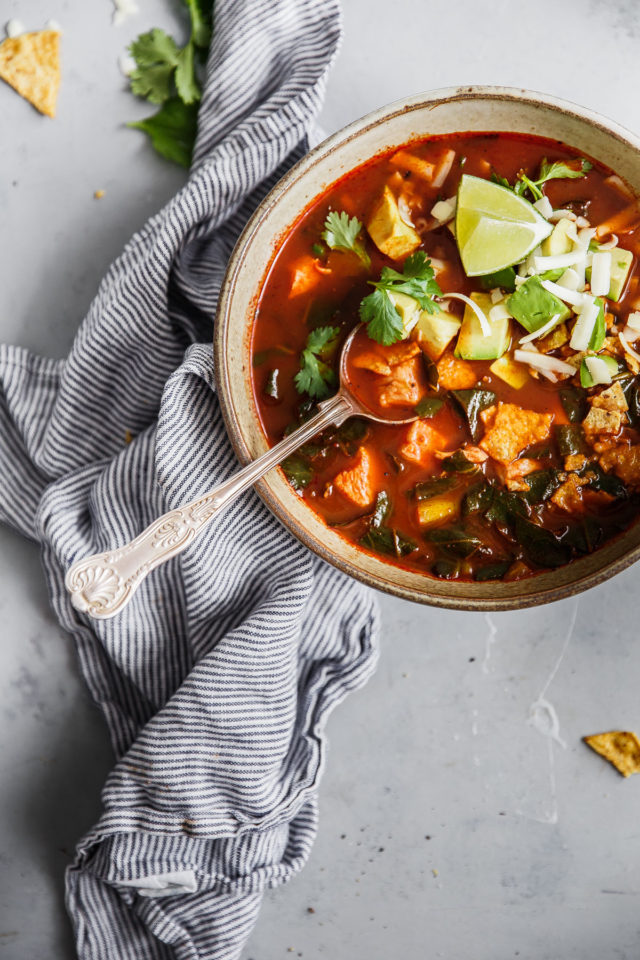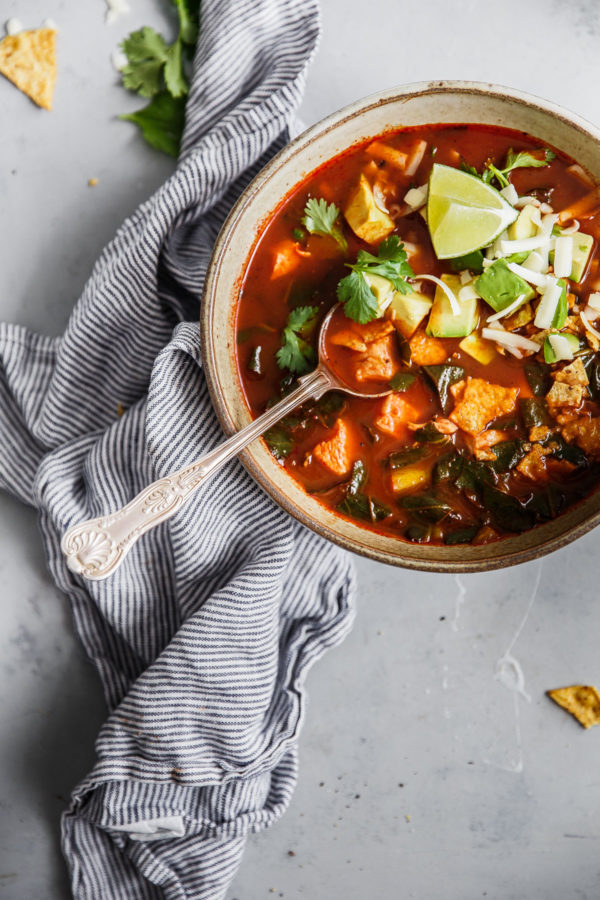 How to Freeze Mexican Tortilla Soup:
Like most soups, this tortilla soup freezes well. If you wish to prep or freeze this soup for later, I recommend the following method:
prepare the soup base through step 5 in the recipe; allow the broth mixture to cool completely and transfer to heatproof containers (leave a one-inch gap between the soup and the lid to account for expansion as it freezes); freeze for up to 2 to 3 months
allow the soup to thaw completely in the refrigerator; transfer to a large soup pot and reheat over low heat, stirring occasionally.
continue steps 6 through 7 of the recipe; season with salt and pepper, and more lime juice as needed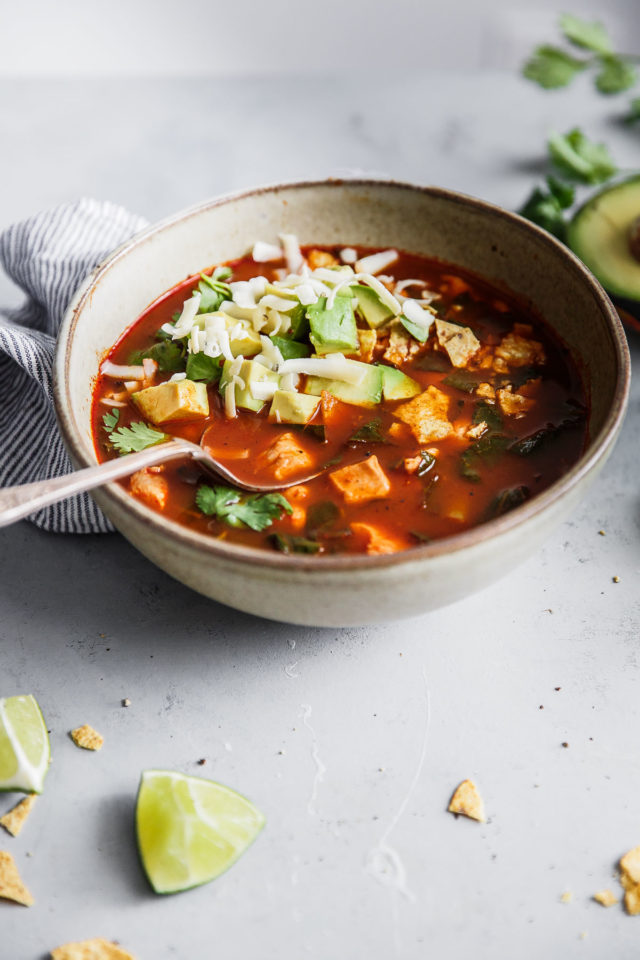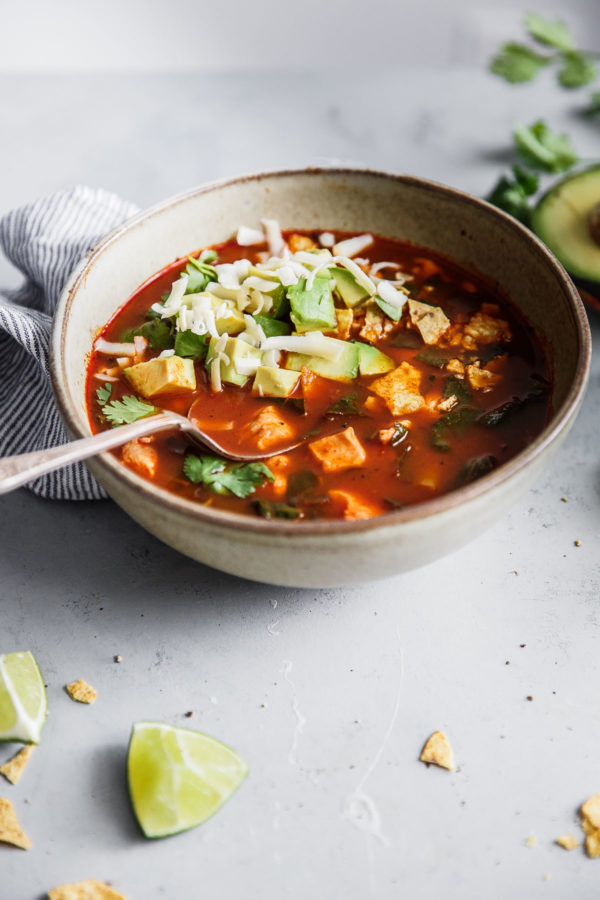 Note: I prefer slightly thicker tortilla chips for this soup, as opposed to very thin tortilla chips. Thicker chips hold up better in the hot soup, and provide it with better texture.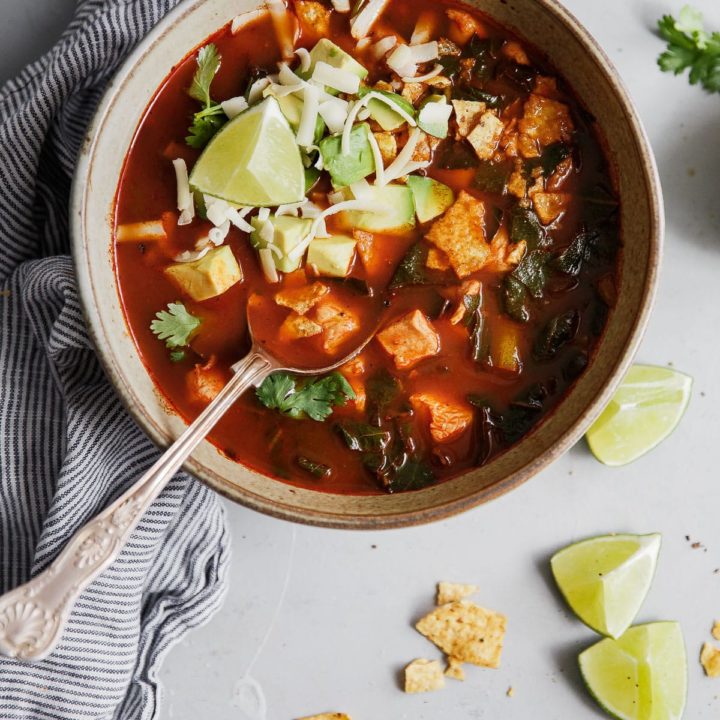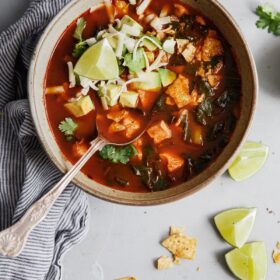 Classic Mexican Tortilla Soup
This authentic Mexican Tortilla Soup recipe, adapted from Rick Bayless, is the best chicken tortilla soup that I've ever had. Bright and acidic with smoky and spicy undertones. The trick? A flavor-packed soup base made from toasted dried ancho chiles and fire-roasted tomatoes. Top with chopped avocado, grated cheddar, cilantro, crushed tortilla chips, and a squeeze of lime juice and serve as a healthy main course.
Ingredients
2 large dried ancho chiles *see notes
1 can (14½-ounces) fire-roasted tomatoes I strongly recommend and prefer Muir Glen brand
2 tablespoons extra virgin olive oil
1 large yellow onion medium dice
4 large garlic cloves roughly chopped
2 quarts (8 cups) low-sodium chicken broth
5 ounces baby kale (or 1 bunch collard greens or curly kale, stems discarded and leaves chopped into small pieces)
1½ lbs boneless skinless chicken breasts cut into ¾-inch cubes
kosher salt to taste
freshly ground black pepper to taste
juice from half a lime
Toppings:
fresh lime wedges
corn tortilla chips crushed
freshly grated sharp cheddar cheese
diced ripe avocado
fresh cilantro leaves
Instructions
Using metal tongs, toast the chiles carefully over an open flame (using a gas burner–or alternatively, in a dry cast-iron skillet over medium heat) until they are pliable, slightly blistered, and very fragrant. Set aside on a cutting board to cool. Cut in half, and scrape out and discard the seeds and stems. Cut the chilis into small pieces and place in a high-powered blender (such as a Vitamix) along with the canned fire-roasted tomatoes and their juices. Set aside for later.

Heat the olive oil in a large soup pot over medium-low heat. Add the chopped onion and a large sprinkle of kosher salt. Sauté for 8 to 10 minutes, stirring frequently, or until the onions are soft and translucent. Add the chopped garlic and sauté for an additional 30 seconds to 1 minute, stirring continuously, until fragrant. Remove from the heat.

Transfer the cooked onion and garlic mixture to the blender with the chilis and fire-roasted tomatoes. Puree the ingredients together, scraping down the blender if necessary, until the chilis have been fully integrated and the mixture is completely smooth and dark orange-red in color.

Return the empty soup pot to high heat. Once the pot is very hot, add the pureed tomato chili mixture all at once–it should sizzle immediately when it hits the pan. Continue to cook over high heat for about 4 to 5 minutes, stirring constantly with a spatula, until the mixture thickens and concentrates substantially. It will splutter and bubble a bit. Once ready, the mixture should be slightly darker in color and resemble the thickness of a loose tomato paste.

Add the chicken broth to the pot and combine thoroughly using a spoon or whisk. Bring the mixture to a boil. Reduce the heat to low and allow the broth to lightly simmer, uncovered, for 20 minutes, stirring occasionally. Season the broth with salt and pepper. If the broth tastes at all flat, you most likely haven't added enough salt.

Over low heat, add the greens and stir until fully incorporated. Allow the greens to cook at a low simmer (baby kale will take just a minute or two; collards or curly kale may take 5 to 7 minutes total), until they are very tender. Add the chicken and stir to distribute. Cook for an additional 2 to 3 minutes over very low heat, stirring once or twice, until the chicken has just cooked through (this will not take long, so watch the pot carefully to avoid overcooking it). Just before serving, add the juice of half a lime. Taste once again, seasoning with additional salt and pepper if necessary.

Serve hot and garnish with toppings (or alternatively, place desired toppings in the empty soup bowls and ladle the soup directly over them).
TIPS FOR SUCCESS:
Make Dairy Free: Omit the grated cheese topping.
Ancho chiles are dried poblano peppers. You can usually find them in the international aisle (alongside Mexican or Spanish ingredients) or occasionally in the refrigerated produce area near other dried chiles. They are large, nearly black in color, and very wrinkly – and sometimes mislabeled as ancho pasilla chiles.
Slightly thicker tortilla chips work better for this soup, as they will hold their shape better as they integrate into the hot soup. I don't recommend super thin chips for this as they will dissolve fairly quickly, which is not ideal.
The chicken breasts can be substituted with shredded rotisserie chicken if you prefer (it's just as good, if not better). If using this, stir in just before serving and allow the chicken to just heat through.
Recipe adapted from
Mexican Every Day
by Rick Bayless. 
Serving: 1serving, Calories: 333kcal, Carbohydrates: 25g, Protein: 26g, Fat: 16g, Saturated Fat: 4g, Polyunsaturated Fat: 11g, Cholesterol: 44mg, Sodium: 393mg, Fiber: 6g, Sugar: 10g
This post contains affiliate links, which means that I make a small commission off items you purchase at no additional cost to you. Please read my
privacy policy
for more information.