Authentic Mexican Tortilla Soup
This authentic Mexican Tortilla Soup recipe, adapted from Rick Bayless, is the best chicken tortilla soup that I've ever had. Bright and acidic with smoky and spicy undertones.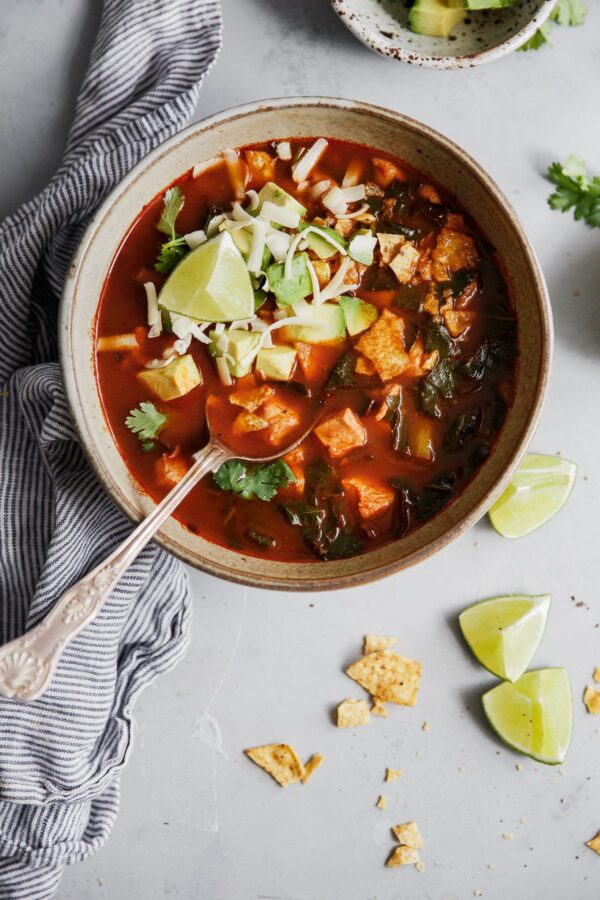 One of my favorite soups of all time just got a makeover! I've made this Authentic Mexican Tortilla Soup recipe more times than I can count and we never tire of it. During the colder months, we make it at least once a month.
If you've stuck around the blog for some time, you might recognize this chicken tortilla soup. It was shared for the first time over four years ago and it has remained a reader favorite to this day.
The recipe has been re-tested, clarification and notes have been added to the instructions, and the photographs have been updated. It deserved some attention after all of these years, if only to remind you of just how good it is!
If you've been disappointed with other Mexican tortilla soup recipes, please give this one a try. It is the best that I've ever had and takes just under an hour start to finish.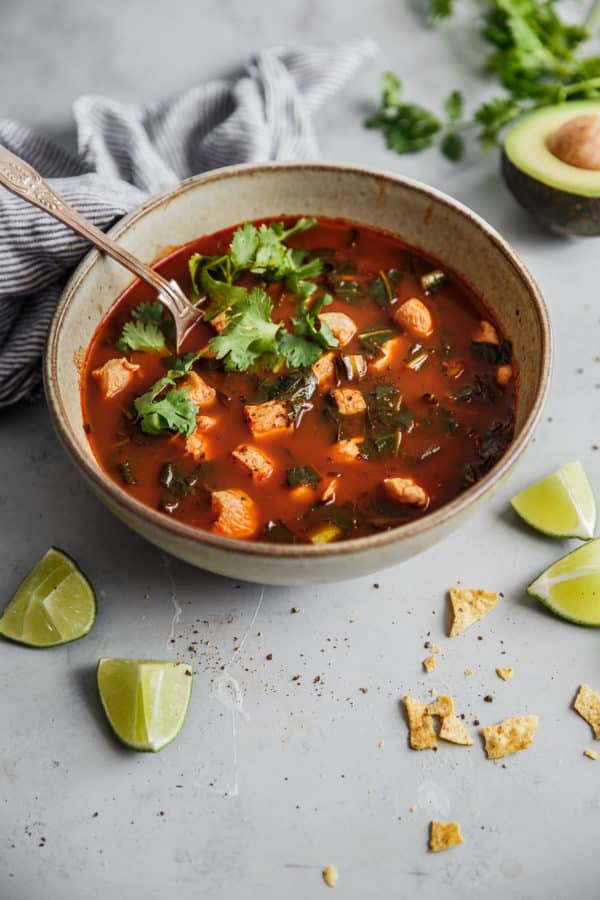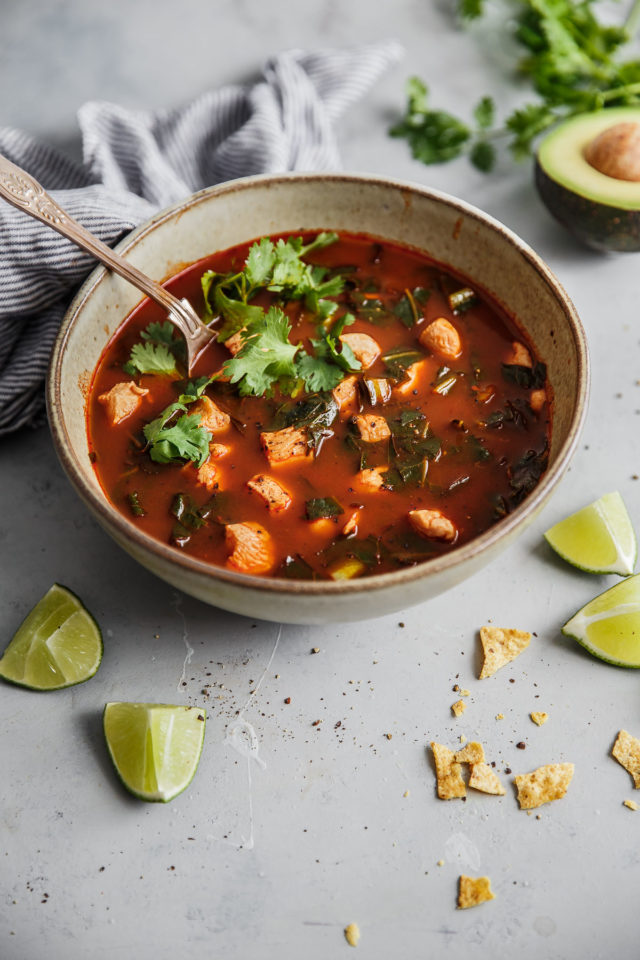 How to Make The Best Mexican Tortilla Soup:
The key to an incredible Mexican tortilla soup is all in the broth. This is where most other chicken tortilla soup recipes fall flat.
Using dried ancho chiles is what sets this recipe apart and makes it so delicious and unforgettable. For this recipe, we'll actually be toasting the dried chiles over an open flame to increase their flavor and smokiness.
Ancho chiles are dried poblano peppers. They are large, nearly black in color, and very wrinkly. They can be found with Mexican and Spanish specialty ingredients in the international aisle of most supermarkets. You can also order them online here [affiliate link].
The toasted chiles (along with canned fire-roasted tomatoes) provide this tortilla soup with a medium heat level and smokiness that ground spices or fresh peppers can't replicate.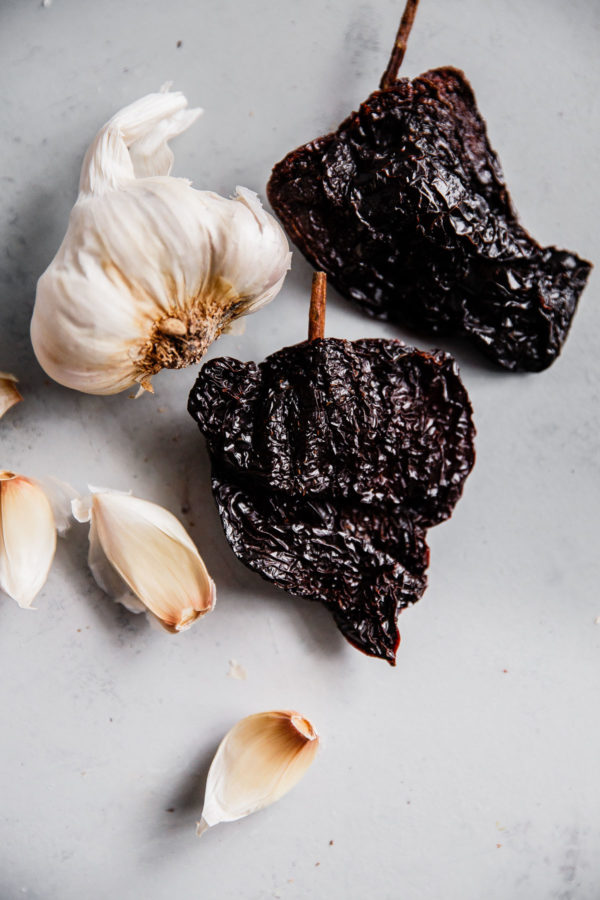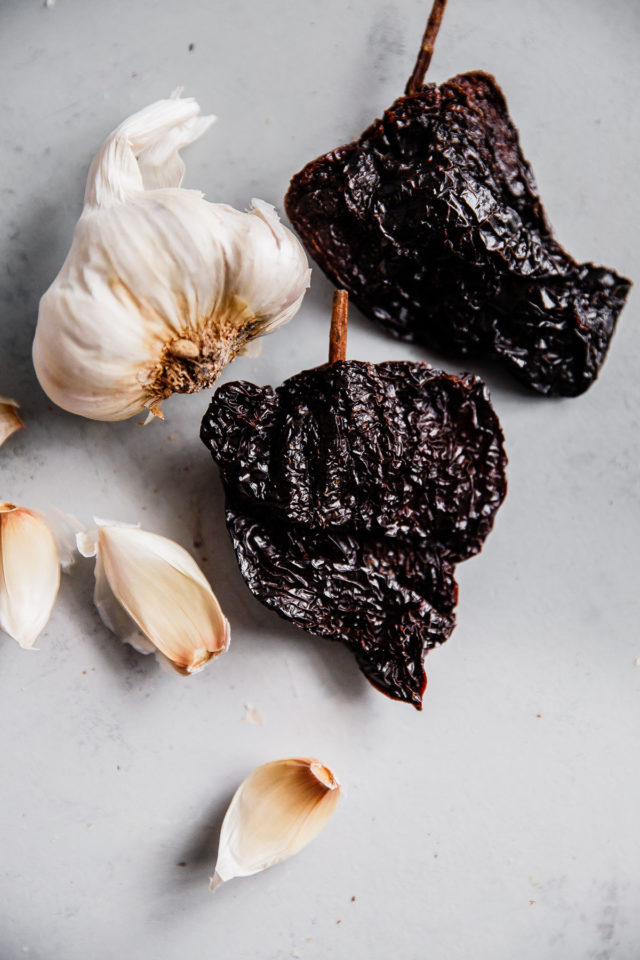 Why You'll Love This Tortilla Soup Recipe:
This soup's broth is bright and acidic with smoky undertones and a decent level of spiciness. It is good enough to drink on its own.
The soup base is made from toasted dried ancho chiles, fire roasted tomatoes, and sautéed onion and garlic.
The mixture is combined in a high-powered blender until very smooth and then reduced over high heat until it has thickened and concentrated in flavor. I use a similar method in this Vegetarian Chili Recipe.


At this point, you simply add chicken broth and allow the flavored broth to simmer for an additional 20 minutes before adding the chicken.
To make the soup a bit heartier, I stray from tradition and add chopped collard greens (or kale) as well.
The greens add a nutritional boost without detracting from the flavor and give each spoonful a bit more heft. If you'd prefer to leave them out, feel free to do so!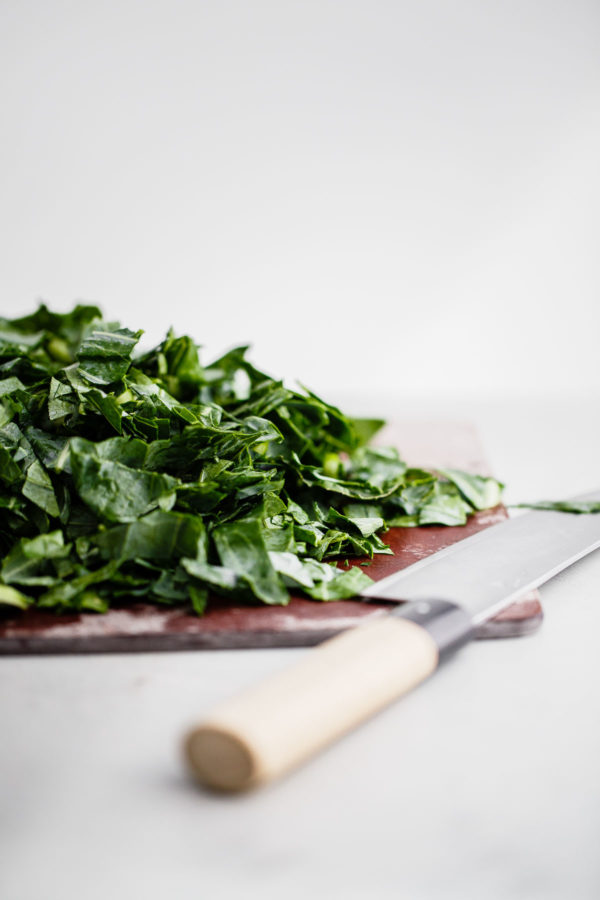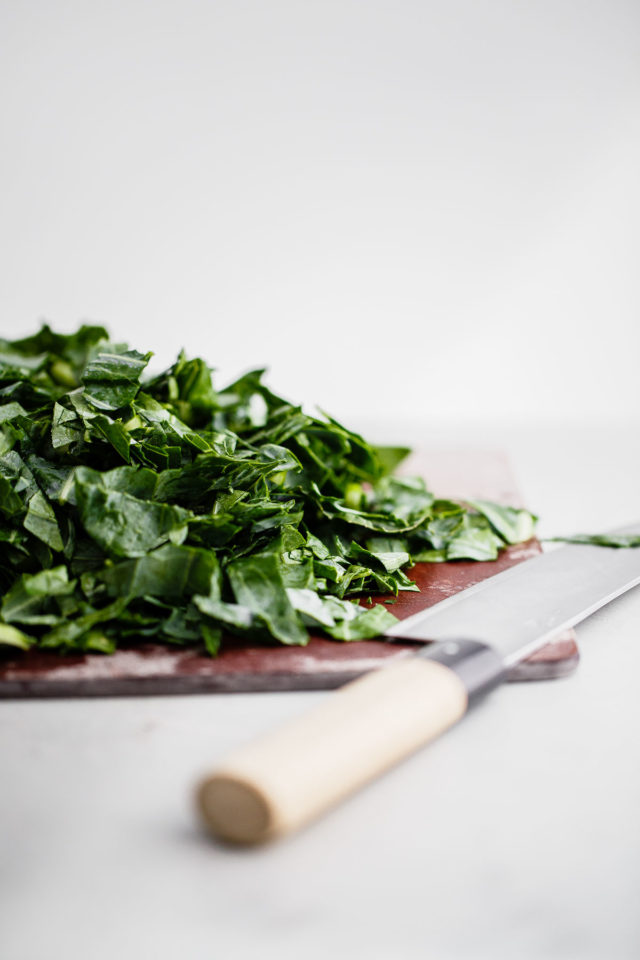 Mexican Tortilla Soup Toppings:
Then, of course, comes the best part.  The toppings! This is what brings Mexican tortilla soup together and takes this soup over the top. Each one contributes texture, flavor, and balance.
crushed tortilla chips
grated extra sharp cheddar cheese
diced avocado
cilantro leaves
freshly squeezed lime juice
If you're serving this soup to a crowd, you can set out individual bowls of toppings and have everyone help themselves.
Alternatively, you can add the toppings to each empty soup bowl and ladle the hot soup over them just before serving. It's up to you!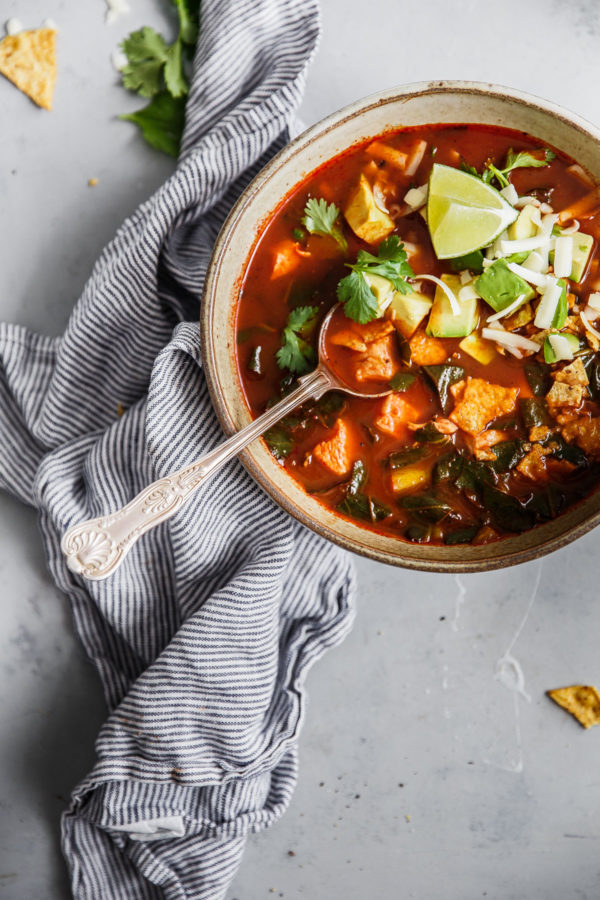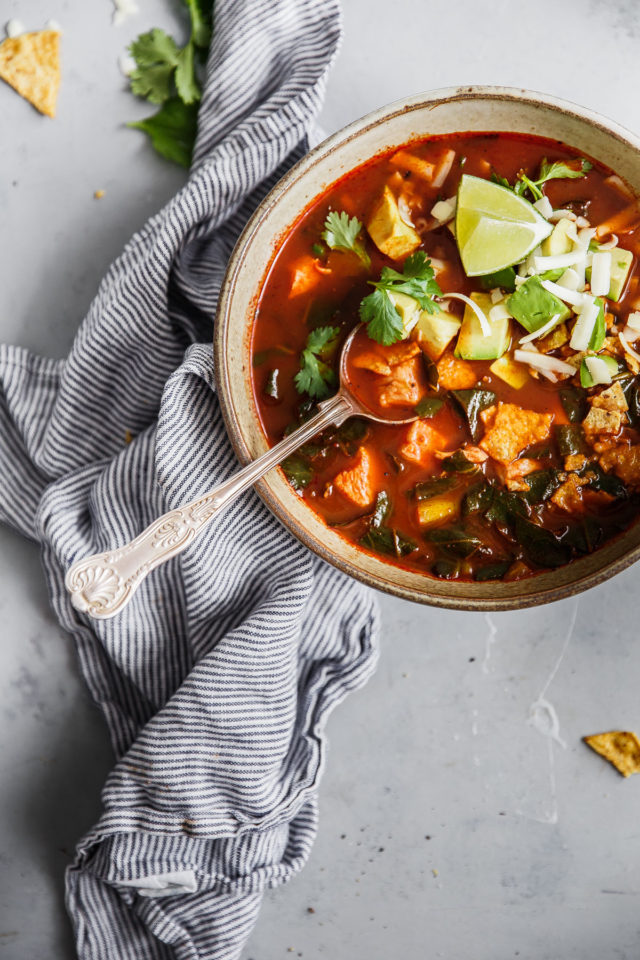 How to Freeze Mexican Tortilla Soup:
Like most soups, this tortilla soup freezes well. If you wish to prep or freeze this soup for later, I recommend the following method:
prepare the soup base through step 5 in the recipe; allow the broth mixture to cool completely and transfer to heatproof containers (leave a one-inch gap between the soup and the lid to account for expansion as it freezes); freeze for up to 2 to 3 months
allow the soup to thaw completely in the refrigerator; transfer to a large soup pot and reheat over low heat, stirring occasionally.
continue steps 6 through 7 of the recipe; season with salt and pepper, and more lime juice as needed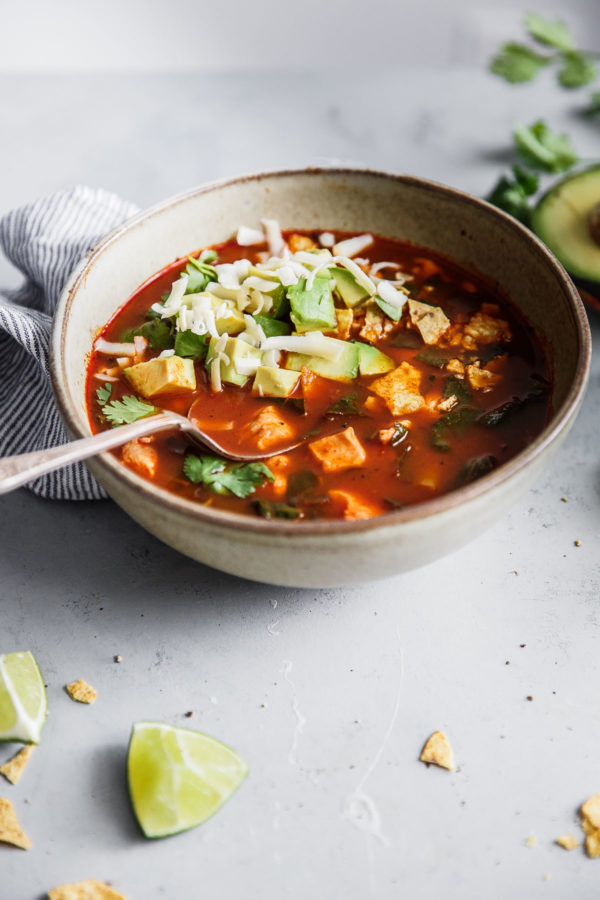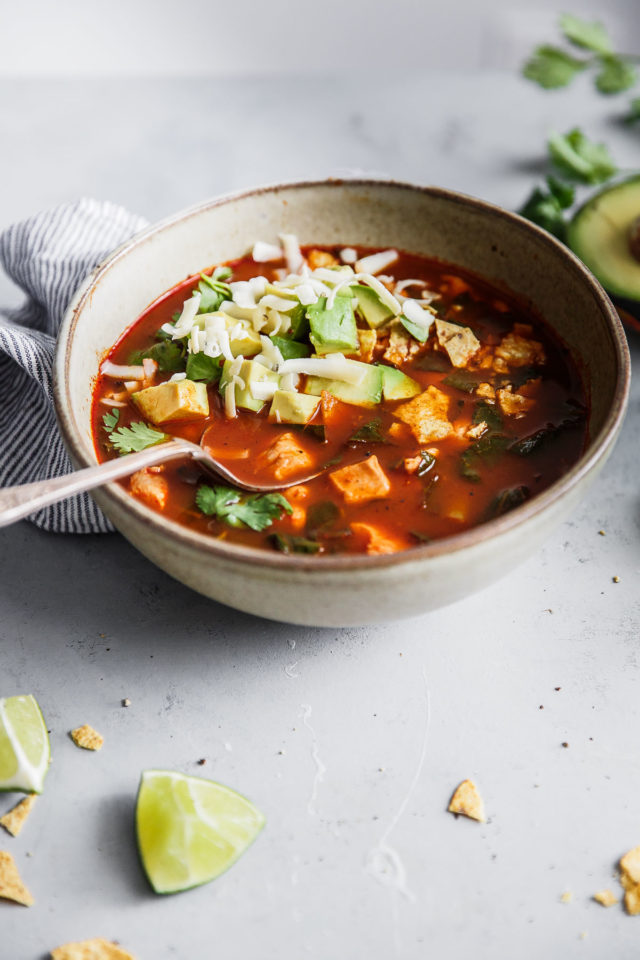 Note: I prefer slightly thicker tortilla chips for this soup, as opposed to very thin tortilla chips. Thicker chips hold up better in the hot soup, and provide it with better texture.