This healthy vegetarian chili has a smoky, spicy tomato base made from fire-roasted tomatoes, toasted ancho chili peppers (my secret ingredient!), and vegetable broth.  Canned black beans, kidney beans, white beans, vegetables, and kale make it extra hearty and nutritious.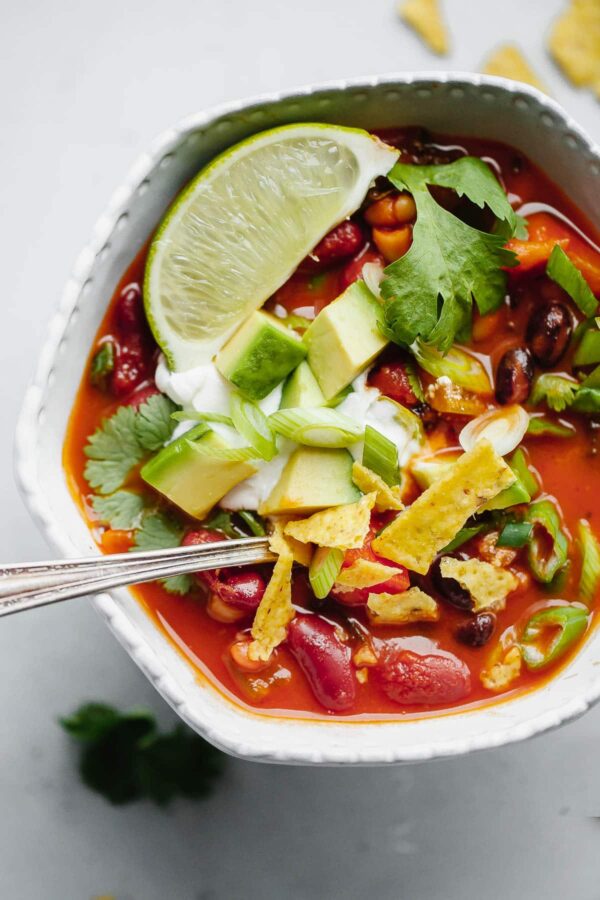 This recipe post is sponsored by Imagine®. 
While I've never been one to turn down a bowl of traditional meat chili, I've been on the hunt for a great vegetarian chili that offers just as much heft, flavor, and sticking power. This chili recipe ticks all of the boxes – vegetarian, vegan, gluten free, dairy free – and then some.
Today's bean chili is loaded with vegetables, aromatics, and canned beans for maximum ease. While I enjoy using a combination of black beans, kidney beans, and Northern white beans in this soup to provide a variety of texture, this chili can be adapted with whatever you have in your pantry.
In developing this recipe, I sought flavor inspiration from my classic Mexican tortilla soup, which we make at least once a month. Similarly, this vegetarian chili starts with a pureed, concentrated tomato base made from sautéed onion and garlic, canned fire-roasted tomatoes, and dried ancho chile peppers.
This method requires an extra cooking step, but gives the soup incredible depth of flavor and a unique twist from other vegetarian chili recipes.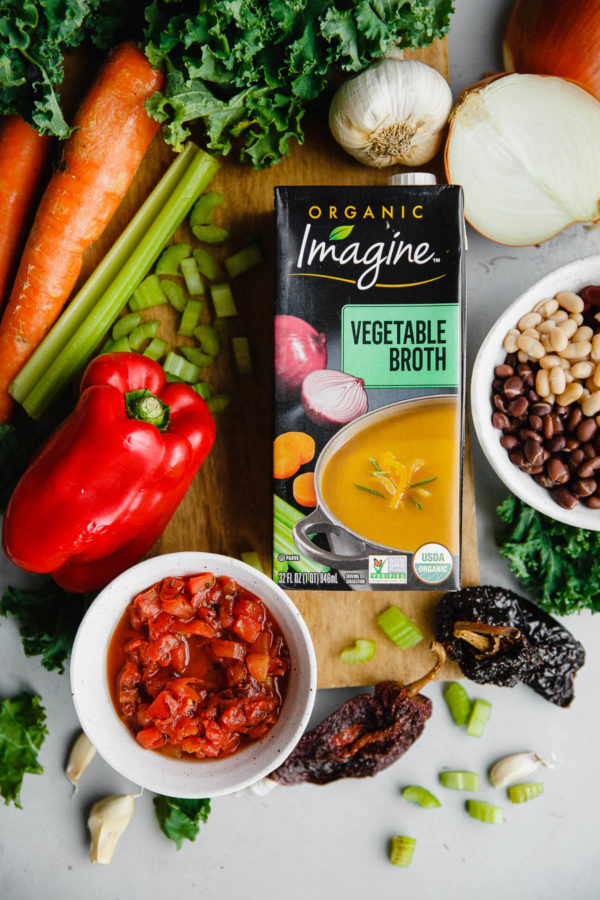 Keys to Flavor: Dried Ancho Chile Peppers
Ancho chiles are dried poblano peppers. The dried peppers are toasted over a gas stovetop (or, alternatively, in a dry skillet) to increase their flavor. The chiles gives the chili a medium heat level and smokiness that ground spices can't match.
In fact, this soup doesn't use any other spices, so please don't leave the chiles out or be tempted to substitute them with other dried chiles. If you've never cooked with dried chiles, I urge you to give them a try!
They are a total game changer.


To keep this chili versatile and crowd-friendly – particularly for those with dietary restrictions – I like to reach for a high-quality vegetable broth, such as Imagine® Organic Vegetable Broth.
Similarly to their other broths, Imagine® Organic Vegetable Broth is gluten free, non-GMO, and made with certified organic vegetables (celery, onions, tomato paste, carrots, and spices). I'm not easily impressed by store-bought vegetable broths, but this one is great!
The broth is balanced in flavor and complements the other ingredients in this vegetarian chili perfectly! It allows the other vegetables to shine through in each spoonful.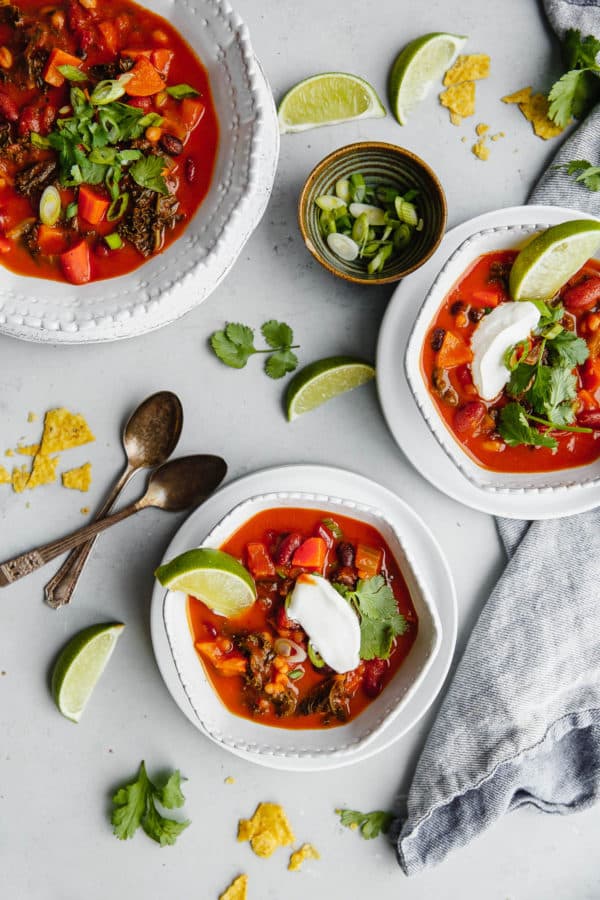 Tips for Recipe Success:
Dried Ancho Chile Peppers are dried poblano peppers. They can be purchased online (affiliate) or found in the specialty aisle of most grocery stores. Occasionally they're found in the produce section alongside other dried chiles. They also go by the name of 'chile ancho' and are a staple in Mexican/Spanish cooking. To reduce the heat level, I discard and scrape out the seeds after toasting them!
Add Hearty Greens: I'm a huge proponent of adding a hearty green, such as chopped kale, to homemade soups. I love the added texture and nutrition that it provides, even if it's not traditional.
Prep and Make It Ahead: All soups, particularly chilis, taste better with time. Use this knowledge to your advantage. Prepare this hearty chili on a weekend, transfer to a container, and reheat for an easy meal throughout the week. You can also freeze this chili for a rainy day.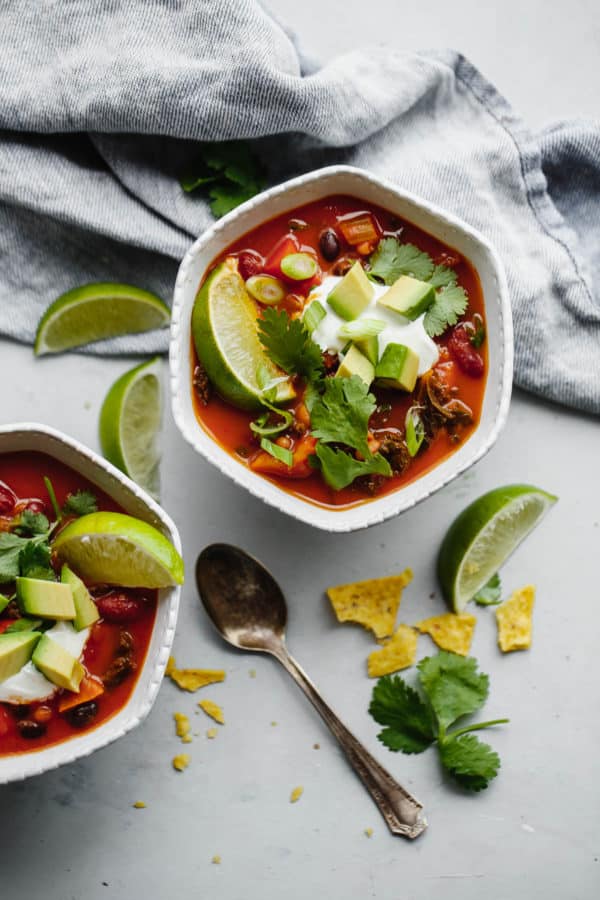 How to Serve This Vegetarian Chili:
While this chili recipe can stand on its own, I'm all about those chili toppings! Here are my favorite things to put on top of this vegetarian chili:
avocado, scallions, fresh cilantro, grated sharp cheddar cheese and sour cream, tortilla chips, and a fresh lime juice!
This soup recipe is great for meat-eaters and vegetarians alike, and anyone searching for a nutritious, yet hearty and flavorful vegetarian chili for all occasions!  
This post is sponsored by Imagine®. For more information on their products and where to find them, please visit their website or use their store locator. Thanks for supporting the brands I love and use in my own kitchen!