Spiced Coffee Cake with Pumpkin Butter Swirl
This decadent spiced coffee cake with pumpkin butter swirl is the perfect treat for fall entertaining. You won't be able to stop at just one slice!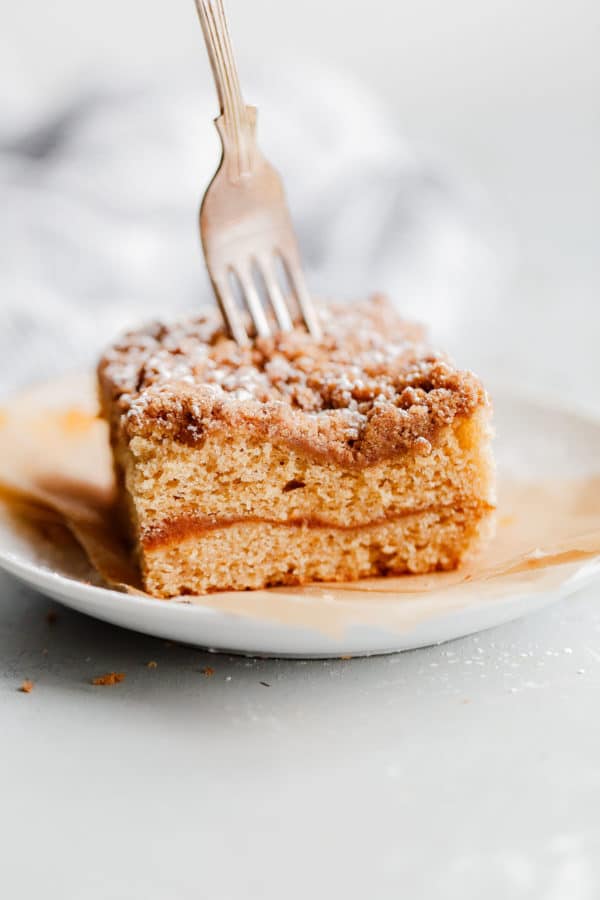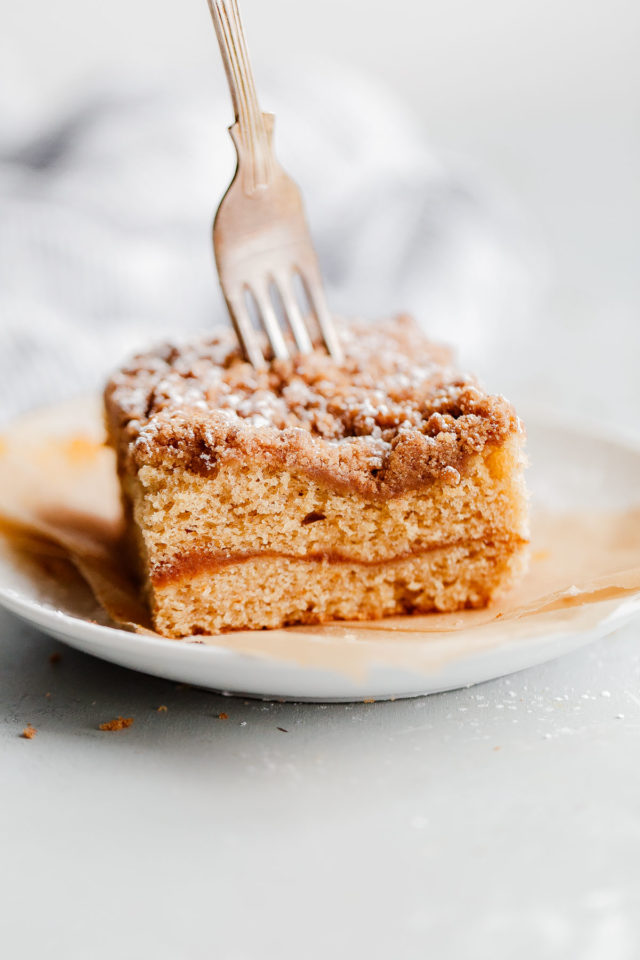 This post is sponsored by Harry & David.
We're kicking off fall with my first pumpkin recipe of the season! The weather is crisp, the leaves are turning, and pumpkin cravings are in full force.
This spiced coffee cake recipe, made in partnership with Harry & David, is one of my favorites to date and I've shared quite a few pumpkin recipes over the years.


This recipe has all of the qualities one looks for in a classic coffee cake. A decadent, dense, and thick streusel topping and moist, buttery cake-like crumb. And it doesn't stop there.
For an elevated fall twist, we've upped the spice factor and added an incredible pumpkin butter layer within the cake itself.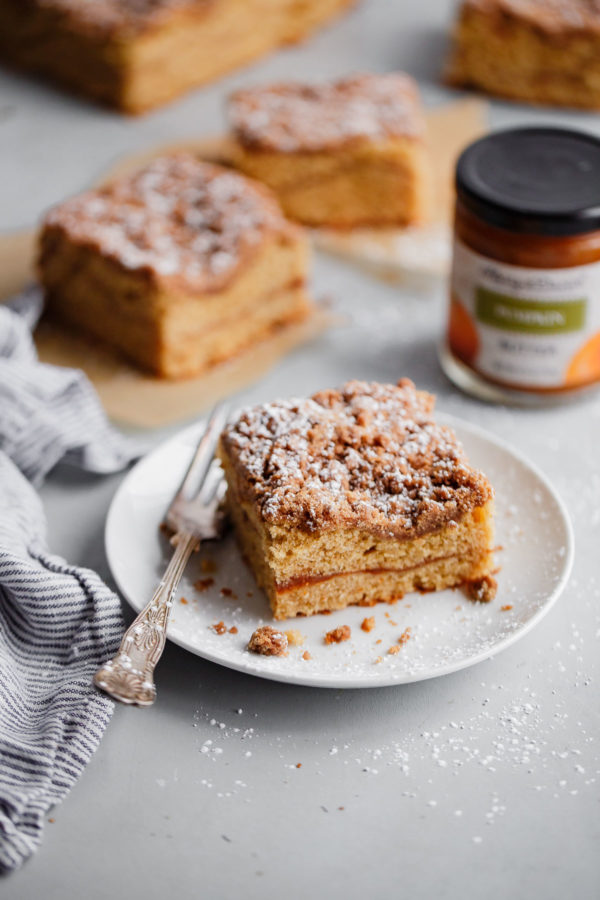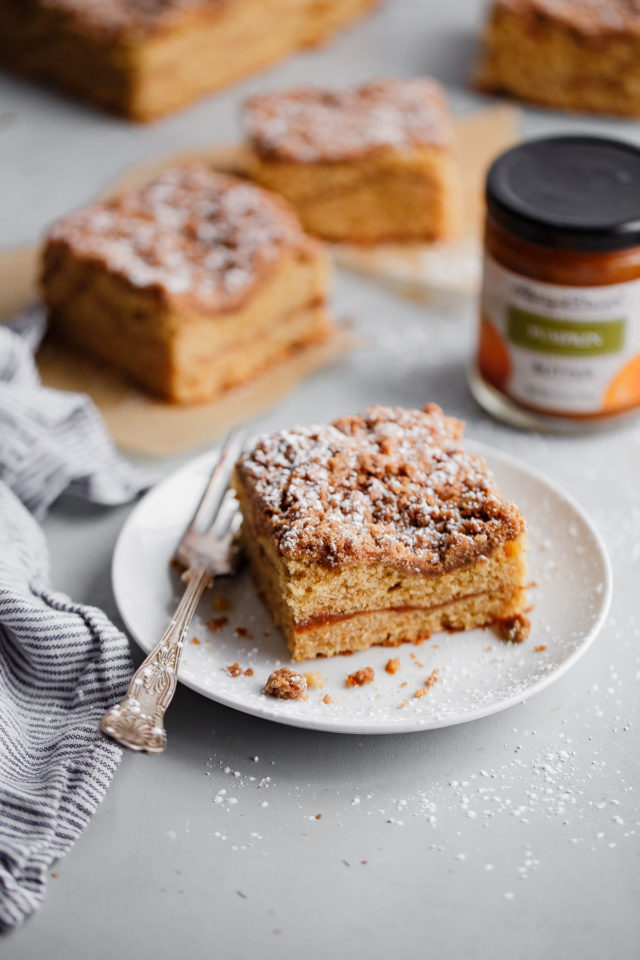 This isn't my first time stuffing baked goods with pumpkin butter and it certainly won't be my last. Years ago, we made these pumpkin butter pecan scones. We've also made pumpkin butter rolls!
Today's recipe features Harry & David's Pumpkin Butter, which is made from pure pumpkin, sugar, lemon juice, spices, and salt – that's it!
It has a smooth, buttery, and jam-like texture with a terrific balance of pure pumpkin flavor and sweetness. The warming spices are present, but not at all overpowering. It's one of the best pumpkin butters that I've had to date.
Honestly, you could eat the stuff straight from the jar with a spoon, but I love the nuance and wow factor that it gives to baked goods. The pumpkin butter layer also provides the cake with more moisture which allows it to hold up even better with time.


HOW TO MAKE COFFEE CAKE:
Despite what the name suggests, traditional coffee cake does not contain any coffee. By definition, a coffee cake is traditionally a one-layer cake with a streusel or crumb topping. It is usually enjoyed with coffee at breakfast or brunch, and that is exactly how I suggest serving today's spiced coffee cake.
This coffee cake is the real deal. Aka. you'll need a lot of butter. It provides the cake with fantastic flavor and helps produce a very tender, buttery crumb.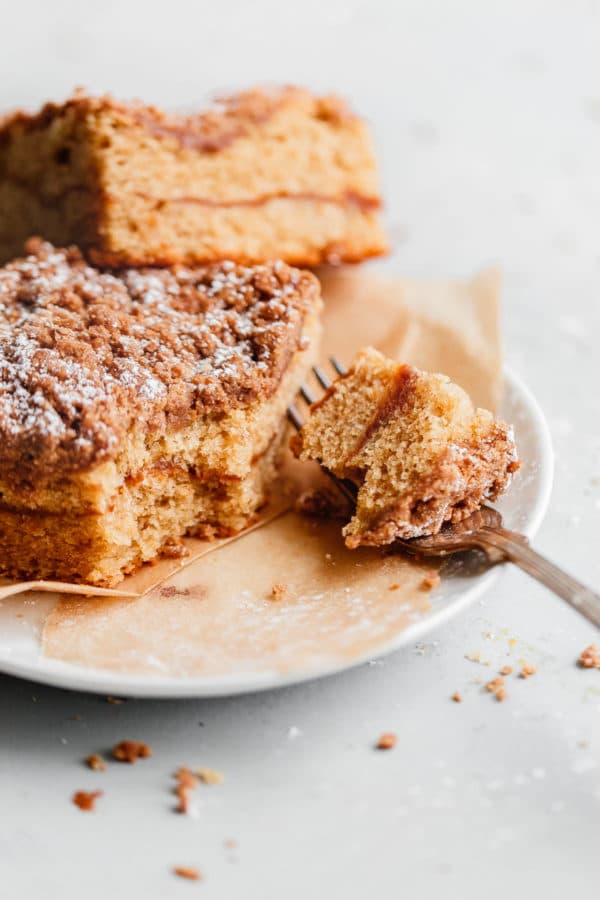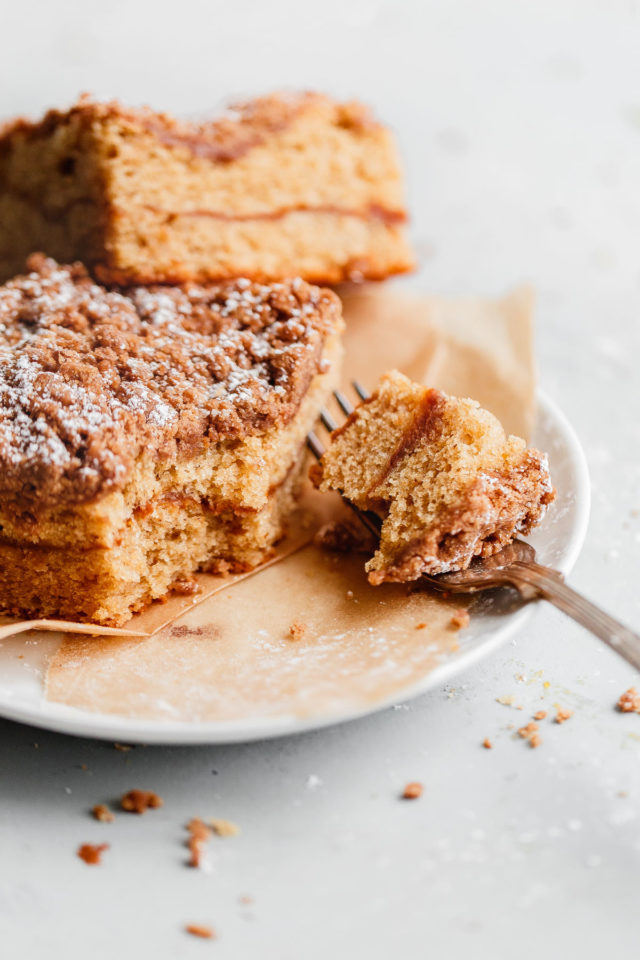 To lighten it up a bit, this recipe uses whole fat plain Greek yogurt (for added moisture in lieu of sour cream) and whole wheat pastry flour (its lower protein count ensures an extra tender whole grain cake). 
Instead of infusing the cake batter with pumpkin puree, we're upping the cake's flavor with a delicate mixture of warm fall spices, including ground cinnamon, ginger, and cloves.
The spices complement the pumpkin butter layer, but still allow it to shine and stand out in each bite.
This also makes this cake easily adaptable for all occasions and seasons (simply adjust the spices or omit/swap out the pumpkin butter with another seasonal jam or filling).


How to Make the Crumb Topping:
Traditional coffee cake can be topped with a variety of streusels. Some coffee cakes are topped with a sandier sugary topping and others are topped with a more classic, dense, thick crumb topping. This recipe uses the latter. It is my most favorite.
To make the streusel, we'll use a mixture of flour, dark brown sugar, spices, salt (for balance), and unsalted cold butter. Cut the butter into the dry ingredients until the dry ingredients have been absorbed, and it starts to clump together and form large and small crumbs.
Some crumb toppings call for melted butter. In my experience, streusels prepared with cold butter (cut into the dry ingredients) produce much better flavored and textured crumbs.
If you love a classic, thick, coffee cake crumb topping, you'll go crazy for this one!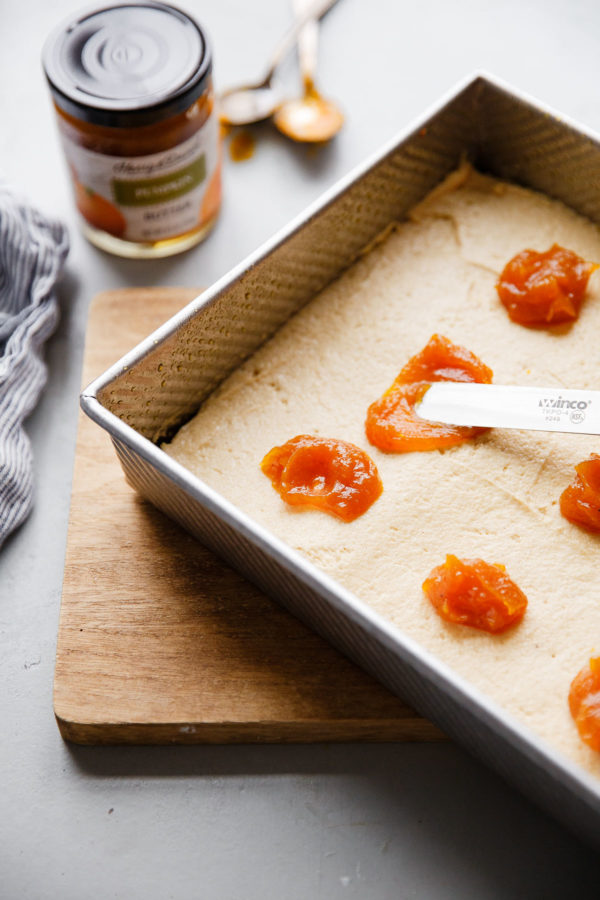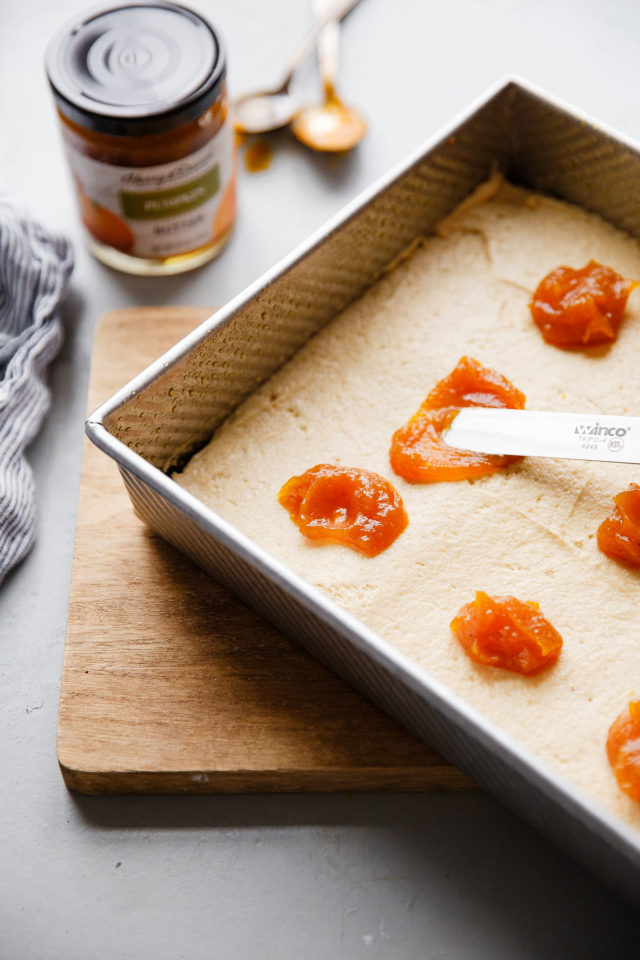 How to Add the Pumpkin Butter Layer:
To create the delicious pumpkin butter layer, we'll be dividing up the coffee cake batter. The first step will require you to spread 2/3 of the cake batter into a 9-inch x 13-inch baking pan.
Add the Harry & David pumpkin butter in spoonfuls across the cake batter and use an offset spatula to spread it into an even thin layer.
Note: I tested this cake recipe using various methods and do not recommend swirling the pumpkin butter into the cake – as the batter itself is shallow and the pumpkin butter layer won't stand out as well in the cake slices.


Once the pumpkin butter is spread evenly, gently dollop the remaining cake batter over the pumpkin butter layer and smooth it out. Sprinkle with the crumb topping and bake. That's it!
Please note that these cake batter layers will be thin. In fact, you might not think it's enough batter. Don't worry. This cake rises significantly (almost twice as high) as it bakes.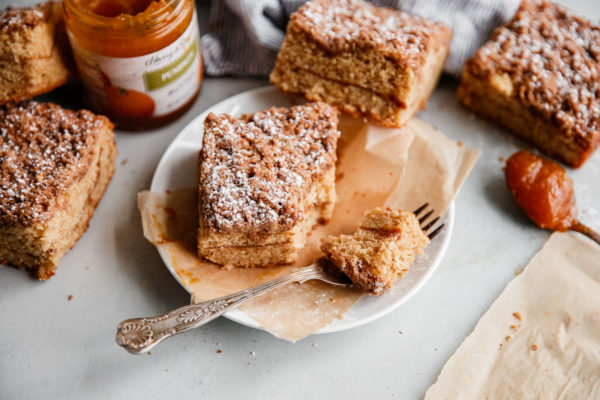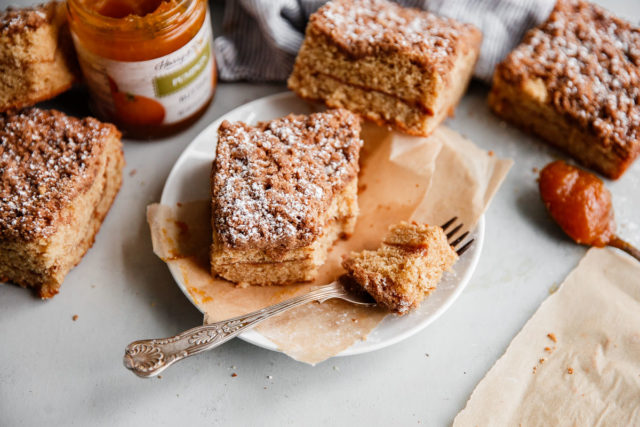 How to Serve this Spiced Coffee Cake:
This cake makes enough for a crowd, so it is the perfect holiday recipe for entertaining. It's fantastic for gifting to friends and family (perhaps along with a jar of pumpkin butter!) and would make an easy post-thanksgiving day casual breakfast enjoyed alongside hot coffee.
It tastes fantastic slightly warm out of the oven, but can also be baked ahead of time as it holds up very well a day or two after baking.
This cake also freezes really well. Simply wrap leftovers (or an entire baked cake) tightly in plastic wrap, cover in foil, and allow to defrost at room temperature before serving.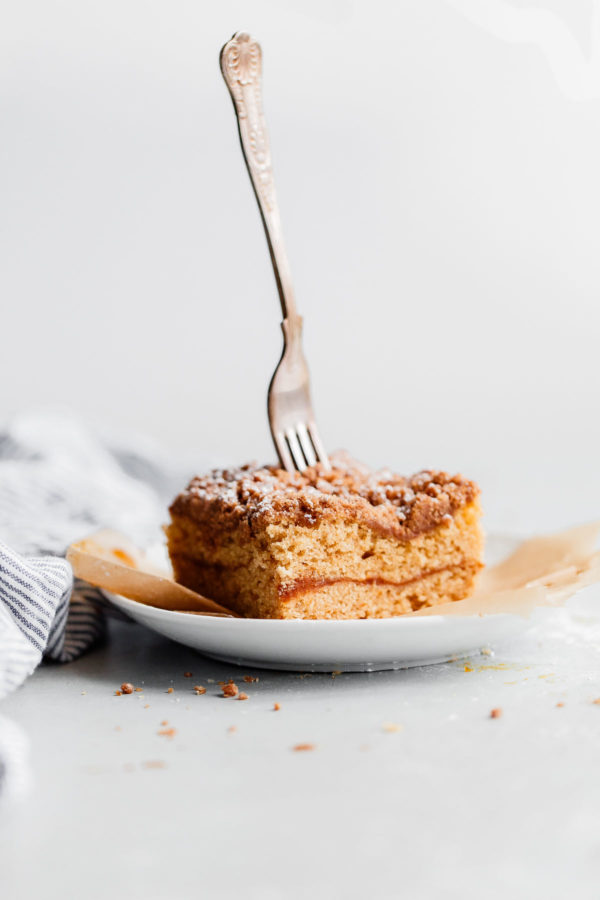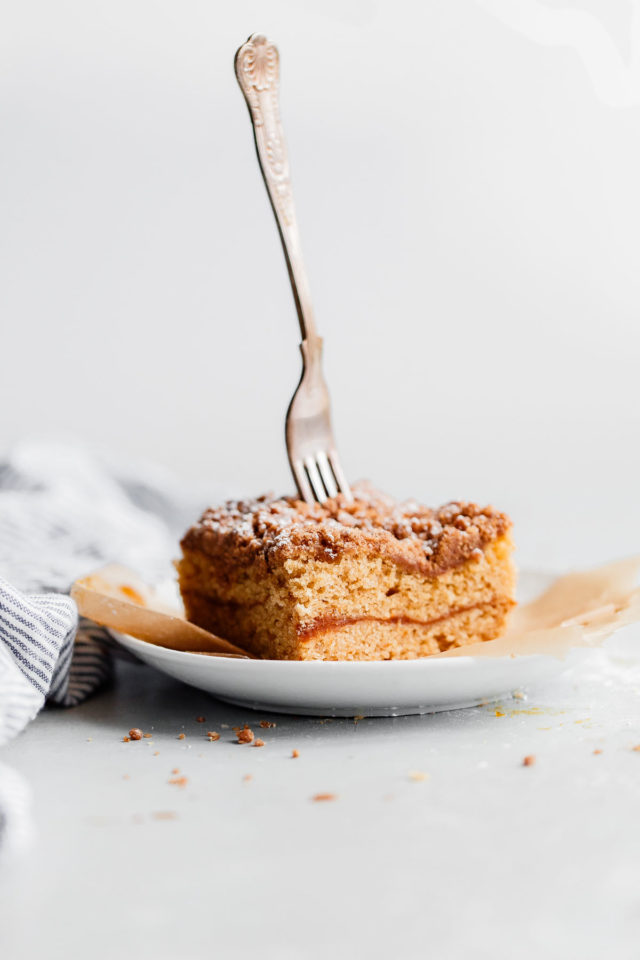 Hope you love this recipe as much as I do!
This post is sponsored by Harry & David. Thank you for supporting brands I love and use in my kitchen. Check out more delicious healthy recipes and products at HarryandDavid.com!