Classic Moules Frites
This post contains affiliate links.
Coffee and donuts. Peanut butter and jelly. Butter and toast. Spaghetti and meatballs. Just a handful of the wonderful food pairings that exist out there. Though these are all wonderful in their own way, one of my personal favorites is another classic: mussels and fries.
I think we can all agree that eating these two foods together always results in one eating far too many fries (wait, is that even possible?). And that, while the seafood plays a critical role, the broth generally remains the star of the show. The accompanying side of deliciously salty French fries is the icing on the cake. Or some crusty, good bread. Both? Sure, why not. The more vehicles to soak up the sauce, the better.
Since I'm clearly not the person that came up with this wonderful pairing (we can thank the Belgians for that), I don't think I need to sell most of you on this. However, you might still need some convincing to make this all in the comfort of your own kitchen. That's where I come in—or at least, I will try my best.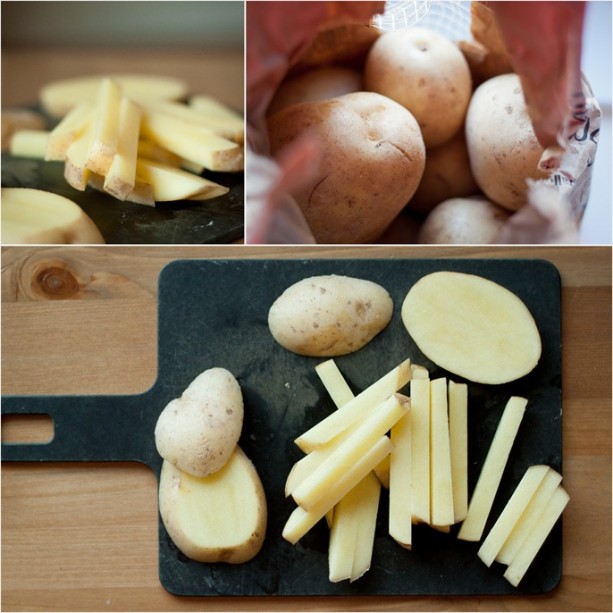 Mussels are probably one of the easiest things to prepare for dinner. In fact, I'm kind of ashamed that I haven't taken advantage of this fact more often in life—especially when the task of coming up with new, fast, and delicious dinner ideas is something I can probably say with confidence is a challenge for all of us.
Mussels take only minutes to cook, are generally very affordable, can be prepared with the simplest of ingredients, and tell us exactly when they are ready. It doesn't get much better than that. No, I don't think its the simplicity of cooking mussels that intimidates people. It's the preparation. Cleaning, storing, soaking (or not soaking), and de-bearding—or worse, the fear of eating a bad mussel. Those are the culprits.
Unfortunately, most mussel recipes don't exactly make the problem any easier by either briefly going over the process or just including "mussels, cleaned and de-bearded" in the ingredient list, as if these tasks magically just happen or with the assumption that you, the reader, are one of the lucky few whose grocery store even offers this option. As someone who has always been annoyed by this (and in the past, intimidated by cooking shellfish, for this exact reason), here are a few tips: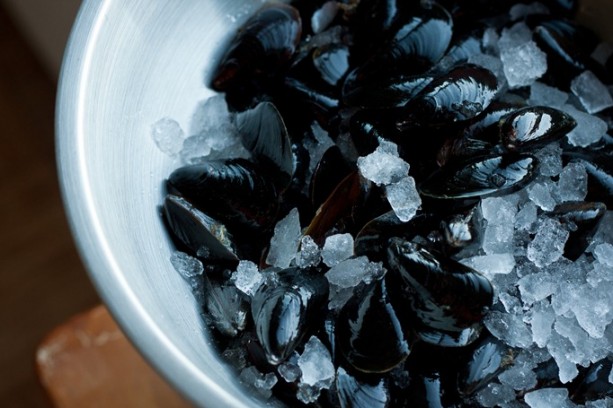 Tips for Buying Mussels:
– Buy the shellfish the day you plan on making the dish.
– Generally, most grocery stores will sell mussels in mesh bags by weight or offer them loose. Most of the time, the pre-packaged bags will be a cheaper price per pound. However, bags also make it more likely that you will encounter several mussels with cracked or open shelves—which inevitably will have to be thrown out. If I do buy the bags, I usually account for this by purchasing an additional 1/2 pound more than I really need.
– If mussels are offered loose, you will be expected to pick them out yourself. Choose mussels which are tightly closed, feel heavy for their size, and do not have any visible cracks or broken shells.
– If you are planning on preparing the mussels for a main course, purchase roughly a pound per serving.
– Once you get home, remove them from the plastic bag that you bought them in, or mesh bag, rinse each mussel briefly under running cold water, dry on a towel, place in a shallow bowl and store in the refrigerator. Drying them ensures that no mussels will sit in stagnant water—which will cause them to die. Another option is to store them over ice–however, ensure that there is proper drainage for any ice that melts.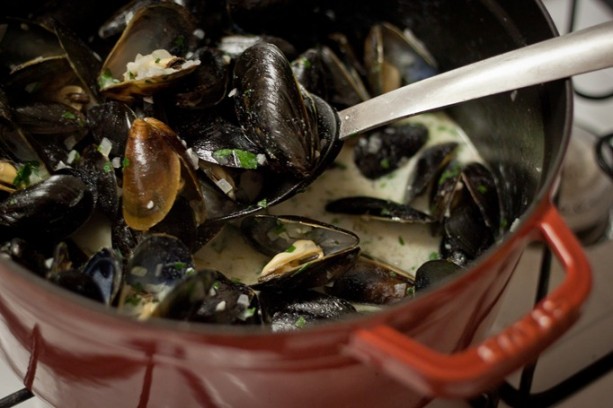 Cleaning & Prepping Mussels
– Sometimes mussels will tend to open slightly once stored in the fridge. If you are unsure whether or not a mussel that is open is actually dead, tap the shell several times with your forefinger. If alive, the shell should begin to close slowly. If it doesn't, discard it in the trash.
– There are a lot of opinions out there about whether or not you should soak mussels in cold water to remove extra grit and sand—some say it's not necessary (since most mussels sold are farm-raised) and others always do it, regardless of whether or not the mussels are wild vs. farm-raised. Personally, I soak mussels in cold water (in a large stainless steel bowl) for about 10 minutes and then carefully scoop the mussels out with my hands to put in another bowl. I'm almost always left with cloudy, gritty water, so it seems to help!
– Scrub and rinse each individual mussel under cold tap water to remove any excess grit and dirt. These steps can be done ahead or time.
– About 10-15 minutes before I plan on cooking the mussels, I de-beard them. De-bearding too early weakens the mussels and might prematurely kill them (since it is attached to the body of the mussel), so I leave this step to the very end. The beards are the stringy, brown parts attached near the hinge—and what allows them to anchor themselves to rocks and other things. To remove these, grasp the strings between your thumb and forefinger and yank towards the hinge (pulling in the opposite direction will kill them) to remove. You can also use pliers or fish tweezers, if they're being particularly stubborn. If one or two can't be removed, it's not the end of the world—I just wouldn't recommend eating them!

Now that we've cleared that up, let's get to the recipe, shall we? This is a very classic preparation of mussels–cooked in white wine, shallots, garlic, and butter. Some heavy cream is added for just the slightest bit of richness. Parsley is added at the end for color and freshness!
I served these with delicious, oven-baked fries—just as good and significantly easy to prepare than their fried counterparts—which I discovered courtesy of my new Smitten Kitchen Cookbook. Or you can make this dinner even more simple by serving the mussels with a store-bought baguette or loaf of bread. Your choice! Just make sure you have something to soak up all the broth…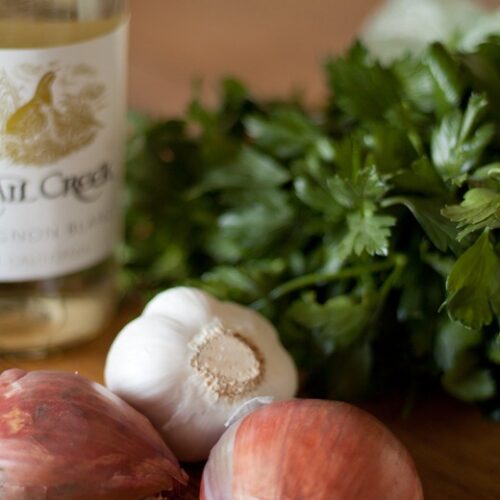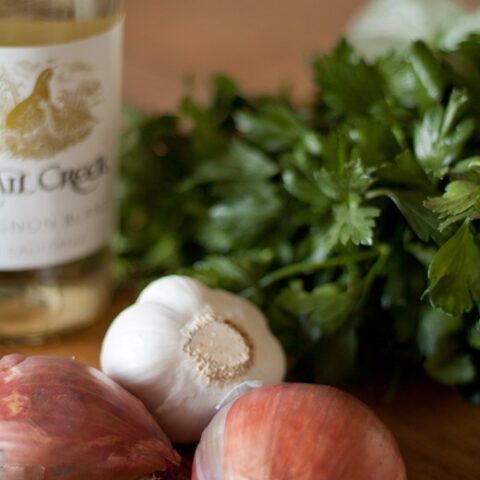 Classic Moules Frites
Yield: 2 Servings
Prep Time: 25 minutes
Cook Time: 35 minutes
Total Time: 1 hour
Ingredients
Oven-Baked Fries:
1.5 – 2 lbs. Yukon Gold potatoes, cut into 1/2" batons (skin-on)
3 tablespoons extra virgin olive oil
sea salt
freshly ground pepper
1/4 cup flat-leaf parsley, finely chopped
Mussels:
2 tablespoons unsalted butter
1 tablespoon extra virgin olive oil
2 large shallots (5.5 ounces), finely minced
6 garlic cloves (2 tablespoons), finely minced
2 cups dry white wine
1/3 cup heavy cream
2 lbs. cleaned and de-bearded mussels (see above)
1/2 cup flat-leaf parsley, finely chopped
Instructions
Prepare Oven Baked Fries: Preheat oven to 450 degrees Fahrenheit.
Clean potatoes. Cut into 1/2" batons (leaving skin on). Soak in cold water to remove excess starch.
Remove from water, place in large stock pot and cover with cold water (about 1-2" above potatoes) and put over high heat until water begins to simmer.
Cook potatoes almost entirely through or until they can be pierced with a knife (you want some resistance)—be careful not to over cook or they will begin to fall apart. Carefully drain in colander. Place potatoes on kitchen towel or paper towels to dry thoroughly.
Brush a half-sheet baking pan with olive oil. Add potatoes and add remaining amount of olive oil and toss with bare hands until potatoes are evenly coated with oil. Spread out on baking sheet and season with salt and pepper.
Bake for 25-35 minutes or until fries are crispy and light brown. Toss halfway through the cooking time to ensure that all the fries cook and brown evenly.
Remove from oven, season broth with more salt and pepper (to taste), and toss with fresh parsley. Serve immediately.
Prepare Mussels: Heat butter and olive oil in large Dutch oven or wide-bottomed pot over medium low heat.
Add minced shallots and garlic and, stirring frequently, cook until translucent and soft.
Add white wine and bring to boil. Add cream and gently add mussels to pot and cover with lid. Cook for roughly 5-7 minutes, stirring occasionally, or until mussels have opened (discard any that do not open during cooking process). Using spoon, stir in finely chopped parsley and season as necessary.
Serve immediately with broth.
Notes
Oven-Baked Fries recipe adapted—just barely–from The Smitten Kitchen Cookbook.
Nutrition Information:
Yield: 2
Serving Size: 1
Amount Per Serving:
Calories: 1067
Total Fat: 37g
Saturated Fat: 12g
Trans Fat: 0g
Unsaturated Fat: 21g
Cholesterol: 164mg
Sodium: 1038mg
Carbohydrates: 98g
Fiber: 9g
Sugar: 8g
Protein: 64g
A Beautiful Plate provides nutritional information, but these figures should be considered estimates, as they are not calculated by a registered dietician.
This post contains some affiliate links, which means that I make a small commission off items you purchase at no additional cost to you. Please read my
disclosure policy
for more information.