Double Dark Chocolate Tart
This decadent double dark chocolate tart is made with a chocolate pâte sucrée dough and filled with a smooth, custard-like filling.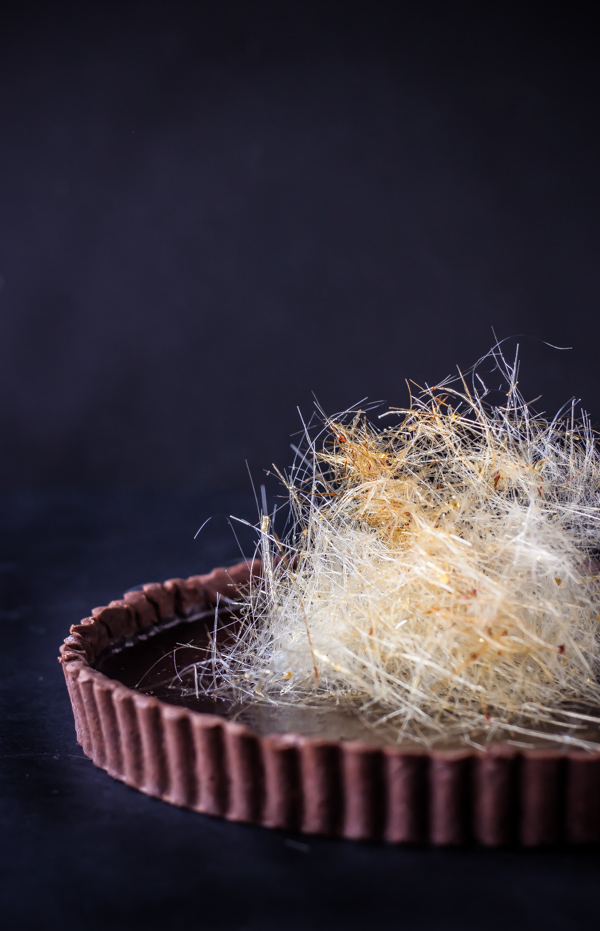 This double dark chocolate tart is prepared with a chocolate pâte sucrée dough (chocolate sweet tart dough).
Pate sucrée is similar to cookie dough in texture. Chocolate pâte sucrée is made with butter, powdered sugar, egg, cocoa powder, and all-purpose flour. To avoid a soggy bottom and ensure that the chocolate crust cooks through completely, the tart crust is blind-baked for 15 to 20 minutes prior to adding the simple chocolate filling.
This chocolate tart is baked at a very low temperature (250°F/120°C) until the filling is just beginning to set. This results in a smooth, almost pudding-like chocolate texture. This dessert is irresistible, elegant, and perfect for any serious chocolate lover in your life!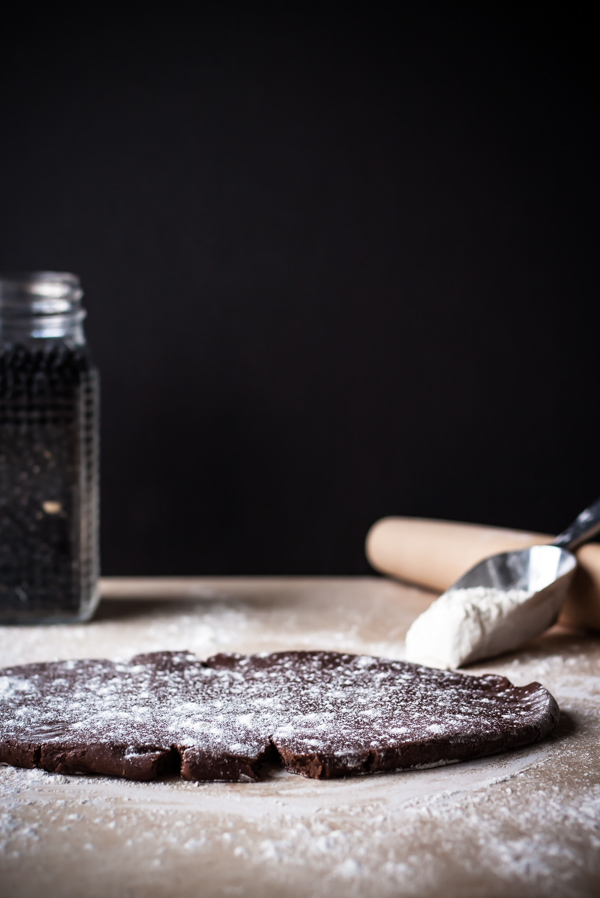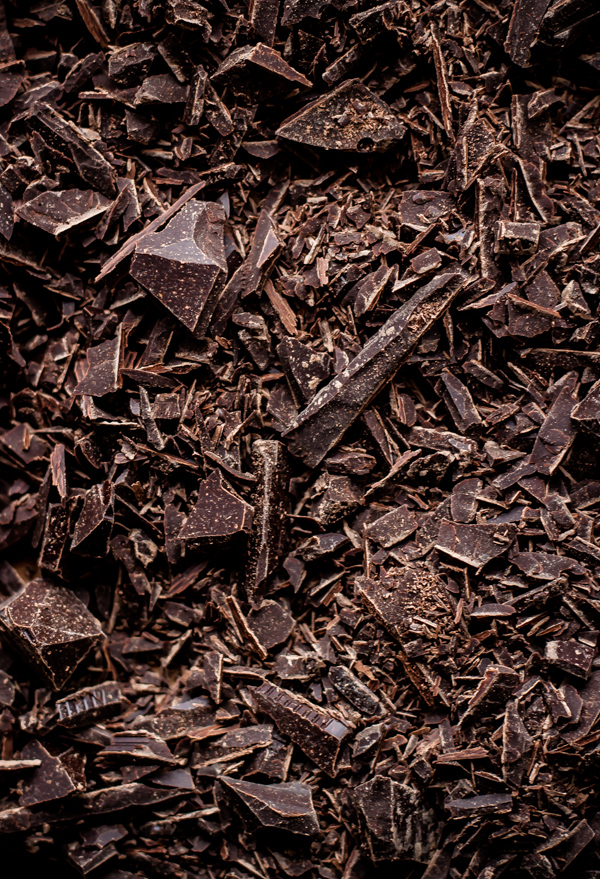 I went the extra mile and topped this tart with spun sugar. After my experience with spun sugar in culinary school, I would have sworn (on pretty much everything) that I would never, ever make spun sugar again in life. At least, not voluntarily. Nor in the confines of my small rental apartment kitchen.
But you deserve the best of the best. That is what this dark chocolate tart is to me.
There is caramelized sugar crusted onto my kitchen floor and I have two questionable burns on my left hand, but it was worth it.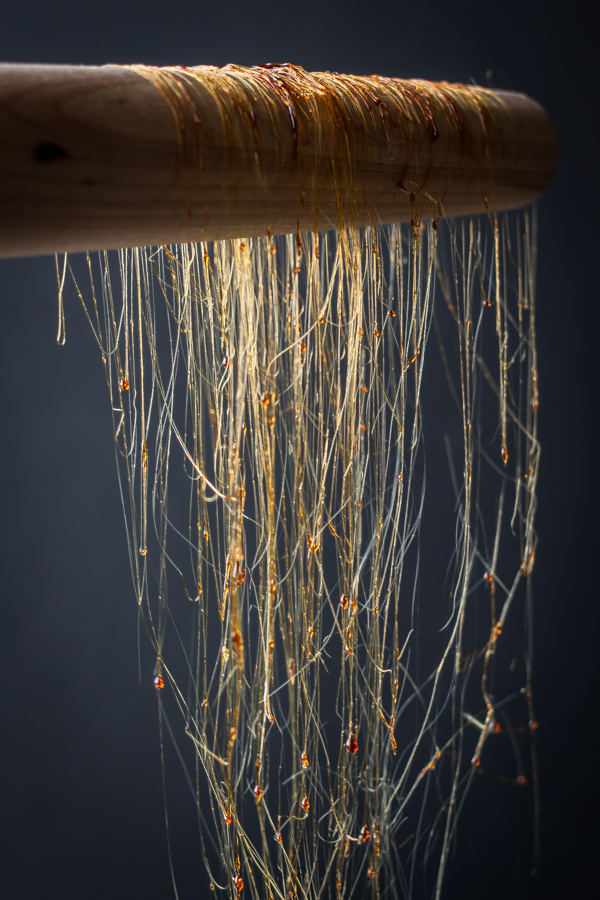 You will be thrilled to learn that the spun sugar is completely optional for this dessert. I actually excluded it from the recipe below for this exact reason, but if you're inclined, you can learn how to spin sugar in this guide. It is a decorative garnish only.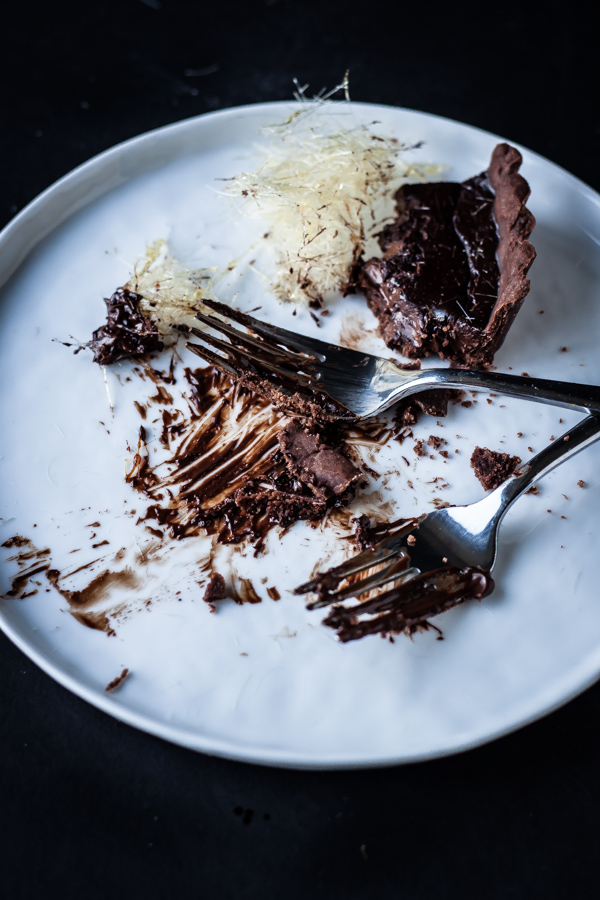 A wonderful and easy alternative for this tart would be to sprinkle it with Maldon (or another finishing salt, such as Fleur de Sel) just before serving.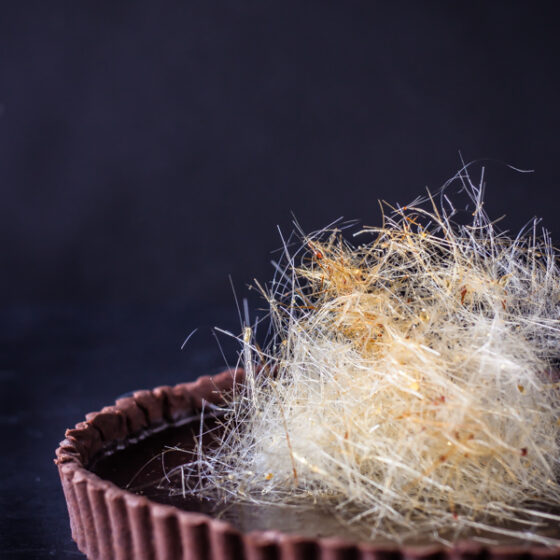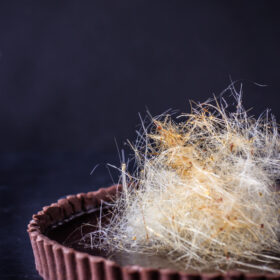 Double Dark Chocolate Tart
This decadent double dark chocolate tart is made with a chocolate pâte sucrée dough and filled with a smooth, custard-like chocolate filling.
Ingredients
Chocolate Pâte Sucrée Tart Dough:
6 oz (170g) unsalted butter softened
3½ oz (100g) powdered sugar
1 large egg
pinch kosher salt
1 oz (28g) unsweetened Dutch-processed cocoa powder sifted
8½ oz (240g) all-purpose flour
Dark Chocolate Filling:
½ cup (120 mL) heavy cream
½ cup (120 mL) whole milk
½ teaspoon instant espresso powder such as Medaglia d'Oro
7 oz (200g) high quality semi-sweet chocolate, roughly 65% cocoa content finely chopped
1 large egg
1 teaspoon pure vanilla extract
1 teaspoon (5g) butter melted
 Garnish:
Instructions
Prepare Chocolate Pâte Sucrée Tart Dough: Cream the butter in the bowl of a stand mixer fitted with a  paddle attachment, for 2 to 3 minutes. Add the powdered sugar and cream thoroughly.

Over low speed, add the egg and salt, and continue to mix until just combined, scraping down the bowl as needed with a spatula. Add the cocoa powder and mix until just combined.

Slowly add the flour until just absorbe. Remove dough and set on a well-floured surface. Push together with hands until all the ingredients are incorporated.  Flatten the dough into a disc and wrap tightly with plastic wrap. Chill in the refrigerator for 1½ to 2 hours.

Blind Bake Crust: Preheat the oven to 350°F (175°C) with a rack in the center position.  Lightly butter a 8-inch (20 cm) tart pan with a removable bottom.

Remove the chilled tart dough from the fridge and allow to rest for 5 minutes.  Using a lightly floured rolling pin and starting from the center of dough to the outside, roll the dough into a circle. It should be roughly ¼-inch thick. Throughout the process, pick up the dough carefully and move it continuously to ensure it does not stick to the countertop. Note: If the dough cracks, don't worry. Gently press back together with your hands and continue to roll.

Using the rolling pin, gently pick up the dough and lay over the greased tart pan, gently guiding it into the edges of the tart pan, pressing with your fingers. Make sure to press the dough tightly inside the corners and sides to shape the tart shell. If the dough rips slightly, press and seal together with your fingertips (it is relatively forgiving). Trim the overhanging edges of the dough with a sharp knife.

Line the tart dough with aluminum foil - shiny side facing up - allowing the foil to extend past the sides of the pan by one or two inches. Fill with dried beans or pie crust weights.

Cover the tart pan tightly with plastic wrap and allow to chill in the refrigerator for an additional 10 to 15 minutes, then bake for 15 minutes. Carefully remove the aluminum foil and baking beans and bake the crust, uncovered, for an additional 5 to 7 minutes, or until the tart dough is completely cooked through and looks relatively dry and matte. Place on a wire rack and allow to cool before adding the filling.

Prepare Chocolate Filling: Reduce the oven temperature to 250°F (120°C).

Place the finely chopped semisweet chocolate in a large heatproof bowl and set aside. Place the cream, milk, and espresso powder in a small saucepan, whisk together, and bring just to a boil over medium-high heat.

Immediately remove from heat and pour the hot cream mixture over the chopped chocolate. Allow to sit for 15 to 20 seconds, then whisk until smooth. Add and whisk in the egg, vanilla extract, and melted butter. The mixture should be shiny and smooth.

Pour the chocolate filling into blind-baked tart crust and bake for 20 to 25 minutes, or until small bubbles begin to develop around the edges of the tart. The filling will not be completely set.

Remove from the oven, place on a rack, and allow tart to set and cool completely before serving. If needed, the tart can be chilled slightly in the fridge.

Garnish with spun sugar or sprinkle with Maldon salt. Slice into wedges and serve at room temperature or slightly warm.
Tips for Success:
If you don't top this tart with spun sugar, I highly recommend finishing it with a sprinkle of Maldon or another flaky finishing salt. 
Serving: 1serving, Calories: 411kcal, Carbohydrates: 42g, Protein: 5g, Fat: 26g, Saturated Fat: 16g, Polyunsaturated Fat: 9g, Cholesterol: 89mg, Sodium: 44mg, Fiber: 2g, Sugar: 22g
This post contains affiliate links, which means that I make a small commission off items you purchase at no additional cost to you. Please read my
privacy policy
for more information.