Creamy Fettuccine with Wild Mushrooms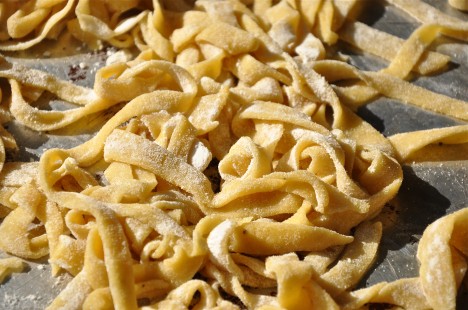 There is nothing better than fresh homemade pasta with mushrooms. Contrary to the recipe name, this easy creamy fettucine pasta with wild mushrooms contains no cream. Instead, we'll be using ricotta cheese as the base. Not only is it delicious, but it makes for a lighter creamy pasta dish.
If you're not a fan of mushrooms, you could substitute another sautéed vegetable and freshly chopped basil. It would also pair nicely with farfalle or any other wide-shaped pasta.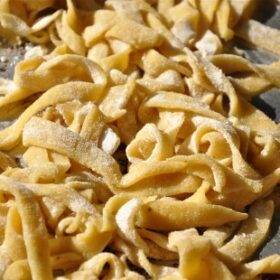 Creamy Fettuccine with Wild Mushrooms
Lightened up creamy fettucine with wild mushrooms. A simple sauce made from ricotta, butter, shallots, and parmigiano-reggiano cheese!
Ingredients
1½ ounce dried wild mushrooms
1 tablespoon unsalted butter
1 tablespoon extra virgin olive oil
2-3 shallots finely chopped
kosher salt
freshly ground black pepper
½ lb fresh or dried fettuccine
½-¾ cup whole fat ricotta cheese
¼ cup finely grated Parmigiano-Reggiano cheese plus more for serving
Instructions
Rehydrate wild mushrooms in ½ cup boiling water and allow to sit for 20 minutes. Strain and reserve the broth. Finely chop the mushrooms.

Heat the butter and olive oil in a large skill over medium-high heat. Add the shallots and cook until soft and lightly caramelized. Add the chopped hydrated mushrooms and cook over low heat, add 2 to 3 tablespoons of the reserved mushroom broth. Season to taste with salt and pepper. Keep warm.

In large mixing bowl, mix the ricotta and grated parmigiano-reggiano cheese. Season with salt and lots of freshly ground black pepper. Set aside.

Boil the pasta in salted water and drain, reserving at least 1 cup of the starchy cooking water.

Drain pasta and add to the ricotta mixture. Add the mushroom mixture to the bowl and toss, adding pasta water as needed, until the pasta is evenly coated in the sauce and creamy. Serve immediately.
Serving: 1serving, Calories: 382kcal, Carbohydrates: 49g, Protein: 20g, Fat: 12g, Saturated Fat: 7g, Polyunsaturated Fat: 4g, Cholesterol: 38mg, Sodium: 156mg, Fiber: 3g, Sugar: 5g
This post contains affiliate links, which means that I make a small commission off items you purchase at no additional cost to you. Please read my
privacy policy
for more information.