Creamy Fettuccine with Wild Mushrooms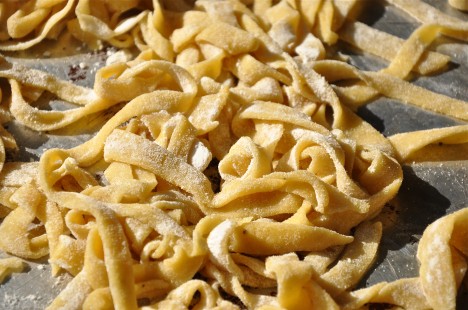 There is nothing better than fresh homemade pasta, particularly with freshly sauteed mushrooms.  Contrary to the title, this fettucine with wild mushrooms recipe contains NO cream!  And it doesn't miss it either (nor do my arteries..just kiddin' :)).  This recipe is a delicious and lighter alternative to your ordinary alfredo or cream-based pasta sauce.
If you're not a fan of mushrooms (confession: I'm a serious fan), this ingredient can easily be  substituted with a vegetable of your choice or freshly chopped basil added at the end!  It is also great with farfalle or any other wide-shaped pasta.  Super-easy and quick, especially if you're running out of pasta recipes or need to quickly whip up a nice meal, this recipe is a must-try.  Pairing Tip: Great served with freshly steamed asparagus or grilled vegetables.  Enjoy!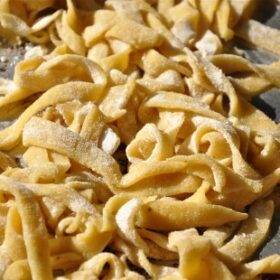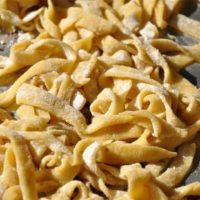 Creamy Fettuccine with Wild Mushrooms
Yield: 2-3 Servings
Prep Time: 15 minutes
Cook Time: 15 minutes
Total Time: 30 minutes
Ingredients
1/2 lb fettuccine pasta (or any other shape will do fine)
1/2-3/4 cup whole fat ricotta
2-3 shallots, finely chopped
1/2 tablespoon butter
dash of olive oil
1.5 ounce dried wild mushrooms, soaked and roughly chopped (or you could substitute half with fresh–such as Shiitake , Baby Bella or Champignon)
freshly grated high-quality parmesan (Parmigiano-Reggiano is the best)
Instructions
Rehydrate wild mushrooms in 1/2 cup boiling water–let sit for 15 minutes (strain and reserve broth).
Sauté shallots in butter and olive over medium heat until soft and slightly brown. Add chopped hydrated mushrooms and cook over low heat, add 2-3 tablespoons of mushroom broth. Season.
In separate bowl, mix together ricotta and 2-3 (the more the merrier!) tablespoons parmesan, add pepper and salt.
Cook pasta according to instructions (little bit more on al dente side so it can cook on stovetop) and reserve 1/2 cooking water.
Drain pasta and mix with mushrooms, ricotta mixture, and pasta water until nice and creamy!
Notes
This would be great with dry sherry added in the mushroom sauté! A dash of cream wouldn't hurt either.
Nutrition Information:
Yield: 3
Serving Size: 1
Amount Per Serving:
Calories: 382
Total Fat: 12g
Saturated Fat: 7g
Trans Fat: 0g
Unsaturated Fat: 4g
Cholesterol: 38mg
Sodium: 156mg
Carbohydrates: 49g
Fiber: 3g
Sugar: 5g
Protein: 20g
A Beautiful Plate provides nutritional information, but these figures should be considered estimates, as they are not calculated by a registered dietician.
This post contains affiliate links, which means that I make a small commission off items you purchase at no additional cost to you. Please read my
privacy policy
for more information.