Creamy Heirloom Tomato and Avocado Gazpacho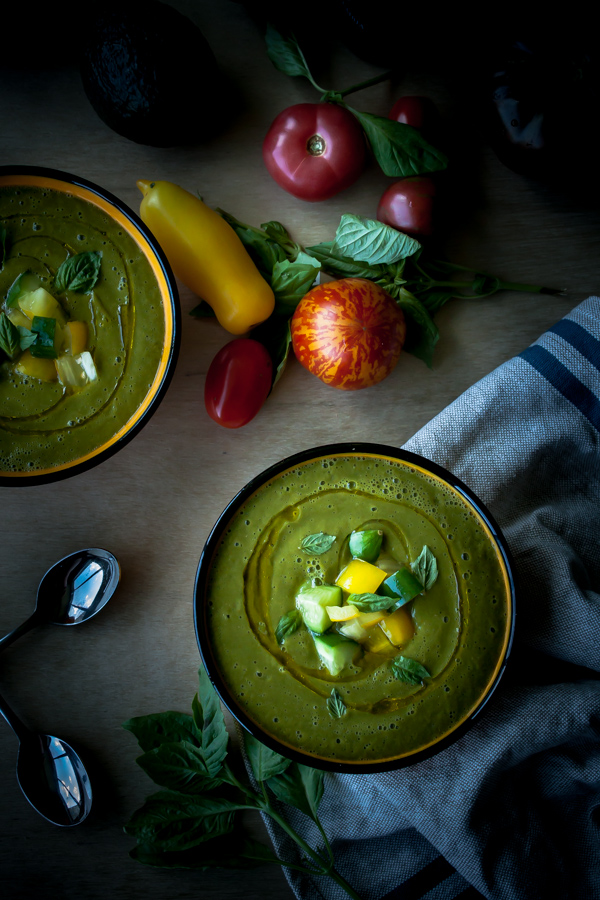 This creamy heirloom tomato and avocado gazpacho makes me hungry, excited, and nolstagic all at the same time.
Hungry because I am a soup fanatic and could practically live off the stuff. Excited because nothing is as beautiful or as quintessentially summer as an heirloom tomato. And lastly, nostalgic because despite the fact that they continue to appear week after week in the grocery store and farmer's market, I know they will soon disappear and not grace our presence again until next summer.
But maybe that is exactly what makes them so freaking fantastic, you know?
If you were to have told me a year ago that I would be sharing a gazpacho recipe on the blog, I probably would have taken a good hard look at you and simply declared, "not a chance."
I'm one of those weird people that simply has never enjoyed gazpacho. I love tomatoes, I love cucumbers, I love cold soups, I love essentially everything that is part and parcel of a traditional gazpacho, and yet I just…can't.
Maybe it's the texture? Or maybe I'm just a walking contradiction? Nothing about this makes any sense. I'm as stumped as you are.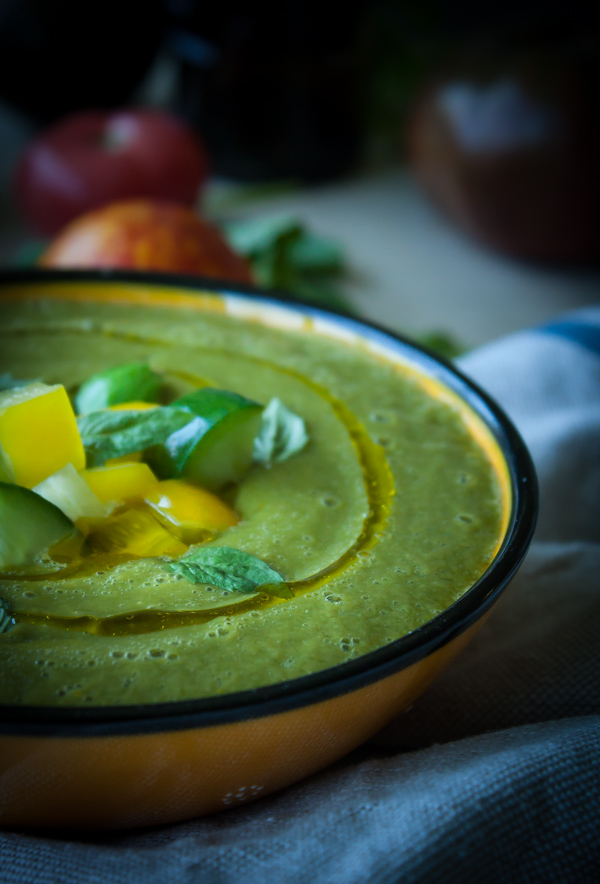 And yet, here I am–self-admitted gazpacho-hater–sharing a recipe for…gazpacho. Hear me out. This is not a traditional gazpacho recipe by any means (Spaniards are probably rolling in their graves at this one), but it is definitely grounded in tradition.
As it turns out, there are a few key ingredients, and one crucial adjustment, that turn a gazpacho-hater into a gazpacho-lover.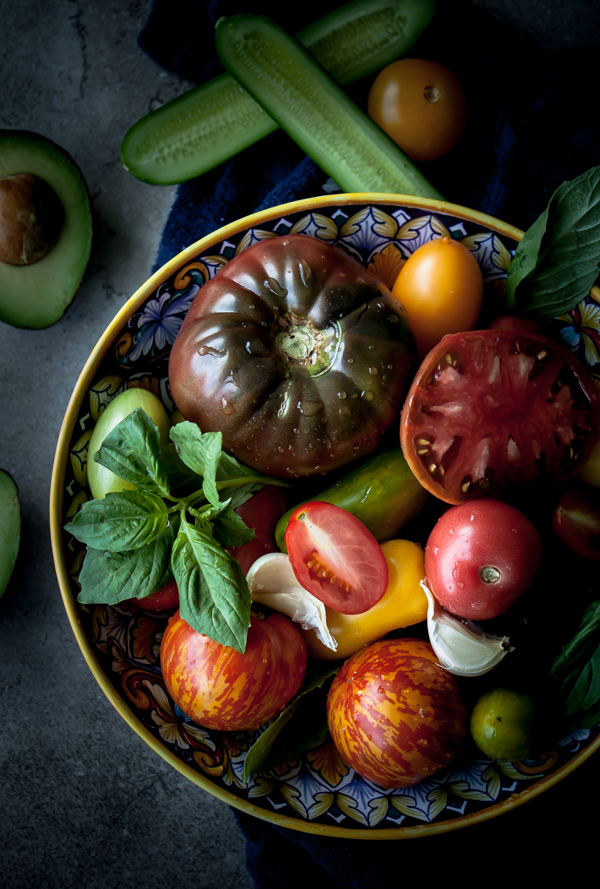 Juicy, sweet, and yet perfectly acidic heirloom tomatoes is the most obvious of requirements. I love using a large variety of tomatoes, because they all lend their own unique flavor profile–some are sweeter and some are more tart.
The next is the addition of creamy avocado. The avocado lends just a touch of richness and body to the soup. I also prefer to puree the soup until it is smooth, as opposed to leaving it slightly chunky as I feel like this recipe does not lend itself as well to that preparation.
My next favorite component is fresh basil! Let's face it, tomatoes and basil are meant to be together, and this soup is no exception to that rule. It adds something special to each spoonful.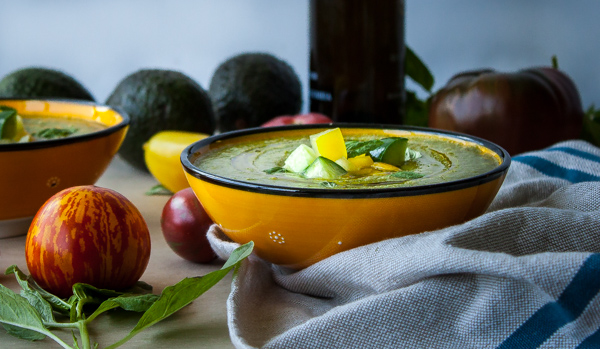 As you may notice in the recipe, this gazpacho also calls for fresh baby spinach leaves. This addition is mainly for enhancing the soup's green color–depending on the variety and color of the tomatoes you use, the color of your soup may vary from mine. However, it will taste just as good either way!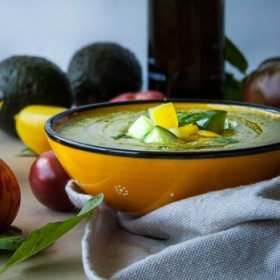 Creamy Heirloom Tomato and Avocado Gazpacho
Ingredients:
1 lb heirloom tomatoes (various colors and varieties), cored and cut into large chunks
1 small Persian cucumber, peeled and chopped (1/2 cup chopped cucumber)
1 and 1/2 cups packed baby spinach leaves
1 avocado, cored
3/4 cup packed basil leaves
1 and 1/2 garlic cloves, smashed
2 teaspoons red wine vinegar
2 teaspoons fresh lime juice
2-3 dashes hot sauce (optional)
4-5 small ice cubes
pinch of sugar
salt
pepper
chopped tomato and cucumber, for garnish
extra virgin olive oil, for drizzling
Directions:
Place tomatoes, cucumber, spinach, avocado, basil, garlic, red wine vinegar, lime juice, hot sauce (if using), and ice cubes in the blender. Puree until smooth.
Add the sugar, and season to taste with salt and pepper. Pulse to combine.
Serve immediately (add additional ice and adjust seasoning if not cold enough), or chill in a covered container in the refrigerator. Garnish with a drizzle of good quality extra virgin olive oil, and chopped tomato and cucumber. The gazpacho is best served the day it is prepared, but can hold in the fridge for an additional day.
Loosely inspired by Joe Yonan's Eat Your Vegetables.

All images and text © .