Sour Cherry Crisp with Berries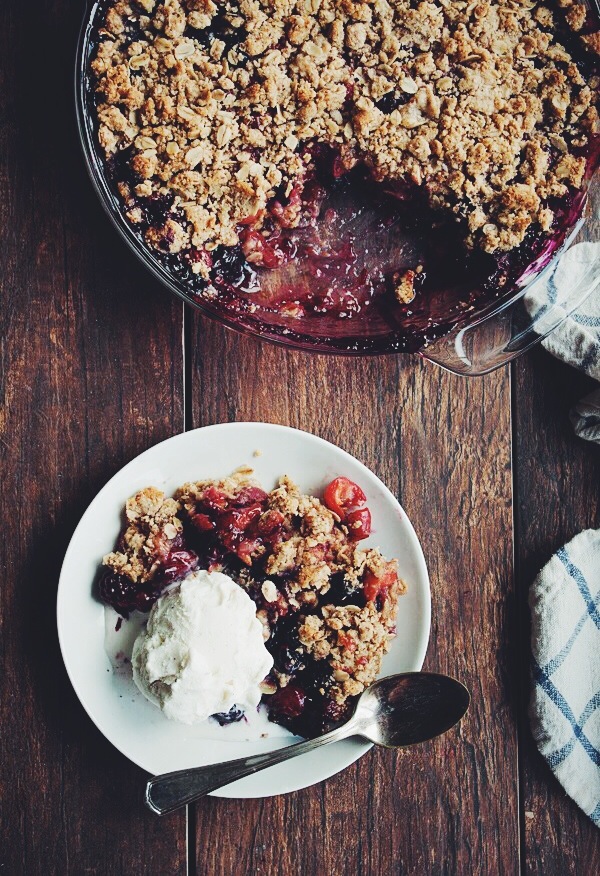 We're starting this week's recipes off with dessert because well…why the hell not?
In fact, I'm 99.99% sure this sour cherry berry crisp could qualify as breakfast food (you know, minus the ice cream part if you're feeling extra proper). Lots of healthy breakfast-y things are involved.
Like almond meal and oats, fresh berries, honey and cinnamon.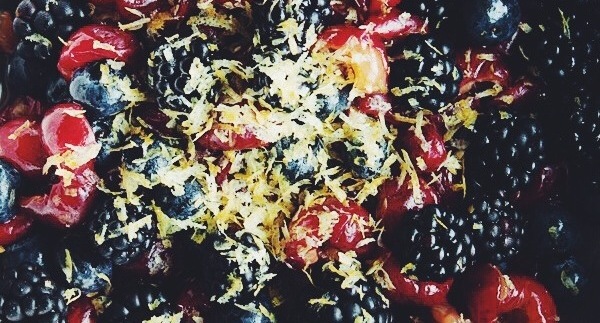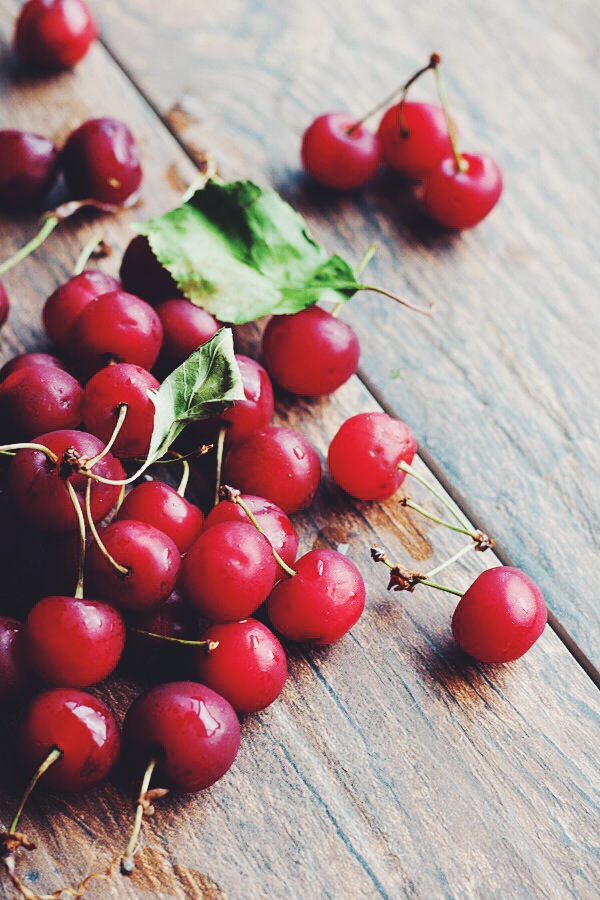 I guess this is the part where I also have to admit that butter is involved. But just a teensy amount of butter. Does four tablespoons qualify as teensy? Let's pretend it does.
When you distribute it amongst an entire pie dish, it is totally teensy.
Truth.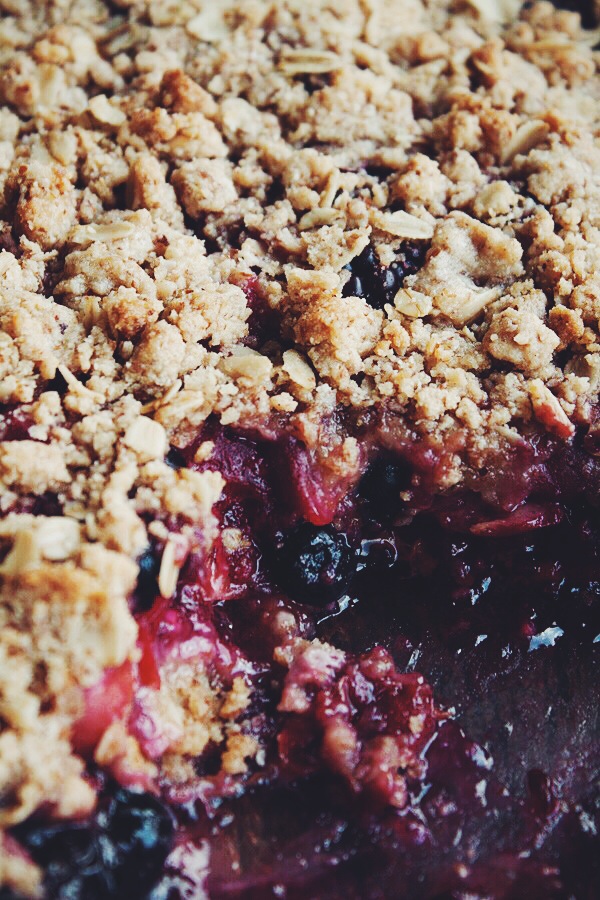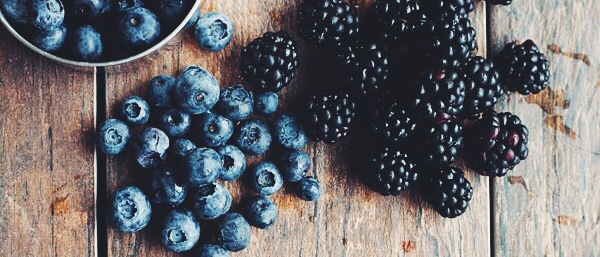 Speaking of truths, this was actually my first time baking with sour cherries! I must admit, I've been wanting to ever since I spotted them for the first time at the farmer's market last year. And since summer is nearly over (how is this possible?), I thought it was about time.
Have you guys tried sour cherries? I must admit, they are not nearly as sour as I expected them to be! Either that, or I bought an abnormally sweet batch of them.
Or worse…I've dulled my taste buds by eating too many sour gummies over the years and can no longer tell the difference. Yikes!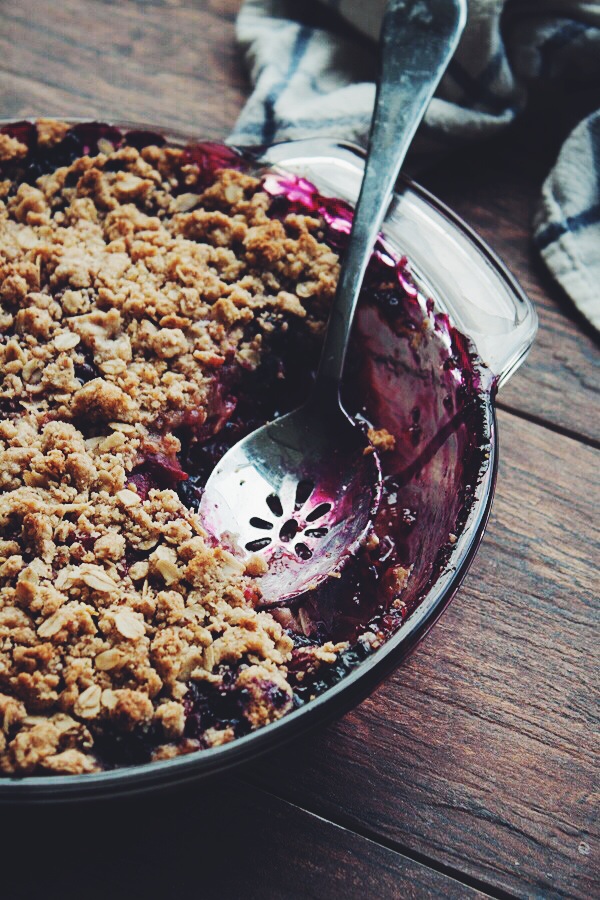 To bulk up the cherries, I added a combination of both fresh blueberries and blackberries. I love combining different fruits in a crisp because I feel that they work to balance each other out. One fruit contributes sweetness, and another contributes tartness, and so forth. But feel free to substitute in other berries, leave one fruit out, or adjust as you see fit! Raspberries would taste wonderful in this too, and you could easily swap the sour cherries for regular cherries as well.
I chose to sweeten the fruit simply with honey instead of regular sugar. It is not overly detectable in the final dessert, but it definitely helps add another dimension of flavor.
The crumb topping is simply almond meal, flour, oats, brown sugar, a touch of cinnamon, and cold butter. I could eat this stuff by itself.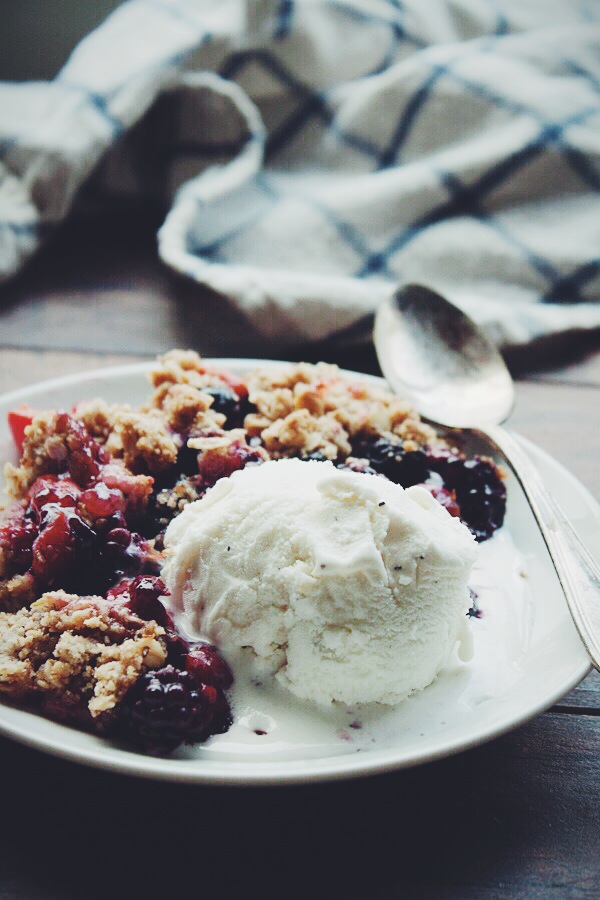 The beauty of a crisp is that it is incredibly versatile and simple to put together. You can really make it your own, which is exactly why crisps remain to this day one of my very favorite desserts.
Summer isn't summer without one (or several) of them. Enjoy!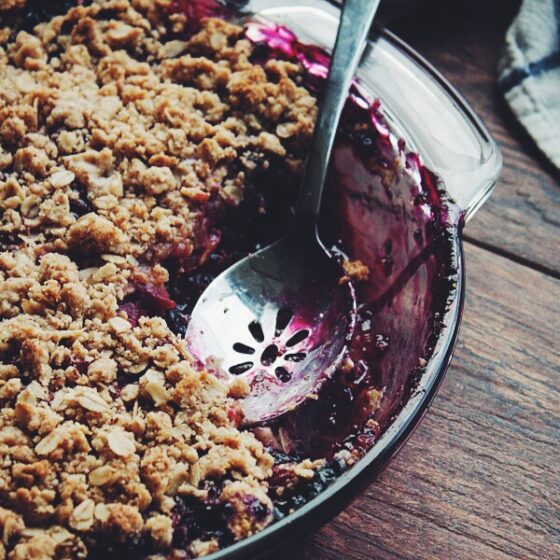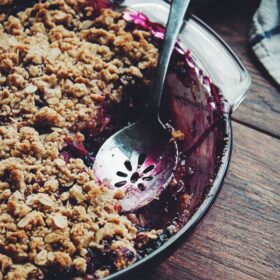 Sour Cherry Crisp with Berries
This delicious sour cherry crisp recipe is made with a combination of fresh sour cherries, blackberries, and blueberries. Topped with a rolled oat crisp topping, it tastes fantastic served warm with vanilla ice cream!
Ingredients
Fruit Filling:
1 quart sour cherries de-stemmed and pitted
1 cup fresh blueberries
1 cup fresh blackberries
⅓ cup honey
2 tablespoons tapioca starch
1 teaspoon vanilla
¼ teaspoon Diamond Crystal kosher salt
zest of 1 lemon
Crisp Topping:
½ cup (50g) almond meal or flour
½ cup (60 g) all-purpose flour
¼ cup (22 g old-fashioned rolled oats
2 tablespoons packed brown sugar
¼ teaspoon ground cinnamon
2 pinches kosher salt
4 tablespoons (2 oz; 60 g) cold unsalted butter
Instructions
Preheat the oven to 375°F (190°C) with a rack in the center position. Lightly butter and set aside an oven-safe pie dish, roughly 9-inches in diameter.

Prepare Filling: Combine the pitted cherries, blueberries, and blackberries in a bowl. Add the honey, tapioca, vanilla, salt, and lemon zest and stir the mixture together gently until all the ingredients are evenly distributed. Place the fruit mixture in the pie dish and spread evenly into a thick layer.

Prepare Crisp Topping: In a separate bowl, whisk together the almond meal, all-purpose flour, rolled oats, cinnamon, and salt. Cut the butter into 1/2-inch cubes and using your fingers, distribute it into the dry ingredients. Use your fingers to press the mixture together until clumps and crumbs form.

Sprinkle and cover the fruit evenly with the crumb mixture. Bake for 30 to 40 minutes, or until top is golden brown and fruit is bubbling slightly. If needed, place the pie dish on a baking sheet to catch any drippings. Allow to cool for 10 to 15 minutes on a rack before serving. Best served warm with vanilla ice cream.
Tips for Success:
Leftover crisp can be covered and refrigerated and covered in the fridge for 3 to 4 days. Warm for serving.
Serving: 1serving, Calories: 394kcal, Carbohydrates: 62g, Protein: 6g, Fat: 16g, Saturated Fat: 6g, Polyunsaturated Fat: 9g, Cholesterol: 24mg, Sodium: 112mg, Fiber: 7g, Sugar: 37g
This post contains affiliate links, which means that I make a small commission off items you purchase at no additional cost to you. Please read my
privacy policy
for more information.