Crostini with Roasted Shiitake Mushrooms and Whipped Ricotta
Crostini with Roasted Shiitake Mushrooms and Whipped Ricotta. An EASY appetizer for the holiday season!
Tomorrow is the big day!  Hopefully you've done all of the last minute shopping and gotten your prep list together–because honestly, I can't think of anything worse than trying to head to the grocery store at this time of the week.
One of my major pet peeves in life is a crowded grocery store.  That and waiting in line.  I have no patience for either.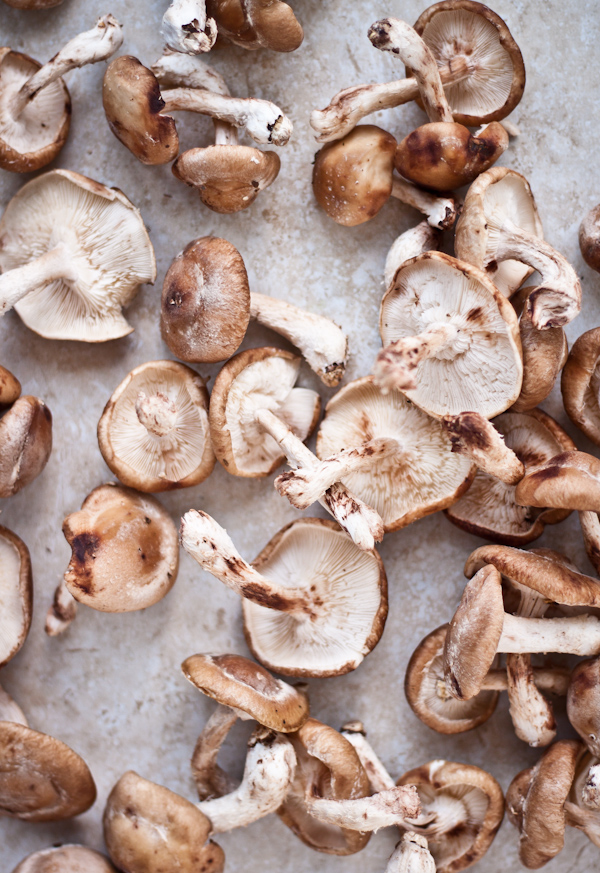 So….even though I highly doubt you'll be serving these crostini as a Thanksgiving appetizer in the next 24 hours (and would not want to subject you to an additional grocery store trip this week), I still felt like they deserved some attention.
I'm just going to go there and say that they would make an excellent Christmas Day (well, pretty much any dinner or holiday over the next month or so) appetizer.  Bookmark and save it for then!
Or simply eat them as a fancy snack one day, that works too.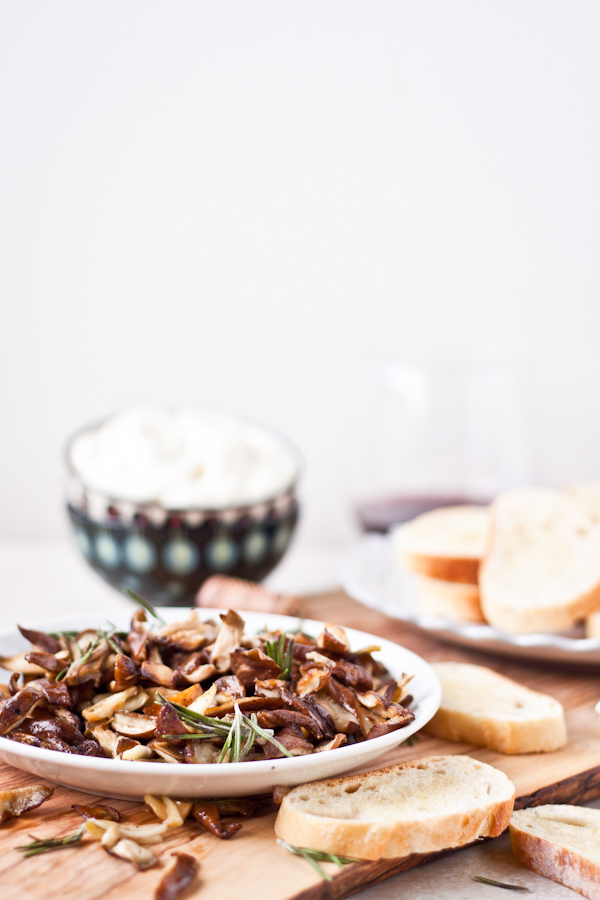 I can't tell you what I love more about this recipe.  The roasted shiitake mushrooms, which are slightly crispy and flavored with sliced garlic, rosemary, and olive oil, and blasted for 10-15 minutes in a 475 degree oven…
Or the whipped ricotta, which is silky smooth, creamy, and totally decadent. [On that note, if you want to get even fancier, you could make this homemade ricotta, which I shared a while back and sort of love].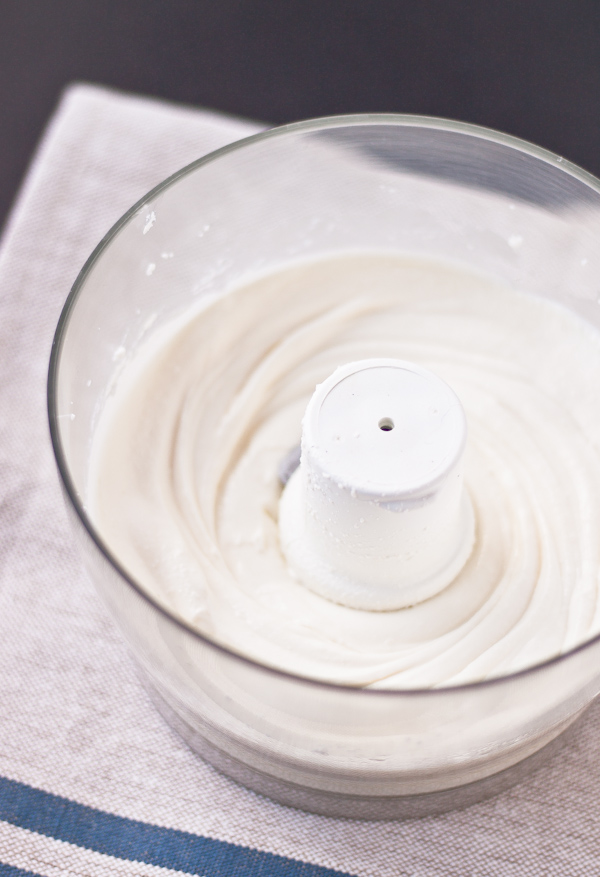 Whipped ricotta is just that.  Ricotta, which is whipped together in a food processor for about 15-20 seconds, with a teensy bit of olive oil, salt, and pepper.
I'm not sure if I'll ever not whip my ricotta again.  Please, please, even if you don't make this recipe, just try whipping your ricotta one day.  And then eat some with a spoon.  Or put it on pancakes or something.  You'll thank me later.
Just check out that texture!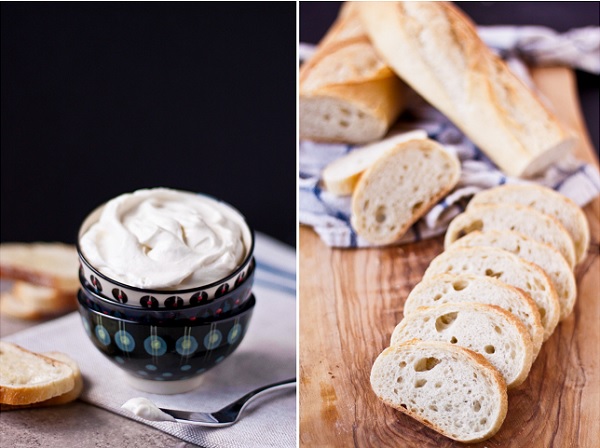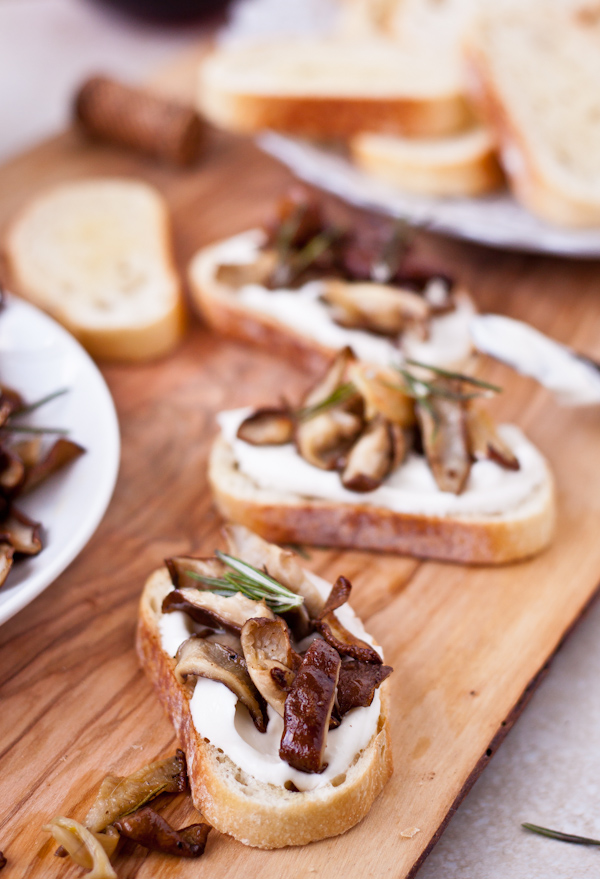 At the last minute, I pulled out the balsamic glaze and gave each crostini a little bit of a drizzle.  It's totally optional and the crostini still taste delicious without it, but if you have some lying around or feel like making your own, just do it.  It adds a little something special.
And on that note, I wish everyone a happy and safe Thanksgiving!  After working last Thanksgiving Day (restaurants never close!), I'm so thankful to have the day off this year and celebrate it with friends and family.  And for you guys.  I'm always thankful for you.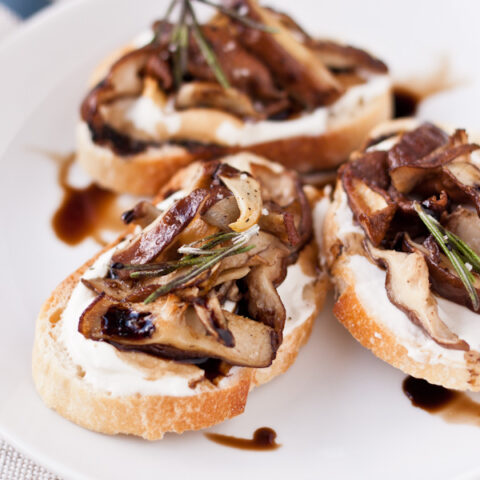 Crostini with Roasted Shiitake Mushrooms and Whipped Ricotta
Yield: 16 Servings
Prep Time: 10 minutes
Cook Time: 30 minutes
Additional Time: 5 minutes
Total Time: 45 minutes
Ingredients
Crostini:
1 baguette, sliced into 16 rounds (1/2″ thick)
1 lb (16 ounces) shiitake mushrooms, stems removed
2 tablespoons extra virgin olive oil
2-3 large garlic cloves, thinly sliced
3 sprigs of rosemary
kosher salt
freshly ground black pepper
balsamic glaze (optional, but recommended)
Whipped Ricotta:
3/4 cup whole fat ricotta cheese
1 tablespoon extra virgin olive oil
kosher salt
freshly ground black pepper
Instructions
Prepare Ricotta: Place ricotta and olive oil in bowl of a small food processor. Process for 10-15 seconds until smooth. Season with salt and pepper. Set aside.
Prepare Crostini: Preheat the oven to 375 degrees. Place the bread slices on a large baking sheet and toast for 10-15 minutes, or until golden brown. Remove and allow to cool.
Roast Mushrooms: Preheat oven to 475 degrees Fahrenheit.
Slice the mushrooms into 1/2″ slices. Spread mushrooms on large baking sheet. Toss with olive oil, salt, pepper, and sliced garlic cloves. Add sprigs of rosemary to pan, breaking them slightly with hands.
Roast the mushrooms for 10-15 minutes, tossing once or twice with a wooden spoon. Remove and allow to cool in pan on rack until lukewarm. Discard rosemary sprigs.
To prep the crostini, spread each slice with whipped ricotta and top with a spoonful of roasted mushrooms. Optional: Drizzle with balsamic glaze. Serve immediately.
Notes
If you don't have balsamic glaze on hand, you can skip this ingredient. This dish tastes great either way!
Nutrition Information:
Yield: 16
Serving Size: 1
Amount Per Serving:
Calories: 98
Total Fat: 4g
Saturated Fat: 1g
Trans Fat: 0g
Unsaturated Fat: 3g
Cholesterol: 4mg
Sodium: 207mg
Carbohydrates: 12g
Fiber: 1g
Sugar: 2g
Protein: 4g
A Beautiful Plate provides nutritional information, but these figures should be considered estimates, as they are not calculated by a registered dietician.