Roasted Mushroom Crostini with Whipped Ricotta
Roasted mushroom crostini with whipped ricotta. An easy, unique, and flavorful appetizer!
These Roasted Mushroom Crostini make a lovely holiday or fall or winter appetizer.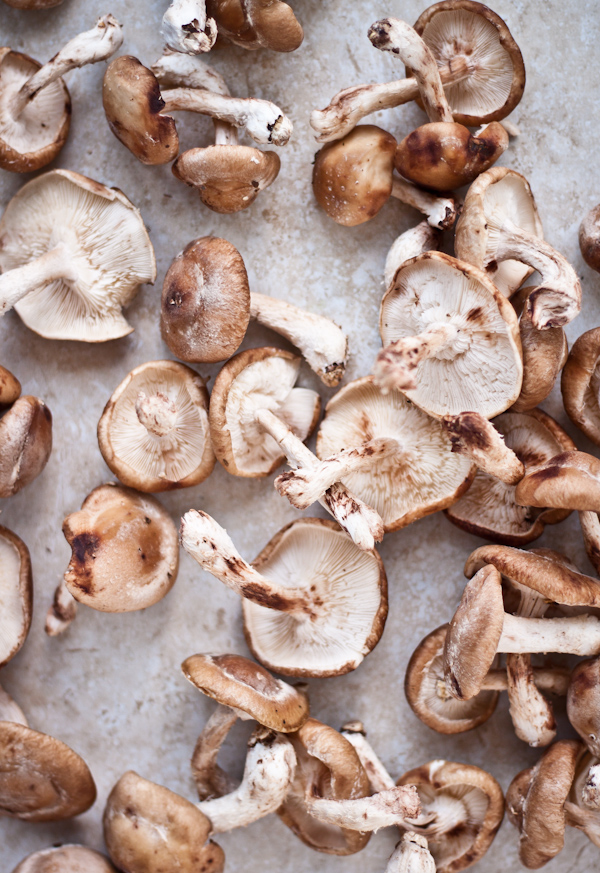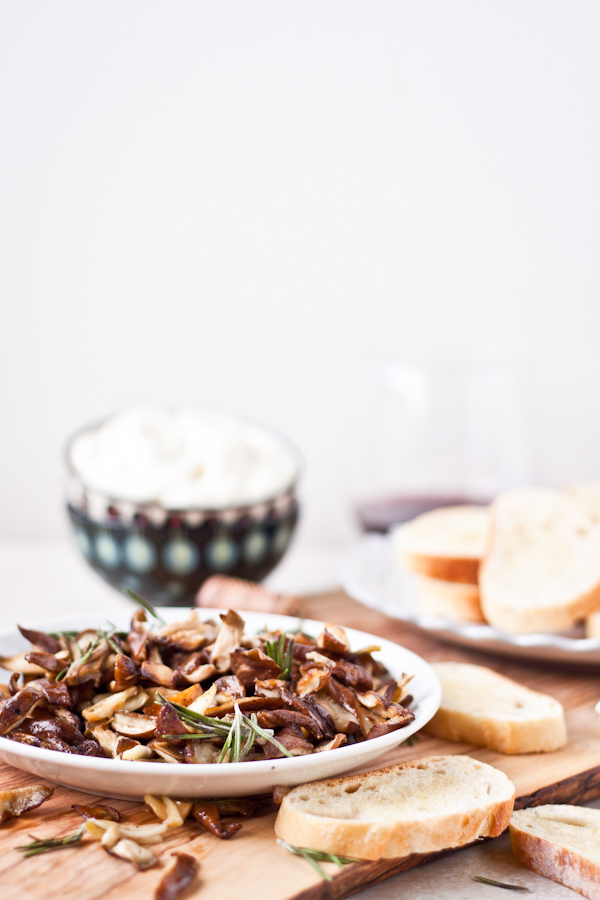 I can't tell you what I love more about this recipe. The roasted shiitake mushrooms, which are slightly crispy and flavored with sliced garlic, rosemary, and olive oil, or the whipped ricotta mixture.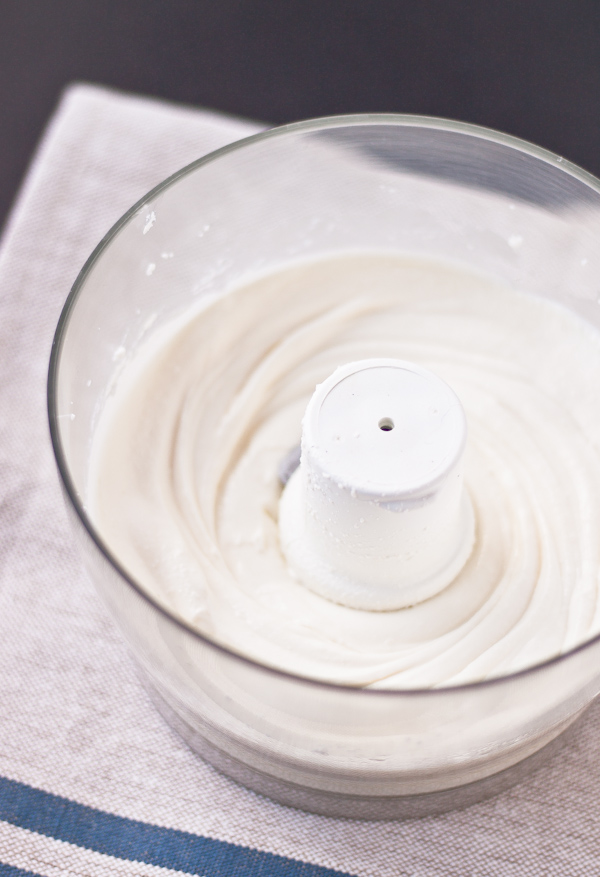 How to Make Whipped Ricotta:
Whipped ricotta is just that. Ricotta, which is whipped together in a food processor for about 15 to 20 seconds, with a touch of olive oil. After whipping, we'll stir in a small amount of parmigiana cheese and season to taste with salt and pepper.
It is silky smooth, creamy, and totally decadent.
In my opinion, it improves the texture of the ricotta straight out of the container, particularly if you're not using homemade ricotta cheese or a high-quality, freshly made ricotta which can be hard to come by.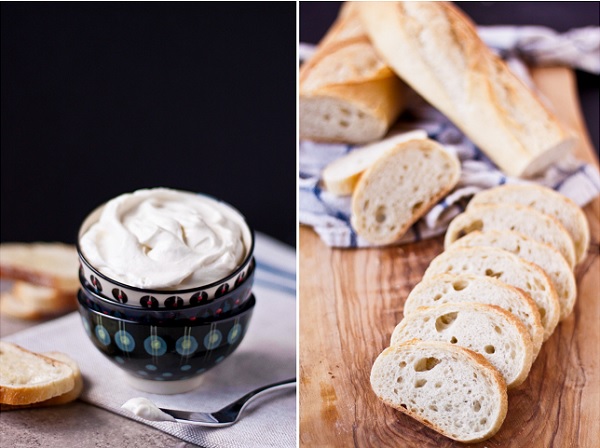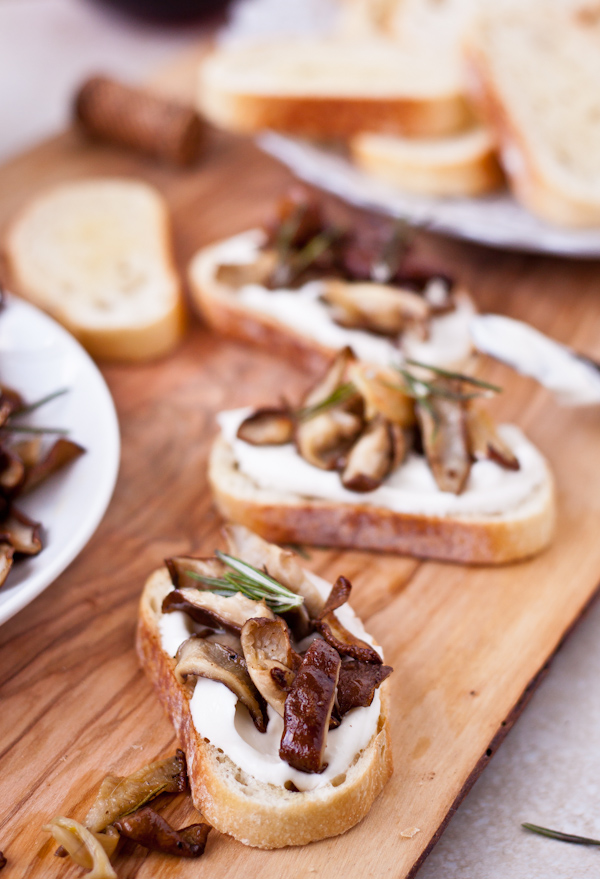 Just before serving, we'll garnish the crostini with a touch of balsamic glaze. This is optional, but it does add something special.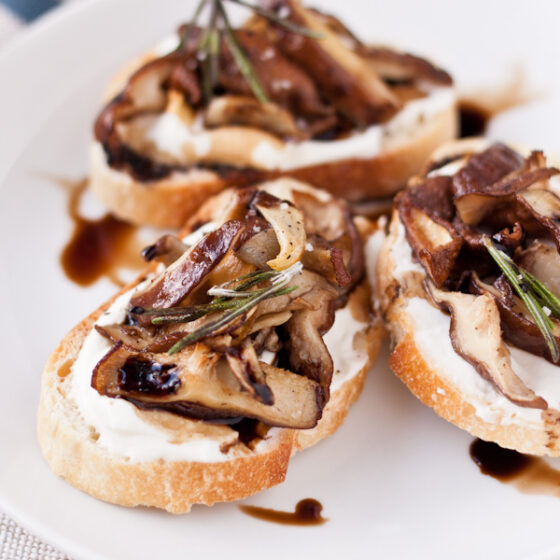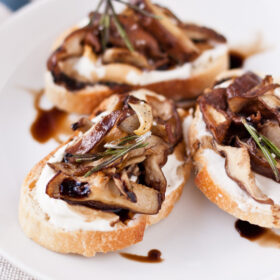 Roasted Mushroom Crostini with Whipped Ricotta
Roasted Mushroom Crostini with Whipped Ricotta. An easy, unique, and flavorful fall or winter appetizer recipe.
Ingredients
Crostini:
1 medium French baguette sliced into 16 (½-inch thick) rounds
1 lb (16 ounces) shiitake mushrooms stems removed
2 tablespoons (30 mL) extra virgin olive oil
2-3 large garlic cloves thinly sliced
3 sprigs fresh rosemary
freshly ground black pepper
Whipped Ricotta:
¾ cup whole fat ricotta cheese
1 tablespoon (15 mL) extra virgin olive oil
1 tablespoon finely grated parmigiano-reggiano cheese
freshly ground black pepper
Garnish:
balsamic vinegar glaze optional, but recommended
Instructions
Prepare Crostini: Preheat the oven to 375°F (190°C) with a rack in the center position. Place the bread slices on a large baking sheet and toast for 10 to 15 minutes or until golden brown. Remove and allow to cool.

Roast Mushrooms: Increase the oven heat to 475°F (250°C). Slice the shiitake mushrooms caps into ½-inch thick slices. Spread mushrooms onto a half sheet pan. Toss with the olive oil, the sliced garlic, rosemary sprigs (breaking them apart slightly with your hands), and a generous seasoning of salt and pepper, and

Roast the mushrooms for 12 to 18 minutes, tossing once or twice with a wooden spoon. Remove and allow to cool in pan on rack until lukewarm. Discard rosemary sprigs.

Prepare Whipped Ricotta: Place ricotta and olive oil in bowl of a small food processor. Process for 10 to 15 seconds until smooth. Stir in the grated cheese and season with salt and pepper to taste.

Assemble: Spread each toasted baguette slice with the whipped ricotta and top with a spoonful of roasted mushrooms. Optional: Drizzle with balsamic glaze. Serve immediately.
Serving: 1serving, Calories: 98kcal, Carbohydrates: 12g, Protein: 4g, Fat: 4g, Saturated Fat: 1g, Polyunsaturated Fat: 3g, Cholesterol: 4mg, Sodium: 207mg, Fiber: 1g, Sugar: 2g
This post contains affiliate links, which means that I make a small commission off items you purchase at no additional cost to you. Please read my
privacy policy
for more information.