Leftover Thanksgiving Pumpkin Pie Milkshake
Pumpkin pie milkshake – an incredibly delicious and easy milkshake recipe to help use up leftover pumpkin pie from Thanksgiving!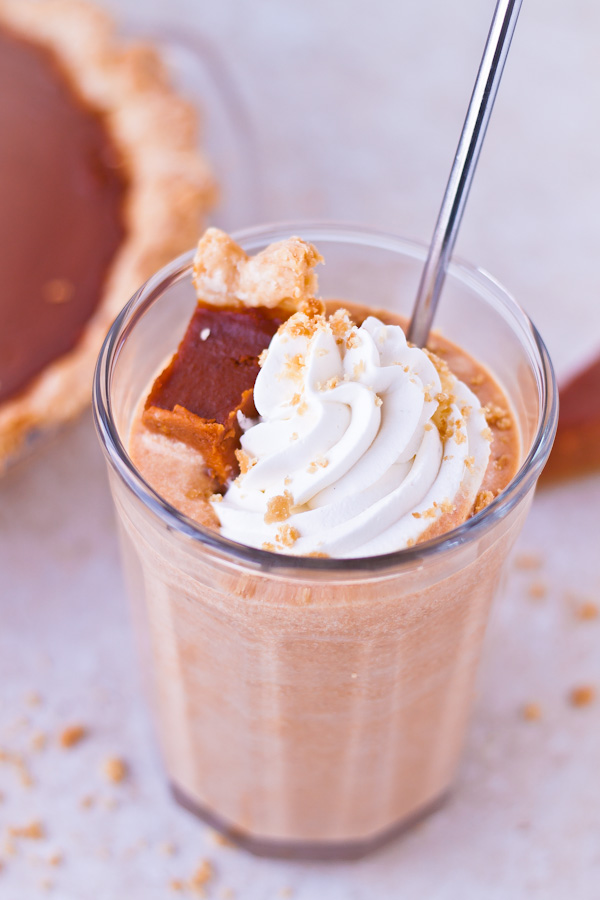 This milkshake recipe is so wrong. But so, so right.
Hopefully you all have some leftover slices of pumpkin pie (or really…any pie!) from your Thanksgiving Day feast, because this pumpkin pie milkshake needs to happen.
The ingredients are so simple: pumpkin pie, ice cream, milk. Add whipped cream and a sprinkling of crumbled pie crust. Done.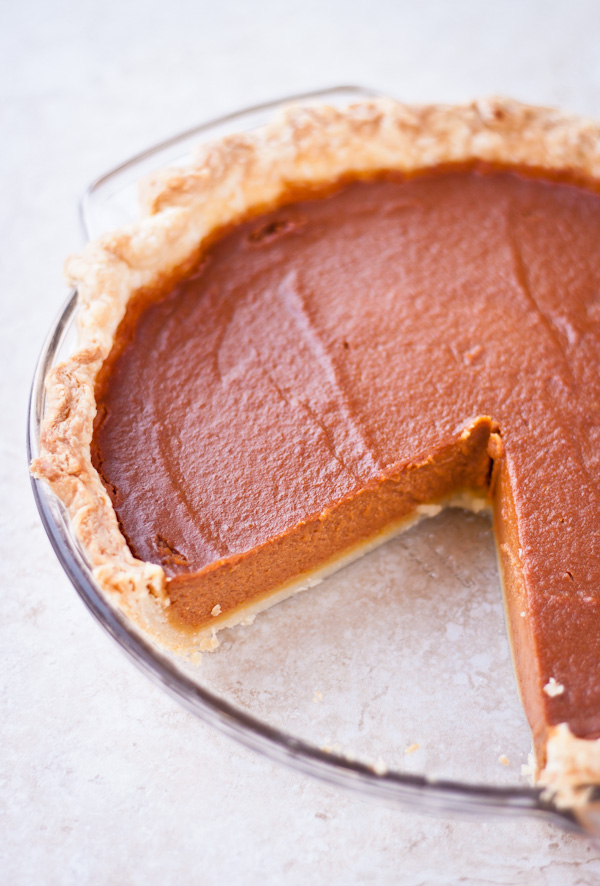 I originally had this idea a few weeks ago–and could barely wait to share it with you all today.  Well, the time has finally arrived.
After all, why eat your leftover pumpkin pie like a normal person when you can drink it in milkshake form like a champ?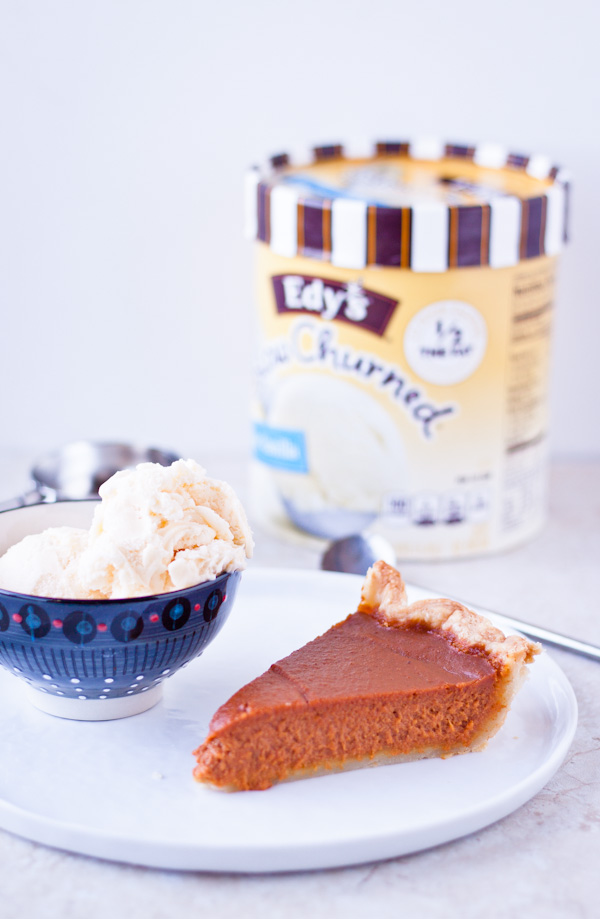 If you can't already tell, this isn't your average "pumpkin pie" milkshake.  It's not made with milk, yogurt, pumpkin puree, spices, and the usual suspects.
Those are faux pumpkin pie milkshakes.  This is the real deal.  It's made with pie.
Literal pie.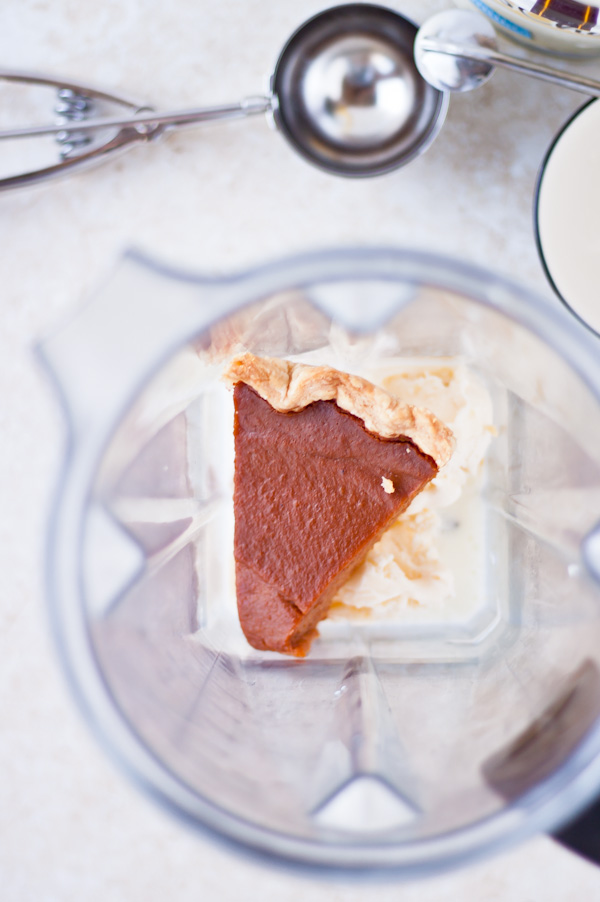 As in, you're going to throw a slice of pumpkin pie (crust and all) into the blender, along with some vanilla ice cream, and a little bit of milk just to smooth things out a bit–and blend it all up together.
Try to keep a little bit of texture from the pie crust in there–that part was my favorite!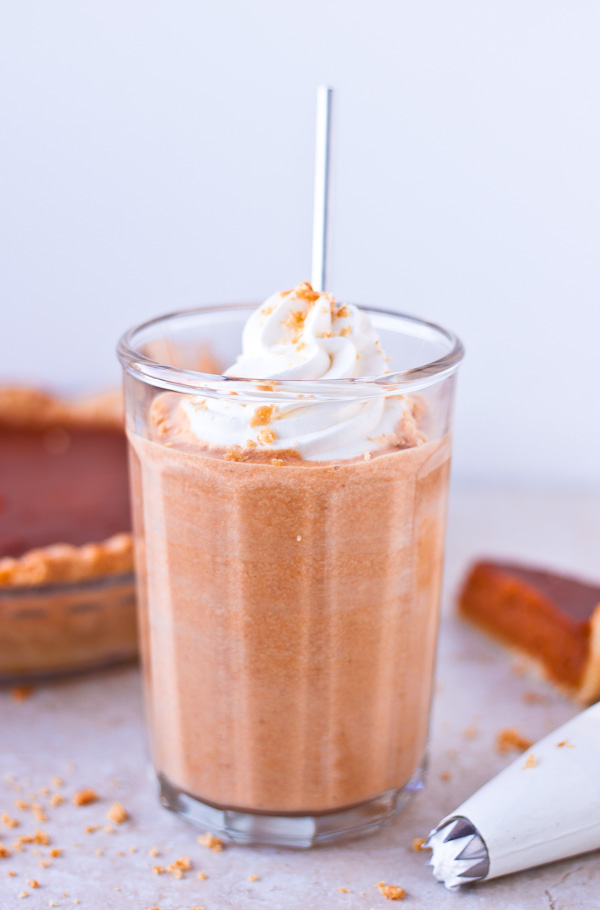 Feel free to take things one step farther and top it all off with whipped cream and crumbled pie crust.  And maybe even a little chunk of pie as an extra garnish.
I mean, you've already come all this way, why not trash it up more?  This milkshake deserves it.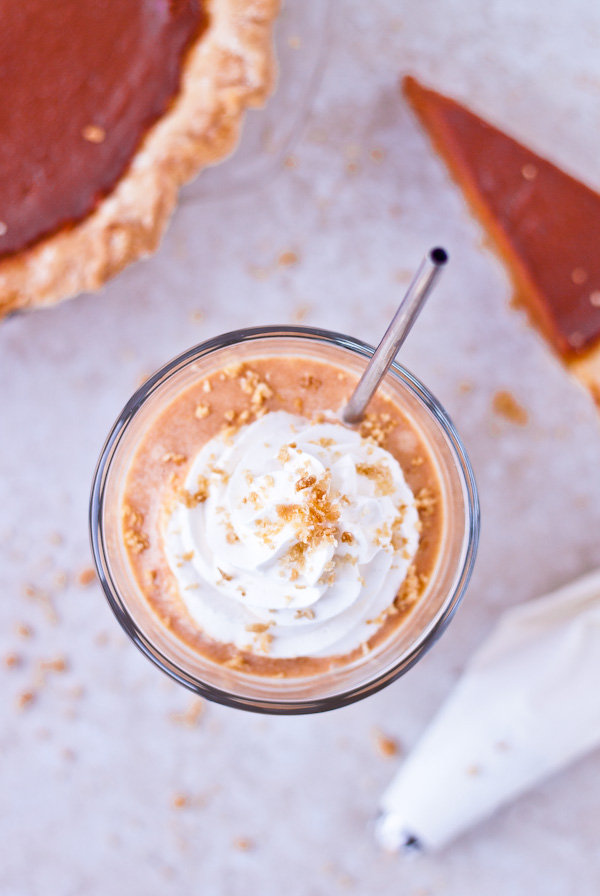 This milkshake is exactly how it sounds.  Decadent, creamy, full of pumpkin flavor, and basically just all around awesome.  It still sort of blows my mind.
P.S.  I happened to make this milkshake with leftover [caramel!] pumpkin pie, but I'm almost positive that it would be just as delicious with leftover apple pie (although the consistency might be different).
Break out the stretchy pants again guys, because you're going to need them…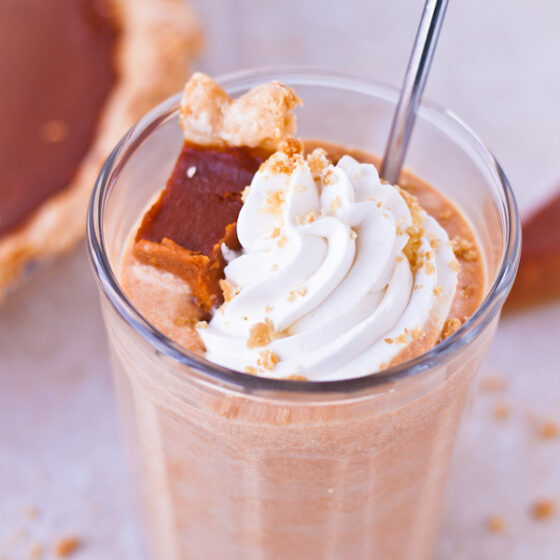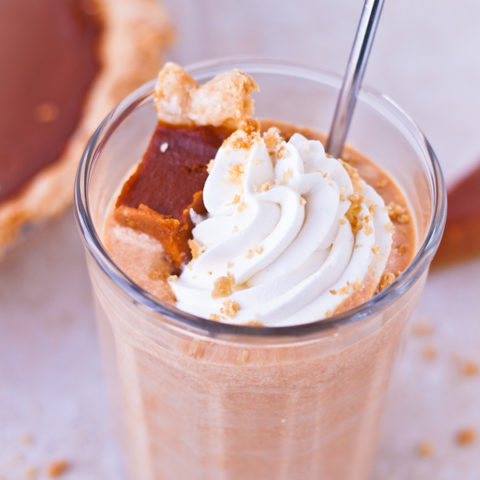 Leftover Thanksgiving Pumpkin Pie Milkshake
Yield: 2 Servings
Pumpkin pie milkshake – an incredibly delicious and easy milkshake recipe to help use up leftover pumpkin pie from Thanksgiving!
Prep Time: 5 minutes
Total Time: 5 minutes
Ingredients
1 large slice of leftover pumpkin pie (3 inches roughly) — reserve some of the pie crust edges
2 large scoops of vanilla ice cream
1/3 cup milk
whipped cream, for garnishing
Instructions
Combine all ingredients in a blender and process until almost smooth (it is kind of nice to have a slight texture of pie dough throughout).
Top with whipped cream and reserved and crumbled pie crust. Serve immediately.
Notes
Feel free to use whatever leftover pie you have on hand. I used a delicious, caramel pumpkin pie from this cookbook!
Nutrition Information:
Yield: 2
Serving Size: 1
Amount Per Serving:
Calories: 718
Total Fat: 37g
Saturated Fat: 14g
Trans Fat: 0g
Unsaturated Fat: 20g
Cholesterol: 52mg
Sodium: 593mg
Carbohydrates: 84g
Fiber: 4g
Sugar: 30g
Protein: 11g
A Beautiful Plate provides nutritional information, but these figures should be considered estimates, as they are not calculated by a registered dietician.