Cup of Tea Cake
This cup of tea cake, adapted from my grandmother's recipe, is a deliciously light, crumby cake. It is flavored with brewed tea, dried fruit, and baking spices.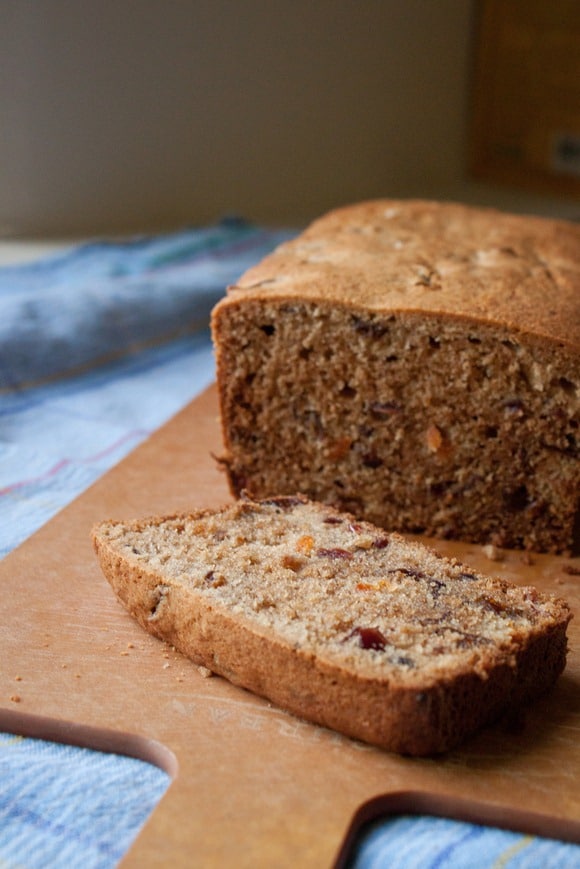 Remember my trip to Scotland and England this past fall? It seems like years ago. While visiting my parents in Glasgow, I also got the chance to head down to Cornwall, England to visit my grandmother in the tiny fishing village of St. Mawes.
During my time there, I took the opportunity to raid her cookbooks and stockpile of personal recipes, many of which came from her days of running a successful bed and breakfast.
Tea time at my grandmother's is not just about the tea. It is always accompanied with a ton of goodies, whether in the form of simple layer cakes, scones, jam & clotted cream, cookies, or traditional saffron cake. Regardless of whether or not my family and I are even hungry, she somehow always convinces us to grab some of everything.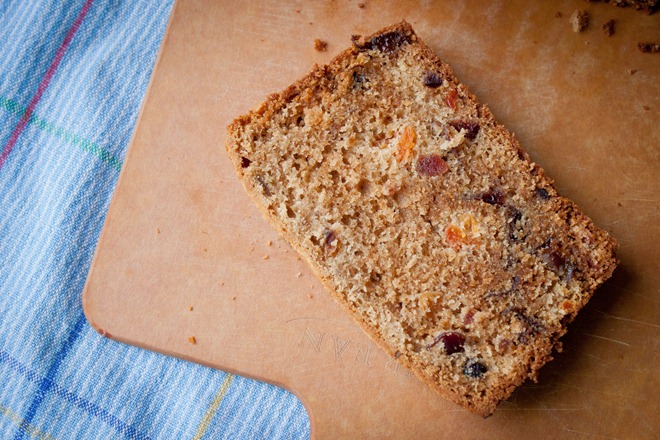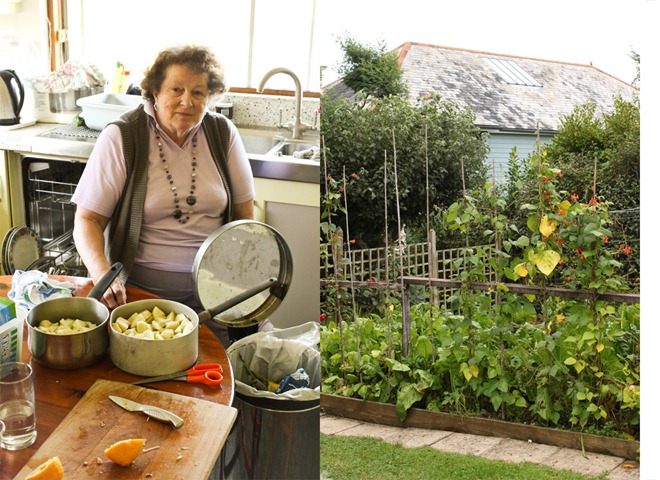 While I was there, I took the time to copy down many of my grandmother's recipes with the hope of trying several of them out at home and sharing them with you all. Apparently, I completely forgot about this plan and now, nearly 8 months later, I am just getting to it.
Unfortunately, this recipe of hers, aptly named, Cup of Tea Cake, was accompanied with very vague, if not, non-existent instructions, but with a little bit of common sense and experimentation, it came out exactly how I remember it. As is the case with many of my grandmother's dishes, this cake involves butter.
My grandmother justifies her butter consumption by saying that it provides her with her daily calcium requirement. I'm not so sure about this logic, but in this case, I'll turn a blind eye and go with it. You should too!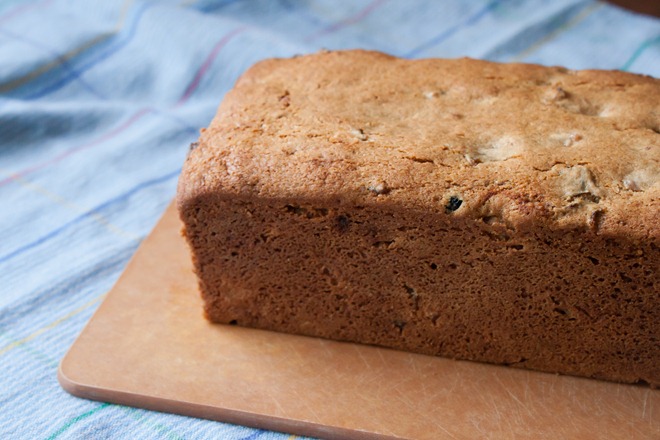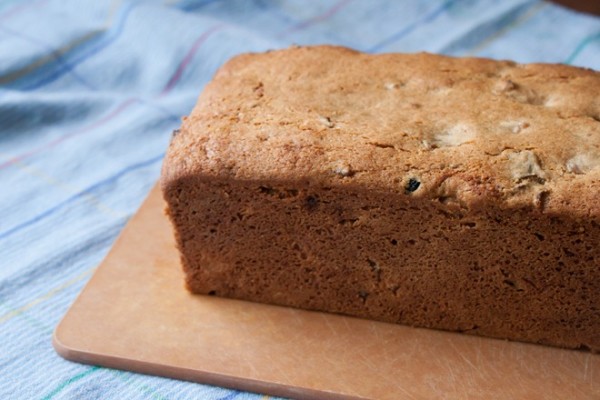 Though I used a combination of raisins (both golden & regular), dried apricots, and prunes, feel free to substitute these with your favorite dried fruit!
One of my favorite things to bake are quick breads. They are easy to put together, generally require few hard-to-find ingredients, and don't require a lot of fuss. This tea cake represents just that, but yields a deliciously light, crumby cake.
It has just the right amount of sweetness from the dried fruit and goes perfectly with a cup of tea!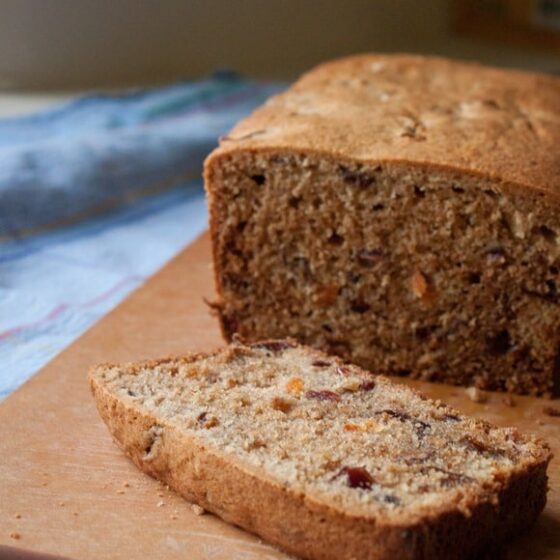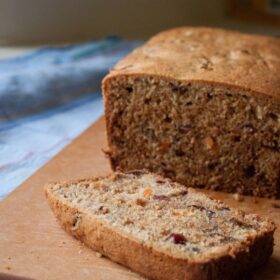 Cup of Tea Cake
This cup of tea cake, adapted from my grandmother, is a deliciously light, crumby cake. Flavored with brewed tea, dried fruit, and baking spices. Best served at tea time!
Ingredients
1 cup (240 mL) brewed black tea
1 cup (8 oz) dried fruit mixture (apricots, raisins, and prunes)
6 oz (170g) unsalted butter softened
½ cup (100g) granulated sugar
1 teaspoon pure vanilla extract
1 large egg room temperature
1 cup (120g) unbleached all-purpose flour
1 teaspoon baking soda
½ teaspoon kosher salt
½ teaspoon ground cinnamon cinnamon, allspice, cloves
¼ teaspoon ground allspice
¼ teaspoon ground cloves
Instructions
Place the brewed tea in a small saucepan. Cut dried fruit into small pieces and add to tea. Bring to a low simmer and turn off heat. Allow to cool to room temperature before proceeding.

Preheat oven to 350°F (175°C) with a rack in the center position. Grease a 9 x 5 -inch loaf pan with butter and lightly coat with flour. Set aside.

In separate bowl, cream together butter and sugar until fluffy using hand-held or stand mixer fitted with a paddle attachment. Add vanilla and eggs and beat until smooth. Add room temperature fruit and tea mixture and mix until just incorporated.

In separate bowl, whisk together flour, baking soda, salt, and spices. Slowly add to wet ingredients until just absorbed. Transfer batter to the prepared loaf pan and set on a half sheet pan.

Bake for about 60 to 75 minutes minutes or until inserted toothpick comes out clean. Allow to cool on a rack for 15 to 20 minutes, then remove from pan and let cool on a rack. Serve at room temperature or slightly warm.
Serving: 1serving, Calories: 135kcal, Carbohydrates: 27g, Protein: 2g, Fat: 2g, Saturated Fat: 1g, Polyunsaturated Fat: 1g, Cholesterol: 23mg, Sodium: 254mg, Fiber: 1g, Sugar: 15g
This post contains affiliate links, which means that I make a small commission off items you purchase at no additional cost to you. Please read my
privacy policy
for more information.