Day 64: Tomato Terrine, Bouillabaisse, & Nougat
This week ended with an extremely tough production on Thursday, followed by an equally tough (third) Market Basket on Friday.  But first, I'll talk about Thursday…
Chef Patrice started lecture in the morning by telling us outright that today would be a test to get everything done on time, because we were going to have a lot to do in just two hours.  This ended up being a major understatement.  It was probably the most stressful day of Phase II yet.  Our first course was a tomato terrine served with an arugula salad, as well as a garlic tuile filled with roquefort cream.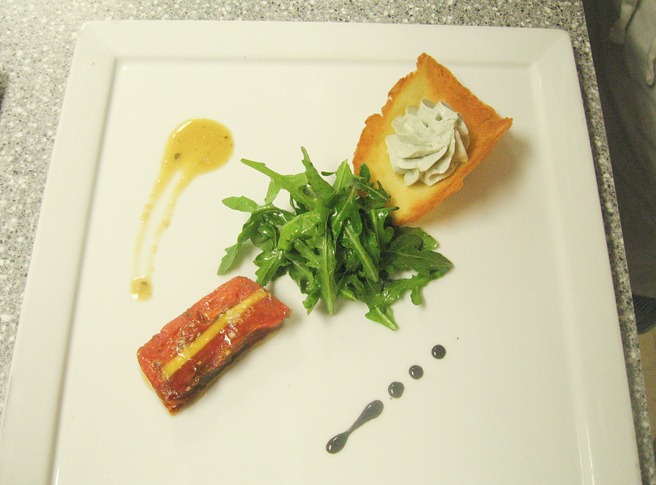 Luckily, we had ended up preparing the tomato terrine over the past two days.  It was made by slow drying plum tomatoes, which we topped with a mixture of balsamic vinegar, garlic, and tarragon, in a very low-heat oven (180-200 degrees) for several hours.  Since tomatoes are obviously not in season, it helped develop their flavor a lot.  Remind me to make a tomato sauce using a similar technique!
Once the tomatoes were prepared, we peeled off the skin and packed them in a loaf pan (lined with plastic wrap).  In the middle layer, we added thinly sliced mango for a bit of sweetness.  I didn't love this, but it did go well together.  I think I would have preferred a different herb than tarragon, honestly.
During production for the day, we also had to make the garlic tuile (the recipe is actually from the White House—where Chef Patrice was a chef for years). The batter had a ton of microplaned garlic in it.  In addition, we had to put together the roquefort cream, which was simply roquefort combined and creamed with goat cheese, so it was pipeable.  This dish was the most straight-forward and "simple" to put together—but little things like picking the stems off the arugula take time!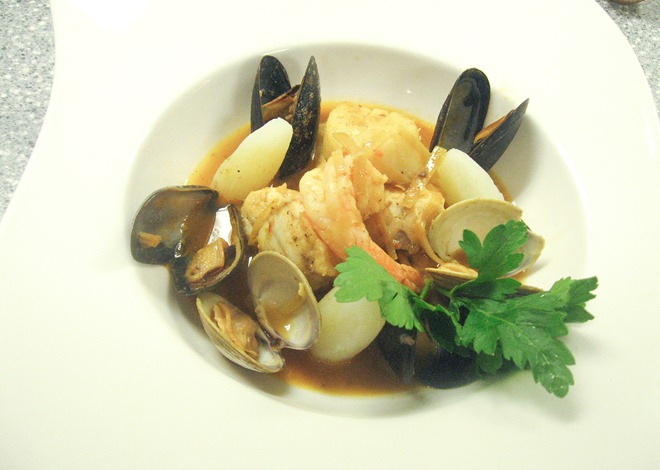 Our main course was the classic Bouillabaisse seafood soup, which was filled with littleneck clams, mussels, shrimp, monkfish, and rockfish.  The most time-intensive part of this soup was cleaning up and breaking down all the of the seafood, as well as fortifying the broth.  We used all the fish bones and heads to add extra flavor, as well as fumet (fish stock), to add tons of flavor.  Our aromatics were fennel seeds, star anise, celery seed, anise seed, lots of garlic, and, of course, saffron. 
Oh yes, and we also had to throw in some tourneed potatoes.  Chef Brian used to always say, "tourneeing is for thinking…"—in this day's case, tourneeing was for mentally freaking out about how many other things you still had to get done before service.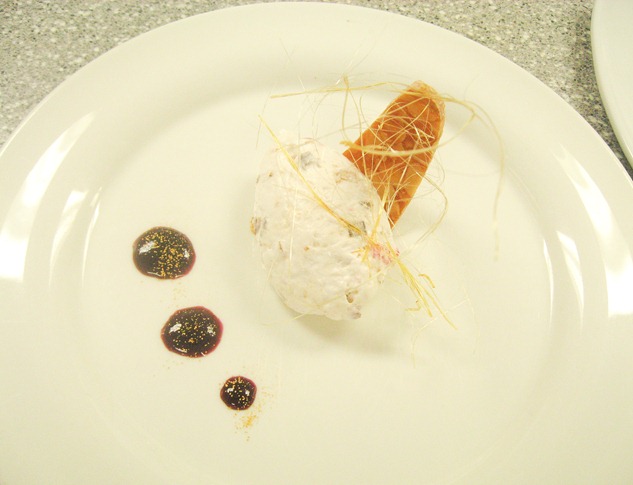 While we were doing all of this, we also had to put together our dessert, which was a nougat glace (cold nougat—served with nougatine).  Nougatine is essentially just a mixture of caramel and sliced almonds. It then gets poured onto a silpat (topped with another one) and rolled flat.  Sounds simple, right?  Not at all.  Basically, in order for nougatine to be really good, you need to roll it as thin as possible—basically paper-thin. 
Because the caramel hardens extremely quickly, this involves putting it back into the oven to soften a bit many times.  You then have to use as much strength as possible to roll—it was a serious work-out and it got me sweating (and frustrated).  While it tastes good, the process alone is enough to ensure that I will probably never voluntarily make it ever again. 
To make it even harder, we also had to cut them into long triangles and shape them to make a tall crescent shape.  Again, this was very tricky to do in the short span of time the nougatine goes from being too soft to work with—to cracking. 
Meanwhile, we also had to prepare the nougat glace—which is basically Italian meringue (soft-ball sugar which is slowly poured into whisking egg whites), to which you fold in finely chopped nougatine (the extras), candied fruit, as well as some whipped cream.  This then gets chilled.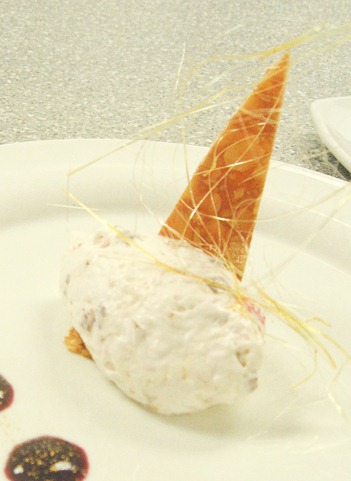 Oh yes—and let's not forget the spun sugar for décor.  It was certainly a day asking for someone to get horribly burnt by sugar.  Luckily, no one did. 
The honest truth?  I personally thought it was a very time-intensive dessert for a "eh" result.  I was not a fan of the nougat glace—although, I am not a fan of candied fruit in general.  I also thought the texture was a bit weird and it was too sweet for me. 
Somehow, we all ended up being basically on-time for service—which meant that we accomplished all of this in just about two hours.  However, it was probably the most tense day yet.  I think we were all irritating each other by the end of the day—and right after service, I actually ended up going outside and breaking down in tears unexpectedly.  I think it was a combination of many things—being exhausted from the past two weeks with only one day off, trying to figure out where I should do my externship, still figuring out how to work with a new partner of only three days, thinking about the next day's Market Basket, as well as briefly burning my hand on a hot pan handle.  I ended up feeling better by the end of the day though. 
Thank you Lyndsay and the everyone else in my class!  Despite all of us feeling like crap at the end of the day, Chef Patrice actually said we did a very good job and explained how he would be attempting to give us more days like that to help increase our speed and get us ready for the pace of the restaurants!  Yikes.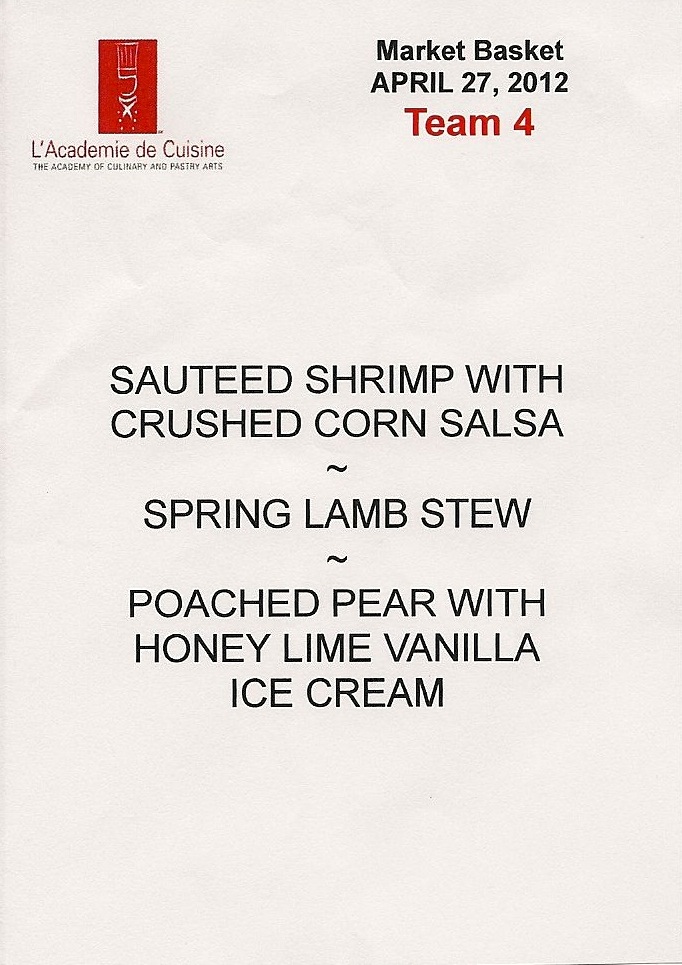 Market Basket Overview: The following day we had our Third Market basket challenge—using corn, pears, and lamb shoulder.  Blanca and I ended up making sautéed shrimp with a fresh corn salsa, a Spring lamb stew with fresh vegetables, and a poached pear with honey-vanilla-lime ice cream.  Our visiting Chef was pretty tough on everyone, but it was interesting to hear all of his feedback.  In better news, yesterday I had my third stage at a restaurant in DC!  Overall, I think I had my best experience yet and will most likely end up choosing it as my externship site.  I will probably go on one or two more, potentially, before I make my decision! 
As for the rest of the weekend, I am excited to have two full days off before I head back to school for another tough and eventful week!  Look out for a new recipe post over the next day or two….
This post contains affiliate links, which means that I make a small commission off items you purchase at no additional cost to you. Please read my
privacy policy
for more information.