Day 66: Skate, Steak Poivre Noir, & Chocolate Tart
This week has been nuts so far!  The week started off one regular production day at school, filled with brand-new dishes as usual.  And these past two days, Wednesday and Thursday, have been back to back Restaurant Challenge Days—a regular event in each Phase II class, where we basically set up the classroom in restaurant kitchen mode (with stations), turn the classroom into a mock dining room with tables and chairs, and feed between 70-90 people during a lunch service.  I also went to work at a catering event (run by a L'Academie graduate) in the city last night!  I am beat.
However, I've been meaning to share Tuesday's class with you!  It was filled with some great dishes.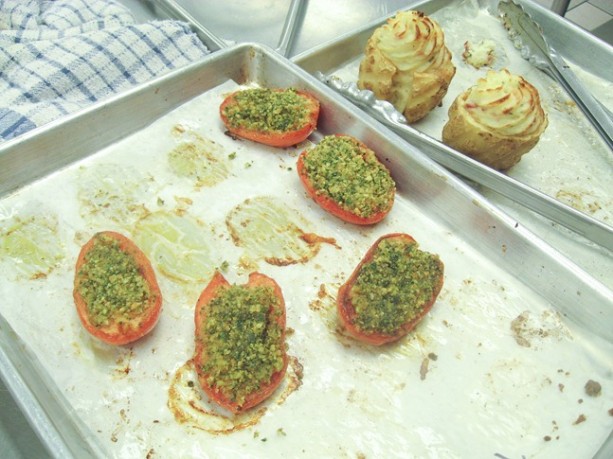 Our first course was skate fish (a ray fish) served on top of a bed of sautéed endive and topped with a beurre fondu (basically a lemon butter sauce) that we finished with finely chopped chives.  This was the first time we have worked with skate (and I have seen one…actually) and we got to break them down, which was a little disorienting.  Apparently if you work with them, your hands can get really itchy, plus they are spiky too. 
The fish was lightly coated with flour, then eggs, and seared on both sides.  This was really good!  The bitterness of the endive worked really well with the whole dish.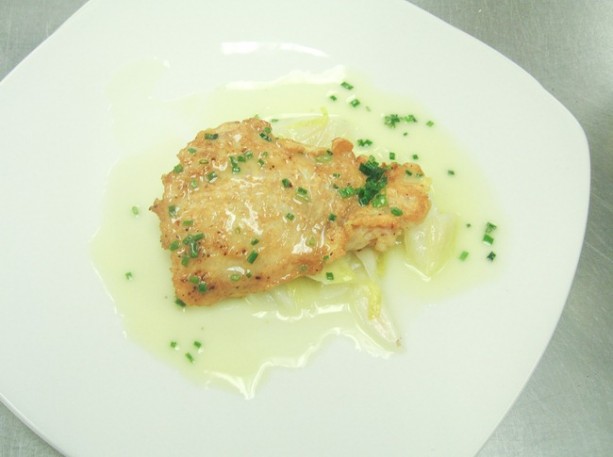 Our main course was steak au poivre noir served with a pommes pomponette and tomato provencale.  The steak was top butt, coated in crack peppercorns, seared and flambéed with cognac.  The sauce that it was served was a simple pan sauce made of shallots and espagnol sauce. 
Our potatoes were very cool!  To make them we cut large russet potatoes in half, scored the outside (in a criss-cross pattern) with a channel knife, hollowed out the inside (and cooked those…) and fried/baked them to cook through.  We cooked and riced the potato trimmings from the inside and mixed them with sour cream, some rendered bacon and onion, and chives.  We then piped the potato rings were this mixture and baked them in the oven to brown slightly.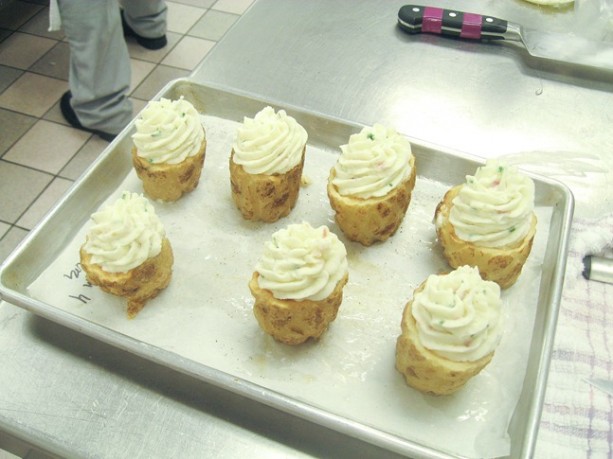 Below is what they looked like once they were baked.  Not your average twice-baked potato!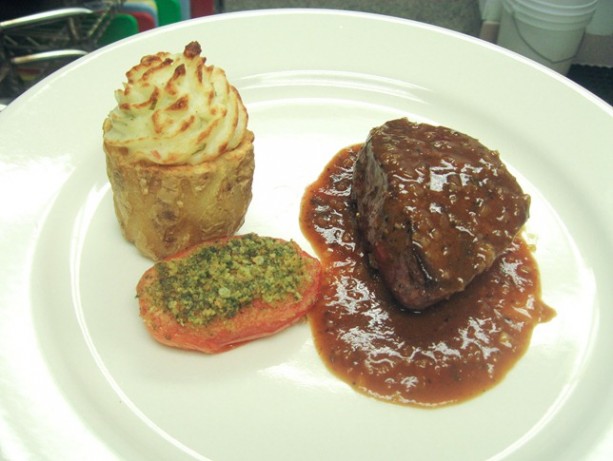 Our tomato provencale were delicious too!  Probably the best I have ever had—the trick was to coat the tomatoes with just small mixture of breadcrumbs (not too heavy) and mix the breadcrumbs with lots of parsley, minced garlic, and a bit of olive oil.  Very delicious!  I also liked not having to peel the tomatoes for once…. 

Lastly, dessert was a delicious chocolate tart with a pate sucree crust.  The filling was cooked at a low temperature and had a very smooth, almost pudding-like texture.  Really good and very chocolate-y!  On the side, we served a quenelle of whipped cream and some sauce noisette, which is basically crème anglaise that is mixed with hazelnut paste.  YUM!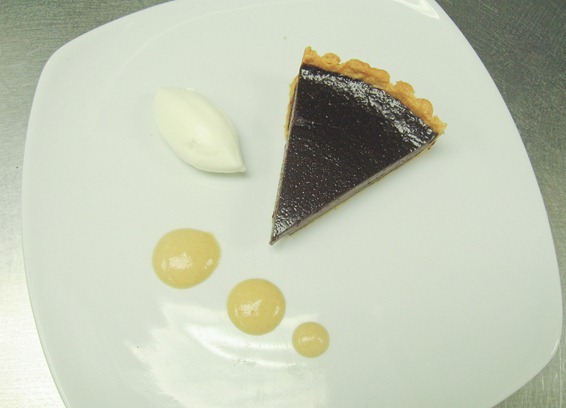 Overall, service felt a lot better than the previous Thursday—probably because this menu, in comparison, was easier to manage and get done in time!  It was a nice way to go into Restaurant Challenge, which was a whole different ballgame….
More to come!
Tomorrow is my fourth market basket!  We will be working with the Phase II pastry students to come up with a canapé, 1st course, main course, dessert, and a mignardise.  Our ingredients are:  duck, goat cheese, & kumquat.  Hoping it goes well! 
This post contains affiliate links, which means that I make a small commission off items you purchase at no additional cost to you. Please read my
privacy policy
for more information.