Day 1: French Onion Soup
My alarm clock woke me this morning at 5:10 am.  I was tired and didn't get much sleep (I woke up every hour from 2 am onwards freaking out I had slept in!), but immediately sprang out of bed, got into sweatpants, and attempted to put together a breakfast for the road.  The thought of eating that early in the morning was not appealing at all, so it was a bit of a struggle.  I feel like this will be the biggest challenge with my change of schedule!
With my knife kit, book bag, uniform, and purse slung over my shoulder, I walked out of the apartment at 5:45 and ended up arriving at school at 6:15.  The first order of business was heading into our locker room and getting into my uniform (for the second time ever).  The neckerchief tutorial came a bit later in class, luckily.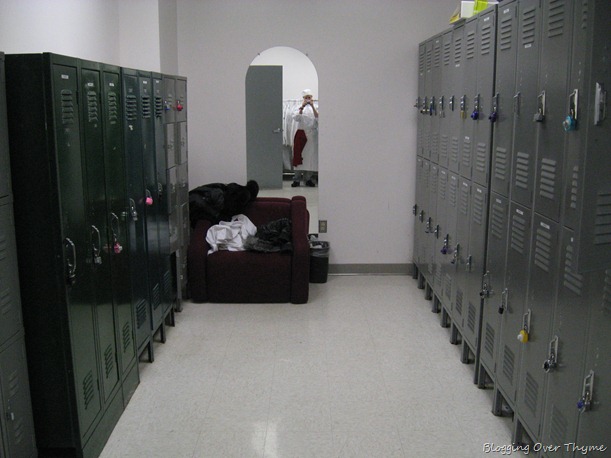 Lecture starts each morning at 7:00 am, but we learned yesterday that arriving early is crucial.  Not only do you need to factor in changing into your uniform, but we also have a lot of responsibilities in the kitchen each morning.  In Phase I of my program, lecture starts with a demonstration of the day's menu, any additional lectures, and eventually we head into the kitchen at around 9:00 am to execute.  Each morning, the lecture room needs to be stocked with the ingredients for the day's menu (butter, salt, and pepper are always required no matter what!), the kitchen working tables need to be prepared with cutting boards, work bowls, and we also need to make coffee for lecture and the rest of the school's students!
Trust me, I may sound like I have this all down, but I definitely do not.  Throughout the day, the rest of the students in my class and I would keep looking at each other, confused, and eventually figure it out after trial and error and lots of questions to the chef instructors.
Today's agenda was French onion soup (LA SOUPE A L'OIGNON), which is apparently the starting point for almost any culinary program in the world.  Funnily enough, I've never made french onion soup in my life, so it was a first for me.  While straight-forward in theory, it definitely requires patience and a watchful eye.
During lecture, Chef Brian demoed the soup, explaining the techniques, such as dry-heat (which includes techniques, such as sautéing, grilling, broiling, and frying), deglazing, and caramelizing the onions.  Though the chef goes over the menu in detail and explains the ingredients and components, the actual amounts were explained vaguely.  This is essentially to make us proficient in doing all the techniques and going by taste and flavor, as opposed to purely recreating an exact recipe.
However, one main take away was one onion yields one serving of French onion soup!  Pretty convenient if I do say so myself.    We were each responsible for making a two to three serving size of soup for the day, which feeds not only the chefs and fellow administration, but also ourselves and the pastry students at lunch.  In return, they bring us pastries.   This relationship sounds dangerous!
After demoing the soup, Chef Brian also gave a lengthy explanation of all the different types of equipment and pots.  For example, the difference between sauté, soup, and sautoir pots (straight-sided shallow pan—which allows multiple techniques, such as simmering and sautéing—essentially a hybrid of the two).  We also discussed the pros and cons of different metals, such as aluminum, anodized aluminum, and stainless steel.  They all vary in terms of their heat conductivity, as well as reactiveness with certain types of foods.  For example, aluminum pots will give cream or acid based sauces a metallic taste, as opposed to stainless steel, which is non-reactive).  Meanwhile, I was scribbling in my notebook quickly and trying to absorb everything!  It was very interesting and informative.  We will be going over all of this in a lot more over the next few weeks, I am sure…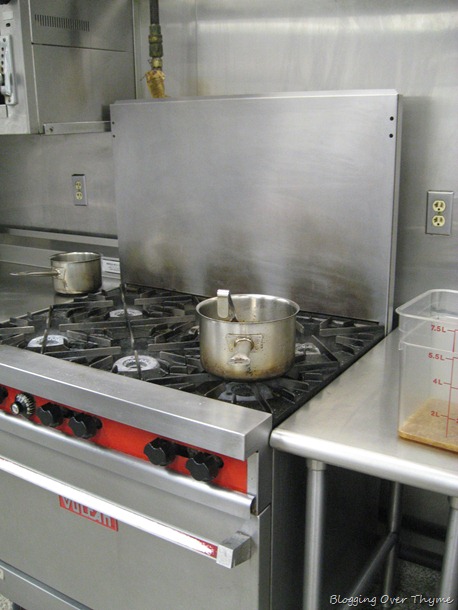 After demo and lecture, we headed into the kitchen—something I think we all were nervous about, but excited for.  We essentially assigned to work tables with a fellow student and told to grab our soup ingredients and get to work.
In addition to French Onion Soup, we were also responsible for serving LES CRUDITES, which essentially is a traditional French appetizer of sliced vegetables, with a dipping vinaigrette (which we were provided with, but will learn how to make tomorrow).  Though it sounds pretty simple and boring, this was basically an exercise designed to practice our knife skills.  We were instructed and taught how to make battonets, 1/4" x 1/4" x 2 inch cuts.  Everything was to be made to be served at 11:00 am, which meant that we were doing both tasks at once, including remembering to put the soup bowls in the oven to heat up.
Obviously, as our dishes get more and more complicated and we have even more tasks to complete, this will become much more chaotic and stressful!  I am trying not to look ahead too much though to avoid getting overwhelmed.  After all, it is still only the first day and we aren't expected to know or do everything perfectly.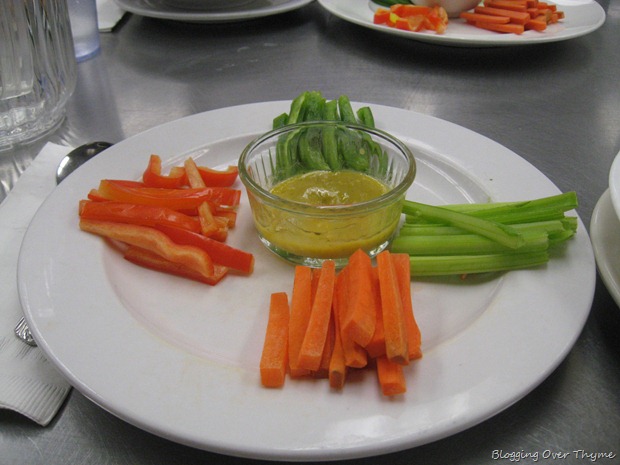 Luckily, both of my dishes turned out well (although I definitely will be practicing my knife skills and consistency this weekend…).  I think the biggest thing I will have to get used to is learning how to season my food properly with salt.  Although I started to get the hang of it!  My chef definitely likes his food seasoned.
At 11:00, we had everything plated up for lunch.  I am allowed to carry a small point and shoot in class, so I was able to snap a few pictures.  I miss my DSLR and natural light, but hopefully you all get the idea!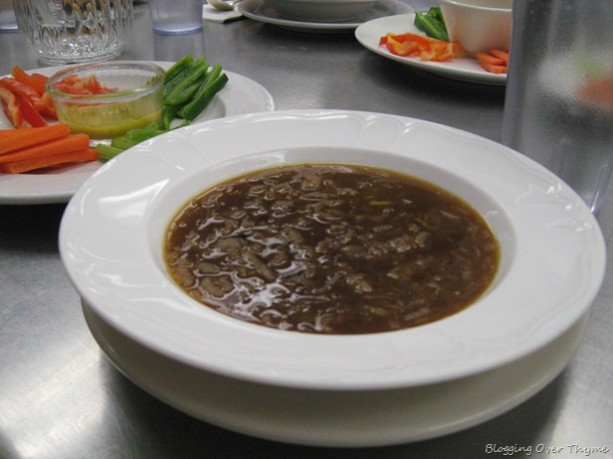 Of course, I ended up cutting myself twice today!  It was definitely embarrassing (as I was the first in the class, but definitely not the last), because I had to be taken care of by chef and had to wear the blue "finger condom" as they call it.  Ironically, neither of my cuts occurred while chopping anything, but as I was removing the knifes from the kit and merely drying one of them.  It sounds clumsy —but seriously, these knifes are incredibly sharp!
Not my finest moment, but I guess it was bound to happen at some point…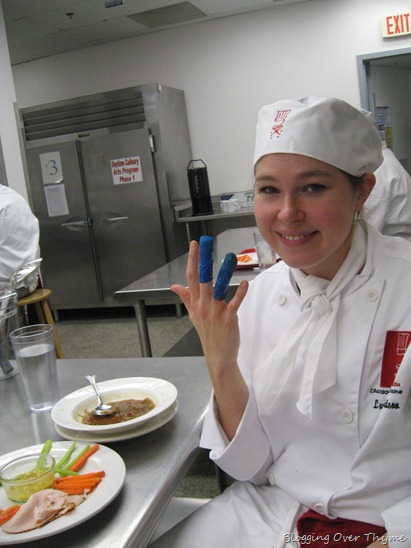 After cooking in the kitchen and lunch (which is probably one of the healthiest we'll have throughout the program!), we were responsible for cleaning up the kitchen and doing lots of other tasks to get the place in order.  I'll give a brief explanation of all of this at some point soon!
The rest of the afternoon involved breaking out our bone knife for the first time, and trimming the fat from four boxes worth of chicken backs!  Our group is essentially responsible for producing the stock for the entire school, so this will become a regular part of our routine.  In fact, Chef Brian said we would be making stock about four times a week.  That's a lot of trimming!
Tomorrow morning, we are expected to arrive even earlier to get the stock going before lecture starts!  Guess that means bedtime is steadily approaching…
Please let me know if there is anything you would like me to talk about specifically in regards to culinary school.  Hope you are enjoying these posts—thanks so much for all of your support this week going into school! 
This post contains affiliate links, which means that I make a small commission off items you purchase at no additional cost to you. Please read my
privacy policy
for more information.