Day 2: Quiche Lorraine
The second day of school started even earlier than yesterday…
Today, I got there around 6:10 am, changed into my uniform, and quickly went into the kitchen to help start preparing and prepping the kitchen.  Chef Brian recommended we all arrive about 10 minutes earlier to go over and start making chicken stock, using the 100 pounds of trimmed chicken backs from yesterday, as well as tubs and tubs of leftover mirepoix (onion, carrots, celery), and tons of cold water.  Since it is hard to imagine what type of cooking equipment all of that can fit into, I'll let the picture do the talking…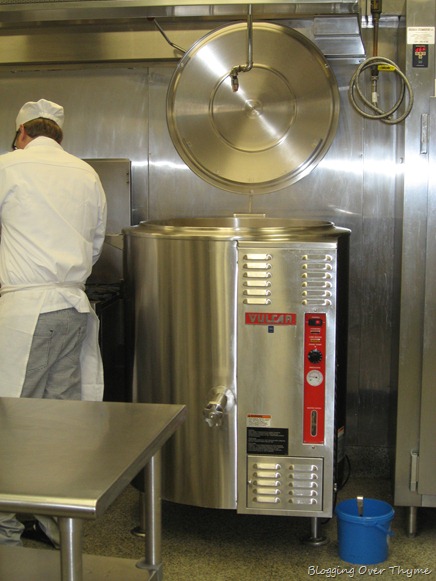 Each of us will be responsible for taking charge of making the stock at some point during Phase I.  Essentially you want the least possible amount of fat in stock, which is why we trimmed the chicken bones yesterday.  The stock then simmers for hours, if not days, before they eventually use it all up and start the process all over again.  The hose on the top right is used to fill the stockpot with water and the spigot at the bottom is used to fill up large tubs for production!   Pretty bizarre, huh?
Another fellow classmate and I were also put in charge of grating tons and tons of gruyere cheese (I'll explain why later in the post!)—probably at least 20 cups worth.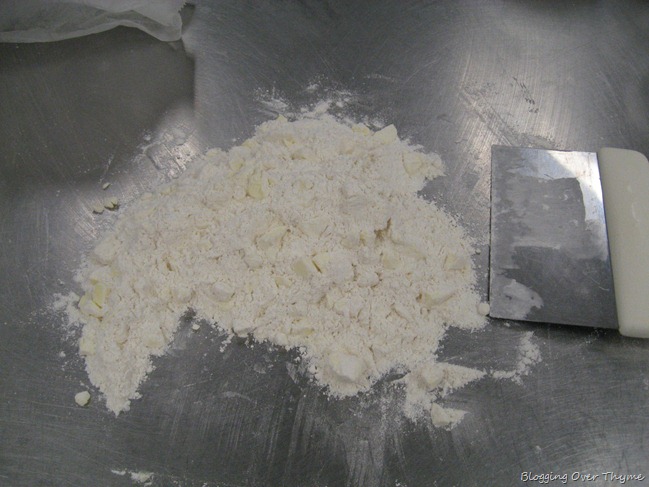 After setting up, today's first lesson began in the kitchen, with Chef Brian's demo.  The first demonstration today was for PATE BRISEE ("Broken Dough"), which is a flaky, unsweetened dough used for quiches or pie crusts.  For our purposes, the agenda was for making QUICHE LORRAINE, which is a French quiche, originally from the Lorraine area of France, that includes ham and bacon, as well as Gruyere cheese.  Can you tell that our lunches are slowly becoming more and more unhealthy as the days progress? Ha!
Pate Brisee is one of the classic French pastry doughs and involves only 4 ingredients:  cold unsalted butter, all purpose flour, salt, and cold ice water.  We were taught to weigh out all the ingredients and prepare it on our stainless steel worktables, using a bench scraper to incorporate the butter, and slowly add ice water until it just came together, but still was on the dry side and looked "broken'—hence the name.  The trick for our pate brisee was to break the butter into small pieces, but not into a coarse cornmeal.  The water content in the butter eventually steams in the oven, allowing the pastry to expand, while the fat content in the butter to "fry" the dough in a sense.  Once our dough was made, we covered and refrigerated it for an hour to allow the dough to relax and not crack and break during the rolling process.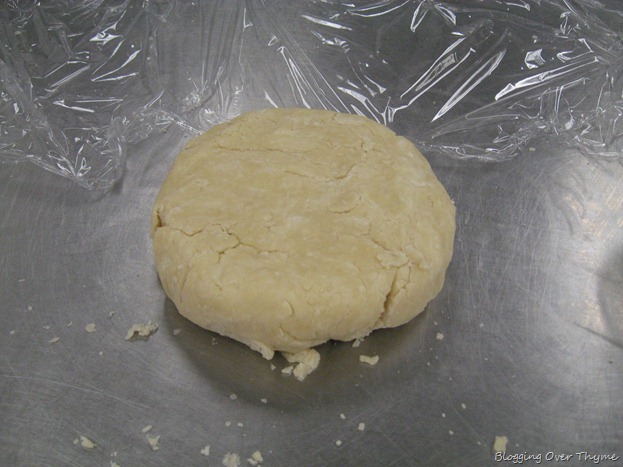 After preparing our dough, we all headed into the classroom for another lecture and another demonstration by the chef of the rest of the day's menu.  While yesterday's menu really only consisted of French onion soup and raw vegetable appetizer, today's was much more extensive.  I guess they are already cranking up the heat!  The day's menu was:
LA SOUPE A L'OIGNON GRATINEE (French Onion Soup Gratinee)
LA QUICHE LORRAINE (Quiche Lorraine)
LA SALADE VERTE (Green Salad)
LA SALADE DE CONCOMBRES ET TOMATOES (Tomato & Cucumber Salad)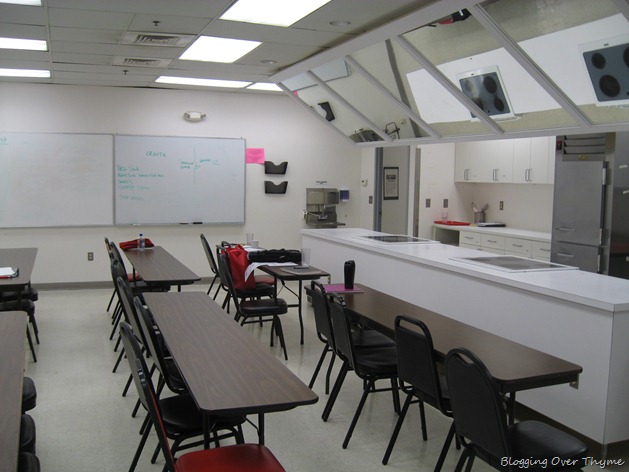 Obviously the most time intensive dishes were the Quiche Lorraine and yes, a repeat of French Onion Soup, except this time with the classic addition of croutons and Gruyere Cheese.  This might sound repetitive and it is, but for a purpose.  The chef explained that in Phase I there will be a lot of repetition in order to practice a skill several times and fix previous mistakes or corrections, as well as getting familiar with certain techniques—which in French Onion Soup's case involves caramelization and deglazing of onions repeatedly until you have developed a deep dark color with a good combination of bitter, sour, and sweet flavor.
For the green and tomato & cucumber salad, we also learned how to make a classic vinaigrette, made with sherry vinegar, shallots, garlic, mix of extra virgin olive and canola oil, as well as Dijon mustard,   This involves holding a mixing bowl carefully in one hand, while also slowly pouring in oil, and whisking constantly so that it emulsifies—and does not separate.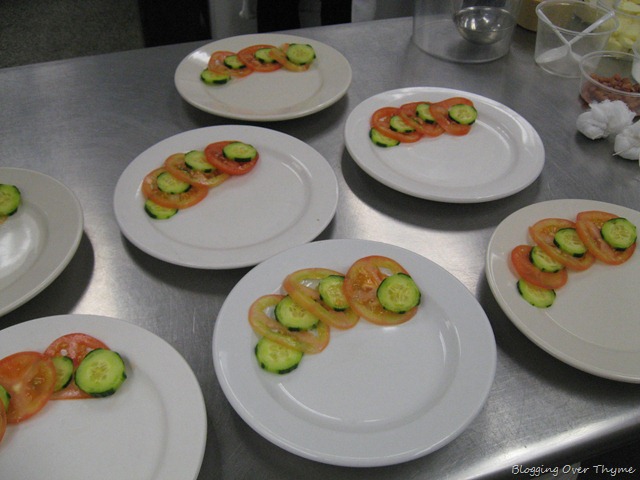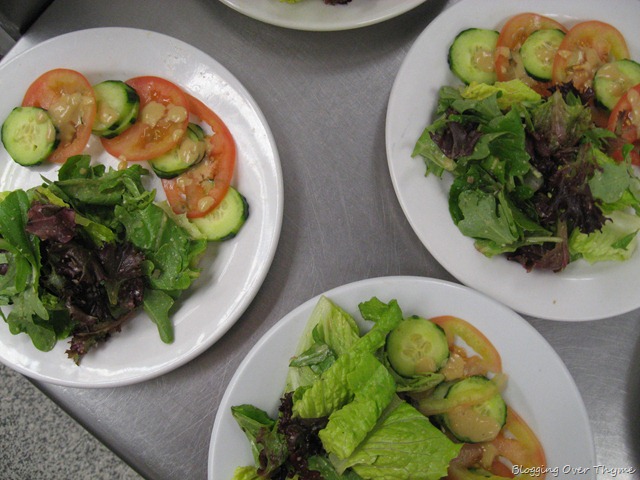 During these demonstrations, we are supposed to pay close attention to the order in which the chef prepares each dish, as well as plates, because we are expected to go in the same order once we go into the kitchen and recreate them!  One tricky aspect of this, but also one that I am beginning to appreciate more and more, is that the chefs do not specify exact quantities of ingredients, but will merely give vague quantities or ratios, if appropriate—for example: we were not told the amount of vinegar or oil to use, but merely that we should use 1 part vinegar: 3 parts oil (half canola, half olive oil).  L'Academie stresses the importance of this, because we will have to know how to recreate these dishes and be able to adapt to different servings and quantities constantly in a kitchen.  It is also helping us judge by taste, sight, sound, and flavor, as opposed to simply trusting in a written recipe, as well as adapt and be creative, which I love!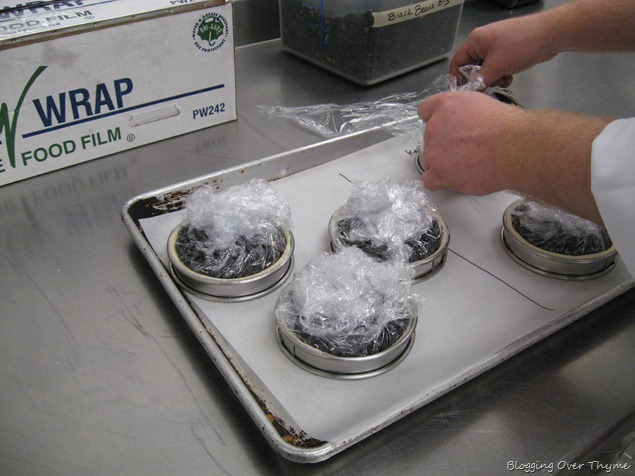 After demonstrating each dish on the menu, we headed back into the kitchen for production once again.  The first thing on the agenda was removing the dough from the fridge, rolling it out and putting it into tart molds, piercing with forks to prevent rising on the bottom, and blind-baking it—which means baking about 90%-100% through.  We supported the shape of the crust during the baking with dry beans.  FYI:  We lined our crusts with commercial kitchen grade plastic wrap (which does not melt in heat, as opposed to saran wrap—so do not try this at home!  Instead use parchment or as we learned today, coffee filters!).
We were assigned different work tables and station partners.  Though we are responsible for plating as a team, we all end up working on each component at some point or other.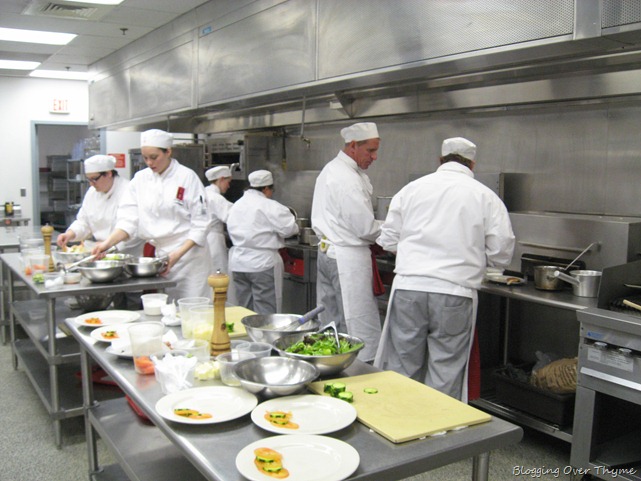 We then got to work on making onion soup (once again…), preparing the salad and vinaigrette, and getting our custard ready for the Quiche Lorraine. We learned in lecture that there are three components to quiches:
filling (in this case, ham & bacon)
custard (ratio of 1 cup heavy cream: 2 whole eggs), and…
crust (pate brisee)
The custard is gently whisked together, seasoned with salt, pepper, and nutmeg and strained to remove any lumps. Once that was prepared, I got to work cooking the bacon (finely cubed) and eventually cooking the ham in the rendered bacon fat to remove any excess moisture (which would in turn add water content to the quiche otherwise).  At this point, our tart shells had been blind baked, at which point we sprinkled the base with small amount of grated Gruyere, following by a small amount of bacon and ham, and finally the pouring of the custard.  The quiche then cooks for another 15-20 minutes in a very low heat convection oven (275-300F), until the custard holds shape, but still "jiggles".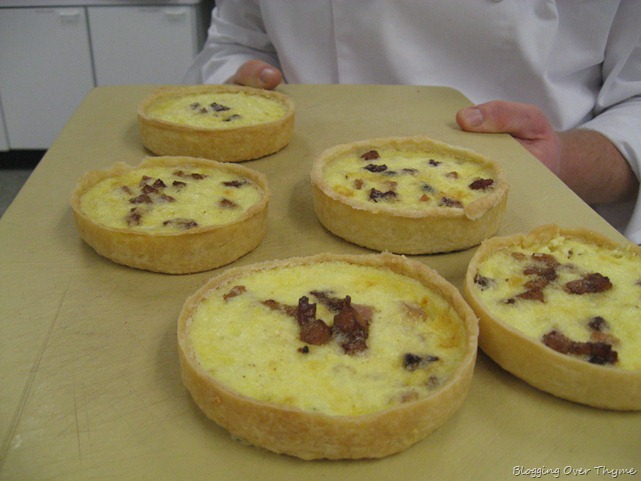 As we learned today, protein (such as eggs) cooked at a lower temperature will remain tender and retain more fat and moisture, than proteins cooked at a high temperature quickly, which causes the protein to constrict and become tough, as a result of the fat and water being squeezed out.
We also prepared another delicious French Onion Soup topped with a crouton (definition = completely dry toast) and grated gruyere cheese.  The trick is to place the crouton on top of the soup (right before putting under the broiler), followed by a hefty dose of cheese to cover the crouton completely.  This all goes under the broiler until the cheese melts and becomes lightly brown. "Gratinee" simply means to brown on top!
Fun, huh?  And tasty.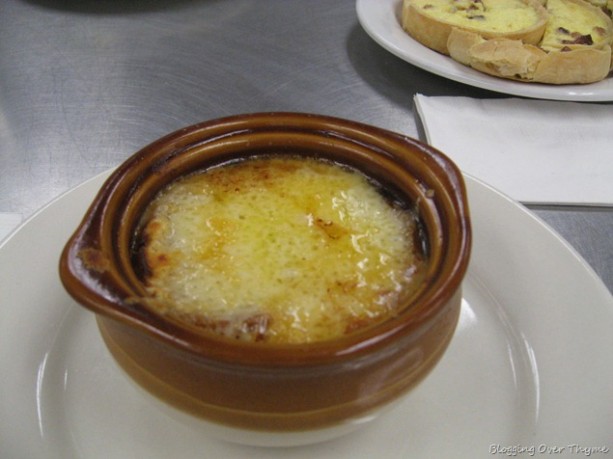 Once all our dishes were plated and served (and we ate), we started the daily task of cleaning the kitchen top to bottom.  And by top to bottom, I really mean top to bottom.  My table, as well as two others, were assigned to cleaning the kitchen, which involves sweeping, mopping, and sanitizing all the surfaces, as well as scrubbing each gas burner!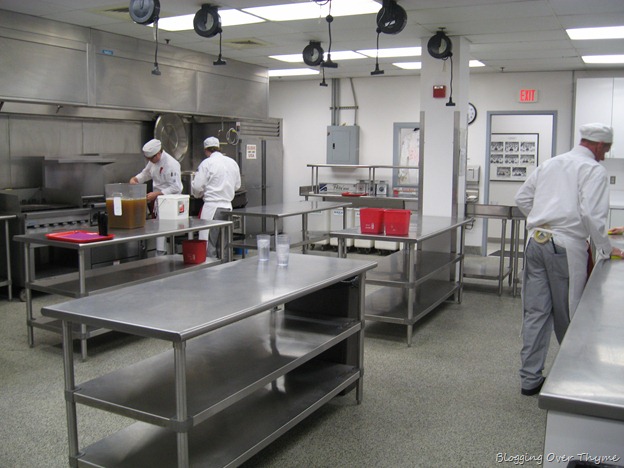 We also are responsible for emptying all trash—which as my luck would have it, today, included all the gunk (can't really come up with a better word for it) that had been drained from the previous massive batch of chicken stock. This includes all the cooked bones and vegetable bits.  And it weighs a TON!!  A fellow student, Tasha, and I were tasked with removing and taking it out to the dumpster.  The two of us still struggled to lift it into the dumpster!
This is definitely my least favorite part of the day, but I already think we are getting more and more efficient as we all figure out where everything is and how it works.  It still takes a lot of reminders and questions though!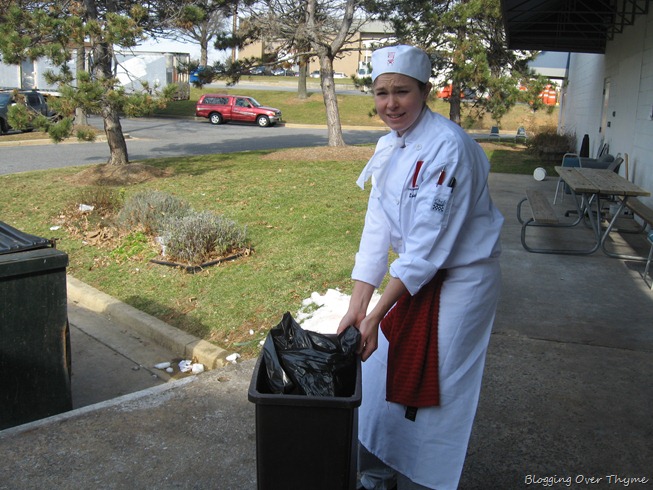 The last hour and a half of the day was spent back in the classroom learning about our recipe notebooks, which are essentially the largest component of our grade during the program.  The director, himself, reads and grades each of ours and they are turned in at each exam.  I will go into this in more detail over the next couple days!
Since I have already written a short novel, I will refrain from adding even more detail into this post.  But to sum up, today already felt so much better than yesterday.  While yesterday was fun, it was also a bit overwhelming—in terms of being in the kitchen for the first time, trying to find my way around, as well as trying to absorb all the information thrown out way, in terms of dishes, school rules, clean-up duties, etc.  Cutting myself so quickly in the day also wasn't the best confidence booster.
Today, on the other hand, felt much more comfortable and familiar.  I have already learned so much!  And I got to know more of my classmates, which makes it that much better.  Not to mention, became more confident.  I still can't believe this is my new life for the next 6 months…I still find myself in shock sometimes.
Hope you all are enjoying these posts!  I love writing them not only to give you an insider's perspective on what my day is like, but also because it will be so wonderful to look back on throughout the program and in the future.  I've also loved reading your comments and feedback.  So thank you!
While I normally only have class on Monday through Thursday, tomorrow we meet to make-up this week's standard Monday class.  Which means, once again, it is my bedtime…
This post contains affiliate links, which means that I make a small commission off items you purchase at no additional cost to you. Please read my
privacy policy
for more information.