Day 15: Beef Bourguignon, Pommes Fondantes, & Egg Rolls
Today's menu was very eclectic, but delicious nonetheless.  We made the classic dish Julia Child is famous for, Beef Bourguignon.  In addition, Chef Somchet taught us how to make traditional Thai egg rolls, more petit fours cookies, as well as started making puff pastry, which will make an appearance on tomorrow's menu!
I have to admit, I wasn't exactly thrilled when my alarm clock rang this morning at 5:00 am, but usually by the time I arrive at school, my energy level has improved.  We started with a quick lecture on the cooking method behind Beef Bourguignon and immediately went into the kitchen to start getting it ready.
For a classic Beef Bourguignon (cue Julia Child's voice), you want to use a very tough piece (i.e. flavorful and cooked over low heat for a long time) of meat, such as chuck, which comes from the shoulder of the cow.  The dish is started by trimming the meat, cutting it into bite size pieces, and searing it over high heat in a sautoire pan.
Once you cook the meat, you set it aside and use mirepoix to pick up all the delicious glaze (fond) that has formed on the bottom of the pan.  You eventually deglaze with red wine (Burgundy).  At that point, we spinkled on the mixture a small amount of flour to help thicken the sauce.  This is all deglazed several more times, followed by the addition of veal stock and our aromatics, which included thyme, peppercorns, bay leaf, and parsley (bouquet garni).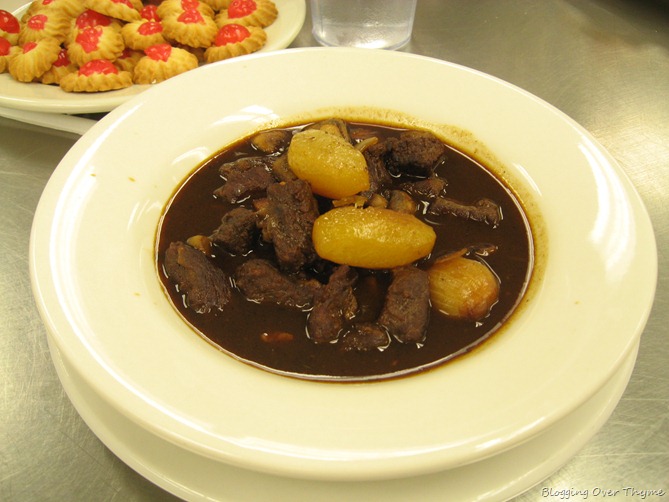 Then you add in all the seared meat and it goes into the oven at roughly 300 degrees until cooked!  At this point, we strained off the liquid, to which we added the meat, sauteed quartered mushrooms, bacon, and cooked and caramelized pearl onions.  Let me tell you…pearl onions are a pain in the butt to peel!  However, placing them whole in hot water helps the process go a bit quicker and helps the skins loosen up.
We served our beef bourguignon with pommes fondantes, which are tourneed potatoes (we meet again…) that are cooked in a very particular way.  Basically, it involves greasing a saute pan generously with buttter, adding in the potatoes, and placing stock about 1/3 of the way up the potatoes.  This all goes into the oven at about 325 degrees (basting continously) and you eventually have very delicate, lightly browned potatoes, which are very silky and smooth in the inside.  Pretty cool!
We also tried our hands at making Thai Egg Rolls, courtesy of Chef Somchet, who has a lot of experience making these!  I have to admit, I think it was a pretty weird thing to make next to our beef bourguignon, but it still ended up being tasty.  I'll have to wait to share more about this recipe in the future, but egg rolls are fun to make!  According to Chef, they should be dry in the inside (not greasy or oily, like many ones you find in America).  These were good, but the Vietnamese spring rolls (from Four Sisters) can never be beat, in my opinion—even if they aren't quite comparable in ingredients.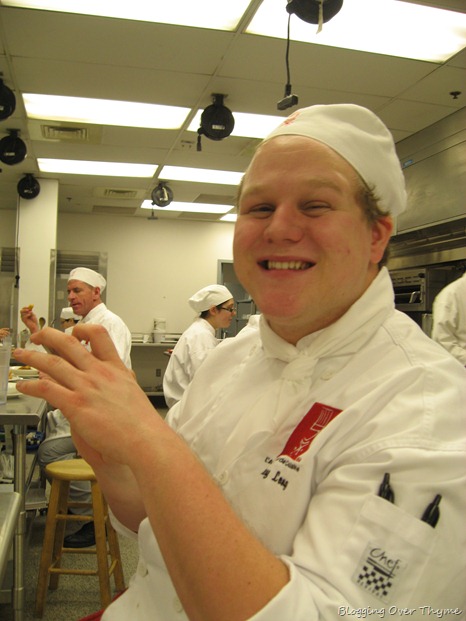 We also made another type of petits fours sec—which literally means dry, small cookie or cake—and today's variation was an almond butter cookie.  My worktable partner and friend, Hadley, took charge of these.  They turned out great!  Although, we realized about half way in that we were supposed to use a quarter of a candied cherry, not a half.  Woops!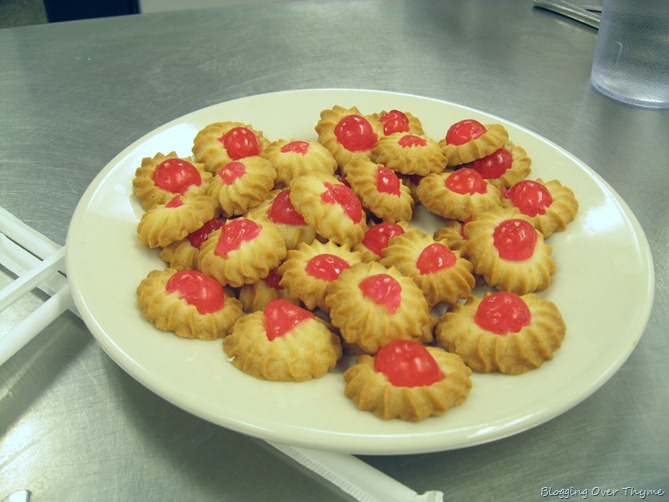 We also started the process of making classic puff pastry for the first time!  I have always wanted to know how to make puff pastry, but have been very intimidated by the process.
However, after today, I might just try to make this at home at some point.  It is a difficult method to explain in words—but it basically involves making a detrampe—which is dough made with flour, melted butter, and cold water—to which you layer on thick layer of rolled, cold butter (buerrage).  The dough is wrapped around the butter and then rolled and folded many times to create layers of layers of alternating dough-butter, which will end up puffing up once cooked.
Basically it is a 24 hour process, so we got about 75% of the process done today!  If you are curious as to more details (and pictures), Jessica (How Sweet Eats) has a great tutorial for croissants, which is a similar process, yet has yeasted added in.  Homemade croissants are on my bucket list!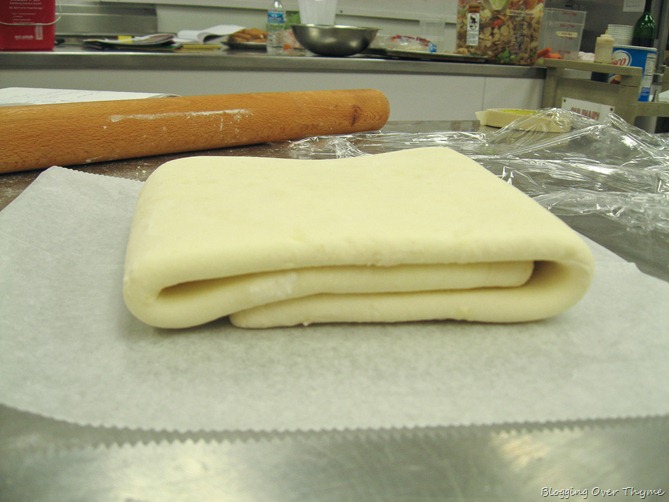 Tomorrow we will be using it for a recipe, I think it involves cheese!  Yum.   As Julia Child always says: Bon Appetit!
This post contains affiliate links, which means that I make a small commission off items you purchase at no additional cost to you. Please read my
privacy policy
for more information.