Day 16: Pommes Frites, Cheesy Puff Pastry, and L'Onglet
As we steadily move through Phase I, vegetables and light soups are being replaced by proteins and heavy, rich meals. As our chefs explained, today is considered one of the best meals in Phase I, but my energy level right now does not agree with that assessment.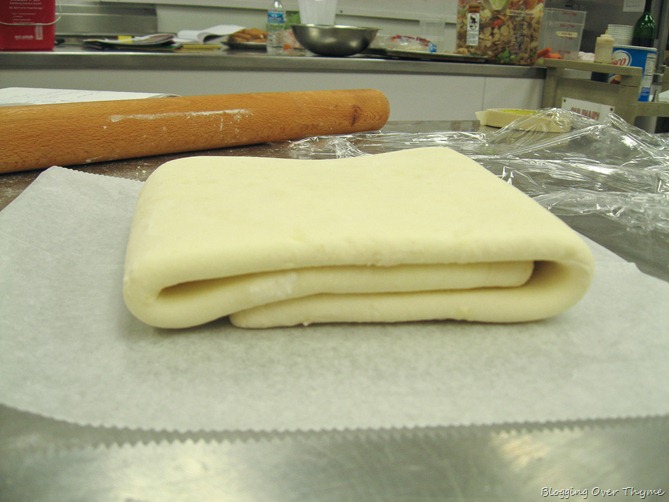 Day 16, otherwise known in my mind as the day where we try to incorporate as much fat and butter into one meal as humanly possible, involved many new techniques.  We baked puff pastry (which we prepared yesterday and finished today), used the deep fryer, and grilled meat all for the first time.
The main dish of today was L'ONGLET GRILLE A L'ECHALOTE (Grilled Hanger Steak with Shallot-Red Wine Vinegar Sauce).  This was our first time using hanger steak, which is a piece of beef that comes from the plate primal cut of beef (near the diaphragm).  There is only one hanger steak to a cow and it considered one of the more flavorful and tougher pieces of meat, that can be cooked in a similar fashion to tenderloin.  However, it really must be cooked rare to medium rare in order for it not to become dry and stringy!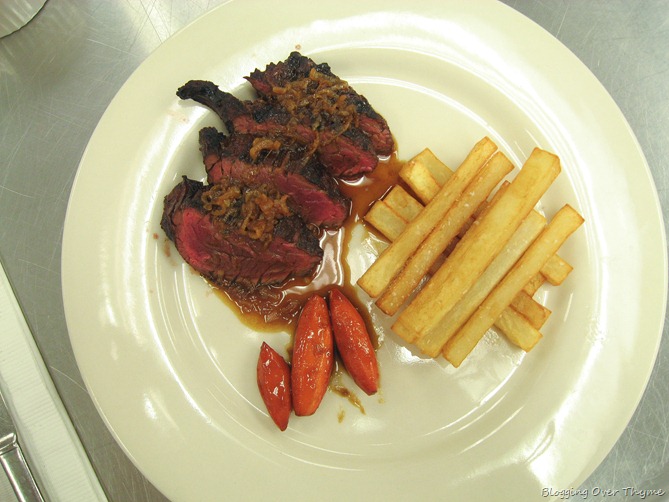 Pommes Frites, Hanger Steak & Tourneed Glazed Carrots (my two are on the right!)
To accomplish this, we seared it on the grill and finished it in the oven, for the following reasons:
Searing on both sides on the grill (very high heat) basically creates that chewy, crispy outer crust, but you do not want to cook continuously on the grill, because each time you flip, you will lose more and more of the juice causing the meat to become dry and tough.
This is because moisture flows away from the heat, so by finishing a large piece of meat in the oven (which has heat coming from all directions), you force moisture into the center of the meat, making it flavorful and moist.
The high temperature in the oven, creates high pressure within the meat.  This is why it is really important to rest meat before slicing.  Due to the high pressure, if you slice without resting, the juice will immediately run out and make the meat dry.  However, by resting, you equalize the pressure and ensure that the juice will remain in the meat and keep it tender.
You should rest meat for about 1/3 of the total cooking time!
To accompany our steak, each table made handcut french fries (POMMES FRITES).  Basically, there is a two stage cooking method to cooking great fries.  We squared the potatoes and cut them into batons, which are basically 1/2 inch matchsticks.
Then we fried them at 325 degrees to cook them thoroughly, without gaining color.  Right before service, we started the second cooking process (oil at 375 degrees), at which point you fry them once again mainly to gain color and that classic crispy factor.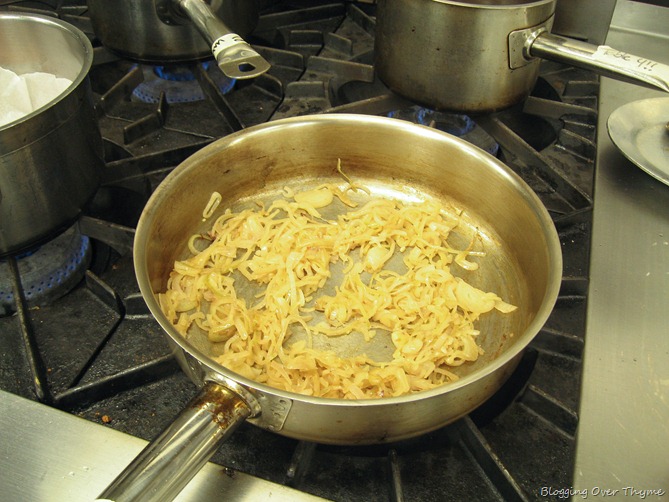 To accompany our steak, we made a classic L'ECHALOTE sauce, which is made with caramelized shallots, red wine vinegar, and veal stock.  It is relatively simple sauce to make and has a lot of acidic bite to it, making it a great match to the rich, dense hanger steak.
Last, but not least, we added a tiny amount of vegetables—in the form of glaceed tourneed carrots.  Let me tell you, tourneeing a carrot is significantly more difficult than tourneeing a potato.  However, luckily, my practice for the exam last week has made it much less daunting and difficult.  There is a reason why you learn one before the other!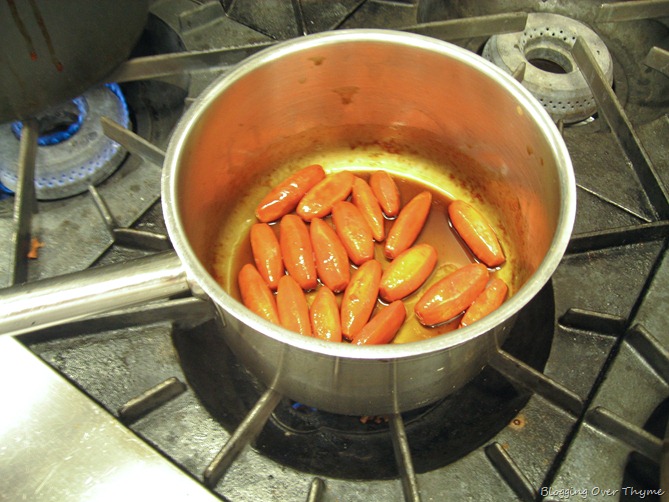 To cook these, we added them to a sauce pan with butter, salt, a tiny pinch of sugar (to help color), and veal stock (about 1/3 of the way up).  This is covered with a cartouche (which is a piece of parchment cut that acts as a lid and is pressed directly on the surface), and put over very low heat until they are tender.  After that, we removed the lid and allowed them to gain a bit of caramelization right before serving!
Tourneeing is tedious, but I'm starting to enjoy doing it.  It is sort of relaxing in an odd sort of way!  Never thought I would say that…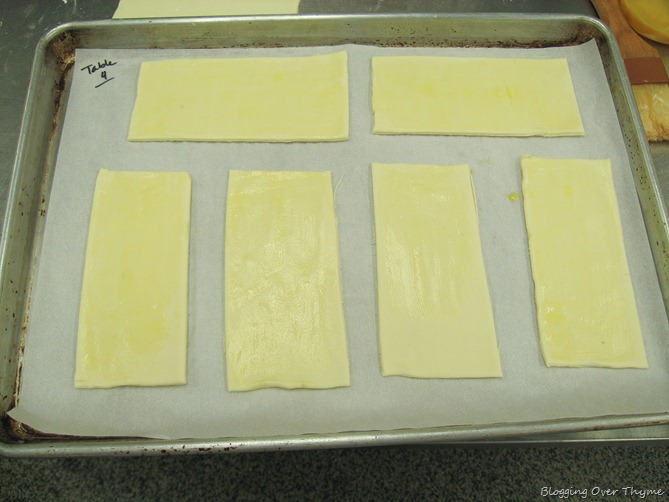 In case that wasn't enough, we also used our puff pastry for the first time to make L'ALLUMETTE AU FROMAGE.  This roughly translates to puff pastry filled with cheese.  However, the cheese comes in the form of an incredibly rich, thick, and pipeable bechamel sauce.  Bechamel is another classic mother sauce made with roux and milk. 
However, we made a derivative (alternative) called MORNAY, to which you add in cheese (gruyere & parmesan).  We also added in a small amount of dijon mustard, nutmeg, and one egg yolk.  It was very, very thick. 
We rolled and trimmed our puff pastry into thin rectangles, brushed them with egg yolk, and piped on mornay sauce.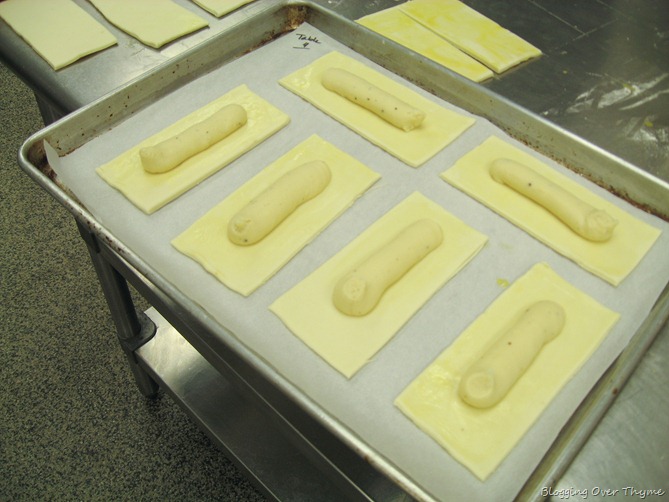 We topped this with another rectangle of puff pastry, pinched around the edges of the filling to remove air pockets and seal it in, and let it rest in the fridge before brushing it with more egg wash and piercing it with several holes to allow to steam.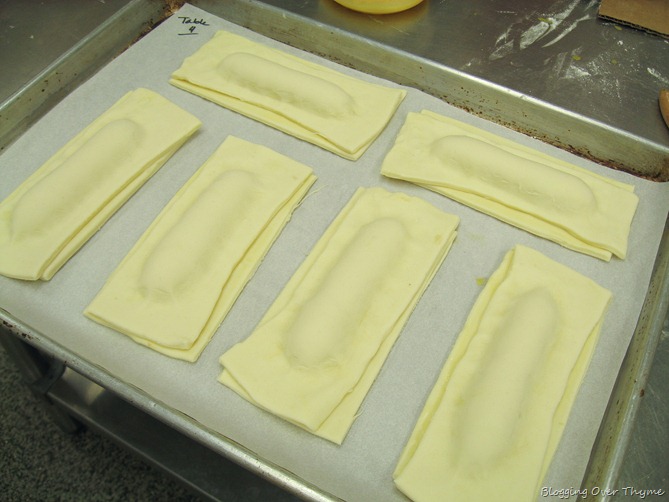 Then we popped these into the oven and baked them at 400-425 degrees to allow them to rise.  After they rose, we turned down the temperature to about 325 to allow them to finish baking until crispy and golden brown.
Look how huge they became!!! I think puff pastry is one of the coolest concepts out there—whoever figured out how to make it was a genius. 
These were incredibly light (yet obviously rich) and flaky and basically fell apart the minute you cut into them.  The inside was full of rich cheesy sauce, so dangerous!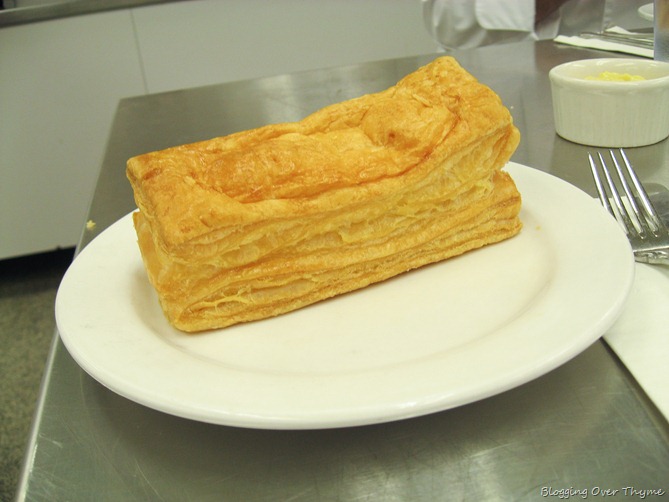 Just in case we hadn't consumed enough butter for one day, we also made a very basic LE GATEAU QUATRE-QUARTS (Pound Cake).  This was very good too, but I only could stand to eat about a bite of it (I had a small slice during demo). 
I really am not used to eating such rich foods at home and I think my stomach pretty much hated me at the end of today (not to mention, my energy levels weren't great).  I also craved plain vegetables like you wouldn't believe!
It's unfortunate that some of these heavier dishes couldn't have been paired up with our basic, brothy vegetables soups from Week 1 & 2, rather than in one meal, but it was fun nonetheless.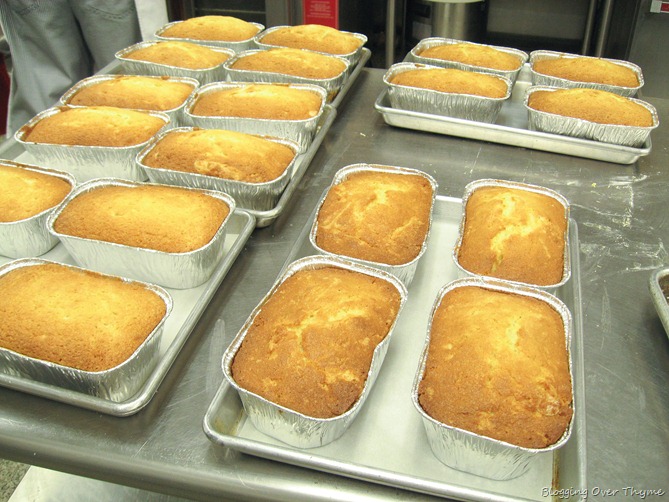 Our afternoon was filled with cleaning and trimming chicken bones (probably my most dreaded tastk in culinary school so far—standing in place is when you really start to realize how sore and tired you are!). Followed by a classroom clean-up and…
Our weekly (Tuesday) meat lecture with Chef Francois, who discussed all things beef today.  Pretty interesting, but difficult to be completely focused on after a meal like today's.
I'm starting to wonder whether this is designed deliberately to challenge us as much as humanly possible!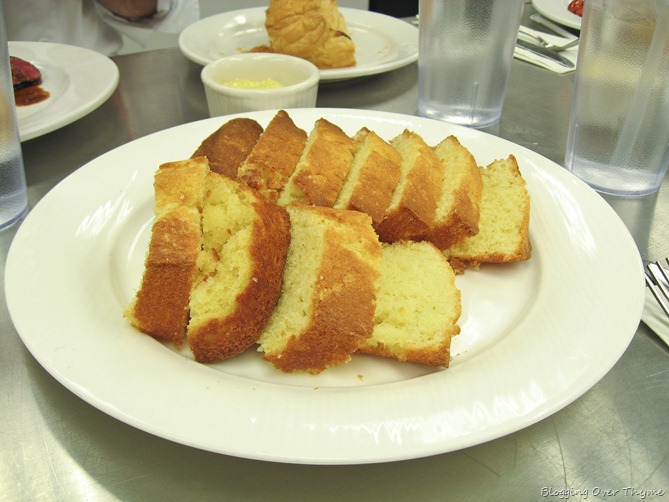 My bed is officially calling out to me. Thank you all for your continued support and encouragement!  Even when I am exhausted after school, I look forward to sharing the day's adventures with you all and I hope you are still enjoying following along.
Stay tuned for a new recipe post by the end of the week!
This post contains affiliate links, which means that I make a small commission off items you purchase at no additional cost to you. Please read my
privacy policy
for more information.