Day 29: Mussels, Steak Fries & Brussels Sprouts
I have officially survived the second practical exam and am back to update you all on Wednesday's class!  I must admit, once I got into the kitchen, I realized that I had forgotten to put my camera in my pocket, so I don't have any "in-process" photos, but it was still an eventful day!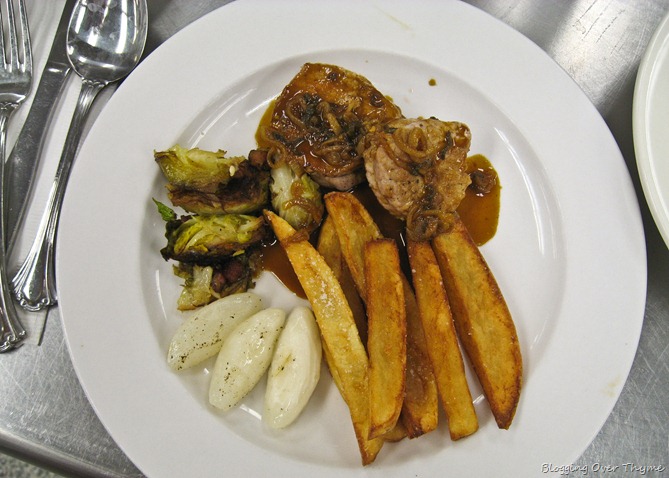 When I arrived on Wednesday, bright (actually its completely pitch-black outside…) and early, I was hoping that the day's menu might be a little short, to give us a little breathing room for the next day's exam.  Nope!  Guess again! 
Our daily menu was even longer than usual and involved a lot of components that needed to be finished a la minute (at the last minute) before service.  As Chef Brian explained in class, this is something we will become all too familiar with as the weeks go on…
Our first dish of the day was mussels!  This was our first time cooking them in school and we made a very simple preparation with leeks and celery (finely sliced) cooked with white wine.  I'm not sure I was a huge fan of the celery addition, but apparently it's a classic.  Luckily, this dish required little attention and not a ton of preparation.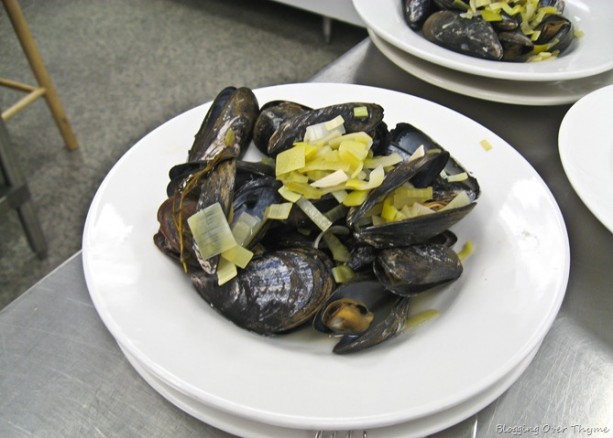 However, our main dish was the exact opposite.  We used some of the pork (butchered in the previous day's meat class) to make pan-seared pork medallions, served with a jus made using pork bones, mirepoix, sage, and other aromatics, white wine, and veal stock.  
Right before service, we made a quick pan sauce with shallots, garlic, sage, white wine, dijon mustard, and a little bit of apple cider vinegar.  To this, we added in the strained pork jus and allowed it to reduce a lot! 
With our pork, we served three different things:
Glazed Turnips – which we had to tournee!  This was very difficult because the turnips we used were a little spongy on the inside and this made it very difficult to shape it well.  We cooked these by adding them to a  saucepot with a little bit of butter, salt, and a very, very small amount of water, covering it with a cartouche (parchment lid) and allowing it to cook over very low heat.  This cooking process is called etuvee.  Again, simple in theory, but tourneeing 15-20 turnips takes more time than one might think! 
Steak Fries – known in French as "pomme Pont-Neuf", named after the bridge in Paris for their shape!
Sauteed Brussel Sprouts with Bacon – this was a simple preparation, but required par-cooking the brussel sprouts ahead of time.  To ensure that the sprouts cooked consistently throughout, we scored the bottom of the sprouts and par-cooked them in a very salty boiling water.  
And for dessert, and extra practice for the following day's exam, we tried our hands at making floating island once again!  Though this dessert involves a lot of components and needs to be plated at the last minute, I felt a lot better about it after the second time making it.  Our caramel was a tad too dark, but I personally liked it because it helped cut the sweetness of the rest of the dessert.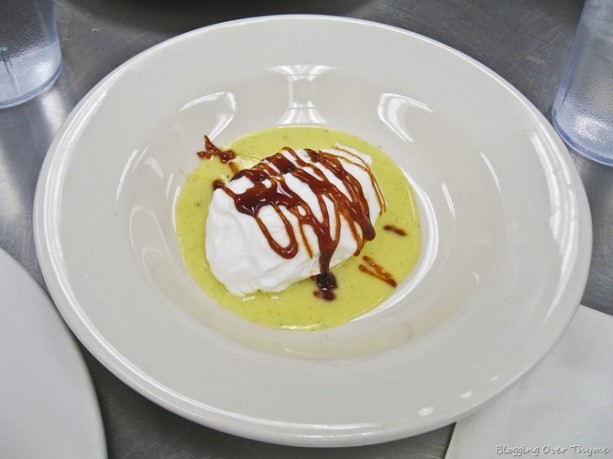 Our afternoon was filled with a review for the next day's theory and practical exam…which I will tell you all about in an (upcoming) future post! 
Happy Friday!
This post contains affiliate links, which means that I make a small commission off items you purchase at no additional cost to you. Please read my
privacy policy
for more information.