Day 38: Mahi mahi, Escargot, & Carrot Cake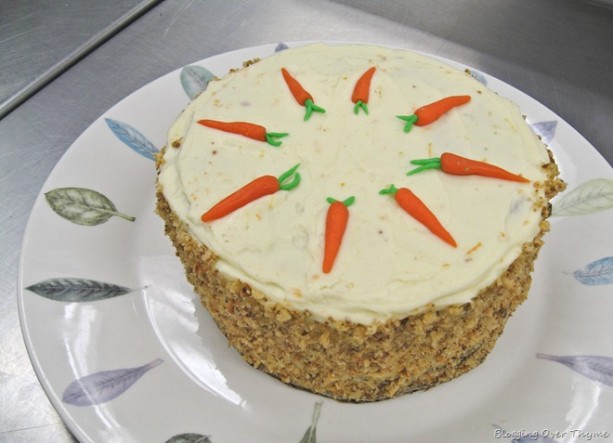 Thursday was a fun, relatively laid-back day at school! For some reason or other, we ended up finishing production way ahead of schedule and literally had some time to kill in the kitchen before serving lunch.  It was a very odd feeling! 
To make it even better, our menu was full of some pretty delicious dishes.  It definitely beat chicken mousse day, that's for sure.  Our dessert was one of my favorites, carrot cake.  We actually made the cake on Wednesday afternoon and left all the decoration for class on Thursday.  We made ours with part whole wheat flour, pineapple, grated carrot, walnuts, and raisins.  It was very moist!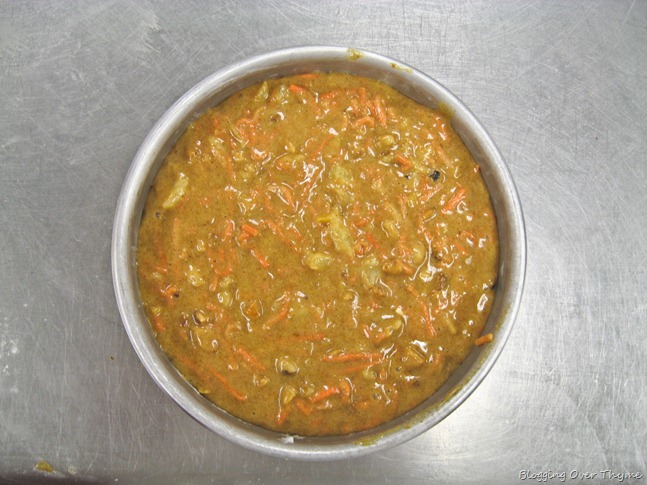 During class, we put together a very simple cream cheese frosting (flavored with Grand Marnier, orange and lemon zest, and vanilla)—which had only a small amount of powdered sugar, so it was not overly sweet at all—and started decorating our cakes, which we sliced into two layers. 
Once we had our cakes frosted, we gently decorated the sides with finely chopped walnuts and then, the fun part, made marzipan carrots for a decorative touch!  Since we weren't too rushed with the rest of our menu, we got to take our time putting these together, which was a nice change of pace.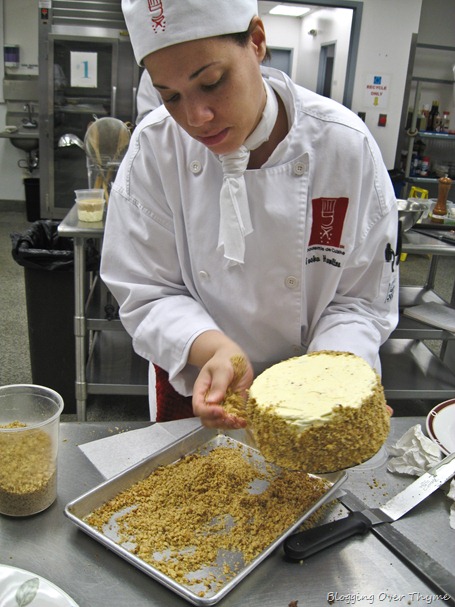 The main dish of the day was braised Mahi Mahi filets (normally this is a dish they make with bluefish, but apparently they had difficulty finding it!) served with a bercy sauce, which is quick sauce made by reducing white wine, fumet (fish stock), shallots, and adding butter and parsley at the end. 
The Mahi Mahi was cooked by adding it to a well greased pan lined with thinly sliced shallots, bouquet garni, and then filling it about 1/3 with white wine.  We covered this with a cartouche and placed it in the oven to cook, until it was just about ready.  At this point, we removed the fish and made the pan sauce by cooking down the wine and adding the rest of the ingredients.  The last step is whisking in cold butter and a lot of finely chopped parsley.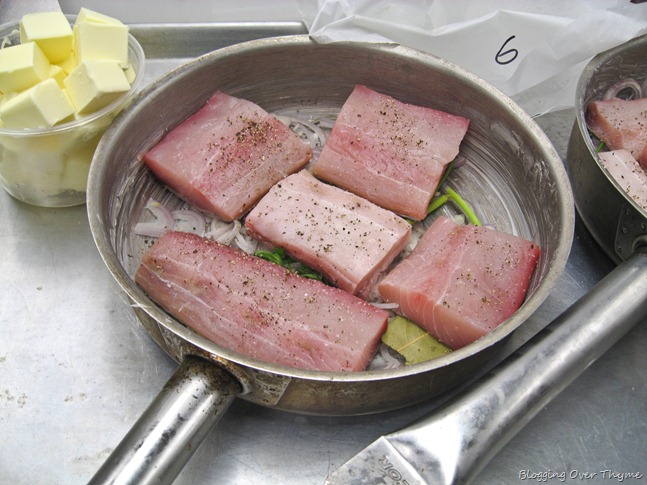 I really liked the fish!  It was very moist and delicate and a nice change of pace from our normally red meat laden menus. 
We served this with a simple rice pilaf and sautéed spinach cooked at the last minute.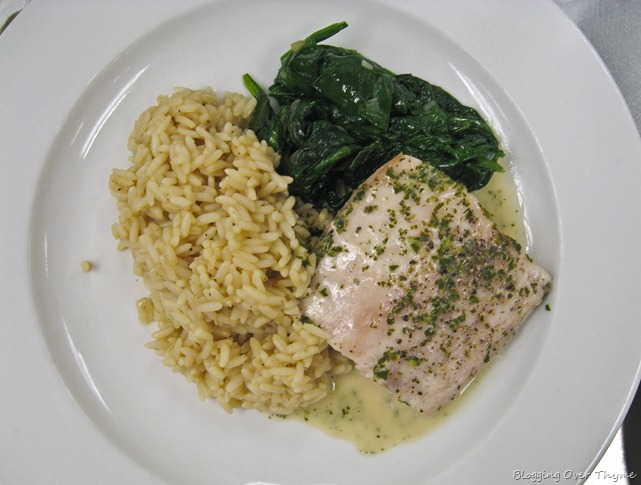 And last, but not least, our appetizer of the day involved escargot (snails!).  Ever since I tried escargot on a trip to France when I was about 10 or 11, I have loved them!  It might sound gross, but when they are covered with a lot of butter, parsley, and garlic, they are so yummy. 
Ours were served in puff pastry cups, which we made by cutting puff pastry (made day before) in a very specific way.  Once these bake, they form a shallow bowl, which you can add pretty much anything too! 
This was our first time making these in class, but they will become all too familiar in Phase II apparently.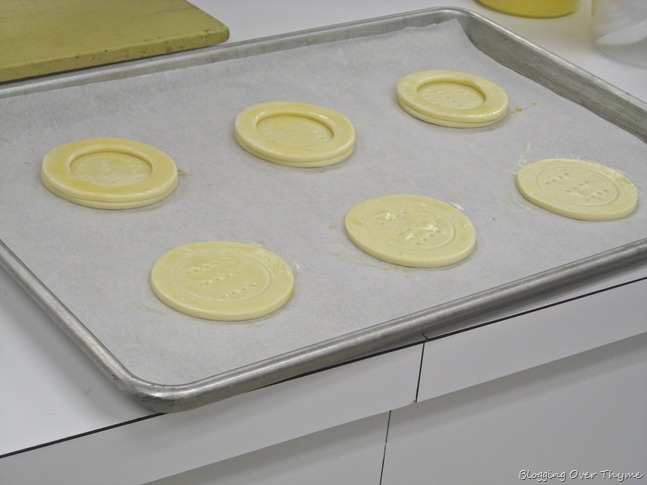 Not sure why ours came out more oval than round, but they were pretty nonetheless!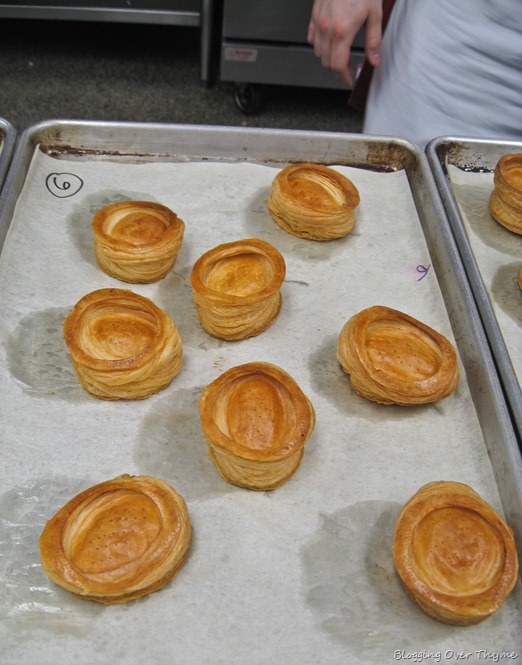 For our snails, we made a simple compound butter made with parsley, garlic, a small amount of Cognac, and obviously, lots of butter. 
We cleaned our snails (canned) by blanching them, and then cooked them at the last minute by sautéing them in clarified butter.  Then we flambed them with a small amount of cognac!  This was our first time trying this too.  Luckily, our class was still standing by the end.  To this, we added the compound butter. 
We then filling up the shells with the escargot, and topped it off with a small spoonful of highly reduced demi glace (reduced veal stock).  It was a fun presentation to put together, but for some reason, I think we needed more compound butter in ours, because it didn't taste quite as good as it did in demo.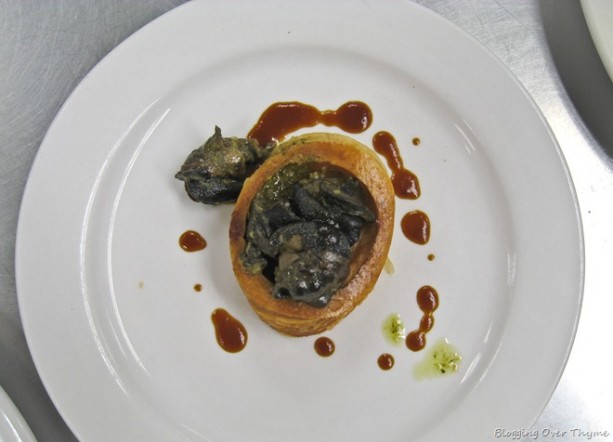 After doing a big clean of the kitchen in the afternoon, meeting with Chef Brian to go over our last practical exam results, and practicing a bit of piping skills using stiff meringue, we got to head over to the Phase I classroom for a special bavarian cream buffet…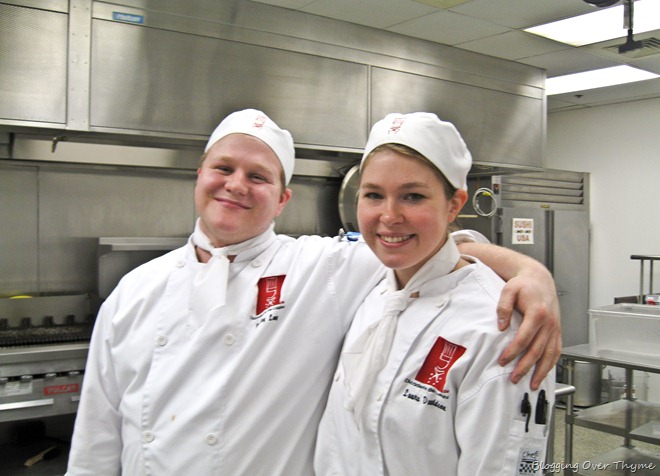 Each pastry student had to put together their own special and uniquely flavored bavarian cream dessert.  They had been working on these for days.  And we got to taste as many as we wanted (I actually only had a bite of one or two in the end)! 
They were all beautiful.  And there were many creative flavor combinations to choose from, including blackberry and green tea, chocolate and orange, blueberry-kiwi-and blackberry, and lots more!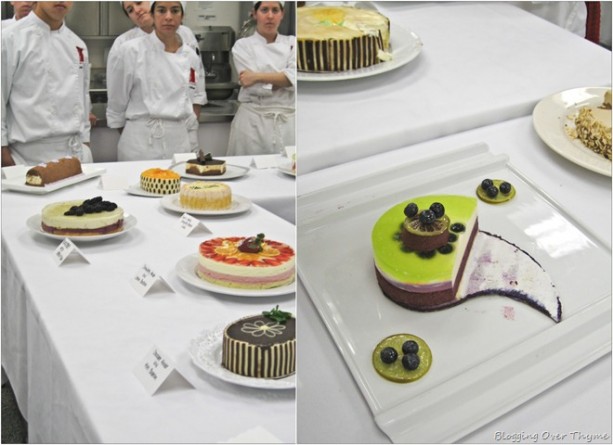 My absolute favorite (pictured at the bottom below) was pistachio-chocolate.  But it also had hints of mint in there too!   It was beautiful and really delicious.  And not too sweet or overly rich.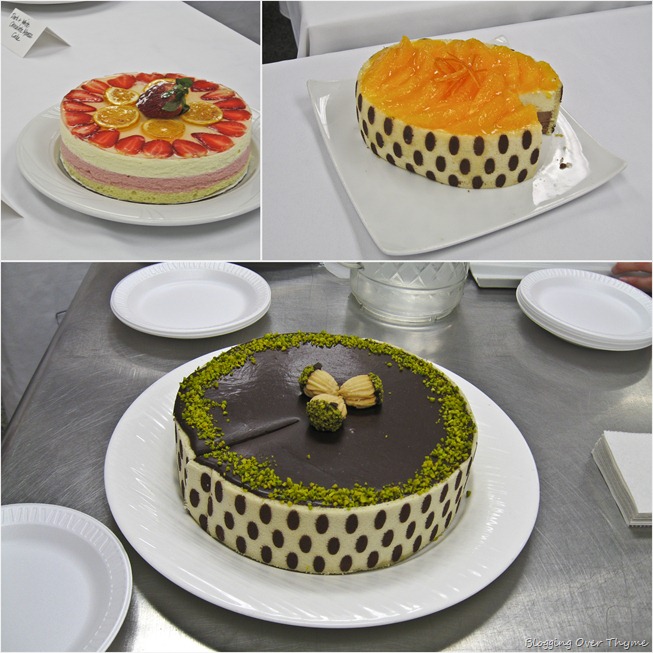 It was definitely a fun way to end the week.  This upcoming week we have our third (vegetable) paper due, we're meeting to discuss externships, and it is officially our second to last week in Phase I!  I really can't believe it.
Hopefully I will be able to share lots more details soon.  Hope you all had a great weekend! 
This post contains affiliate links, which means that I make a small commission off items you purchase at no additional cost to you. Please read my
privacy policy
for more information.