Day 37: Brining, Soft-Boiled Eggs, & Cheesecake
Wednesday's class was a mix of new and old techniques!  On Tuesday afternoon, we started the brining process for our whole chickens.   I have actually never brined anything before, but it is supposed to help make meat extra moist and succulent.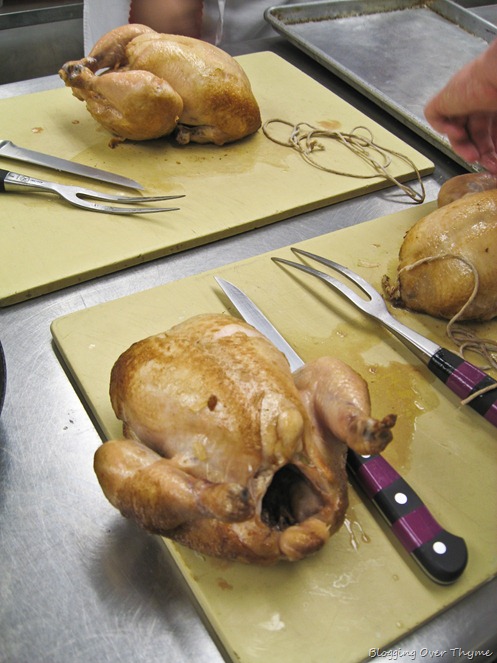 Our basic brine contained about a gallon of water, 1-1.5 cups of salt, pickling spice, onions and garlic.  We ended up brining our chickens overnight, but usually you should count on about an hour per pound of meat.
The chicken ended up being very good!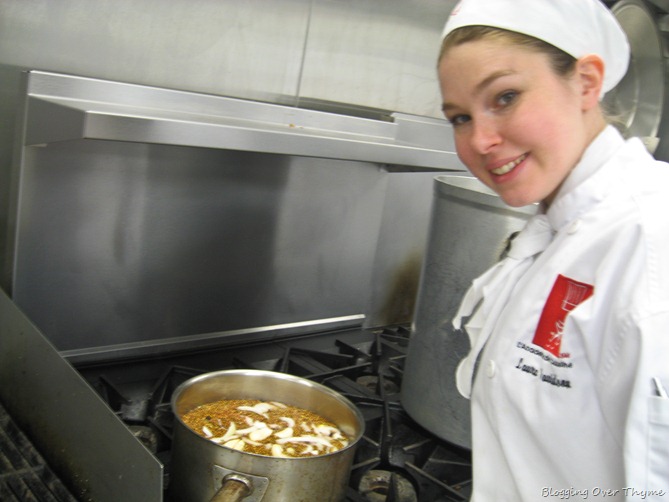 We prepared our chicken similar to the first time (I believe the 3rd week of school!) by drying it thoroughly once removing it from the brine, searing the sides (not the breasts) in a saute pan and placing it in the oven, surrounded by mirepoix, to roast until tender.  Before service, we carved the chicken and made a quick jus with the bones, cooked mirepoix, and chicken stock. 
To go with our chicken, we made pommes dauphine, which are another interesting dish that incorporates pate a choux dough.  It basically involves making mashed potatoes and combining it (roughly equal parts) with pate a choux dough, forming them into balls, and frying them. 
Almost like a French alternative to hush puppies, I guess?  I'm not a hush puppy expert, but my classmates seemed to think so!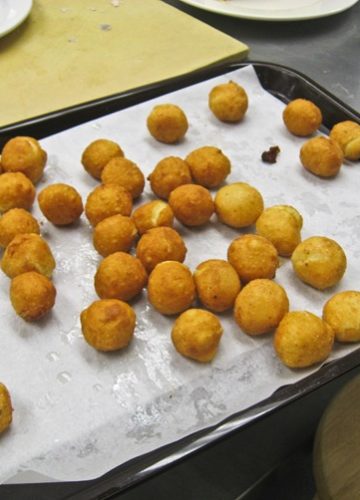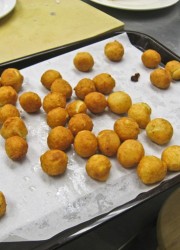 We also threw together a simple stir-fry (Chef Somchet style) of bok choy, napa cabbage, garlic, ginger, and a little bit of oyster sauce. 
And for our appetizer, we made soft-boiled eggs with spinach, topped with a rich mornay (cheese-y bechamel sauce) sauce and gratineed it in the oven.  The trickiest part of this dish was preparing the soft-boiled eggs. 
The whites needed to be cooked through, but the yolks needed to be completely runny!  It took us a few attempts (cooking between 4-5 minutes) to get it right.  Unfortunately, the eggs also appeared to be super fresh—so it made them very difficult to peel!  This dish was better than it sounds, but I'd be curious to try to make a more modern, lighter version.  It's a meal unto itself.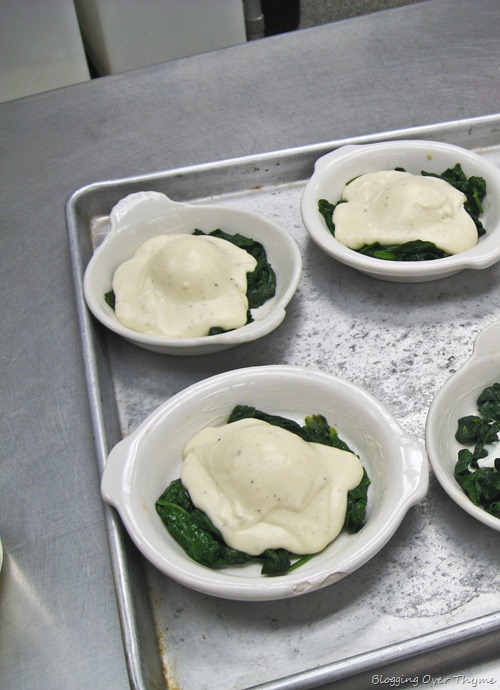 For our dessert, we served our cheesecake (that we had prepared the previous afternoon).  This was a unbaked (which means it contains gelatin) cheescake that was flavored with white chocolate, orange zest, and Grand Marnier.  Our crust was a actually a thin ring of roulade (sponge) cake, which made it much lighter than cheescakes I've had in the past. 
Though I am not a cheescake person (this seems to be a theme of this week!), I liked it more than I thought I would.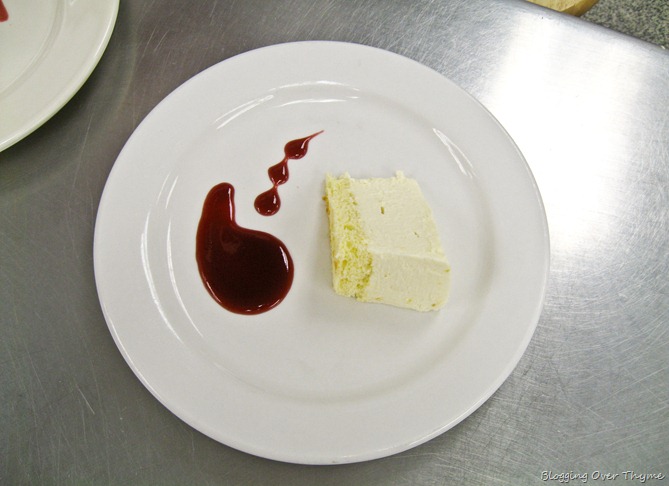 During the afternoon, we finally got back our practical two written exam results, which I was very pleased with and I attended a short review session, where we talked more about our externship and phase III.  I'll definitely share more details about this as we learn and get the process started.
Stay tuned for Thursday's update! 
This post contains affiliate links, which means that I make a small commission off items you purchase at no additional cost to you. Please read my
privacy policy
for more information.