Day 41: Consommé, Calf's Liver, & Doughnuts
Wednesday's menu was packed with tons of dishes!  Unfortunately, most of them were not very enjoyable to eat.  But I'll get to that part later…
I'll start off this post by talking about doughnuts (the dessert of the day), because I'm pretty sure they are the only thing in the title that you are interested in reading about.  I recently bought a donut pan at home for baking donuts (an impulse purchase), but have never made traditional yeast fried donuts before now. 
The first thing we did when we got in the kitchen was put together our dough–made with bread flour, eggs, sugar, shortening, water, yeast, sugar, and a touch of mace.  After that, we wrapped it and let it double in size, which took about 45 minutes-1 hour.  Right before service, we fried them. 
My partner, Hadley, and I decided to coat a few of ours simply in granulated sugar and some others in a mixture of powdered sugar and cinnamon.  So delicious!!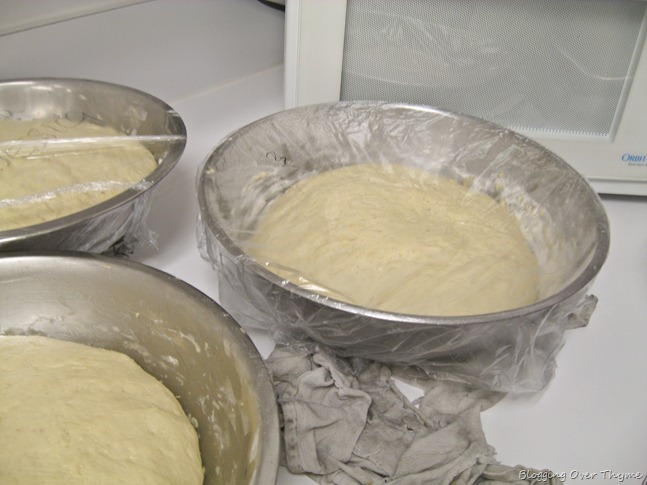 Another big dish of the day was consommé.  Consommé is basically a crystal-clear, amber colored fortified stock. It looks simple, but it's a process to put together.  We started the process on Tuesday afternoon by making the petite marmite—which is the first stage of consomme and involves searing chicken bones, lean meat, mirepoix, onion brulee (thick discs of onion that are burnt essentially on both sides), and adding chicken stock.  This basically simmers for about 5 hours.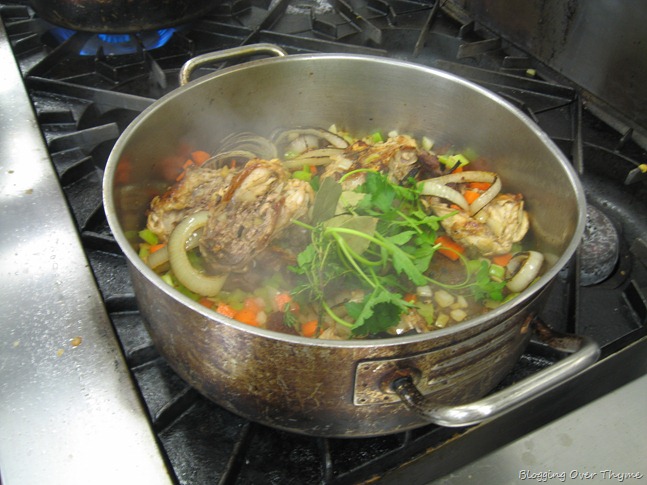 The second step is straining the petite marmite, chilling it, before adding equal parts ground lean beef, ground mirepoix, and egg whites.  This is all brought to heat (and a very low simmer) over time until all the meat, egg white, and mirepoix mixture rises to the top and forms a raft, which basically is helping to clarify the stock as it continues to cook. 
Eventually when the raft became super thick, we slowly ladling out the clarified broth/stock underneath and strained through a chinois.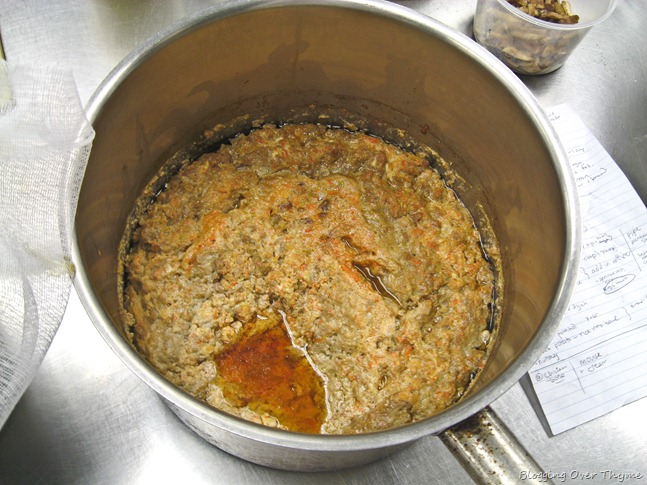 We served our consommé with chicken mousse (yes, again!) and sautéed shitake mushrooms.  Consommé basically tastes like an intensely flavored, full-bodied stock.  The kitchen was pretty hot that day, so it wasn't the most refreshing thing to eat for lunch, but good nonetheless.  Especially in comparison to our main dish of calf's liver!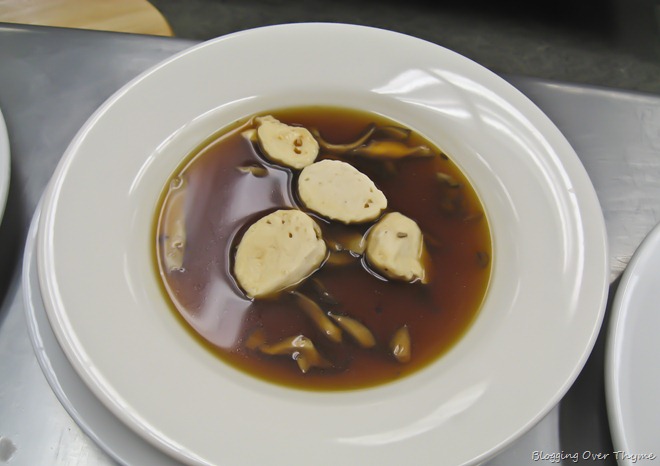 We also made gougeres, basically pate a choux dough mixed with gruyere cheese, which is then baked and forms a nice, savory pastry.  You can make these in a lot of ways!  To our dough, we added a pinch of cayenne, a small amount of dijon mustard, and nutmeg. 
They were super easy to make.  Not to mention, they are a money maker at a lot of restaurants, because they are delicious and really cheap to make.  Definitely a great appetizer to serve as well, because they can be frozen and heated up in the oven right before serving! 

So far, everything on the menu sounds pretty good.  Here comes the bad part…
Our main dish was pan-seared calf's liver served with echalote sauce (basically a combination of shallots, red wine, and red wine vinegar—which helps cut the richness of the protein).  I haven't eaten a lot of organ meats in my life (mostly due to the fact they do not appeal to me in the least), but I told myself I would try everything at school, even the dishes that sounded pretty disgusting in theory.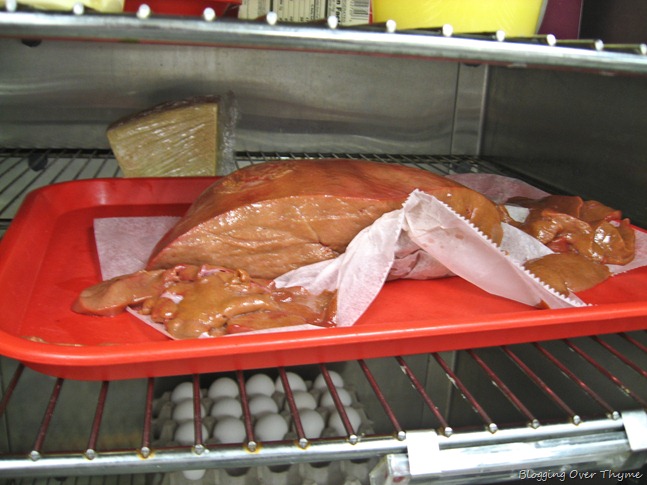 I was wondering if I would end up liking it as Chef Brian demoed it in class—maybe it was just one of those things that sounds gross, but tastes better than you would expect?? Like escargot, maybe.  NO!  Not at all!  I tried a tiny bit and hated it.  The sauce was good, but the texture of the liver (not to mention watching it being prepped) was incredibly unappetizing and grossed me out in all honesty. 
Granted, I think they all knew there would be a lot of untouched plates at lunch time.  To prepare the liver, we had to remove the outer membrane and inner vein.  We then sliced it thinly (it felt very jello-y), coated it in flour, and pan-seared it in clarified butter. 
It didn't help that my piece looked like a sad banana peel!  Haha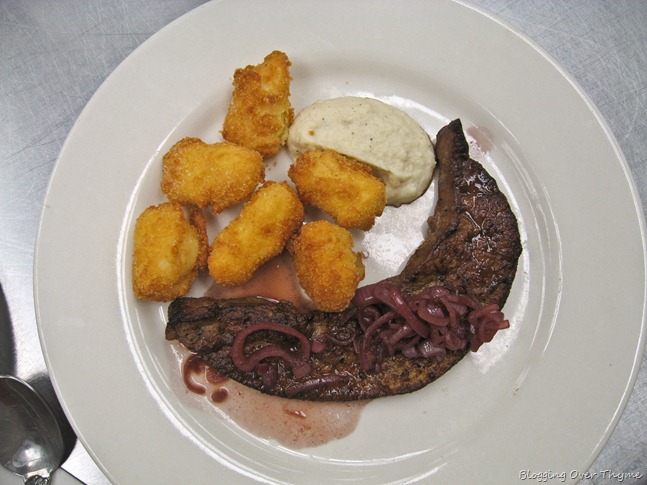 With our liver, we served a celery root puree—celery root cooked with a little bit of chicken stock, butter, salt and pepper, and then pureed in the food processor and finished with a bit of cream.  Pretty good! 
We also made pommes croquettes, which are a mixed of riced, cooked potatoes and egg yolks, which are then piped into logs, chilled, cut into small pieces, breaded and then fried.  Basically a fancy tater-tot of sorts!  I thought these were pretty boring.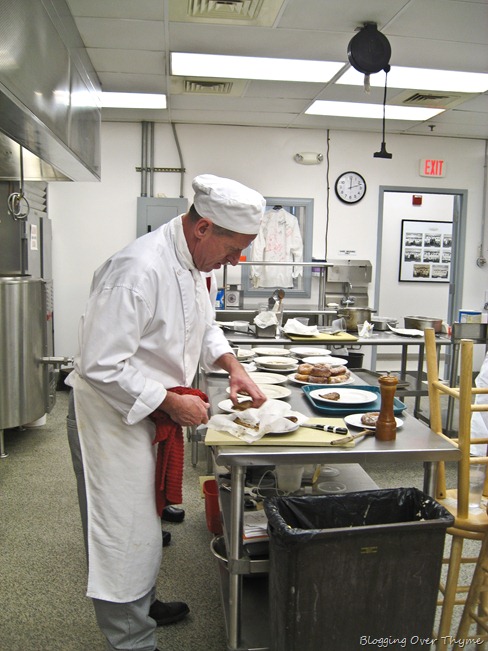 It was a very big menu to tackle with just one partner!  But we actually ended up serving on time somehow.  However, by the time we plated everything, the kitchen was a complete mess. 
This is pretty much how it looks every day!  Pots, sauté pans, and utensils everywhere.  Then comes the fun part, cleaning it all up…
Luckily, our small class has gotten a lot faster and more organized for cleaning everything pretty quickly, even though we have to take care of the kitchen, helping the dishwashers, cleaning the classroom, as well as the commissary on a daily basis.  It used to take us forever! As our chefs always say "the kitchen is my gym.."—I can't say necessarily that all the labor burns off the food, but it really is a work out.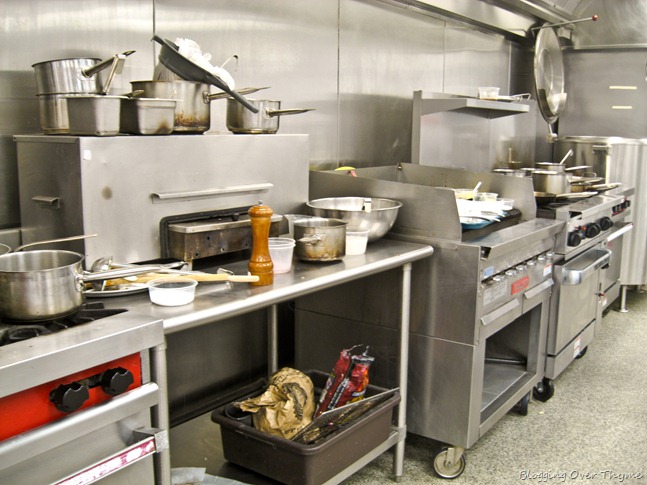 We all felt pretty exhausted by the end of the day (not to mention, over heated). 
On a side note, we got to check out one of the pastry program instructor's beautiful pulled-sugar flower creation.  So cool!!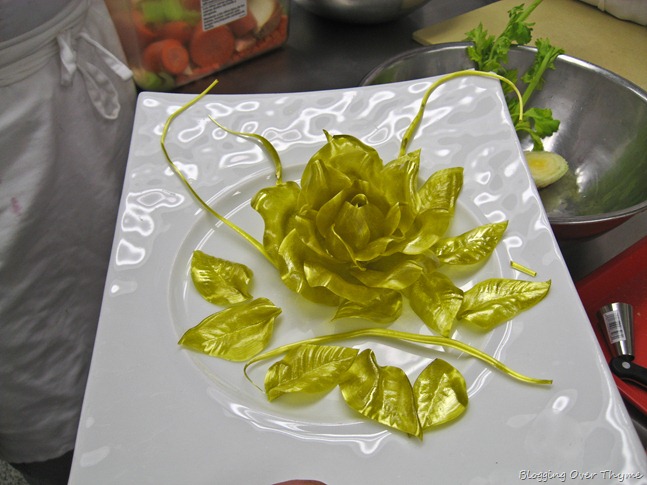 Back soon with another update on Thursday's class!  Luckily, it didn't involve any more calf's liver…
This post contains affiliate links, which means that I make a small commission off items you purchase at no additional cost to you. Please read my
privacy policy
for more information.