Day 42: Baby Back Ribs, Ravioli, & Key Lime Tart
Thursday's class, otherwise known as our second to last week in Phase I, was another one of those fun, more laid-back days in the kitchen.  It was a nice change from the previous day's menu!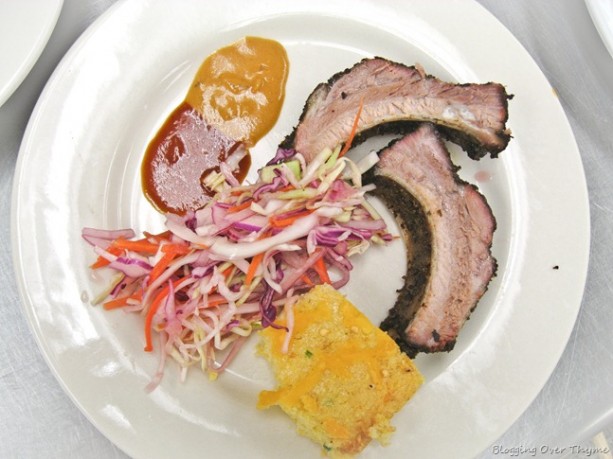 The main dishes of the day were homemade coleslaw, baby back ribs, and cornbread.  Chef Brian shared his famous dry rib rub, which is a combination of a lot of different spices and a bit of brown sugar.  We actually rubbed the ribs on Wednesday after, let them sit for an hour or two, before Chef Brian took them home to smoke (combination of charcoal and shagbar hickory) for several hours, before bringing them in on Thursday and letting them finish in the oven for 5-6 hours until they were extremely tender.  Even though I'm not a huge fan of ribs, because I find them too fatty, I can see why people would like these!
Here they are before serving!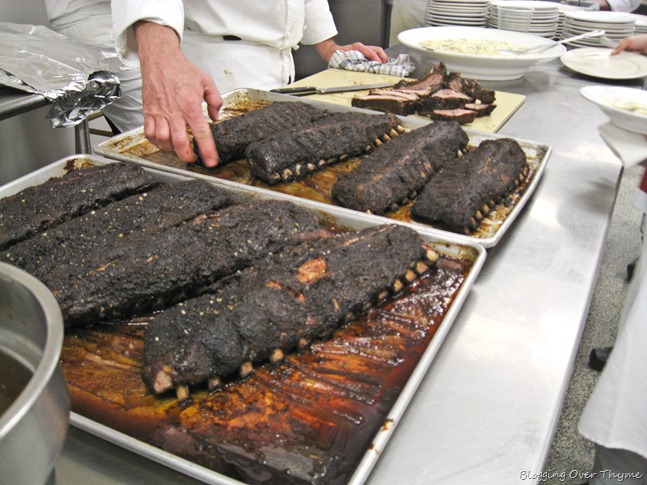 We served some homemade spicy mustard and BBQ sauce to go with them!
To go along with the ribs, we also made coleslaw.  I hate mayonnaise coleslaws, but this was a vinegar-Dijon based coleslaw, which was delicious and a nice contrast to the rich meat.  All this involved was combining thinly sliced cabbage, red cabbage, red onion, julienned carrot, jalapeno slices, and apple cider vinegar, water, a touch of sugar, and a small spoonful of Dijon.  The trick is to let it sit and marinate for a few hours!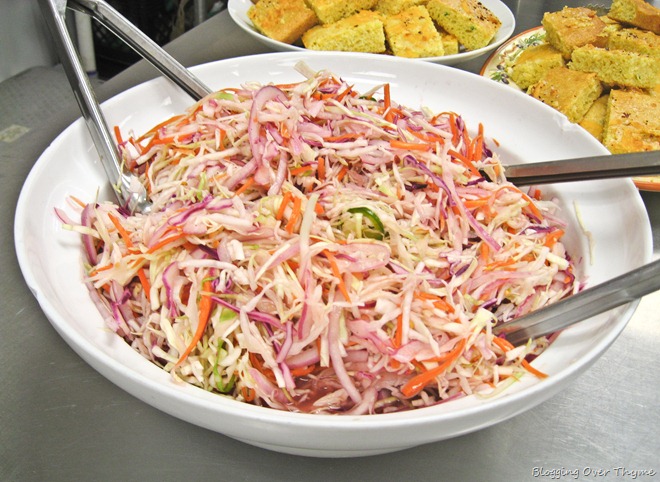 And to keep with the BBQ/Southern themed lunch, we also made homemade cornbread (Chef Brian's recipe as well!).  It was a sweet cornbread made with bread flour, ground cornmeal, and fresh roasted corn, which we took off the cob and processed.  We also folded in egg whites to keep it extra fluffy and light.  Quite delicious, if I do say so myself.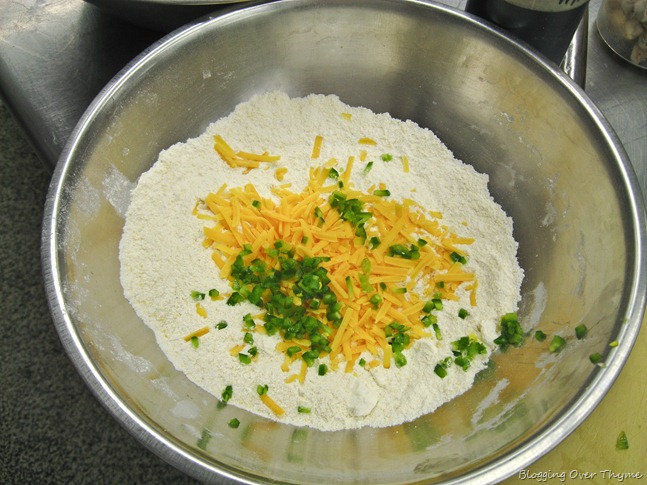 Tasha and I decided to add some finely diced jalapeno and cheddar cheese to ours!
And for our more traditional dish of the day (even though it did not go with everything else at all), we also made homemade (mushroom) ravioli for the second time.  Except instead of filling it with seafood, this time we filled it with a combination of sauteed shallots, mushroom, and a touch of lemon juice (called a duxelle), as well as some parmesan cheese. 
We served the ravioli with a chive cream sauce, which we made by sautéing mushroom stems, chives, garlic, and shallots in a bit of butter.  To this, we added white wine and allowed it to reduce until almost dry, before adding in cream.
Once this reduced, we strained it through a chinois and added in finely chopped chives.  Rich, but delicious!
Yum!!
After making pasta for a few times at school, I can tell you that it is a much simpler, easy process than it appears or sounds.  If you've never made it at home before, you should definitely try it sometime!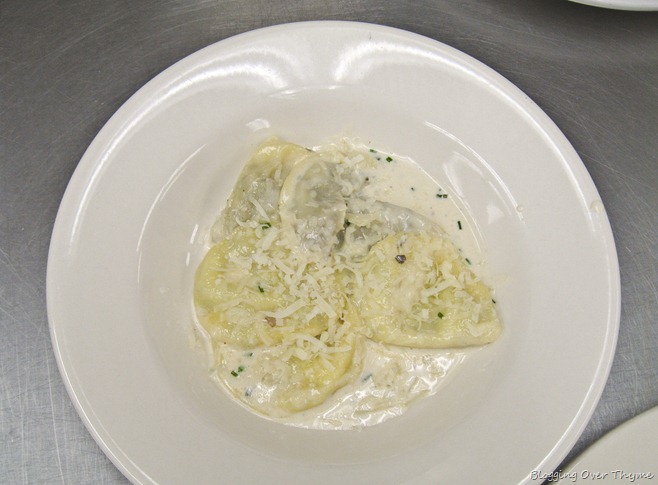 And for dessert, we made key lime tart, which was deliciously tart and rich.  Our graham cracker crust also had ground almonds in it, which made for a nice twist as well.  The filling is key lime curd, to which you add in softened gelatin, before folding in the addition of lightly whipped cream.
Unfortunately, I felt so full after the rest of our lunch, that I didn't eat very much of this.  But it was very good!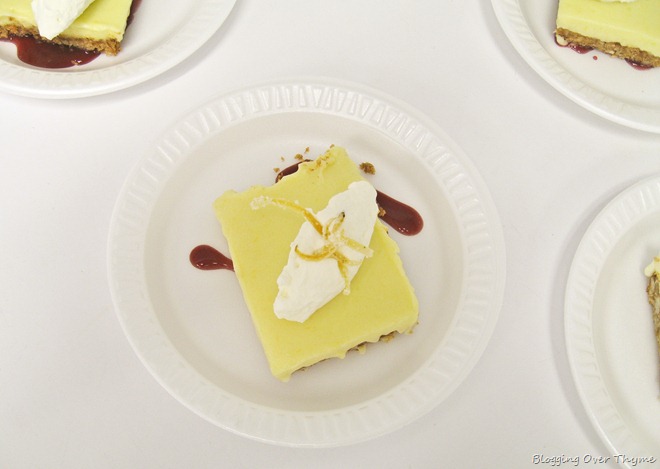 Once we ate our lunch, we went to go check out Phase I pastry's Hors D'oeuvres buffet, which they had been working on all week.  I think they all were a little rattled to be doing savory dishes all week. 
I was too stuffed at that point to do anything but look and admire!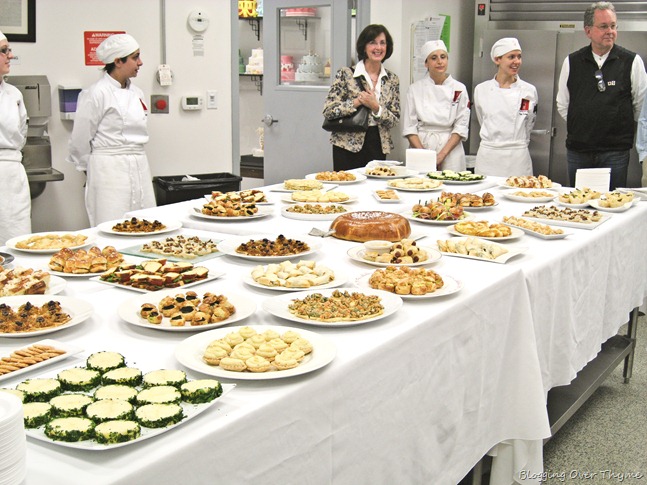 All together, there were about 20 different dishes to choose from.  Everything from spanakopita, sliders, sandwiches, mini samosas, chicken pot pies, savory tarts, and a lot more! 
After cleaning up the kitchen, I left to have my first externship meeting.  I already have a few restaurants in mind, which I will be getting in touch with over the next couple weeks to see if I can do stages (basically working interviews) at.  Nerve-wracking and intimidating, but also pretty exciting.  I'll share more as I get further into the process! 
Next week marks our last official week of Phase I, which ends with our third practical and theory exam.  Can't believe it! 
This post contains affiliate links, which means that I make a small commission off items you purchase at no additional cost to you. Please read my
privacy policy
for more information.